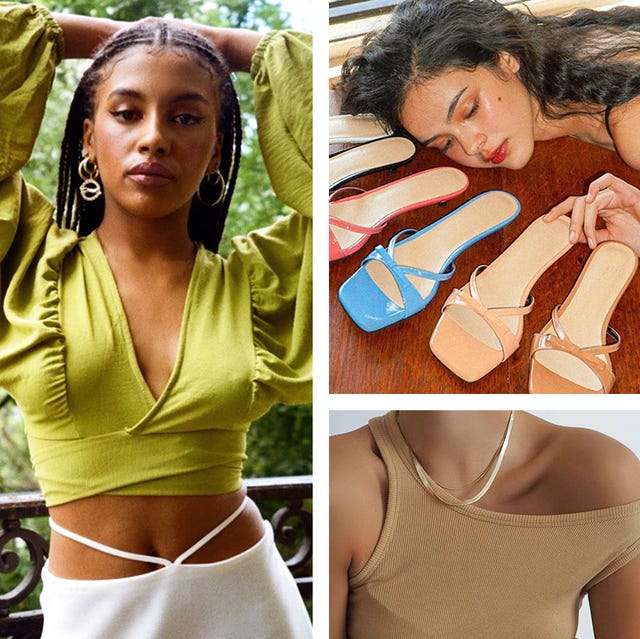 Courtesy
It was only a matter of time before online retail sales would exceed those of brick-and-mortar shops. And at this point, after spending plenty of time on our computers doing, well, everything, there's no doubt we've become full-blown online shopping pros. We get it—nothing beats the convenience of clicking through a website and the satisfaction of getting a stylish new piece delivered straight to your door.
Whether you're adding to cart via Instagram or you drunkenly bought a vintage Chanel jacket and a dolphin necklace from your bed at 2 A.M. (no regrets), shopping online is so damn simple. While major e-commerce sites like Amazon and Nordstrom still dominate as some of the best online shopping sites, it's worth bookmarking the unsung indie boutiques, direct-to-consumer brands, and little-known labels that offer something different from the normal retailer.
Scroll down to shop some of our favorites below.
Advertisement – Continue Reading Below
Sincerely, Tommy is where all your cool Brooklyn friends flock. The IRL coffee and fashion store is decked out in concrete and decorated with modern sculptures and plants you can't name. The shop sells an affordable in-house label alongside indie brands like Gauntlett Cheng, making it a one-stop shop for all your high-low needs. These days, its website is more accessible than its Bed-Stuy storefront, but the experience is equally peaceful (you will, however, miss out on its excellent matcha lattes and attractive baristas).
SHOP NOW
Cafe Forgot picks up where Opening Ceremony (RIP) left off. The Lower East Side shop highlights designers you've definitely never heard of—seriously, some of its brands don't even have websites yet. That's because the founders, Vita Haas and Lucy Weisner, seek to uplift indie brands they scour from Instagram, design school, and elsewhere for styles that fit "a DIY aesthetic and a quasi-punk ethos."
SHOP NOW
Sure, it'd be great to fly to Seoul to discover all the amazing brands based in Korea. Shopping at W Concept is your second best bet. The site has over 1,000 independent designers, so set a few hours aside to mindlessly scroll through its excellent selection of clothing, accessories, and footwear.
SHOP NOW
Mirror Palais is known for having a site where almost everything is sold out. But with a fan base including Dua Lipa and Bella Hadid, it only makes sense. The New York-based brand makes extra high crop tops, '90s bikinis your hot mom would have worn (and rocked), and more ultra sexy pieces that disappear from your cart as soon as you add it (so think fast).
SHOP NOW
Maimoun is almost too cool, but welcomes you with open arms. Actually. The name is derived from the Persian word "meh-moun," meaning "the company or guest(s) who are invited to visit your home for a gathering." Virtually stop by and make yourself comfortable while you shop from beautiful selects, including Instagram's favorite tapestry corset or undular ceramics made by New York-based artists.
SHOP NOW

There's more to Gimaguas than summery resort wear, but we'd be wary of packing for a vacation without peeking at the brand's website. Founded by twin sisters Sayana and Claudia, the shop offers modern interpretations of glamorous '70s beach style, made in collaboration with NGOs in Senegal, Nepal, and elsewhere abroad.
SHOP NOW
If you like your jewelry loud, colorful, and most importantly, plentiful, make sure you check out BaubleBar. It has limited styles sold at retailers like Bloomingdale's, but its own site has so much more to offer. With the exception of its newly launched fine jewelry collection, most of its styles fall under $50. You're bound to get all the compliments without breaking the bank.
SHOP NOW
Become a master of easy dresses and print clashing alike with Lisa Says Gah. The retailer mixes together campy brands like The Holiday with Mara Hoffman for an edit of designers and styles that is bound to put a smile on your face.
SHOP NOW
If you love Old Celine, you'll love Frankie Shop, and you'll really love its budget-friendly clothes. The NYC-based site curates its in-house label alongside contemporary brands like Rachel Comey and LOQ. Make sure you follow its Instagram too, for a muted palette to inspire you in fashion, home décor, and more.
SHOP NOW
If you've ever tried visiting one of Everlane's seven brick-and-mortar shops, you know all too well that a line is usually waiting out the door. Its eco-friendly, socially conscious clothes are worth the wait, but we prefer shopping via its easy-to-navigate, fully-stocked website instead.
SHOP NOW
Koi Bird is a concept store that, simply put, is fun. It changes its theme seasonally, running anywhere from Venice Beach vibes to exploring Lagos Fashion Week. You'll discover new brands on the daily, making it hard not to frequent this site. We recommend bookmarking this one ASAP.
SHOP NOW
This concept store is deftly curated by a fashion industry vet. Launched in May 2020, it highlights brands handpicked from Tbilisi to South Korea to Los Angeles by owner Telsha Anderson. Look to T.A. New York for up-and-coming designers you should be paying attention to.
SHOP NOW
For the maximalists on there, House of Sunny has your back. And your wallet. The label aims to bring you statement pieces designed in-house from its East London base, but at prices that aren't nearly as shocking as these zebra print jeans and faux fur-trimmed cardigan, for instance.
SHOP NOW
The Folklore is here to bring you an small edit of what the African diaspora has to offer. From brands like Paolo Sisiano seen here, the pieces are all about storytelling. Think of The Folklore as a library for creatives to keep on tab. The store also took on Taylor Swift, so there's that too.
SHOP NOW
If you like your diamonds with a dash of playful energy, bookmark The Last Line. This L.A. label gives each piece a heavy dose of charm—literally. Think: 14k peace sign pendants, flower earrings decked out in sapphires, and more colorful gems to invest in.
SHOP NOW
Slowly graduating from traditional street style means that you're probably trading in kicks for loafers and screen tees for camp shirts, but that doesn't mean you're not still eyeing both aesthetics. That's where Union steps in. As one of the first hubs of high street style, the shop offers brands like Bode and Brain Dead. Get you a store that can do both.
SHOP NOW
Musier is beloved by influencers and non-influencers alike. It interprets effortless Parisian style for the masses, and the end result is everything we want to wear right now. That includes this strappy midi skirt we've been seeing all over our grids.
SHOP NOW
Consider WELL(UN)KNOWN that one friend who knows all the hottest brands. The retailer is all about exposing customers to emerging labels, including industry darling John Elliot, jewelry designer Mara Paris, and more.
SHOP NOW
What started as a small shop in the Lower East Side of Manhattan has turned into an online trove of affordable sartorial treasures. Pixie Market has something for everyone, whether it's minimalist '70s clothing or $20 gold hoops. Its tight edit of on-trend clothes is unbranded, high quality, and priced fairly—rarely does an item exceed $150. But if you see something, get it quickly, because items are known for selling out fast.
SHOP NOW
Aritzia is one of our go-to brands for everyday essentials, but its IRL stores can be overwhelming, if we're being honest (though the sales girls are incredible!). Shopping the website means you can bypass wandering aimlessly (and avoid the group fitting rooms and hectic sale racks).
SHOP NOW
Stylenanda is a staple in its home base of Korea, but it's just getting started here in the U.S. The brand is known for flirty dresses at a super affordable price, but make sure you don't miss out on its K-beauty brand 3CE, which was acquired by L'Oréal.
SHOP NOW
One of the downsides of buying designer items—especially when they're coming from overseas brands—is the markup for the import cost. But at Italist, you don't have to worry about that. The online boutique sells Italian brands for the Italian retail price, which means you save up to 40 percent off current season items (FYI: pieces from past seasons are up to 75 percent off!). A brand-new Bottega Venetta Cassette Crossbody for less than $3,000? Say no more, fam.
SHOP NOW
Shopping for luxury brands in a responsible way is hard—especially when information isn't readily available. Luckily, Toward is changing that. The online boutique, which was founded by Ana Kannan, vets all of the brands on its list of designers, which boasts the likes of Rosantica, Anna October, Reike New, and Rejina Pyo, through an investigation process to research the supply chain, service, and marketing. When you look at each product, you'll be able to see what aligns with your values using Toward's responsibility symbols.
SHOP NOW
Timeless and sophisticated staples are what you'll find at Another Tomorrow. The ethical and sustainable brand works to create luxurious pieces that last without a cost to the environment, animals, and even humans. The pieces you get from Another Tomorrow will undoubtedly be in your closet for years—perhaps a lifetime—and each one is made with ethically sourced materials. However, the brand also offers resale to give garments another life, giving you another way to reduce your carbon footprint.
SHOP NOW
Offering sizes ranging from 10 to 22+, Baacal has luxe and stylish pieces tapping into any aesthetic. Minimalist utility pants or trench coats? Check. Puff-sleeve nap dresses? Check. Flowy caftans and formal dresses? Check and check. No matter how you describe your style, Baacal has something to match it, and without a doubt, the quality is so good, it'll be well worth the investment.
SHOP NOW
Independent boutiques are one of the best ways to discover the next big designer, and Oakland's McMullen is no exception. Sherri McMullen's expert curation features an offering that would make any shopper's jaw drop, whether it's for a purchase or just inspiration. Scroll through the site to see the range of designers from around the world, from Christopher John Rogers, Brandon Blackwood, and LaQuan Smith to Aisling Camps, Aaron, and so, so, many more. (If you find yourself a little unsure where to start, you can always peruse through the site's different edits, including a collection featuring all of the boutique's Black designers.)
SHOP NOW
Amsterdam-based fashion brand Daily Paper, which originally started as a blog, features streetwear pieces that you'll want to wear as often as you can, dressed up or down. Taking inspiration from the African heritage of each of its founders, the brand's designs feature traditional prints and patterns as part of its contemporary designs.
SHOP NOW
Skip your next thrifting (and sifting) adventure and take a look through The Break, which features a beautiful curation of designer vintage. From jackets, boots, and sunglasses that come straight from the Y2K era to essential blazers and button-downs, this New York-based shop is definitely one to keep in your tabs. Plus, the brand also features vintage furniture and its own line of candles (and who doesn't love candles?!).
SHOP NOW
Need a new spot to hit for all those comfortable, colorful, everyday staples? Los Angeles' Back Beat Co. is the place to go. The West Coast brand, which uses low-impact fabrics (like organic cotton, deadstock materials, and more), features a lineup of punchy-hued basics and modernized knitwear inspired by surf and skate culture. In other words, this shop will give your wardrobe a palpable edge of California cool.
SHOP NOW
B Corp-certified Wolf & Badger acts as a platform to highlight independent designers from around the world that also happen to be sustainably and ethically made. Whether you're looking for clothes, accessories, footwear, home goods, or beauty products, the online shop's near-endless stock is one worth browsing. The site also makes it easy to shop consciously, giving each product labels to indicate how it's been ethically produced, like Happy Worker, Non-Toxic Dyes, and Happy World.
SHOP NOW
Come for archival Jean Paul Gaultier and Dior by Galliano, stay for curated mix of contemporary designer (i.e. Danielle Guizio, Simon Miller, and Priscavera); New York-based concept store Aberizk has a mix of the old and new. Whether it's Y2K gems you seek or unique fashion finds, this boutique has the cool, eclectic mix that'll have anyone eager to get dressed.
SHOP NOW
As fun (and thrilling) as vintage shopping can be, not everyone has the time or energy for the hunt. Luckily, there's Club Vintage. With collections from various vintage vendors as well as items from the closets of your favorite influencers, you'll find a treasure trove of stylish options to outfit your wardrobe as well as your home.
SHOP NOW
Everything about Miami-based, multi-brand retailer Simonett just feels cool. You'll find tons of need-to-know brands like Tigra Tigra, Gimaguas, and Shushu/Tong, to name a few. Plus, it also has its own ready-to-wear line, which is chock-full of fashion-forward pieces that look expensive but are anything but. TL,DR: Simonett is the shop to keep visiting again and again (and again).
SHOP NOW
Fashion lovers of the early 2000s, don't say we didn't warn you—Into Archive has a bevy of stylish and rare vintage designer pieces that would make anyone feel like a collector. The shop has everything from ready-to-wear to jewelry, but if there's anything to keep an eye on, it's the handbag offerings.
SHOP NOW
Maybe you're looking for the next luxury designer. In which case, you'll want to peruse Hampden Clothing's vast array of brands. A household name in the legion of independent, high-end retailers, the boutique's handpicked selection of beautiful clothes, shoes, accessories, and handbags is one to marvel at. So, whether you're looking to shop or just find new inspiration, Hampden Clothing is an online boutique you simply cannot miss.
SHOP NOW
Colbo, which bills itself as a "multi-disciplinary retail space" operating from NYC's Lower East Side sells everything from clothing (of course) to records and home goods, along with coffee and events. Because who among us doesn't love sipping a latte while they shop?
SHOP NOW
Known for her shoes, but also beloved for everything, Maryam Nassir Zadeh is the cool-girl label that everyone on your feed is sporting (and looking effortlessly flawless while doing so). All of its product picks are artfully shot, which makes clicking to purchase all the more easy to do.
SHOP NOW
Every piece that comes from Chelsea Mak feels undeniably feminine, but also carries an air of cool unlike any other. Using deadstock silks, the brand's designs go against the grain in a way that feels like a tribute to old-school style for modern times. Whether you get a piece from the designer's core collection, like the frothy Vienna Blouse, or a style in a rich new shade, these are bound to be conversation starters, in the best way.
SHOP NOW
La Garçonne is your one-stop-shop for understated elegance. The boutique's long (and we mean long) list of both well-established and emerging designers includes Dries Van Notes, Extreme Cashmere, Common Projects, Issey Miyake, Simone Rocha, and The Row, to give you an idea of what's ready for the taking. Whether you're looking for something on the bolder side or you want to invest in classics that'll be passed down generations, La Garçonne has something for every fashion lover.
SHOP NOW
Proyecto Republica highlights a coterie of Spanish, Portuguese, and Latin American designers, with brands like Mozh Mozh, Vivi Parra, and Sophie Simone. Better yet, the brands Proyecto Republica carries each produce designs in a thoughtful manner, working towards a more sustainable future, whether that's for the environment or for people.
SHOP NOW
Based in Long Beach, Calif., Prism Boutique features a robust mix of designers (including LACAUSA, Paloma Wool, and House of Sunny) that each carry a relaxed vibe one often associates with the Southern California town (but don't worry, you can wear these designers anywhere, any time). The boutique, founded by Dayna Mance, also carries a variety of small brands—most of which are also women-owned.
SHOP NOW
Justine Carreon
Justine Carreon is the market editor at ELLE.com covering fashion, Dutch ovens, and fashion again.
Advertisement – Continue Reading Below