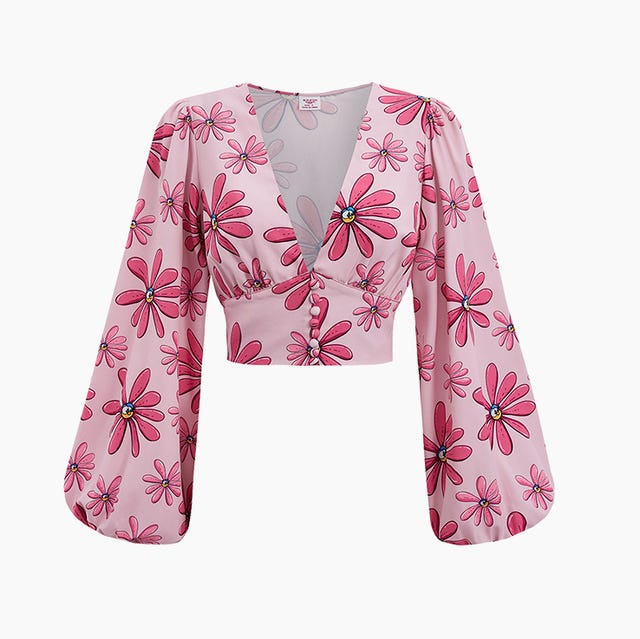 Courtesy of SHEIN
You know it when you spot it—an utterly captivating print that boosts your mood and sparks conversations from nearly everyone who sees it. That's exactly the kind of reaction artist Donna Adi's electrifying, multimedia works get. A mix of illustration and photography, her vibrant creations—which pack a technicolor punch—have caught the eyes of major celebrities and landed her fashion campaigns.
Now, SHEIN has tapped the LA-based artist and creative director to apply her lively, comic-inspired treatments to their clothing and accessories. The collab is part of the SHEIN's incubator program, SHEIN X, to showcase and celebrate indie designers. Each of the line's pieces oozes with the exuberance and edge Adi's fans and followers have come to expect. Her animated floral prints, doodled lips and eyes, or dynamic liquid drips adorn skin-baring tops and dresses, floaty bottoms, sleek swimwear, and cheerful accessories. They're standout items that that will reinvigorate your end-of-summer wardrobe—and keep you from cycling through the same lineup of summer dresses and shorts through the season's end and into the first, still-warm days of fall. You'll look like a work of art, but the best part may be that SHEIN is making a financial donation to Inner-City Arts on Donna Adi's behalf, in order to support other young artists and designers and help them realize their dreams.
Here, some of our favorites from Adi's forthcoming line as part of the SHEIN incubator program. Scroll on and prepare to stop onlookers in their tracks.
Advertisement – Continue Reading Below
1
Floral Print Belted Wide-Leg Pants
2
Figure Graphic One-Shoulder Cut Out Dress
3
Graphic Print Puff Sleeve Crop Top
4
Graphic Print Cami Bodysuit
6
Lantern Sleeve Floral Print Buttoned Front Blouse
7
Allover Print Knot Front Cut Out Dress
8
Graffiti Print Pocket Patched Shirt
Advertisement – Continue Reading Below