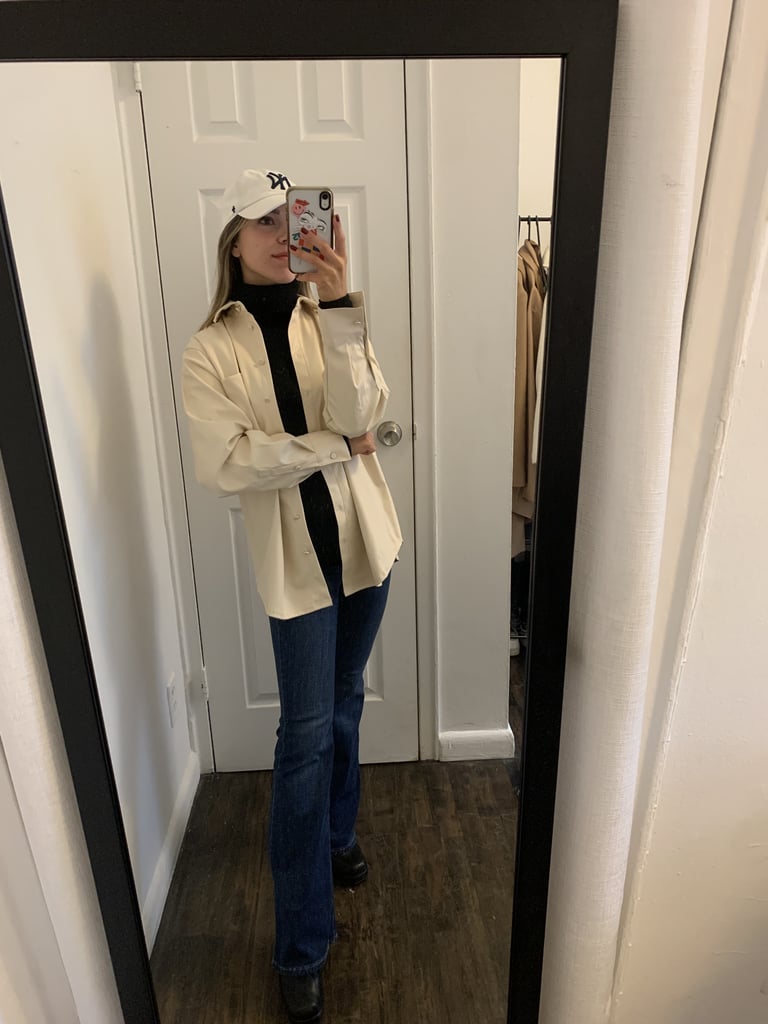 As someone who grew up in Orange County in California, fall was never quite a real concept to me. Yes, sometimes the temperature dipped from the usual 72 degrees and sunny to a rare 68 degrees and (still) sunny, but I never experienced the true seasonal changes that most people across the country do. But that changed when I moved to New York City. After five years here, I can confidently say that I have experienced everything (and I mean everything) that comes with fall, including the chill in the air, the unpredictable temperatures throughout each day, and the outfits that are notoriously hard to plan.
Over the years, I have found that this uncertain weather has led me to buy a variety of clothing items that I have yet to wear. I stocked up on tons of jackets because the crisp morning air convinced me that I would freeze, only to find out it would heat up by the afternoon. These items were soon tossed to the wayside because they were too heavy for fall but too light for winter. I also went overboard on oversize sweaters, thinking these would keep me warm during nights when the temperature dipped, but I soon realized these pieces were not elevated enough for evenings out in the city, so these, too, were long forgotten. Luckily, my search for the perfect transitional fall-outfit staple finally came to an end this year, thanks to an affordable button-down I found at Target. The A New Day Long-Sleeve Faux Leather Button-Down Shirt ($28) has become my one-and-done outfit piece for both fall in the city and by the beach.
What I Like About the A New Day Long-Sleeve Faux Leather Button-Down Shirt
What I love most about this shirt is its versatility. It can be worn as either a shirt with nothing underneath it or as a jacket over sweaters and tops. In California, I like to style this piece as a shirt and pair it with jeans and sneakers when I want to wear something casual during a warm afternoon. In the city, I like to pair it with a sweater and pants or a skirt and knee-high boots for a chilly night. Aside from the countless styling options, I also adore the light cream color of this piece because it's perfect for both fall and spring outfits.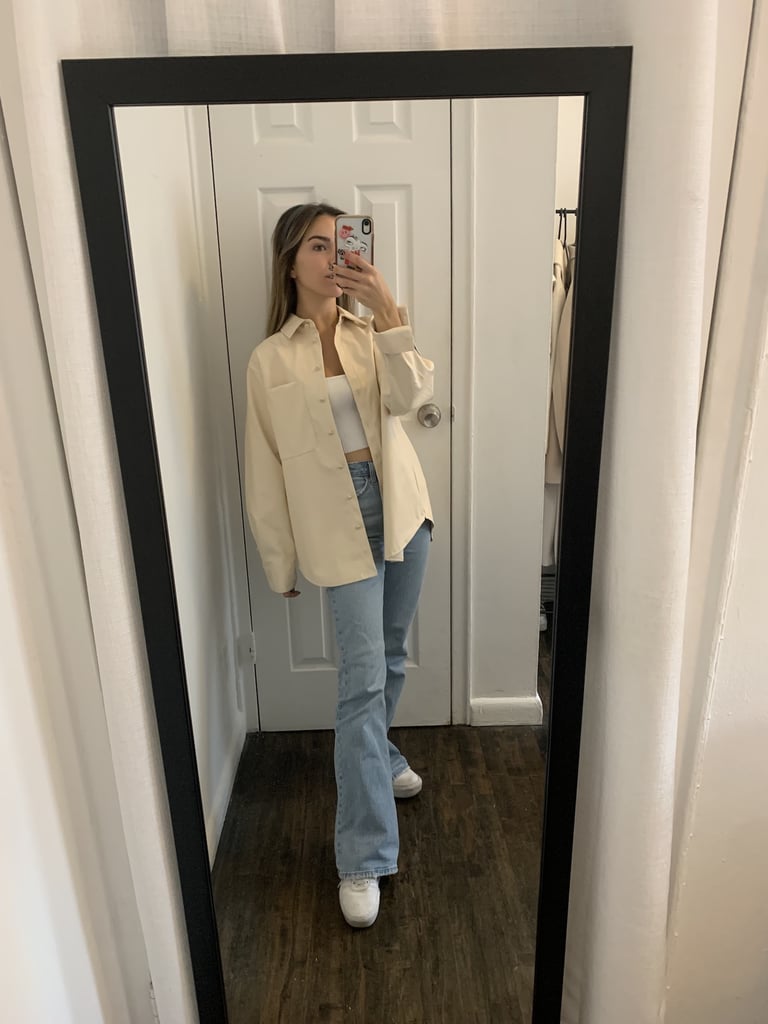 What's Worth Noting About the A New Day Long-Sleeve Faux Leather Button-Down Shirt
Because this shirt is made with 100 percent polyurethane, I noticed that I had to break it in a bit. The material is a little stiff, so when I first tried it on, I didn't love how it fit (the collar was too high and too tight). Luckily, the material is super pliable, so after you wear it a couple of times, it's much more relaxed. I also want to note that I like wearing something underneath this piece. (I usually wear a long-sleeved body-con bodysuit), just because the fabric is thin and can sometimes show the outline of my bra.)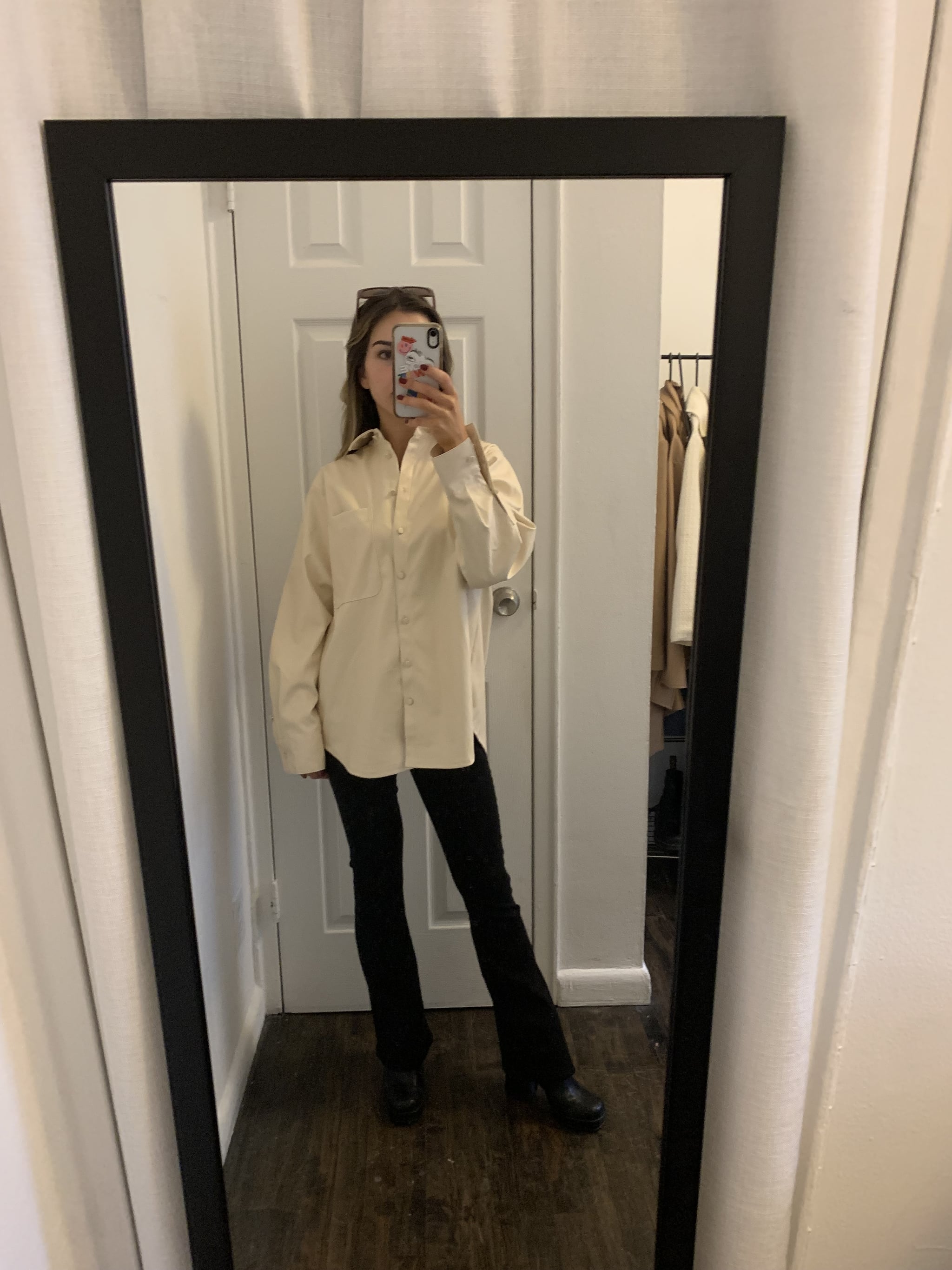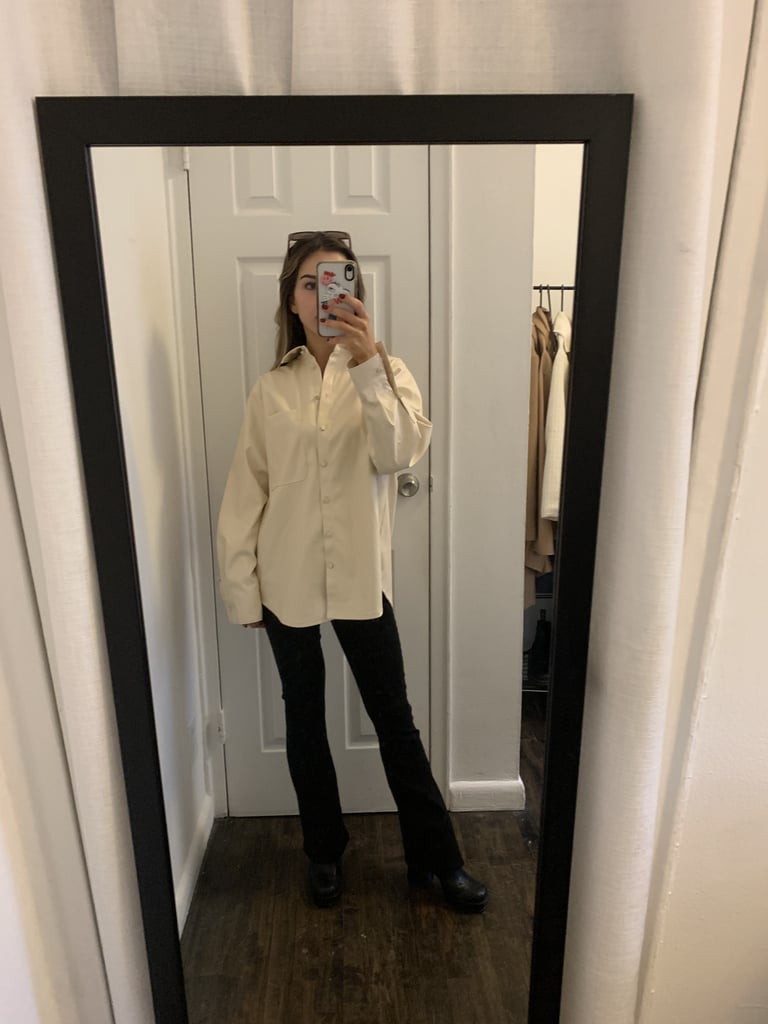 Who Is This A New Day Long-Sleeve Faux Leather Button-Down Shirt Best For?
This shirt is ideal for anyone who needs an easy transitional fall or spring shirt. It's super easy to style, and I can wear it on its own, with sweaters, or with casual tops. It can also be dressed up with booties or dressed down with sneakers. It's lightweight, which makes it easy to toss in my carry-on when I travel from New York to Orange County and vice versa. I would also suggest this shirt to someone who wants to curate their capsule wardrobe, because it comes in two very versatile hues (beige and espresso brown).
Additional Details
This shirt come in sizes XS-4X.
It has a relaxed fit, collared neckline, and button-down front.
It comes in two different colors: cream and brown.
It is made with 100 percent polyurethane.
It can be machine-washed on cold and tumble-dried on low.
Rating:
Image Source: POPSUGAR Photography / Lauren Harano