He was a friend of the Rolling Stones and Pink Floyd, a flatmate of Paul McCartney and a lover of women including Marianne Faithfull, Anita Pallenberg and Nico. He resides between a 1,300-year-old castle in Italy, a mountain residence in Switzerland and a summer home in Malibu. And now at the age of 81, Prince Stanislas Klossowski de Rola – popularly known as Stash – is a TikTok darling. "The audience is all young people and they're all absolutely fascinated," he says on a video call in his castle, looking like a particularly dashing wizard as he shows me his "magical grimoire" of tantric paintings and antique Turkish swords.
Born into a long line of ancient nobility (Lord Byron is a distant relative) and the son of the notorious French-Polish artist Balthus, the aristocrat's life has been a rock'n'roll fairytale full of worldly quests and romances. He was a dandy in swinging 60s London, who acted for Luchino Visconti, drummed for rock'n'rollers Vince Taylor and the Playboys and modelled for actual Playboy; he was pictured in the studio with the Beatles, and also leaving court with Brian Jones after getting busted for drugs.
In mid-July he took to TikTok to tell of these escapades and more, and has amassed more than 125,000 followers and millions more viewers – he is the platform's latest "granfluencer", older people who embrace social media to share their history and wisdom. As well as recalling celebrity encounters – he also featured as Harry Styles' dad in Gucci's Mémoire d'une Odeur campaign in 2019 – he shows off his collections of antiques and oddities, from ancient maps to rare books, with a flair for storytelling: speaking about occult magician Aleister Crowley, he describes a man who "played with entities that sabotaged his entire life and are still active from another dimension". Stash's most popular video, of his antique knife collection, has more than 2m views.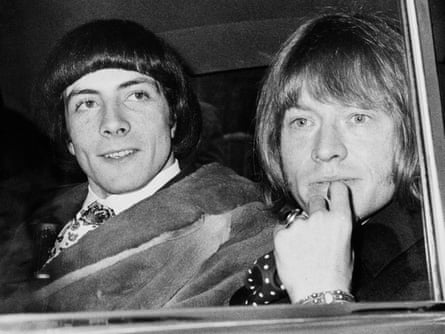 The prince got his start in music alongside Vince Taylor – the ill-fated inspiration for David Bowie's Ziggy Stardust – whom he met in Paris in 1964, and he forged his friendship with Brian Jones when Taylor and the Stones shared a bill in Paris the following year. He once made music with Jones, which has never been released. "I've been looking for the tapes," he says. "Our music preceded Satanic Majesties and that whole direction of psychedelia the Stones went down."
After getting arrested with Jones for possession of marijuana and cocaine, the prince moved into Paul McCartney's residence in St John's Wood, where they entertained what Stash has described as "harems of girls", with Beatles fans camping outside and sometimes bursting in through the gates.
Then, at the end of 1967, Stash, Syd Barrett and a few friends went on an acid-fuelled trip to the Black Mountains in Wales, a trip that Barrett is said to have never fully recovered from. "I was with him when he went to the other side," he confesses. "We were on acid together – it's a weird story." He likens it to Luis Buñuel's surrealist film The Exterminating Angel, in which a group of high-society friends find themselves at a dinner party and are inexplicably unable to leave. "It was really a magical thing. He fell into a psychedelic crack. Believe me, other dimensions can open up."
Stash's rise to TikTok virality was the idea of personal branding image specialist and adviser to the stars, Sandy Grigsby. An American team came over to Europe to film the videos, characterised by Stash's deep, knowledgable voice and often psychedelic get-ups (silk scarves, tunics, big rings, etc) all smoothly edited with drone footage and layered over the latest music trending on TikTok.
"Have you seen the latest numbers? It's absurd! It all came much to my absolute amazement," says the prince. He was initially apprehensive though. "It's not my generation, and it's not what I do. This absolute obsession with the phone is a very modern disease of our time. Mercifully, most of my life it was not something one did. I've never felt compelled to subscribe to it."
Why does he do it? "I'm getting rather long in the tooth now," he says, with a youthful sparkle in his eyes. "I've had a book in the works for over 40 years but I've been rather shy in the past."
Another reason Prince Stash has taken to TikTok is to preserve his historic Montecalvello castle. He envisions it becoming an "institution which is self-sustaining and benefits the public – a sort of live-in museum". Collecting oddities and antiques runs deep. "My parents were big collectors," he says, with "family artefacts passed down through the ancestors. There are scandalous and very colourful figures in my ancestry – my maternal ancestors came from a warlord tradition, Swiss mercenaries who had their own armies."
As our conversation wraps I ask for the best piece of advice he's been given over his long and colourful life. He chuckles. "Tony Williams, the lead singer of the Platters, told me: never let a girl make you come before a show because it ruins your high-range. But I don't think you can print that!"