Alex de Minaur has been soaking up encouraging words from Lleyton Hewitt as he looks to emulate his childhood hero with a Queen's Club triumph.
De Minaur made more striking progress on Saturday, becoming the first Australian since Hewitt 17 years ago to make the singles final at the esteemed grass-court Wimbledon warm-up.
The national men's No 1 earned one of the best wins of his career to defeat young rising star Holger Rune 6-3 7-6 (7-2) with an immaculate semi-final display. And now he faces another 20-year-old, Carlos Alcaraz, in Sunday's final, knowing the biggest win of his career can prevent the young Spaniard returning to world No 1.
Even the soaring Alcaraz recognises the danger from the 24-year-old Australian as he labelled de Minaur the favourite to win the Queen's title. Not since de Minaur's idol, and now Davis Cup captain, Hewitt won the last of his four titles in 2006 has an Australian man contested the Queen's final.
"He's been a huge mentor and my Davis Cup captain, and he's been messaging me this week, just letting me know after every match 'good job, well done'. Just positive, just being there," de Minaur revealed.
"He's definitely keeping track of every one of my matches," added the Sydneysider, who'll be having a pre-Wimbledon dinner in Eastbourne next week with the former champ and other All England-bound Aussie players.
As for joining Hewitt among the 26 Australian winners at the 133-year-old Queen's Championships, de Minaur smiled: "He's played pretty decent here over the years, a pretty good record. I'm a little bit far away from that, but I would love to be able to put my name on the trophy tomorrow."
De Minaur will have to find a new level to beat Alcaraz, who showed with his brilliant 6-3 6-4 win over Sebastian Korda in the other semi that he's learning quickly on a surface on which he's beginning to feel like a veteran.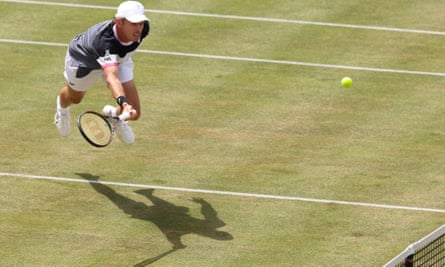 "Right now I feel like I'm playing for 10 years on grass, it's something crazy for me," smiled Alcaraz, who will be seeded No 1 for Wimbledon if he beats de Minaur. "But I'm going to say he's the favourite with the level that he's playing right now."
Alcaraz's praise was warranted. De Minaur produced a hugely accomplished win, making just one unforced error in the opening set as he outplayed Rune on a baking afternoon when soaring temperatures required two separate stoppages for spectators in the stands to receive medical assistance.
Typical of the gentleman he is, de Minaur took time out in his post-match, on-court interview to inquire after the pair's well-being.
Denmark's world No 6 Rune is still finding his way on grass and, despite his superior firepower, couldn't deal with the Australian's flatter hitting and sliced approaches as he fought to recover from a sloppy first-game break.
Serving with a bit of extra heat, de Minaur didn't get broken once while producing a couple of breaks himself on his way to a victory that repeated the one he earned over the Dane before going on to win his biggest title at the ATP 500 Acapulco event in March. Victory at Queen's would top that.
Asked if he could go one better against Alcaraz on grass after his agonising loss on Barcelona's clay last year when he held two match points before losing, de Minaur smiled.
"Carlos, he's finding his footing on grass and playing some great tennis. It's going to be an absolute battle."