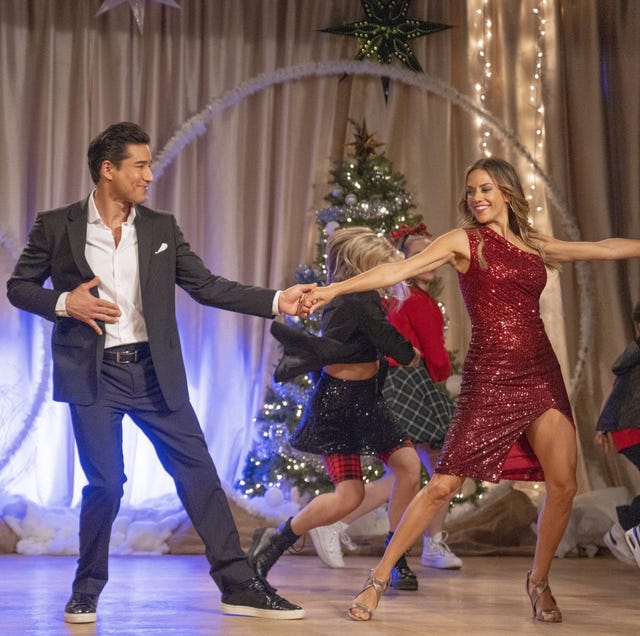 Lifetime
While Netflix has come in strong on the Christmas movie game, Lifetime remains the OG when it comes to festive content. Every year, the network rolls out a whole host of soon-to-be holiday classics, reuniting the cast members of all of your favorite TV shows, and making viewers everywhere believe in magic.
Following a tried and true formula, the classic Lifetime holiday fare so often follows a bright young woman on her journey to find the "true meaning of Christmas." Of course, there's always an obstacle to overcome along the way, such as trying to save the beloved town inn from closing or realizing a lifelong dream of opening a bakery. Each year sees more busy executives give up their careers after hooking up with their high-school crushes under the mistletoe than ever before. From Lifetime favorites like Melissa Joan Hart, Vanessa Lachey, Tia Mowry, and Tatyana Ali, to endearing performances by members of the One Tree Hill cast, Lifetime has upped its game once again to create a truly unbelievable slate of Christmas fun.
So spike your eggnog, grab your coziest blanket, and settle in for hundreds of hours of festive frolicking with our ranking of 101 of Lifetime's best Christmas movies of all time.
Advertisement – Continue Reading Below
98
Christmas on Mistletoe Lake (2022)
Reilly (Genelle Williams) takes a trip to a new place every Christmas. But when she picks the quaint Mistletoe Lake, she arrives to find that all accommodation is sold out on account of the Christmas Harbor Festival. Luckily, Reilly is invited to stay on a boat on Mistletoe Lake by a 12-year-old named Emma. Soon, she's roped into convincing Emma's dad, Raymond (Corey Sevier), to enter the town's festival for one final, perfect holiday season.
WATCH NOW
95
A New Orleans Noel (2022)
Grace and Anthony are both architects, but that's where the similarities stop. However, they're thrown together when they're hired by New Orleans praline icon Loretta Brown (Patti LaBelle). And when Anthony finds out that Grace is set to spend the holidays alone, he invites her to spend time with his family. Will their disagreements turn into romance over the holiday season?
WATCH NOW
Melissa Joan Hart directs Lifetime's latest caper, Santa Bootcamp. The Walking Dead's Emily Kinney stars as an event planner in need of the perfect Santa Claus. Enter West Side Story icon Rita Moreno as Belle, whose Santa Bootcamp promises to produce the best Saint Nicks in town.
WATCH NOW
92
Steppin' Into the Holiday (2022)
Mario Lopez plays a successful TV personality thrust back into small town life when his career hits a snag. Back home, he connects with One Tree Hill's Jana Kramer, a local dance teacher with a penchant for community and cabaret.
WATCH NOW
Busy architect Alex (Jodie Sweetin) used to be a fan of Christmas, until her best friend hooked up with her ex, that is. Now, her mom is opening an inn in Switzerland, so the holiday season promises to filled with adventure, and hot single dads, apparently.
WATCH NOW
90
Christmas Ever After (2020)
Tony-winner Ali Stroker stars as romance novelist Izzi, who likes to spend every Christmas at a particular bed and breakfast. Her writer's block is immediately cured when she meets the B&B's new owner Matt (Daniel di Tomasso), who's extremely dashing, and looks a lot like the protagonist in her novels.
WATCH NOW
89
The Christmas Temp (2019)
The next time you're sitting in your company's human relations department, try not to fall in love with the head of HR—even if it's Christmas. The Christmas Temp follows an out of work artist who is matched with some fun festive jobs by a temp agency. She's totally unprepared for how handsome the HR manager will be, of course.
WATCH NOW
81
Wish Upon a Christmas (2015)
Amelia is an efficient corporate shark who is tasked with whipping a failing Christmas ornament factory into shape. She's happy to return to her hometown and see her dad (played by the late Alan Thicke), but her job gets complicated when she discovers her high school sweetheart runs the company. Can you guess whether she will lay off all the workers at the ornament factory or find the true meaning of Christmas and love instead?
WATCH NOW
Lifetime managed to fit both its single-mom trope and Christmasy-named characters into this patently silly riff on Miracle on 34th Street. Holly (Gabrielle Carteris) returns to her hometown with eight-year-old son Ben to work for her father's toy business. When Ben meets their new next-door neighbor, Nick (Steve Bacic), he becomes convinced Nick is actually Santa Claus. He does his best to set up his mom with Santa so they can live happily ever after in the North Pole.
WATCH NOW
74
Comfort and Joy (2003)
This film has pretty much the same plot as A Snow Globe Christmas (which ranked higher). Jane, a workaholic advertising executive played by Nancy McKeon, wakes up to find herself a happily married stay-at-home mom to two kids. While it's nice that Lifetime is tackling the working woman vs. stay-at-home mother question that many women face, they don't seem to realize that you can actually work and have children at the same time.
WATCH NOW
71
A Very Nutty Christmas (2018)
In case you were concerned that Melissa Joan Hart wasn't getting enough Christmas-related TV roles, here she plays hard-working bakery owner Kate Holiday (drink for a Christmas name!). While Kate is knee-deep in Christmas cookie orders, she gets unceremoniously dumped by her jerk boyfriend days before Christmas. Thanks to a magic ornament and/or stress-induced psychosis, she awakes to find a handsome soldier in her living room. Turns out that Chip (Lifetime regular Barry Watson) may or may not be the Nutcracker Prince from Tchaikovsky's The Nutcracker, which is reassuring enough that Kate considers falling in love or at least not calling the cops on him.
WATCH NOW
Lifetime remixed one of its own for this film, which is a genders-reversed version of the 2013 movie Merry In-Laws. The film features a soon-to-be married couple, one of whom happens to be the lone offspring of Mr. and Mrs. Claus. This time, it's the daughter—and whoever marries her must be prepared to step into her father's shoes. As with its predecessor, the best part of the movie is that it features a mini-reunion of a beloved sitcom cast. This time, Family Ties stars Meredith Baxter and Michael Gross play the Clauses.
WATCH NOW
68
Christmas Around the Corner (2018)
This time Claire (American Horror Story's Alexandra Breckenridge) is the savvy venture capitalist from New York City who heads to an idyllic town in Vermont for the holidays. She quickly falls in love with the quaint Fortenbury Bookstore, but hates the owner, Andrew (Jamie Spilchuk), who mansplains over her ideas to save the store. Of course, in the Lifetime universe, it's a slippery slope from burning hatred to making heart-eye emojis at each other. Soon enough Claire and Andrew start to fall for each other, until Claire finds out Andrew wants to sell the bookstore. How dare he sell his own business? Luckily, the spirit of Christmas just might change his mind, especially if Claire gives up her Wall Street career and moves to Vermont!
WATCH NOW
66
A Twist of Christmas (2018)
Why have just one single parent who discovers the true meaning of Christmas when you can have two single parents find the true meaning of Christmas together? Busy working mom Abby (Vanessa Lachey) and single dad lawyer Ryan (Brendon Zub) hate each other pretty much on sight, which is the surest recipe for love in the Lifetime Christmas kitchen. When a fateful mix-up at a toy store is poised to ruin Christmas for both families, they can't help but team up to save Christmas—not realizing they're falling for each other in the process.
WATCH NOW
65
Christmas Lost and Found (2018)
New York City event planner Whitney Kennison (The Good Place's Tiya Sircar) goes on a literal guilt trip to Chicago to spend Christmas with her Grandma Frances (Diane Ladd). To reward her, Frances decides to give her granddaughter the family ornaments (not a euphemism), but Whitney accidentally throws the box away. Instead of never talking to her again, Grandma Frances devises a Christmas scavenger hunt to remind Whitney about the true meaning of Christmas—and if she happens to find love along the way and move to Chicago and give up her job, even better.
WATCH NOW
62
Love at the Christmas Table (2012)
Sam and Kat met at the children's table one Christmas, kick-starting a lifelong friendship that just might turn into romance. The film earns points for sheer quantity of festivities, with the action unfolding over the course of more than a dozen Christmas Eve parties. As for casting highlights, this film includes Gilmore Girls' Luke (Scott Patterson) and not one, but two Dancing With the Stars contestants—Back to the Future's Lea Thompson and Danica McKellar.
WATCH NOW
61
Christmas in Paradise (2007)
We found it—the only Lifetime Christmas movie that takes place on a cruise ship. Two families, led by Colin Ferguson (Eureka) and Charlotte Ross (NYPD Blue), want to escape the ghosts of their Christmases past, so they hop on a giant boat to Puerto Rico to spend their holidays in the sun. The two families bond, but it's complicated, especially when his ex-wife shows up.
WATCH NOW
59
Christmas Love Letter (2019)
When an advice columnist finds an unsigned love letter, she's determined to find the sender—who, naturally lives in her hometown. Instead of just posting the note on her town's Facebook page or alerting a local news outlet looking for a heartwarming holiday story, she goes full Nancy Drew. While she's looking for love, she also finds a better, different kind of love.
WATCH NOW
58
The Christmas Gift (2015)
Buffy the Vampire Slayer and Gossip Girl's Michelle Trachtenberg plays a reporter seeking the boy who sent her a memorable Secret Santa gift when they were kids. With the blessing of her editor, she uses all her journalistic skills (e.g., wearing a cocktail dress) to track him down so she can thank him in person for the gift. Then, in a very unprofessional—yet not particularly surprising—move, she falls in love with him. If you want to feel extra good about this movie, it was based on a real-life heartwarming story.
WATCH NOW
57
The Real St. Nick (2012)
This film, set in a psychiatric hospital, clearly owes a debt to Miracle on 34th Street. Kate, a psychiatrist, is rescued by a mysterious man named Nick Claus. She brings him to her hospital, where he sets about filling the patients with Christmas spirit, infuriating the Scrooge-like hospital administrator, and, of course, winning Kate's heart.
WATCH NOW
56
A Christmas Winter Song (2019)
A homeless jazz singer helps a a young musician (Ashanti) rediscover the magic of Christmas after tragedy. This is as close to a musical as these Christmas movies get, so Les Miserables fans should definitely tune in.
WATCH NOW
It's easy to imagine this as a Christmas-themed retelling of Kinky Boots, since it involves a family business on the brink of demise, but instead of turning to the world of erotic footwear, the business looks to Santa Claus for a miracle. Megan Hilty plays Holly (drink for a Christmas name!), who is filling in as a Santa's Helper at her parents' struggling department store when she commits the ultimate no-no—she falls for her Santa. Then, jolly old Nick turns into the ghost of boyfriends past and disappears, leaving only a boot behind as a clue. Apparently unaware of ghosting as a modern dating phenomenon, Holly goes on the hunt for him, random boot in hand, turning this into a gender-swapped Cinderella.
WATCH NOW
53
Christmas Stars (2019)
Singer Layla and songwriter Spence just want to make beautiful music together, but the music industry is so cutthroat it's tearing them apart. Those pesky record executives may ruin their chance at fame—and love. Or not!
WATCH NOW
52
A Very Merry Daughter of the Bride (2008)
The title of this one doesn't exactly roll off the tongue, but it'll slot right into your comfort viewing schedule. Starring JoAnna Garcia as Roxanne, a wedding planner who sees red flags when her mom gets engaged to a man she hasn't known for very long, it's really two love stories for the price of one. The beloved late Luke Perry pops up here as Roxanne's confusingly hot potential new brother-in-law, but honestly, there's not enough of him in the movie (and that's why it didn't rank higher).
WATCH NOW
49
Hometown Christmas (2018)
Not to be confused with Christmas in the Bayou or The Christmas Contract, in this movie, Beverley Mitchell plays Noelle (drink for a Christmas name!) who returns to Louisiana for Christmas with big plans to resurrect her late mom's favorite Christmas tradition—the town's live nativity. She would also like to avoid her ex, Nick (One Tree Hill's Stephen Colletti), while she's in town, but what kind of Lifetime movie would it be if she didn't run into him? The former high school sweethearts are forced to hang out because their parents are hanging out, too, and this just might turn into an episode of Dr. Phil, where a mom and her guy get married while the step-kids are dating each other. Oh, and keep an eye out for Little House on the Prairie star Melissa Gilbert!
WATCH NOW
47
Grounded for Christmas (2019)
Next time you're at the airport and your flight gets cancelled, remember that some of the greatest love stories of our time started in an airport. In this one, a pilot convinces her charming but arrogant co-pilot to pretend to be her boyfriend at a family gathering so she can make her ex jealous. That's right—for some reason, her family invited her ex to Christmas. Sounds like a good reason to get a new family instead of a fake boyfriend.
WATCH NOW
46
Christmas in the City (2013)
Wendy (Ashley Williams) is a single mom who's going to lose her candy shop if she doesn't raise some fast cash. Instead of turning to Kickstarter, she takes a job in the toy section of a big-city department store at Christmas. When the owner's son takes a shine to her, she must face off against Teanna, a tough-as-nails marketer played by Ashanti. Will Wendy find love and the riches she needs? Well, it is Christmas on Lifetime.
WATCH NOW
45
Last Chance for Christmas (2015)
Hilarie Burton got into Christmas movies on a dare from Paul Rudd, and she has turned that one-off into a career with roles in Christmas on the Bayou, Naughty or Nice, and many more. In this go-round she plays a spunky Alaskan reindeer trainer charged with finding a substitute for Prancer when he injures his hoof. Her character, Annie, is a single mother (of course) who isn't sure she wants her daughter's pet reindeer to go to the North Pole. It's up to Santa's hunky stablehand to convince her otherwise.
WATCH NOW
44
Rediscovering Christmas (2019)
While nearly every Lifetime movie involves rediscovering the magic of Christmas in some form or other, this one makes it the entire plot. The film follows a holiday window dresser who wanted to spend Christmas relaxing on the beach after her busy season, but instead learns the magic of Christmas while attending her quaint Vermont hometown's Snowflake festival. Lifetime proves that if your town has a holiday festival, you will fall in love.
WATCH NOW
43
A Gift Wrapped Christmas (2015)
Gwen (Meredith Hagner) is a personal shopper with a new client—Charlie (Travis Milne), a workaholic single dad. If you think they might fall in love by the end of the movie, then you have finally watched enough Lifetime movies to know what you're in for. Gwen has no understanding of boundaries, and when she meets Charlie's adorable son, she decides to make it her Christmas mission to bring a little cheer to the family. She not only gets them in the festive spirit, but she also realizes that all she wants for Christmas is them.
WATCH NOW
42
A Date by Christmas Eve (2019)
Just like 2012's A Christmas Wedding Date, the title of this film gives away the entire plot. Basically, a brand strategist works to make sure she has a date for the big day, because everyone needs a date to Christmas in the Lifetime world.
WATCH NOW
41
Christmas Hotel (2019)
Isn't it awkward when your ex-boyfriend is leading the community protest against your company's takeover of your hometown's charming inn? Of course, if you watch enough Lifetime movies, you know that awkward encounters eventually lead to love at Christmas. Tatyana Ali stars as the hospitality hustler forced to choose between love and career during the holidays.
WATCH NOW
40
A Storybook Christmas (2019)
Yet another lonely, single event planner is determined to save her business with a Christmas Eve bash to remember. Though her business is on the line, she's hustling to make sure her niece has an amazing Christmas—and thanks to the hot new nanny, they both might get what they want this year.
WATCH NOW
39
Christmas Unleashed (2019)
Vanessa Lachey dusts off her acting chops to play a dog owner whose beloved pooch makes a break for it. She has no choice (none!) but to convince her ex-boyfriend to help her track down the dog. As they race through town on their search, they remember the good times from their past. Someone is going to get a very big treat if these two get back together.
WATCH NOW
38
Staging Christmas (2019)
A wealthy widow wants to cheer up his daughter, so he hires a home stager played by Soleil Moon Frye (a.k.a. Punky Brewster) to decorate the place. This might not seem like the place to argue about the difference between "home stager" and "interior decorator," but since the plot is completely predictable, maybe it is?
WATCH NOW
37
The Road Home for Christmas (2019)
When two rival musicians find themselves without a gig on Christmas Eve, they decide to go on a Christmas road trip, which is a totally normal thing for two people who ostensibly hate each other to do. It quickly turns into an ersatz Planes, Trains and Automobiles as the two try to get to their respective hometowns. All that stands in their way is a Santa convention and a guest appearance from country royalty Marie Osmond.
WATCH NOW
36
Recipe for a Perfect Christmas (2005)
If you've ever wanted to see Christine Baranski reveal her up-to-the-minute tech skills by revealing that she "just bought a book on Amazon dot com," then you're in luck. Baranski plays Lee, who arrives on her restaurant-critic daughter JJ's doorstep after losing her job. Perennial hottie Bobby Cannavale stars as a chef JJ asks to help manage her OTT mom and, voilà! Christmas magic happens.
WATCH NOW
When a busy executive (is there any other type?) learns she needs to learn about Hannukah ASAP, she doesn't just look it up on the internet. She turns to the friend of a friend, who is apparently the only Jew in town. Turns out he needs help, too, so they set up a unimpeachable quid pro quo that may lead to something more if his girlfriend doesn't derail the plan.
WATCH NOW
29
No Time Like Christmas (2019)
A sister wants to play matchmaker, but instead of just taking over her sibling's Hinge account, she conspires to send her to the picturesque Vermont inn where her ex-boyfriend just happens to be staying. Sisters, amiright?
WATCH NOW
28
A Very Vintage Christmas (2019)
Lifetime regular Tia Mowry owns a vintage store and sees unusual old items every single day, but that doesn't stop her from finding magic in mementos. When she stumbles upon a mysterious box of trinkets, she sets out on an Amelie–style mission to reunite them with their rightful owners. And if her cute new tenant wants to help her on the adventure, well, that's just the magic of the season.
WATCH NOW
27
Christmas 9 to 5 (2019)
I was hoping this was a Christmas reboot of the Jane Fonda, Lily Tomlin, and Dolly Parton working girl classic 9 to 5, but instead it's a Lifetime Christmas crime caper. Tough reporter Jennifer goes undercover at a department store and realizes that journalism is lame and she really wants to work in retail. She also meets the man of her dreams, but that's almost beside the point since she found her true calling.
WATCH NOW
26
Christmas Pen Pals (2018)
Sarah Drew may not be on Grey's Anatomy anymore, but she already has a new line on her resumé—playing Hannah, a tech genius/dating-app creator who is, funnily enough, bad at love. After getting dumped, she heads home for the holidays, where she runs into her high school boyfriend, as you do in Lifetime movies. Meanwhile, her dad (played by Michael Gross) convinces her to sign up for the anonymous holiday pen pal service (is that a thing?) where the writers' identities will be revealed on Christmas Eve. If you've ever seen You've Got Mail you can probably guess where this is going.
WATCH NOW
25
The Magical Christmas Shoes (2019)
Hans Christian Andersen once wrote a horrifying story about a girl given a pair of magical shoes that are so cursed, she ends up begging an executioner to chop them off her legs. This is like that, but instead of making Kayla dance, the magical shoes imbue her with the Christmas spirit and instead of an executioner, she finds love.
WATCH NOW
24
Twelve Trees of Christmas (2013)
This movie stars a Spice Girl, so it's mandatory viewing. Cheri (Lindy Booth) plays a librarian desperate to save her local branch from an evil yet handsome real-estate developer, Tony (Robin Dunne). To raise funds to save the library, she throws a tree-decorating contest and Tony enters with the help of his decorator—Mel B, aka Scary Spice. Will Mel B "Let Love Lead the Way" for Cheri and Tony, or does she "Wannabe" his "Love Thing"?
WATCH NOW
21
Christmas in Louisiana (2019)
Not to be confused with A Christmas in Tennessee, Christmas on the Bayou or last year's Hometown Christmas, this film follows a former Miss Christmas as she returns home to Louisiana for the annual Sugarcane Christmas Festival. A pageant queen needs her pageant king, of course, and she soon finds a Mister Christmas to call her own.
WATCH NOW
20
Random Acts of Christmas (2019)
The tough world of investigative journalism becomes the unlikely ground for a love story when two rival reporters trying to get their big scoop meet. Will they crack the case, or will the potentially viral story be sidetracked for love? If the unlikely story of love in the ever-tightening media landscape doesn't lure you in, your mom will be impressed that both Patrick Duffy and OG Charlie's Angel Jaclyn Smith guest star.
WATCH NOW
19
You Light Up My Christmas (2019)
This story follows Emma (played by Kim Fields a.k.a. Tootie from The Facts of Life) who returns to her hometown (naturally) and lights up the entire place with the heat of a rekindled old flame and (naturally) the Christmas spirit.
WATCH NOW
18
A Sweet Christmas Romance (2019)
When a local baker retires, she decides that instead of selling her successful business and using the money to retire in Boca, she wants to give the bakery to the person who can follow her recipes the best. Holly (drink for a Christmas name!) and Brad both want to win, but like The Highlander, there can be only one bakery winner. Since Holly can't cook and Brad doesn't have a name that sounds like Christmas, they team up—and, well, the title gives away what the real prize is.
WATCH NOW
17
The Christmas Pact (2018)
Not to be confused with The Christmas Contract, this film asks the eternal question: Can best friends fall in love? As anyone who binge-watches Lifetime movies can tell you, the resounding answer is yes! Still, next door neighbors Sadie (Kyla Pratt) and Ben (Jarod Joseph) have to stumble on that realization for themselves. They must decide whether to keep the pact they made over a Christmas tree when they were eight years old or make like Fleetwood Mac and go their own ways. Life may have interfered with their friendship, but it's nothing that a little Christmas magic can't cure. Brace yourself for tree metaphors! And A Different World's Jasmine Guy as a mom!
WATCH NOW
Opening with a car accident that leaves a young boy motherless, Holiday Spin is designed to be a real tearjerker. The boy, Blake, is forced to go live with his dad, Ruben, played by Ralph Macchio, aka the Karate Kid himself, who is barely keeping his dance studio afloat. The only hope for the studio's survival is the star dancer (and Ruben's soon-to-be stepdaughter), Pia, winning big at the annual dance called—you guessed it—the Holiday Spin. When Pia's partner bails on the competition, guess who has to step in? This movie has everything you could want in a Lifetime flick, including holiday magic, Baywatch's Erika Eleniak, and some slightly creepy stepbrother/stepsister crush action.
WATCH NOW
13
Christmas a La Mode (2019)
In what can only be considered an argument for improved farm subsidies, a young dairy farmer struggles to keep her family farm afloat. She's about to sell off the cows when she comes up with a clever scheme—a holiday ice cream contest. Will one good idea be enough to save a family farm in this economy? Will the hunky business owner buy the cow when he can get the milk for free to make ice cream? Probably! Hoping that FarmersOnly.com realizes the marketing opportunity here and runs some ads during the film.
WATCH NOW
12
Twinkle All The Way (2019)
Sarah Drew left her career as a doctor on Grey's Anatomy to start a new life as a wedding planner at the Snowview Lodge, which is a downgrade from last year, when she played a tech genius in Christmas Pen Pals. Work brings her in contact with fellow single parent Henry who runs a Christmas decoration company (I mean, someone has to, right?). As they conspire to make the best Christmas Eve wedding party ever, a well-timed snow storm helps them find true Christmas magic.
WATCH NOW
10
Always and Forever Christmas (2019)
Lexi Lawson plays a marketing exec (of course) who inherits her grandfather's year-round Christmas store in Vermont. Since she doesn't live in Vermont, she makes the wise decision to sell it for a bunch of cash to an athleisure company. Mrs. Claus, played by Beth Broderick (a.k.a. Aunt Zelda) has her own business ideas, though, and thanks to a little help from Christmas magic and a handsome diner owner who doesn't mind a cranky customer, it just might be Christmas forever, but not in a Nightmare Before Christmas way.
WATCH NOW
8
Merry Liddle Christmas (2019)
Did you like the movie Little? Then you will love Kelly Rowland playing a tech entrepreneur who loves her family, but not enough to let them mess up her gleaming, perfect, brand-new home before a big photoshoot. While a Christmas wish doesn't turn her "liddle," she does recapture the magic of Christmas with the help of a new neighbor. The film is inspired by Rowland's own life and features new music from the Destiny's Child singer.
WATCH NOW
7
Sweet Mountain Christmas (2019)
Lifetime basically made a Christmas-themed version of a Carrie Underwood biopic. Country star Laney Blu rocketed to fame on a reality show, which took her away from her beloved Smoky Mountain home. When she stops by to make Christmas cookies with her mom, what was supposed to be a whirlwind trip becomes a long stay thanks to a freak snowstorm and a hunky snowplow driver/mayor/architect/ex-boyfriend.
WATCH NOW
6
A Christmas Wish (2019)
In what feels like a sequel to Christmas on the Bayou, but isn't (??), Hilarie Burton once again plays a young woman determinedly not looking for love in a small Louisiana town. That all changes when her bossy sister makes her put a wish in the town's Christmas wish box, which is apparently a thing in small Southern towns. The next day, Santa delivers Andrew, who just might be her Christmas wish come true or, you know, not. The important thing here is that Pam Grier (!!) guest stars and in what is becoming a holiday tradition, Lifetime is hosting another mini-One Tree Hill reunion, so definitely worth watching.
WATCH NOW
5
Christmas Reservations (2019)
Melissa Joan Hart is single at Christmas—again. In this season's version, she plays an event coordinator at her family's ski lodge (this may be a job that only exists in Lifetime movies) who is too busy to find love. She's ready for another lonesome Christmas when her recently—but not too recently—widowed ex-boyfriend checks in with his two motherless children. You'll never guess what happens next. Oh wait, you totally will. Extra points for managing to cram four love stories (five if you include the dog) into one movie.
WATCH NOW
Lifetime Christmas movie regular Keshia Knight Pulliam plays a radio DJ who is forced to broadcast her show from the little town of Bethlehem, PA. (Drink for a Christmas name!) To work up some buzz for her show and hopefully earn a promotion, she decides to make the town's secret Santa not so secret. But her mission to unmask the anonymous benefactor leads her to the true meaning of Christmas thanks to handsome divorcé and his matchmaking daughter. She soon learns that some things are more important than radio—and, no, it's not podcasts.
WATCH NOW
Advertisement – Continue Reading Below