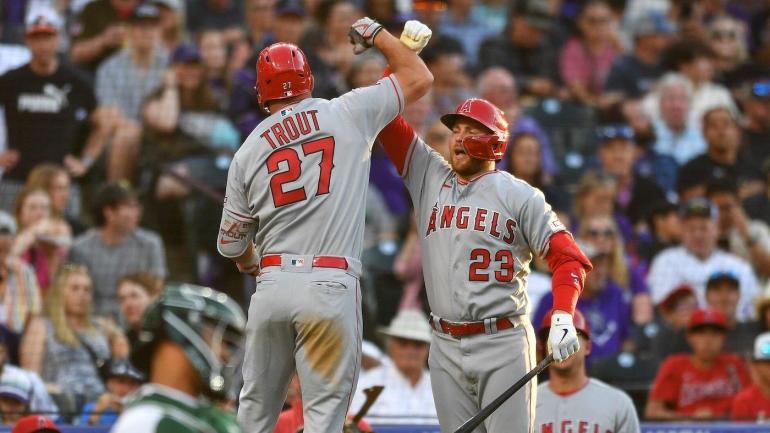 USATSI
The Los Angeles Angels set a new franchise record for runs scored with 25 on Saturday night against the Colorado Rockies (box score). Additionally, they tied a franchise record for their most runs scored in a single inning with 13  The Angels plated those 13 during the third inning, a frame that also saw them connect for back-to-back-to-back home runs. Take a look:
That's Mike Trout, Brandon Drury and Matt Thaiss each launching solo blasts to begin the frame and give the Angels a 5-0 lead on the evening. The Angels were far from done in their half of the frame, too. Here's the rest of their scoring from the third inning broken down into handy bullet-point form:
Jared Ward singled to left, Eduardo Escobar scored, Mickey Moniak to third (6-0);
Shohei Ohtani singled to shallow center, Moniak scored, Ward to second (7-0);
Drury singled to right center, Ohtani and Ward scored, Trout to third (9-0);
Hunter Renfroe doubled to deep right, Thaiss, Drury and Trout scored (11-0);
Escobar singled to right center, Renfroe scored (13-0);
Moniak homered to right center, Escobar scored (15-0)
The Angels had previously scored 13 runs in a frame twice. The most recent occasion occurred back on May 12, 1997. That came against the Chicago White Sox. The other time came in September 1978, when they plated 13 against the Texas Rangers. That rally was notable since the Angels notched just two extra-base hits (both doubles) during the frame. Otherwise, they did their damage with seven run-scoring singles.
Recently recalled infielder David Fletcher led all Angels with five runs batted in. Outfielder Mickey Moniak, first baseman Hunter Renfroe and second baseman Brandon Drury drove in four apiece.
The Angels entered Saturday with a 41-36 record on the regular season, putting them in third place in the American League West. Earlier this week, general manager Perry Minasian suggested the team is unlikely to trade impending free agent and two-way player Shohei Ohtani ahead of the Aug. 1 deadline.