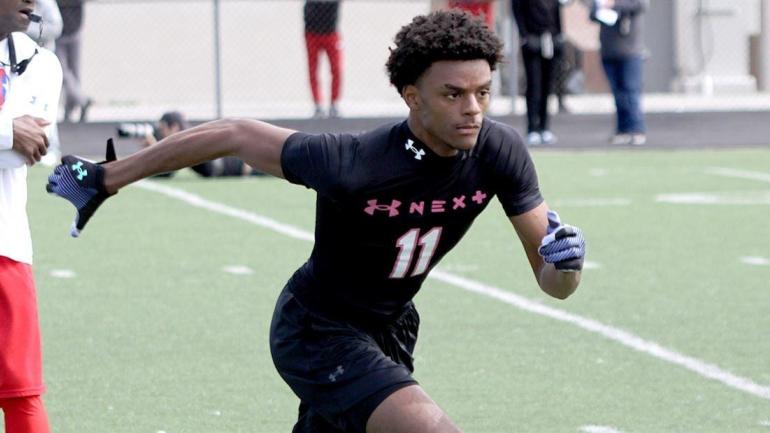 247Sports
Four-star cornerback Selman Bridges, the No. 50 overall player in the 2024 recruiting cycle, committed to Arkansas on Friday. Bridges' commitment gives the Razorbacks a major boost in the 2024 247Sports team rankings with Arkansas jumping from 25th to 17th in the rankings after his pledge. Arkansas also jumped to seventh in the SEC team rankings behind Georgia, Florida, Texas A&M, Alabama, LSU and Tennessee. 
The Temple, Texas, native committed to Arkansas over TCU, Texas, USC and Alabama among others. The No. 11 player from the state of Texas and the sixth-ranked cornerback in his class took official visits last month to TCU, Arkansas and Texas before reaching a final decision. 
247Sports national scouting analyst Gabe Brooks provided the following scouting report on the latest Arkansas commit. 
Multi-sport athlete with experience in basketball and track and field. Good functional athlete on the field with a smooth backpedal that combines with the aforementioned triggering twitch. Wingspan is only slightly larger than height, but the frame plays long, erasing catch-point separation smaller corners cannot. Particularly tough to beat in red-zone situations because of frame and awareness. Physical tools compensate vs. high school competition in situations that will require more technical nuance in the future. Little doubt about functional athleticism, but can probably squeeze more juice out of the top gear to aid turn-and-run and recovery abilities. Narrow and wiry but must gain some mass and get stronger. Above average ball skills, but can increase takeaway frequency considering how many throws his mitts find.
Bridges become the highest-ranked commit for coach Sam Pittman and his staff during the 2024 recruiting cycle as Arkansas now has 15 commitments in the 2024 class thus far. Other big names already committed include four-star defensive lineman Charleston Collins, four-star wide receiver Ashton Bethel-Roman and four-star wide receiver Courtney Crutchfield.