Key events
42 min: Palhinha robs Odegaard, who had taken a heavy touch. There's contact between the pair, too, Odegaard bumped to the floor, but the referee waves play on. Huge roars of dissatisfaction. Fulham will be very pleased to hear them. Everyone associated with the Gunners getting a wee bit irritated right now.
41 min: Some patient Arsenal passing. Some very patient Arsenal passing.
39 min: More frustrated yelling as Fulham deal easily enough with Martinelli's probing down the left, Mitrovic then buying a cheap free kick to release the pressure. Most folk in the Emirates will have expected their team to be ahead already, but here we are.
37 min: Mitrovic creams a diagonal pass towards Kebano on the left-hand touchline. Kebano takes it down brilliantly, then drives at White. He cuts back for Pereira, who larrups a dismal shot miles over the bar from the edge of the box. A few frustrated groans from the home fans during that move.
36 min: Robinson romps down the left and is clumsily brought down by White, who sweeps his legs from under him. The first booking of the evening.
34 min: Ream sticks a foot in to poke the ball away from Odegaard, only to accidentally play Saka clear down the inside-right channel! Saka sashays into the box and opens his body, looking to sidefoot into the left-hand corner, but Leno makes himself big to block. A huge chance. Ream breathes again.
32 min: Scrub that. Martinelli wastes the opportunity by hoicking a dreadful free kick over everyone in the crowded box and harmlessly wide and high.
31 min: Adarabioyo crudely clanks into Jesus, and it's a free kick just to the left of the Fulham box. Danger here.
30 min: Kebano crosses from the left. De Cordova-Reid stoops to meet with a header, but can't direct it on target.
29 min: Martinelli's corner from the left ends up on the top of the Bournemouth net. A little lower and that might – stress might – have squeaked over Leno and into the top-right corner.
28 min: Jesus and Martinelli exchange passes down the inside left. Jesus breaks into the box, after Martinello's looped ball, and is about to shoot when Ream comes across to block out for a corner.
27 min: Jesus crosses deep from the left. Saka rises above Ream at the far stick, but there's nobody rushing in to take advantage of his downward header. Fulham clear.
25 min: Mitrovic really took that ball flush in the mush. But he's a strong lad, and soon up and about again.
24 min: A free kick for Fulham just inside the Arsenal half. Reed floats it into the box. Ramsdale claims, then tries to send a drop kick upfield. His flat delivery smacks the nearby Mitrovic square in the jaw, and the big man goes down. The game pauses as Ramsdale checks on the guy he's accidentally flattened.
22 min: Odegaard, quarterbacking from deep, sends Jesus away down the right. Jesus rolls inside for Saka. Yet another one-two between Saka and Odegaard looks to have released the former into the box, but just as he's about to shoot from the penalty spot, Adarabioyo sticks a toe in to block and clear. That's fine last-ditch defending … though an Arsenal opener looks merely a matter of time.
20 min: Xhaka crosses low from the left. Jesus is waiting to tap in, six yards out, but Leno has anticipated the danger and smothers the ball.
18 min: Gabriel pounces on a loose ball 30 yards out, and nearly releases Martinelli down the middle. De Cordova-Reid covers to clear for a corner that's cleared. It's beginning to feel like Fulham are hanging on, with Arsenal utterly dominant, though Leno has yet to be forced into serious action.
17 min: Arsenal are first to everything at the moment, and are beginning to impose their superiority. Odegaard is at the heart of most of it. Another one-two with Saka nearly comes off on the edge of the Fulham box.
15 min: Saka breezes past Palhinha and feeds Jesus down the left. Jesus tries to return the favour with a low cross, but Saka is crowded out. Fulham clear, but Arsenal come straight back at them, Odegaard crossing deep from the right, Jesus cushioning the ball on the left-hand corner of the six-yard box, then teeing up Xhaka who opens his body and attempts to guide a first-time effort into the top right. Always wide, always high. Lovely move, though.
13 min: Saka bustles into the Fulham box from the right and exchanges crisp passes with Odegaard. He then goes over and makes a half-hearted claim for a penalty, having come together with Pereira, but the referee shows no interest whatsoever.
11 min: The first lull of the evening. Hey, it's sunny and warm.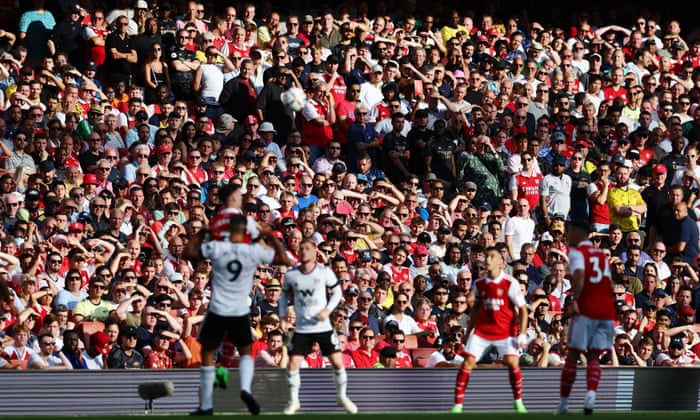 9 min: Some space for De Cordova-Reid out on the right. He dribbles into the Arsenal box and wins Fulham their first corner. From the set piece, Palhinha sweeps a first-time shot wide and high from ten yards.
8 min: Adarabioyo gives the ball away cheaply again. Arsenal do nothing with it, but Fulham's central defenders have both had a shaky start.
6 min: Ream comes through the back of Jesus and is fortunate not to go into the book. A bit later in the game and that was surely a yellow card. In other words, it should have been a yellow card.
4 min: Odegaard nicks the ball off Adarabioyo, turns and nearly releases Saka with a cute pass down the inside right. Too much juice on the ball, and it runs harmlessly though to Leno.
3 min: Mitrovic spins down the right and swings a speculative ball into the middle for Kebano. White comes over to intercept, just as Kebano was thinking about skittering clear, though his first touch was a bit clumsy. On another day, that might have teed up Kebano to tear off with the ball.
2 min: Xhaka battles as Xhaka does, and wins the first corner of the match within 40 seconds. Martinelli and Jesus take it short, overplay, and Fulham clear their lines.
A minute's applause in memory of Arsenal head groundsman Steve Braddock, who died earlier this week. Then Fulham get the ball rolling.
The teams are out! Arsenal are in their red shirts with white sleeves, while Fulham wear their first-choice white with black trim. We've already had 22 goals in the Premier League today. Some more coming right up? We'll find out soon enough. We'll be off in a couple of minutes. "What are the limits of my ambition today as a Fulham supporter?" wonders Richard Hirst. "Optimistically, Leno to play a blinder against his old club, save a penalty and we scrape a 0-0 draw; more realistically, to avoid a Bournemouth."
Mikel Arteta speaks to Sky Sports ahead of his 100th game as a Premier League manager. "I am very honoured and privileged to have a century at the club. Let's move forward. We are competing in every game and obviously we need to carry on. It is only three games."
His opposite number Marco Silva adds: "Mitrovic is one piece of our puzzle. I know what I can get from him, and if we can deliver for him he can decide matches for us. But he is more than just a goalscorer, he helps us without the ball, and to link our offensive game."
Pre-match jitters, courtesy of Charles Antaki. "The Gunners will reclaim pole position with a win tonight: a perfectly normal use of the indicative present tense to refer to the future, but one to give Arsenal fans the heebie-jeebies, what with jinxes in mind, and it now seeming to be Arsenal's turn at being the next club-in-crisis." I wouldn't worry too much about it, Charles. You'll not get hold of that Crisis Baton tonight even if your lads ship a three-goal lead. Brendan Rodgers has your back.
Arsenal are no longer top of the Premier League. That's a result of the 3pm action, which saw Manchester City come back from two down to beat Crystal Palace 4-2, and Brighton pip Leeds 1-0 at the Amex. It was one hell of an afternoon, with ten-man Chelsea beating new crisis club Leicester, Brentford and Everton drawing 1-1 in west London, and Liverpool equalling a Premier League record by thrashing Bournemouth 9-0. The Gunners will reclaim pole position with a win tonight.
Arsenal make two changes to the XI sent out for the 3-0 win at Bournemouth. Oleksandr Zinchenko and Thomas Partey are missing; Kieran Tierney and Mohamed Elneny make their first starts of the season.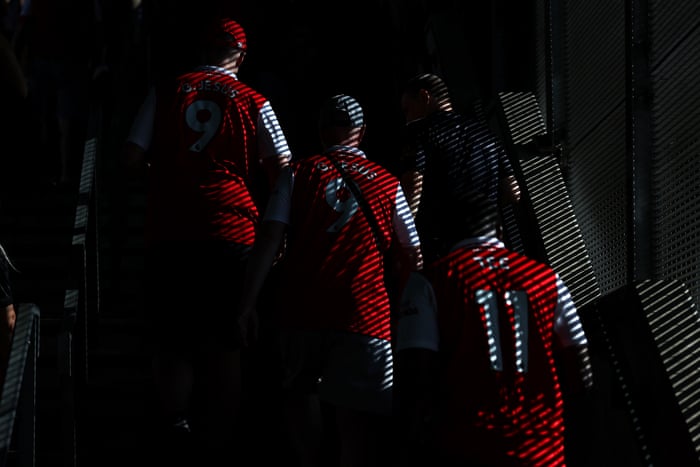 Fulham make one change from the team that beat Brentford 3-2 at Craven Cottage last weekend. Neeskens Kebano replaces Jay Stansfield, who drops to the bench.
Arsenal: Ramsdale, White, Saliba, Gabriel, Tierney, Elneny, Xhaka, Saka, Odegaard, Martinelli, Gabriel Jesus.
Subs: Smith Rowe, Nketiah, Holding, Cedric, Tomiyasu, Vieira, Sambi Lokonga, Alencar, Turner.
Fulham: Leno, Tete, Adarabioyo, Ream, Antonee Robinson, Reed, Joao Palhinha, Kebano, Andreas Pereira, Reid, Mitrovic.
Subs: Rodak, Duffy, Cairney, Chalobah, Mbabu, Diop, Francois, Harris, Stansfield.
Referee: Jarred Gillett.
Both of these teams go into one of the more polite London derbies flying. Arsenal are the only Premier League team with a 100 percent record, top of the tree after matchday three, while Fulham are unbeaten, no mean feat for any newly promoted side. Arsenal are hot favourites to condemn the Cottagers to defeat for the first time in this campaign, and they've never, ever, ever lost to them at home. With Gabriel Jesus flying, lump on, lump on.
But records are there to be broken. Fulham were a couple of minutes away from breaking their Highbury-Emirates duck in 2021, only for Eddie Nketiah to equalise in injury time. Meanwhile last week's 3-2 home victory over Brentford broke a run of 24 Premier League matches without a London-derby win. Marco Silva has beaten Arsenal with three other clubs – Olympiacos, Watford and Everton – and if Jesus is on top of his game, then Aleksandar Mitrovic's form isn't too shabby either. Can Arsenal make it four wins out of four? Or will Fulham's confident start to the season continue apace? Kick off is at 5.30pm. It's on!