Key events
38 min Nunez has looked sharp today. He took his goal well and has also stretched the Arsenal defence at every opportunity.
36 min "There can't be a more glorious kit specially made for a televised match than the very first one, Wolverhampton Wanderers' shiny, golden outfit for their televised 'floodlight friendly' against Honved in 1954," says Kári Tulinius.
Alexander-Arnold swished a long pass down the right towards Nunez (who was in an offside position at that stage) and Diaz. The stretching Gabriel got a touch on the ball but could only divert it to Diaz, who headed it into space and then crossed low towards Nunez in the middle. Nunez slid in and lifted the ball over Ramsdale from eight yards.
GOAL! Arsenal 1-1 Liverpool (Nunez 34)
Darwin Nunez equalises for Liverpool!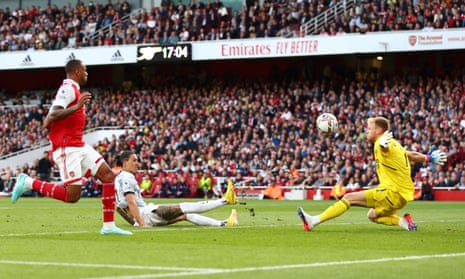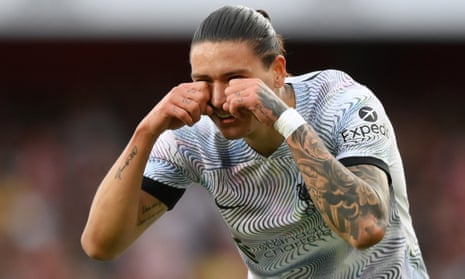 33 min Ramsdale gives the home fans a coronary by dribbling past Nunez.
33 min "Old man shouting at clouds time," says Samuel Campbell, "but if I was in charge of football, Gabriel would be punished for saying the ball hit his chest when it quite clearly hit his arm and don't get me started on Saka going down like Mike Tyson caught him with a jab because a hand came near his face. Ten-game bans all round under my watch."
32 min Salah wriggles away from Tomiyasu but drags a tame shot wide of the near post. This is better from Liverpool.
30 min Liverpool are starting to threaten. Nunez bursts down the right, onto Henderson's pass, and puts in a dangerous low cross towards Diaz. Saliba intercepts but diverts the ball towards his own goal, forcing Ramsdale to plunge to his left and push it away.
28 min Jesus does superbly to make room for a shot on the left side of the box, but he's off balance when he makes contact and it dribbles through to Alisson.
27 min "Not even half way through October," begins Matt Dony, "and already this has gone through – a) disappointment at a slow start, b) confusion over what exactly is going wrong, c) frustration at a seeming inability of excellent players to do the basics well, d) an existential dread of the next game. I almost don't want to watch at the moment. These players have performed so well in the past, and I have no doubt that they are putting effort in, so it's hard to be angry with them. And Klopp has an almost infinite cache of good will. And yet. If things don't improve soon, what next? I genuinely don't know."
I can think of one thing.
26 min: Good save from Ramsdale! That's the closest Liverpool have come to an equaliser, a snapshot from Nunez that was beaten away at the near post by Ramsdale.
25 min He's back on.
24 min Alexander-Arnold is still receiving treatment. He seems more comfortable now and is able to job to the touchline.
22 min Trent Alexander-Arnold is in a lot of pain. Martinelli crossed the ball and then caught Alexander-Arnold's ankle in his follow through. "Not a good sight," says Gary Neville on Sky Sports.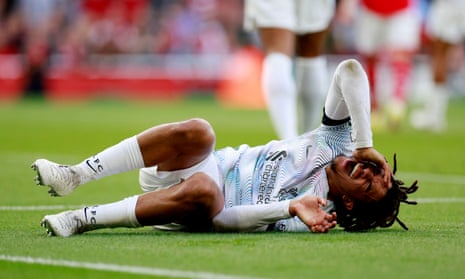 20 min "My main observation thus far is that the Liverpool kit is a moderately pleasing off-white in wide shot, and an absolute migraine inducing nightmare up close," says Ben Kybett. "Is this a world-first 'made-for-TV' kit, or do your readers know of any earlier examples?"
I was going to suggest the Brighton Chewits kit but I think that looked awful from any distance.
19 min "Was the Liverpool defence's dizziness for the goal caused by their Bridget Riley op-art kit?" wonders Charles Antaki.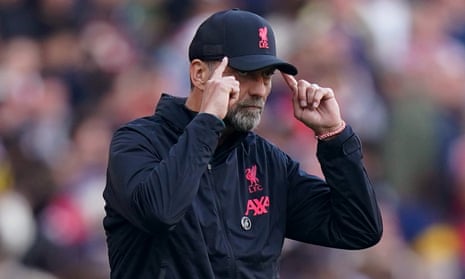 18 min Liverpool haven't got going at all. Arsenal probably can't believe how comfortable the first 18 minutes have been.
15 min: No penalty! Jota's lobbed cross hit the outstretched arm of Gabriel, but VAR decided not to intervene. I have no idea about the handball law any more. At the other end, Saka goes down holding his face after a block from Tsimikas. The referee waves play on.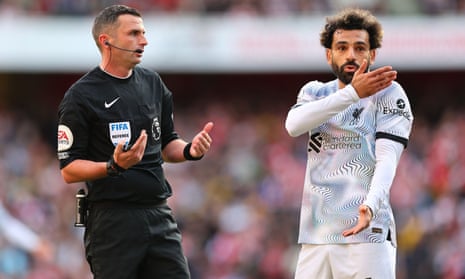 15 min There's a VAR check for a Liverpool penalty.
14 min Salah tries to run Tomiyasu, who calmly dispossesses him. The crowd loved that.
13 min Alisson makes a good diving save from Xhaka, though it wouldn't have counted because of an offside in the build up. Arsenal look really dangerous, particularly in transition.
12 min Alexander-Arnold's outswinging corner is headed over by van Dijk near the penalty spot. It wasn't much of a chance.
11 min Ramsdale is going to continue for the time being, though he doesn't look right.
10 min Aaron Ramsdale is down with what looks like either a hip or thigh problem. He seemed to do it while taking a goalkick a couple of moments ago.
9 min Here's that opening goal from Gabriel Martinelli. The weight of Odegaard's pass was perfect.
7 min One of the most exciting things about Arsenal is that only two of this XI, Partey and Xhaka, are over the age of 25.
6 min Diaz is booked for a cynical foul on Martinelli, who was leading a break from a Liverpool corner.
6 min Nunez has a pop from 20 yards. It hits Gabriel and spins behind for Liverpool's first corner.
4 min The Emirates is rocking.
The goal stands! And Liverpool are behind yet again.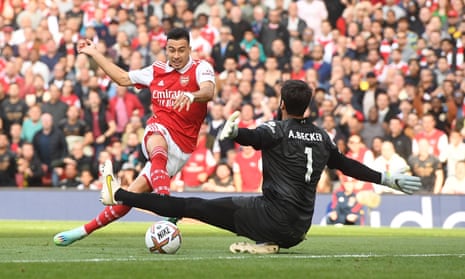 Hang on, there's a VAR check for offside against Saka.
It was a lovely counter-attacking goal. Saka ran down the right, onto a pass from White, and fed the ball infield to Odegaard, 25 yards out. He threaded a beautiful pass between Matip and Alexander-Arnold to put Martinelli through on goal. Martinelli charged onto the ball, opened his body and sidefooted a first-time finish through Alisson.
GOAL! Arsenal 1-0 Liverpool (Martinelli 1)
Gabriel Martinelli scores after 58 seconds!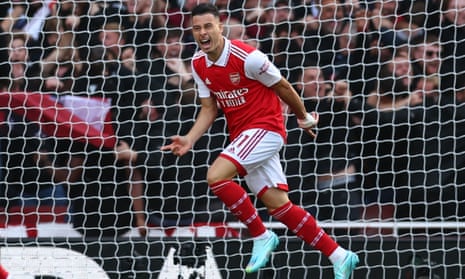 1 min Peep peep! Liverpool, in their dizzying away strip, kick off from right to left as we watch.
"I feel like Klopp at his press conferences sighing at the constart negativity," says Ian Copestake. "Yes, it was Rangers but Hendo played his best game for Liverpool by not going forward. We don't want him up there! Fabz needed to be benched as he has been truly off it. Yet if Klopp had reverted to previous he would be condemned for blinking."
The players stroll out of the tunnel, into the autumn sunshine. There's a cracking atmosphere at the Emirates. I cannot wait for this.
If Arsenal win today they will move 14 points clear of Liverpool. They've played a game more but, even so, I doubt even Gunnersaurus saw that coming.
Mikel Arteta speaks
I don't believe in [being favourites]. We have a really tough game to play; two really good teams, and we'll see who wins it. They are still doing so many good things – there are a lot of games they haven't won this season that in my opinion they deserved to win.

It's a joy to play in front of this crowd. The players are really enjoying it, and if the atmosphere is good I think we have a much greater chance of winning the game.
Jurgen Klopp speaks
Intensity-wise it should be fine [to name an unchanged team]. We're playing a slightly different system so I thought making changes didn't make much sense. We want to create a new defensive stability because that's important. It was obvious that we've conceded goals with a similar pattern, and we had to stop that.
"Is Liverpool's team unbalanced?" asks Andrew Hurley. "Four strikers, one midfielder who can't run, no defensive midfielder and a left back you'd be hopeful Saka can get at. Arsenal need to take the next step today…"
It'll be fascinating to see them playing a formation other than 4-3-3. It sounds like it worked well against Rangers in the week, though this is a much tougher challenge.
"It's gonna be Barnes…"
With Oleksandr Zinchenko injured, Mikel Arteta prefers Takehiro Tomiyasu to Kieran Tierney at left-back. The rest of the team is as expected.
Liverpool are unchanged from their win over Rangers in the week.
Arsenal (4-2-3-1) Ramsdale; White, Saliba, Gabriel, Tomiyasu; Partey, Xhaka; Saka, Odegaard, Martinelli; Jesus.
Substitutes: Turner, Tierney, Cedric, Holding, Lokonga, Vieira, Marquinhos, Nelson, Nketiah.
Liverpool (4-2-3-1) Alisson; Alexander-Arnold, Matip, van Dijk, Tsimikas; Henderson, Thiago; Salah, Jota, Diaz; Nunez.
Substitutes: Kelleher, Gomez, Fabinho, Konate, Milner, Firmino, Elliott, Carvalho, Phillips.
Referee Michael Oliver.
Jonathan Wilson on Liverpool's false start
Hello and welcome to live, minute-by-minute coverage of Arsenal v Liverpool at the Emirates. For both teams, this is a biggie. Arsenal have the chance to make a statement by beating one of the Big Two in a live league game for the first time since 2015*; Liverpool can stimulate their season by ransacking Fortress Emirates.
Arsenal have won all five home games this season, scoring 14 goals in the process. For any team not called Manchester City, that's highly impressive. Liverpool's away form, by contrast, has been poor: four games, no wins, a couple of troubling defeats to Manchester United and Napoli. The upshot is that, for the first time in a long while, Arsenal are favourites to win a football match against Liverpool.
Kick off 4.30pm.
* Arsenal did beat Liverpool 2-1 at the Emirates in July 2020, but it was just after Liverpool won the league