Key events
90 + 4 min: Vetterlein and Blackstenius will stay on here. 5,397 fans at the Emirates this evening.
90 + 3 min: Vetterlein and Blackstenius seem to have clashed heads with the former down here. There is a break in play while medical staff see to them.
90 + 2 min: The crowd at the Emirates don't agree with the amount of injury time but I think it is fair, representative of the time out. Riesen receives a yellow card for pulling Hurtig's shirt.
90 min: There will be nine minutes added, there has been quite a few injuries in this half so it isn't surprising.
89 min: Nobbs has been named Player of the Match after that stunning opener. Stierli has some ice on her head but will continue here. Zurich makes a change with Megroz off for Pando.
87 min: Hurtig makes a great run after her own ball, Miedema gets it in the area but it comes back out. Maanum wins a great corner after running a good line. Nobbs takes the kick but Hurtig's header is wide, so close to the hat-trick! Stierli is now down and receiving treatment.
85 min: McCabe sends it in but Marku clears. Little wins back the ball, the captain amazing this match, and it is ran back to the defenders.
83 min: Piubel gives away a free kick with a foul on Miedema, McCabe takes the kick is cleared. Wos concedes a corner after cutting out a Nobbs cross. Corner to come from McCabe.
82 min: Zurich make another change as Pinther is off for Wos. Arsenal continue to play out the back, so confident when they know what Zurich could do.
80 min: That must be so frustrating for Zurich who were right back in this one. It is crazy to think the visitors are a part-time side, they have played so well this evening.
GOAL! Arsenal 3-1 Zurich (Hurtig, 78)
That didn't take long! Blackstenius's shot is saved and Hurtig scores the rebound.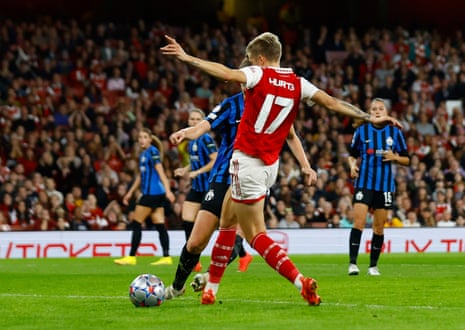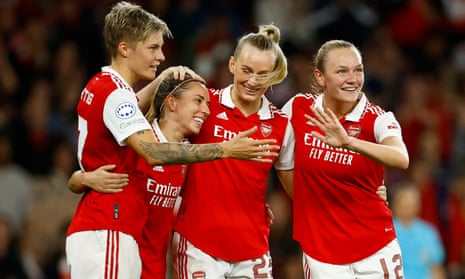 GOAL! Arsenal 2-1 Zurich (Piubel, 76′)
Wow a great goal! The team have got the star in a huddle and it means so much to her! It was a superb finish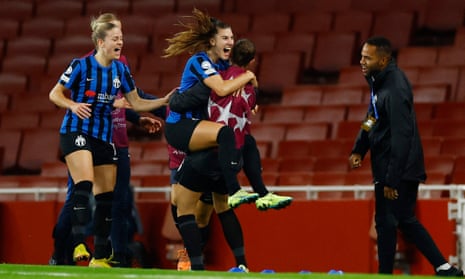 75 min: Arsenal make another change as Iwabuchi is off for Blackstenius. Zurich have some great play around the box with Pinther crossing in but Little clears.
73 min: There's an Arsenal corner as Vetterlein cuts out a cross from Maanum. McCabe takes the kick but Hurtig's touch hits the side netting.
71 min: Miedema is back on the pitch and Eidevall's reaction to no penalty being given was pure frustration. Arsenal playing out the back but Zurich wrestles back the ball. Marku's shot is saved, the visitors coming to life.
69 min: Some may have wanted Romero to see a card there, Miedema clearly got to the ball first and the keeper could have avoided the clash but the referee has decided against. There's a big break in play as Miedema is treated. She has a clear bang on her nose but I think she will play on here.
67 min: Good news from Becky at the Emirates who has her audio commentary back, she wants to give a shout-out to the team at the stadium for their great work! Humm is back to her feet and remaining on and as predicted the penalty has not been given. Arsenal still thumping away and Miedema almost scores. In her attempt she clashes heads with Romero, the star is receiving treatment.
65 min: Arsenal have another corner and with Mead off it is Maanum who will take the kick. It's a good cross with Miedema collecting. Wubben-Moy sends it back in and McCabe is brought down in the box but Humm – who is still down. The Zurich player needing attention here but it is McCabe who wants the penalty, I don't think it will be given.
63 min: Piubel almost pounces on a loose ball from Wubben-Moy but Arsenal come away with it. It's slightly messy outside the Arsenal box and Zurich look to counter, Piubel has too much on her pass and Marckese can relieve the pressure.
61 min: Zurich make another change as Dubs is off for Pilgrim. McCabe puts a cross in but she is ruled offside.
59 min: Catley is coming off with McCabe on and Maanum is also on for Mead. Chants of 'Meado' ring around the Emirates. Play is back underway and Humm's shot is wide.
57 min: Catley is down, she went down after a hit to the head but looked okay to continue. But she went down again when play went on. It is looking like she will be replaced by Maanum with McCabe also warming. Confirmation on that to come as there's a break in play.
55 min: A great line from Wubben-Moy, she gets the ball to Mead who passes back to Wubben-Moy once more. The final shot is wide but that was a great bit of play. Becky has got in touch and said: "I wasn't expecting to be checking the MBM whilst at the stadium but I'm visually impaired and the audio commentary team doesn't appear to have come back from their halftime break yet (or my headset is broken, the lovely stewards are investigating) so currently I'm relying on you and the crowd noise!" I hope the audio commentary is working for you now Becky but if not I have got you covered!
53 min: Hurtig makes a great run, she gets the ball into Mead who can't get it out from under her feet. Arsenal come forward once more but it is well defended once more.
51 min: Iwabuchi gets a shot away, Romero collects easily. This is Iwabuchi's first start this season and she has proved her worth so far – making her case for more starts. She puts in a great cross but Reisen heads it away.
49 min: Hurtig is brought down in the box, the crowd want a penalty but none is given. A slow start after that early Zurich chance.
47 min: That was so close! Zurich come out firing and Piubel has a great chance but it goes wide. Arsenal now on the attack but it is stolen back. Possession exchanges hands with Arsenal now playing out the back.
Back underway! Arsenal 2-0 Zurich
The second half has begun, will Arsenal run away with this? Or can Zurich find a way back? We will soon find out. Zurich have made a change with Rey on for Bernauer.
The other match happening right now is 1-0 at half-time with Benfica leading Bayern Munich.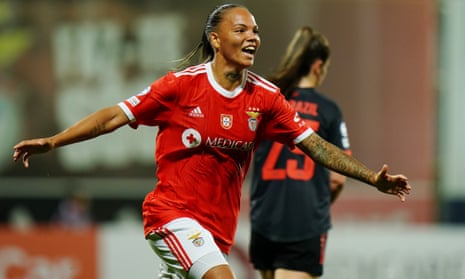 Zurich player Kim Dubs was pulled for a half-time interview and told DAZN: "They are good at possession, if we get the ball we are okay. Yes for sure [we will challenge them in the second half]."
Harriet has entered our Starbursts debate and said: "Purple Starburst sound lovely but I don't know that I've ever seen them my side of the pond. I love the red ones, and green and yellow are equally awful." We should exchange Starbursts, I really want to try the red one. I am so happy we don't have yellow Starbursts, I despise yellow sweets!
Have a look at the two goals from that half! Nobbs had a beauty of a strike:
And Hurtig bagged her first for her new club:
Half-time: Arsenal 2-0 Zurich
Despite great early defence from the visitors, it is Arsenal who come out the half the better with Jordan Nobbs and Lina Hurtig getting goals. All the play for but the Gunners are in full control.
45 + 4 min: She is back to her feet and seems okay to continue.
45 + 3 min: Beattie is down here, she got to her feet but goes straight back down. There's a break in play while she receives treatment.
45 + 2 min: There are four minutes added here! Hurtig looked really happy with that, ending her wait for an Arsenal goal. Romero came out to get the ball but it was Hurtig who claimed! Zurich now trying to weather the storm and stem the scoring.
GOAL! Arsenal 2-0 Zurich (Hurtig, 45′)
Lina Hurtig has her first for Arsenal after Iwabuchi wrestles the ball back in the box who pops the ball in and Hurtig's header is in.
43 min: Nobbs pops the ball in but Stierli clears, Miedema has a shot but it is blocked and then Catley runs the ball out of play. She believes that should have been a corner but it's a goal kick. Iwabuchi wins them the corner just moments later, Mead takes it short but eventually punts it in but it's out of play.
40 min: The screaming celebration from Nobbs just shows how much that means to her! After injury issues saw her miss out on the Euros this summer, a Champions League goal feels well deserved. Arsenal on the attack once more with build-up play.
GOAL! Arsenal 1-0 Zurich (Nobbs, 38′)
It's Jordan Nobbs with an absolute stunner! Romero thought she had it covered but it's a classic one touch finish.