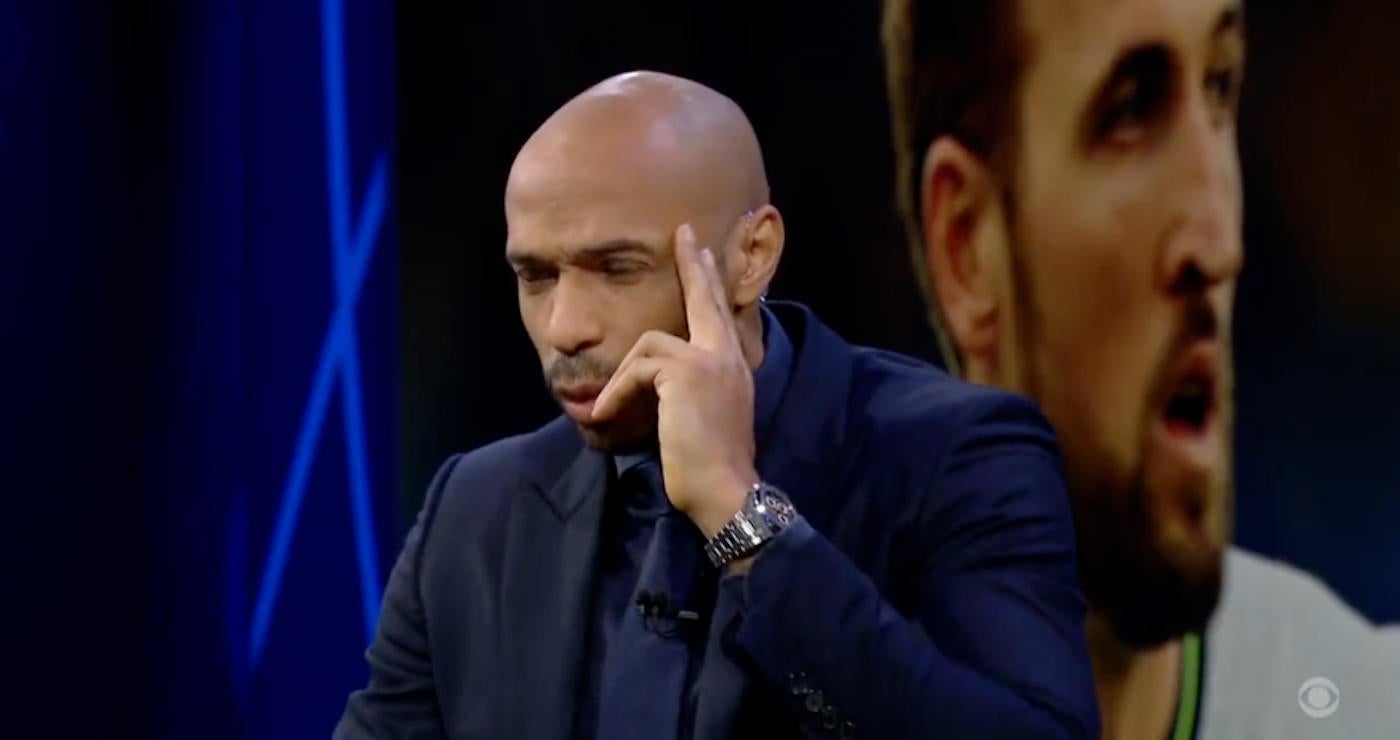 Happy Wednesday! Mike Goodman here, and I hope everybody spent the early portion of Valentine's Day watching the return of Champions League action. The good news is that we have more of the world's best soccer today with Chelsea heading to Dortmund and some insight from Arsenal legend Thierry Henry on Erling Haaland's fit at Manchester City ahead of Wednesday's Premier League title clash.
New to the Golazo Starting XI newsletter? Get yourself the best deal in soccer and subscribe now to ensure you receive updates three times a week.
Please check the opt-in box to acknowledge that you would like to subscribe.
Thanks for signing up!

Keep an eye on your inbox.

Sorry!

There was an error processing your subscription.

---
📺 Champions League schedule

All times U.S./Eastern. 
Wednesday
⚽ Dortmund vs. Chelsea, 3 p.m. ➡️ CBS and Paramount+
⚽ Brugge vs. Benfica, 3 p.m. ➡️ Paramount+
Coverage starts at 2 p.m. with Champions League Today on CBS and Paramount+. Paramount+ will offer a multicast feature, allowing subscribers to watch two matches simultaneously in a split-screen view. You can try one month free by using the code: ADVANCE.
📺 Elsewhere …
⚽ EPL: Arsenal vs. Man City, Wednesday, 2:30 p.m.
📺 Thursday's top Europa League games
⚽ Barcelona vs. Man United, 12:45 p.m. ➡️ Paramount+
⚽ Salzburg vs. Roma, 12:45 p.m. ➡️ Paramount+
⚽ Juventus vs. Nantes, 3 p.m. ➡️ Paramount+
🧠 Henry's advice to Haaland: Be more involved
Manchester City are not resuming their Champions League campaign until next week, but that didn't stop the Champions League Today crew from breaking down Erling Haaland's game in comparison to Harry Kane and debating how the 22-year-old Norwegian striker could make some tweaks to his game as he adjusts to life in the Premier League after a volcanic start with 17 goals in his first 11 Premier League games. 
Henry: "There is one piece of advice that Arsene Wenger gave me when I playing for Arsenal and always stayed with me. What can you do when your team is not feeding you? We all know that when Kevin De Bruyne has the ball, Kevin can find him in anyway, anyhow. We all know he likes to make that second-post move. So Arsene told me, 'Ask yourself the right question.' When I was a striker, I used to complain about everything, all right, always. He doesn't give me the ball and the boss says, 'Do you think Dennis Bergkamp can give you the ball the same way that Freddie Ljungberg does?' So I started to think. OK, with Dennis I knew I could move out if I wanted to move. Then I started to think, Robert Pires likes a one-two … Freddie Ljungberg, I need to be in his path, the way he runs, because if not, he will not see me. I started to think, how can I enhance the skills of the player instead of showing his weaknesses."
In Henry's point of view, the challenge for Haaland is that he isn't involved enough when opponents cut the supply lines in the biggest games. And if you're going to take in advice, who better than from Henry.
Henry: "We've seen in big games they can't find him. If you think the other way, in big games, try to help them. We all know, when you play a big team … you have to win your own battle first. It's not that easy, and we've seen that this year he's struggled in this type of games. Maybe, if he does think of that, how can I help them, sometimes in some situations, not always them finding me on the second post."  
Funny enough, City's next big game is a massive showdown against Henry's old club, Arsenal, on Wednesday. The Gunners are three points clear of City with a game in hand. If Haaland can put that advice to good use, we'll have a barnburner of a Premier League title race on our hands.
Sponsored by Paramount+
🏆 Chelsea face huge UCL test

Exactly how long will Chelsea's big-spending owners accept mediocrity? For now, they're saying all the right things, but if their Champions League campaign ends early, it could really test their patience with Graham Potter. Chuck Booth has more:
Booth: "As it stands, Chelsea are in ninth place in the Premier League, 10 points off of the pace of Newcastle United for a top-four spot. This is a club that is only successful when it is competing for trophies, but having already been bounced from the FA and EFL Cups, an early exit from Champions League would see its European hopes dwindle for next season."
Craving more soccer coverage? Listen below and follow House of Champions, a CBS Sports soccer podcast, bringing you top-notch analysis, commentary, picks and more.

And now let's get to some links:
🔗 Tuesday's UCL action ended with Spurs losing to AC Milan and Bayern hanging on against PSG.
🔗 The result in Paris was a clear demonstration that PSG desperately need a healthy Kylian Mbappe, writes Jonathan Johnson.
🔗 Milan's win over Spurs may not have been pretty, but it's a step in the right direction, writes Francesco Porzio.
🔗 Barcelona might be embroiled in a scandal after paying $1.5M to a ref chief's company over a two-year period.
🔗 We all knew this was a foregone conclusion, but the USMNT are officially qualified for the 2026 World Cup as co-hosts.
🔗 Managerial talks between Southampton and Jesse Marsch break down.
🔗 SheBelives Cup kicks off on Thursday for the USWNT. Sandra Herrera has what you need to know this month.  
🔗 Attacking Third: The crew has everything you need to know about all the international tournaments about to kick off.
🔗 House of Champions: The crew breaks down the Champions League action.
🔗 In Soccer We Trust: El Tri has a new coach, so let's break down what Diego Cocca brings to Mexico
🔗 Who's up for a rousing Champions League edition of Date, Marry or Ghost?
🔗 Ever wonder what Thierry Henry gets up to on Valentine's Day?
🔗 And remember, all of your soccer needs — from Champions League to Serie A to NWSL and so much more — are available on Paramount+. You can try one month free by using the code: ADVANCE.
💵 Best bets
We're looking for juice the next couple of days. All odds courtesy of Caesars Sportsbook and all times U.S./Eastern.
UCL: Borussia Dortmund vs. Chelsea, Wednesday, 3 p.m. 
💰 THE PICK: Chelsea (+220) — It's the stoppable force of Chelsea's attack against the movable object of Borussia Dortmund's defense. Chelsea's struggles are real and have been well documented — maybe even over-documented. German teams have really struggled recently in the Champions League, with the exception of Bayern. I'd expect that to continue as Chelsea's struggles make the price you can get here quite attractive. Make sure to follow SportsLine's best bets for this matchup.
UEL: Barcelona vs. Manchester United, Wednesday, 12:45 p.m.
💰 THE PICK: Under 2.5 goals (+105) — Barcelona are a really good team this season, but in a very un-Barcelona way. Xavi has built a patient team that grinds out results as they have only conceded seven goals in domestic league play this season. Expect Manchester United to have a hard time breaking them down. Follow SportsLine's best soccer bets here.