Key events
Two more to Nat Sciver-Brunt. England need 4 runs off the last ball to take it to a super over…
A sweep for two by Nat Sciver-Brunt. Seven needed off two balls.
Glenn gets a single to the mid-off. Sciver-Brunt on strike. FOUR runs! Slog sweep for four. 9 needed from 3!
Jonassen to bowl it, Nat Sciver-Brunt take a single off the first ball…
49th over: England 268-7 (Sciver-Brunt 101, Glenn 21) Ash Gardner to bowl the penultimate over. Glenn gets a leg-bye off the first to bring Sciver-Brunt on strike. DROP! NSB is dropped by Wareham! England take two and are hanging on. 100 to Nat Sciver-Brunt! What a knock, can she England home? No time to celebrate. Two singles see Glenn on strike for the last ball – DOT. Right. One over to go: England need 15 runs from 6 balls to stay in the Ashes.
48th over: England 262-7 (Sciver-Brunt 97, Glenn 20) Jess Jonassen to bowl. NSB takes a single and Glenn dots up. A single to cover gets Sciver-Brunt on strike. FOUR! A low full toss is swept hard to the fence! Two more singles see Glenn on strike for the next over. 21 needed from 12 balls. Breathe everybody.
47th over: England 254-7 (Sciver-Brunt 91, Glenn 18) Ash Gardner with two to bowl. Sciver-Brunt clips to leg and motors back for two runs. Gardner sends down a wide but follows it up with two dots. Two further singles ramp up the tension! This game is going down to the wire. 29 needed from 18 balls. A couple of boundaries needed to break the shackles for England. Australia desperate for a breakthrough. On we go. How are your nerves?
46th over: England 248-7 (Sciver-Brunt 87, Glenn 17) Alana King to bowl her final over. A beauty! King fizzes one past Glenn that narrowly avoids stumps and edge. Three dots and three singles off it. Neither side will mind that too much. 35 from 24 is the equation.
Well bowled Alana King, she finishes with 3-44 off her ten overs.
45th over: England 245-7 (Sciver-Brunt 85, Glenn 16) Tahlia McGrath spears in a wide and the crowd are up once more, cheering every run. Two singles and then a FOUR! Glenn chops down on a yorker and squeezes it past the Healy for a welcome boundary. Two more singles make it nine more runs off the total. 38 needed from 30 runs for England to keep the Ashes alive.
44th over: England 236-7 (Sciver-Brunt 83, Glenn 10) Alana King returns and tightens up for Australia but England still manage four runs from it. 47 needed from 36 balls. Palms are sweaty… you know the rest.
43rd over: England 232-7 (Sciver-Brunt 80, Glenn 9) Nat Sciver-Brunt is doing what she does, she looks calm and composed. Three singles precede another sweep for four! A single sees NSB steal strike for the next too. It's ramping up again – the crowd give a blast of Hey Jude.
42nd over: England 224-7 (Sciver-Brunt 74, Glenn 7) Sciver-Brunt sweeps for four, a full bunger by Wareham is punished. The closer England get the more crucial that last over damage by Wareham with the bat in hand will seem to be.
59 runs from 48 balls is the equation… simple eh?
41st over: England 218-7 (Sciver-Brunt 69, Glenn 6) England keep chipping away. Eight runs taken off the over, Glenn looking to attack and NSB rotating strike, she trusts her partner to pick up runs and hang about.
40th over: England 205-7 (Sciver-Brunt 66, Glenn 2) Georgia Wareham twirls away and a nervy looking Glenn manages to get Sciver-Brunt on strike. NSB is the silver tuna now, England won't do this without her. She collects a couple and keeps strike with a single.
39th over: England 205-7 (Sciver-Brunt 62, Glenn 1) Sarah Glenn joins Sciver-Brunt with England in deep strife.
WICKET! Ecclestone lbw b Gardner 1 (England 203-7)
One brings two! Ecclestone misses a sweep and is pinned lbw. She decides not to review and trudges off. Double strike in the over for Gardner!
WICKET! Jones c Schutt b Gardner 37 (England 201-6)
Gardner returns and snares Jones almost immediately – a reverse-paddle is caught easily behind square. Partnership ended and Australia celebrate wildly, they are were just starting to get a bit twitchy.
38th over: England 203-5 (Sciver-Brunt 60, Jones 37) Handy over for England – nine runs off it. Amy Jones shows her class, a nudge for two is followed by a lofted-drive for four over long-on! DROP! Another lofted shot into the leg side just evades the fielder who I think lost the flight of the ball.
37th over: England 194-5 (Sciver-Brunt 60, Jones 28) Tahlia McGrath back into the attack and it's a good over from Australia, just five runs off it. Jones and NSB have done well to keep England in this, if they can take it deep then you never know.
36th over: England 189-5 (Sciver-Brunt 59, Jones 24) Amy Jones picks up a single and then a wide from Wareham is greeted with a round of applause by the crowd who are just starting to believe. Eight runs off the over. England need 96 off 84 balls.
35th over: England 181-5 (Sciver-Brunt 58, Jones 22) Schutt continues, can England go big again this over? Five singles off the first five balls and a boundary off the last make it a good one for England. Schutt drops short and Sciver-Brunt pounces and pulls for four! Still fighting…
34th over: England 172-5 (Sciver-Brunt 52, Jones 19) England needed that previous over to give themselves a jolt back to life. Georgia Wareham continues, she has five overs left in the bank. Sciver-Brunt sweeps for a couple to bring up her FIFTY of just 53 balls.
33rd over: England 167-5 (Sciver-Brunt 49, Jones 17) Hello! What was in Amy Jones' drink? She picks up a couple of boundaries straight away after a slurp. She paddles Schutt behind the keeper for four and then pulls for four more! Pace back on the ball and England get their first boundaries in over seven overs. It seems NSB and Amy Jones have had a chat and are going to put their foot down here, especially against the returning pace of Schutt. 13 runs off the over!
32nd over: England 154-5 (Sciver-Brunt 48, Jones 5) Georgia Wareham has been a revelation in this game. She's followed up her cameo last over blitzkrieg with the bat with 1-16 off five overs with the ball. England can only pick up singles. The run-rate is now seven an over now. This pair have to get England somewhere close but boundaries are hard to come by.
31st over: England 151-5 (Sciver-Brunt 47, Jones 3) Gardner gets though her over at warp speed, Australia are rattling through and the required run-rate is only going one way for England. England take four runs but it ain't enough at the moment.
30th over: England 147-5 (Sciver-Brunt 45, Jones 1) Georgia Wareham back into the attack. Sciver-Brunt takes a single and Jones is off the mark with a push into the off-side. Eeeesh! Wareham rags one past the outside edge of Sciver-Brunt's blade. The Aussie spinners are well on top here.
29th over: England 144-5 (Sciver-Brunt 42, Jones 0) Amy Jones joins NSB in the middle with England somewhat in the mire, still needing 139 from 21 overs. Australia need five more wickets to retain the urn.
WICKET! Wyatt c Sutherland b Gardner 8 (England 144-5)
Another one gone! Wyatt plinks to mid-on and is safely take. England slipping away here, all of their wickets so far have fallen to spin.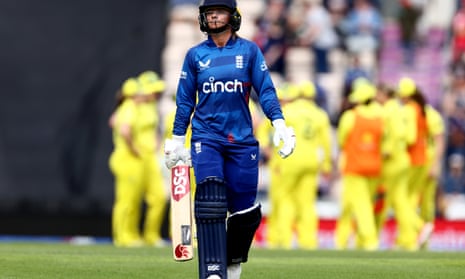 28th over: England 142-4 (Sciver-Brunt 42, Wyatt 7) King is bowling wonderfully, she has 3-37 from her eight overs. A match-winning contribution? England still have a sniff with NSB and Wyatt at the crease. They are watchful, ticking the singles.
27th over: England 139-4 (Sciver-Brunt 41, Wyatt 5) England re-building after that flurry of wickets. Ash Gardner into her fifth over, four runs from it.
26th over: England 136-4 (Sciver-Brunt 38, Wyatt 4) Alana King continues, she's got her dander up and is giving the ball a real fizz. England eke out three runs from the over. Here is that King snare of Tammy Beaumont:
You're welcome.
25th over: England 132-4 (Sciver-Brunt 36, Wyatt 3) Sciver-Brunt goes deep in her crease and works Jonassen for four. A lot now rests on NSB's shoulders after that Capsey dismissal. Wyatt scores quickly if she gets in. England still need 151 runs from 25 overs, Australia need 6 wickets.
WICKET! Capsey c Gardner b King 2 (England 123-4)
King offers some width and is clattered to the fence by Sciver-Brunt. Uh-oh! Alice Capsey is gone! She tries to go big but mis-times King to be caught on the fence. England have lost three wickets in the last seven overs and their Ashes hopes are slipping away.
24th over: England 123-4 (Sciver-Brunt 30, Wyatt)
23rd over: England 115-3 (Sciver-Brunt 23, Capsey 1) Sciver-Brunt dances down and drives Jonassen for four. Lovely batting. Jonassen drags down again and is clipped for two, the left-armer is usually so accurate but has struggled with her length so far today. Seven runs off the over for England.
WICKET! Beaumont b King 60 (England 107-3)
What a ball! King channels The King Shane Warne with a ball that pitches on leg-stump and rips past Beaumont's forward poke to knock off the off-bail! I'll find a video of that and post it. It was so good. Beaumont has to go for a well made 60. Alice Capsey is the new batter, she's off the mark with a force through point.
22nd over: England 109-3 (Sciver-Brunt 17, Capsey 1)
21st over: England 107-2 (Beaumont 60, Sciver-Brunt 16) Jess Jonassen into the attack with some left-arm darts. She drags down and is punished by NSB who crunches away through the leg-side for four. England pick up singles and take eight off the over.
20th over: England 99-2 (Beaumont 57, Sciver-Brunt 8) England accumulating, Australia circling. Three off the over.
"This is the second time (after the Perry nick at the Oval – where she knew she'd hit it) that snicko has had the 'sound' not synched up properly with the picture, when Heather Knight also knew she'd hit it." Writes Jim Luetchford.
"I suppose it could be just a coincidence, but this kind of sloppy technology doesn't seem to happen for the men – are the ECB short-changing the women yet again with a snicko they've bought off Matt Hancock's landlord?"