Marta Dusseldorp is a damn fine actor; you can count on her to bring near-instant depth and gravitas. She's the best thing about Bay of Fires, ABC TV's uninvigorating and weirdly toned on-the-run drama that, even after four episodes, left me wondering what it was trying to be – and why I should keep watching.
The story follows Dusseldorp as corporate CEO Stella Heikkinen, who shoots off to Tasmania – not to visit Dark Mofo or Mona like the rest of us, but to escape Chechen hitmen.
The first episode details her mad rush to the Apple Isle, all of it unfolding rather implausibly. Government official Airini (played by Rachel House) suddenly appears before her in a supermarket, as if out of nowhere, behaving like Morpheus at the start of The Matrix and imparting instructions that, if followed, will save Heikkinen's life. If not followed … well, that's a short show.
In fear of her life, the protagonist heads home to pick up her belongings, which include a huge pet snake. Our slithery friend seems to have been crowbarred into the script (by co-creators/co-writers Andrew Knight and Max Dann) merely so it can be thrown on a gangster – not the show's only silly escape scene. Later, when Heikkinen asks Airini who she is, she receives one of those boringly neat lines screenwriters can spit out in their sleep: "The only person trying to keep you alive."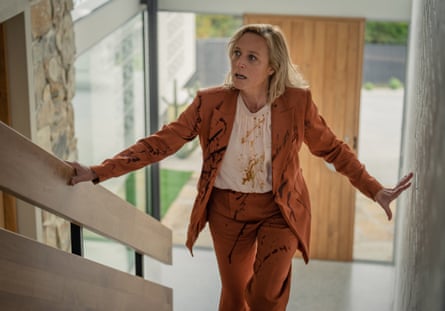 Some of this might sound funny – but despite its jaunty trailer, Bay of Fires doesn't present as comedy. For starters there aren't any jokes per se, and Dusseldorp's convincingly stressed-out performance signposts the show as a drama. There are however inferences of something funny – at least something a little off – about this world and its characters. When Heikkinen and her children Otis (Imi Mbedla) and Iris (Ava Caryofyllis) arrive in the remote town of Mystery Bay, for instance, they're greeted with stink-eye stares from the locals, projecting "you don't belong here" vibes that are almost, but still not quite, comical.
I started to wonder if I was going crazy: is this show supposed to be comedy? And it's just really bad at it? Bay of Fires' co-production company, Fremantle Australia, describes it as a "crime-thriller" that's "shocking and dark", but co-producers at Archipelago Productions say that it is "laced with dark humour". More recently ABC pegged it as a "darkly comedic crime thriller".
The show is funny weird (not funny ha ha), in that the citizens of Mystery Bay are a little strange. The big twist involving the town, not to be disclosed here, gives the writers a pass card to deploy all kinds of kooky characters. But the ones they come up with are bland and brought to life with performances that feel clipped, at times borderline deflated. Rachel House (who recently played Principal Woodsy in the Heartbreak High remake) is often a delight to watch, but here she too is too lost between drama and comedy to register serious impact either way. Stephen Curry plays the town real estate agent Francis; he's flaky and a bit eccentric, but not entertainingly so. Ditto for André de Vanny's local cop and, in fact, most of the side characters.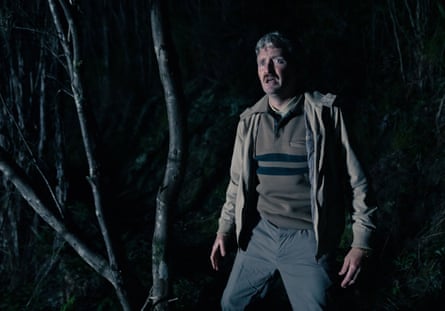 In the third episode (this review encompasses the first four), Yael Stone's public servant Robin arrives to investigate some financial matters, her presence theoretically disrupting the status quo and creating some sparks. This sort of happens, in a mild way, but by this point the die has been cast and it's clear nobody is bringing their A game.
Netflix's underrated recent series Irreverent similarly relocated a city protagonist to a sleepy Aussie town populated by peculiar locals (which is also the setup of classic films such as Wake in Fright and Welcome to Woop Woop). But that show popped and crackled as a comedy before drawing an unexpectedly strong dramatic element in the friendship between the protagonist (Colin Donnell) and a young delinquent (Tegan Stimson). In the genre of Tasmanian-set jiggery-pokery there's recently also been Deadloch from Kate McLennan and Kate McCartney, which manages to be both funny ha ha and a compelling murder mystery.
Nobody said combining genres was easy, as the drama and "dark humour" of Bay of Fires remind us. Perhaps the ever-reliable Dusseldorp is simply too good at conjuring depth and nuance; the show might've benefited from a more flippant anchoring performance.
Bay of Fires premieres on the ABC on Sunday 16 July at 8.30pm