Key events
"Hi Daniel" Hi Peter Oh, thanks for getting in touch.
"Re: the Palace vacancy. How does this sound? The Second Coming of Frank de Boer."
I mean, it'd be hilarious. And that's got to count for something.
"For Vieira, who was sacked by Nice in December 2020, after losing five successive matches, there can only be frustration that he was not shown more faith."
Ed Aaarons tells the tale of Patrick Vieria, a Premier League titan who was cut adrift by Crystal Palace. But was it premature?
Good news for Fulham fans:
Top work Will, thanks mate. Hi everyone. Me again. Let's see this out to the close. What's on your mind?
Right, that's yer lot from me. Daniel Gallan is taking back the helm and will steer you through the rest of the afternoon.
Brian Cruickshank also has some thoughts on Vieira. "Just read that Parish called Viera at 7am to sack him. Who'd wanna work for anyone like that, anyway?" Is there an optimal time of day to be sacked? Having once been made redundant on a Friday afternoon, I can say from experience that I'd rather have had the full day in the pub.
We've got some correspondence via email from Peter Oh. "Hi Will. Did Palace really need to fire Vieira on St Patrick's Day?!" It does seem an unfortunate coincidence but, given that Palace's caretaker manager is also called Patrick, the whole thing is also quite fitting.
Asked about Ollie Watkins missing out on the latest England squad, Emery was philosophical. "He is very competitive," he said. "He has in his mind a little bit the possibility to be in the squad for the national team. He could be disappointed, but tomorrow is a very good opportunity for him and for us to show everybody he's keeping his good performance, trying to help us to win and be competitive.
"The team can help him to score and play a good match for him and for us. That is his challenge now. Disappointment we can feel sometimes, but the reaction is very important as we try to be consistent as a team and individually. For him, tomorrow is a very good match to show everyone that his performance is going up and he's getting closer to the national team."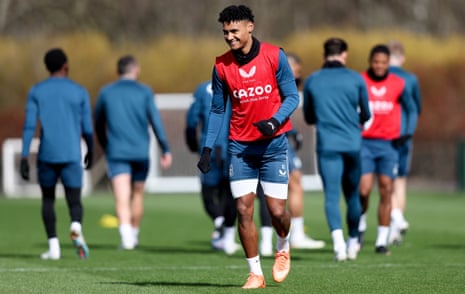 Unai Emery has also been ruminating on life, the universe and everything before Aston Villa host Bournemouth on Saturday afternoon. "My idea is always to win, and to win trying to transmit something to our supporters: energy, good movements on the pitch and trying to fight in each action," he said.
"We try to play in the way we are working. When we were conceding a lot of goals – eight in two matches at home – it changed the focus a little bit. To achieve a clean sheet in the last match at home was very, very important. Tomorrow is the same. We are confident now after three matches where we have been strong defensively. We need to be the protagonists on the pitch more than our opponents while being strong defensively … that is the challenge tomorrow: a clean sheet, to win, [to] try to impose our idea. We have to share with our supporters a good match in 90 minutes."
Potter has also given an injury update ahead of Chelsea's meeting with Everton. "Raheem [Sterling's] problem with his hamstring is not too serious but he'll miss the game at the weekend and he'll miss the international trip," he said.
"Same as Mason [Mount], he has been struggling a bit with his pubic bone. He wasn't 100% the last game, [he's] still not quite there so he'll miss the England camp as well. Thiago [Silva] is still away, Azpi [Cesar Azpilicueta] is still away. [N'Golo] Kanté has a chance of being in the squad. It's the first time, so it's fantastic."
Hello, you lot. Let's start with a bit more Potter, who has been asked for his thoughts on Patrick Vieira's sacking.
"It's never nice to hear when a colleague loses his job, clearly," he said. "I have huge respect for Patrick, he's a gentleman firstly and the way he's conducted himself all the time has been exemplary, but it's football, it's the business and we are all at the mercy of that. It's not for me to say what football clubs should and shouldn't do, we accept that it's part of the job. Obviously I wish him well, he's a top person and a top manager."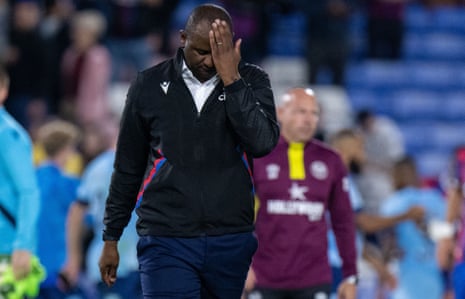 I'm taking a short breather but will leave you in the capable hands of Will Magee. Catch you in an hour.
Jodie Taylor joins Arsenal
England striker Jodie Taylor, who has bagged 19 goals in 51 games for her country, returns to Arsenal having signed from the San Diego Wave in the US.
She's back for her second spell in north London, having scored 10 goals in 17 appearances for the Gunners between 2016 and 2017.
"It feels amazing to be back – like I never left," said Jodie, who will wear the No 27 shirt. "It's incredible to have this opportunity to come back to the club that I love so much. A lot of progression has happened here in the last five years since I was last here and to see how much the club has grown and progressed is incredible. I'm very happy to be here," she said.
Taylor is won the Champions League with Lyon in 2020 and was the top scorer at the 2017 European Women's Championship.
Head Coach Jonas Eidevall added: "We're really pleased to have brought in Jodie to help us from now until the end of the season. She has a proven track record for scoring goals and we know her experience will be a great asset to the whole dressing room. We have so much to fight for this season and Jodie will help us on that journey."
Head of Women's Football Clare Wheatley said: "Jodie is a really experienced and talented player and will give us added competition at this crucial stage of the season. We're delighted to bring her back to the club and all have great memories of working with her in her previous spell here."
Anthony Martial is training with the first team today. Just 14 appearances this season. He hasn't played since the League Cup semi-final.
Ten Hag wants him back.
Does he walk straight back in the team and replace Wout Weghorst?
Steve Parish, co-owner of Crystal Palace, says that his club is in a "dog fight" to avoid relegation and that this is a "results business" which is why he made the call to axe Patrick Vieria.
"Everyone loved Patrick. He never lost the players at all. Things just weren't happening. We're hoping that there's fresh impetus, some new ideas. Hopefully we surprise the opposition. They're good lads and will do the best for the football club. Everybody is positive and wants to do their best. Patrick is a great guy and everyone loved him. But that's football."
Parish wouldn't talk about a successor, saying that all the focus is on Sunday in a difficult game against Arsenal.
Chelsea's boss, Graham Potter, is "excited" by the prospect of facing Real Madrid in the quarter-finals of the Champions League. He was in a good mood:
Three wins helps. And that brings happiness. That's why we're here, we're here to win. It was difficult moment for us all and I had to take responsibility. Whatever criticism comes your way you have to deal with and deal with the tough moments.
Worth taking a gander at this piece from David Hytner and a concern that Gareth Southgate has concerning the future of English football:
Vincent Kompany, Burnley's manager, is back at the Etihad, a place where he won four FA Cups:
It's a club with a special place in my heart. But on the day I can move forward. I can appreciate what it means to coach and bring a team there. It's an event for the club.

In terms of my mindset, it's no different. My mindset is to do my job and be prepared. Our core message for us is to go out there and work hard."
Wouldn't it be magic if they do it? [With respect to City and their fans].
Marco Silva is speaking ahead of Fulham's FA Cup game against Manchester United:
I respect everyone that makes comments and speaks [about Fulham's impressive season and Silva's links with Spurs]. It's just rumours. We have to keep growing and its a project I'm happy to be [at]. That's my job. It's always my ambition, my players know our ambition. If I win a game I'm thinking about the next one.
"Hi Daniel, Hope you're well!"
I certainly am, thanks Oliver.
"Nice to see the ECL draw get a spot on the live blog. You point out that it's been derided over the last couple of seasons, but as a Hammer it's been a great competition to be in this season and seen some interesting ties and destinations come up.
"Bit fearful of Gent in the quarters – winning 4-1 away in Istanbul certainly isn't an easy thing to do. On that basis and from what else I've seen, this is probably the hardest game we'll have had in the competition so far this season.
"Trying not to get too carried away and look past the quarters at the moment, but the draw doesn't look too bad for the road to Prague…"
Loved this, thanks pal. Yeah, Gent won't be pushovers, and I've got a hunch that some of the teams from the 'smaller' leagues might want this more. But West Ham will surely be out to win some silverware. It's been a while.
Grimsby's mayor, Steve Beasant, is on Sky wearing a truly remarkable outfit (I don't know how to describe it, it's a red gown with a quanit black hat and some gold chains around his shoulders. Can anyone help explain what that's about?)
Anyway, he won't be watching the town's football club play Brighton in the FA Cup quarterfinal as it's his wedding anniversary (46th, I think I heard him say). But he promises he'll be thinking of the footy "throughout the meal" with his wife.
What a character. I hope they win. For what it's worth, they're only the fifth team from the fourth tier or lower to have reached the last eight of the competition. If they win this weekend they'll be the lowest ranked team to reach the last four.
Picture attached in the tweet shows the outfit in question.
Europa Conference League draw in full
This competition was derided by many fans and pundits when it was launched a few years back but look at those teams. Whoever wins will gift their fans a continental title and in this era of football, where the gulf between the wealthy and rest has never been greater, that is worth celebrating.
Pep Guardiola praises Vincent Kompany ahead of the FA Cup meeting tomorrow.
"One of the biggest legends I've had. Was a pity he was injured a lot when we were together. He helped me in the bad moments, stepping forward to help the team.He was an exceptional captain, a top human being."
Pep also said that Kompany will one day manage City.
"It's going to happen".
SF 2: Winner of QF 2 v Winner of QF 3
Gent/West Ham v AZ Alkmaar/Anderlecht
SF 1: Winner of QF 1 v Winner of QF 4
Lech Poznan/Fiorentina v Basel/Nice
QF 4: Basel v Nice
QF 3: AZ Alkmaar v Anderlecht
QF 2: Gent v West Ham
QF 1: Lech Poznan v Fiorentina
Speaking of Italians…
"Is it weird that Italy have so many teams in the last 8 of European competitions while Serie A seems to be particularly weak this year (other than Napoli)?"
It's a good question, Luke Jones. I don't have a good answer. Maybe the league isn't as weak as we think it is?
Up next is the Europa Conference League draw. These are the teams left in the competition:
West Ham

Gent

Basel

Lech Poznan

Fiorentina

AZ Alkmaar

Anderlecht

Nice
Another nice blend of nations. The Hammers are the sole English representatives. They're joined by a team from Switzerland, Italy, Poland, the Netherlands, France and two from Belgium.
Was interesting listening to Vincent Kompany, the Burnley manager who is eying up a quarterfinal clash with his old club, Manchester City, in the FA Cup tomorrow.
He was sharing his views on Patrick Vieria's sacking at Crystal Palace.
The former City skipper was surprised to at events at Selhurst Park. Worth a reminder that Palace are 12th. Sure, they're only three points above safety, but 12th is hardly a disaster, is it?
Here's who they've got left:
Arsenal (A) – 19 March

Leicester (H) – 1 April

Leeds (A) – 8 April

Southampton (A) – 15 April

Everton (H) – 22 April

Wolves (A) – 25 April

West Ham (H) – 29 April

Tottenham (A) – 6 May

Bournemouth (H) – 13 May

Fulham (A) – 20 May

Nottingham Forest (H) – 28 May
It's not exactly the most difficult run. A tricky patch of three games in seven days but only the two North London clubs (and perhaps Fulham) are major obstacles. Wonder if the powers that be were a little hasty.
It's a good point. If City don't win anything, would that constitute a failure? I guess so. Any title they don't win, with that squad, but be viewed as a shock.
Erik ten Hag has just given a press conference addressing a few key issues and has said that he's met with Sir Jim Ratcliff.
"I just met them and shook hands but I am focused on the game. We play a big game on Sunday and all our focus is on that. Others in the club are dealing with potential investors. My job is focus on the game so let's talk about the game Fulham, it is a big tie so let's get ready for that."
And what about Marcus Rashford? He's been pretty good, eh?
"He progressed during the season. He was not in the best shape when he started the season but the way of playing gives him a base and he brings his skills in and his attitude and mentality and that is bringing in a lot of progress and gives the team a lot of joy and gives him a lot of goals and us a lot of wins.
"I think the most important of course the way of play that gives him base and structure and the way of play is in his favour. I knew his skills. You also bring staff around who can make him better and make him progress and he can get motivated from. I thought we needed one of the staff who was specific for strikers and Benni [McCarthy] is doing a good job.
"But don't forget others in the staff because it is about teamwork. The staff is about balance. It is not only about Benni McCarthy. All have specific jobs in out squad, we work together, it's good vibe and they challenge each other and it is the total package and it is not about one person."
Some chat on the Europa League:
"There are still four games to go, but considering how low Mourinho's reputation was following his turgid reign at White Hart Lane, that his Roma have a good shot at their second European final in two years is quite something. I mean, it's bound to end in tears, but he's made a mark in the eternal city." – that's from Kári Tulinius and I fully agree. I know not everyone loves the Special One but I do. He's still blockbuster and wouldn't it be fun if he reaches the final?
"Sevilla are two points out of the relegation zone, so they have a slim
chance of being relegated and also qualifying for next season's Champions League. I imagine that would be a first." – I wonder if Wigan and Sevilla are sister cities, Steven Molnar.
"Pedantry, I know," begins Roger Kay. "You could argue Roma are Italy's 6th best team, taking account of Juve's points deduction. Out of interest, would there be any rules about Saint-Gilloise and Brighton being in the same tournament next season in theory?" I certainly hope so. Would make a couple of fun away days.
Speaking of Manchester United, Sir Jim Ratcliffe was at Old Trafford on Friday to attend a presentation held by senior Manchester United management staff, according to a PA report.
INEOS founder Ratcliffe and Qatari banker Sheikh Jassim Bin Hamad Al Thani have made offers to buy United to American merchant bankers Raine, which was brought in to assist the club in assessing bids.
The club's owners, the Glazer family, announced last November they were conducting a strategic review, with the sale of United one option being considered.
United will be holding a press conference to preview their FA Cup quarter-final against Fulham at Carrington on Friday lunchtime while the INEOS visit is taking place.
Europa League draw in full
Just as it was for Champions League quarterfinal draw, the Europa League looks lopsided. Manchester United, Sevilla, Juventus and Sporting will all battle it out for just one place in the final. On the other side you've got the tournament debutants from Belgium as well as the fifth best team in Italy and the ninth best team in Germany. To be fair to Feyenoord, they are top of the Dutch league and will therefore fancy themselves. Still, good luck predicting this one.
SF 2: Winner of QF 4 v Winner of QF 3
Feyenoord/Roma v Bayer Leverkusen v Union Saint-Gilloise.
No easy games, of course, but you'd much rather be on this side.
SF 1: Winner of QF 2 v Winner of QF 1
Juventus/Sporting CP v Manchester United/Sevilla.
That is a tough side of the draw!
QF 4: Feyenoord v Roma
QF 3: Bayer Leverkusen v Union Saint-Gilloise
QF 2: Juventus v Sporting CP
QF 1: Manchester United v Sevilla
Sporting's manager Rúben Amorim said before the Arsenal game that this competition is "tougher" than the Champions League. I think what he meant was more competitive and there's a good argument to be made that it is. More teams have a realistic shot at lifting the trophy than the Champions League.
The remaining teams:
Manchester United

Juventus

Bayer Leverkusen

Sporting CP

Roma

Sevilla

Union Saint-Gilloise

Feyenoord
A nice split. Two Italian clubs, and then one each from England, Belgium, Germany, Spain, Netherlands and Portugal.
A reminder of United's comfortable win over Real Betis:
Arsenal won't be included in the pot after they lost on penalties to Sporting:
Alrighty, we're all set for the Europa League draw with eyes on Manchester United.
Jez Collins has spotted a glaring error on my part:
"Hate to be a pedant Tom [Dan here, I'd love to blame Tom but he'd be too sharp for to make this howler] but surely the first time Chelsea played Real Madrid would have been the first game of that UEFA European Cup Winners Cup Final and not the replay?"
You're spot on, of course. That first game ended 1-1 with Osgood scoring before Ignacio Zoco bagged a 90th minute equaliser at the Georgios Karaiskakis Stadium in Piraeus.