Key events
Constitution Hill wins the Champion Hurdle at a canter!
Tense scenes before, Nicky Henderson going through his private, personal hell in the stands. Not So Sleepy is the caution horse, with his record as a rogue but he goes off first, and is first to show. State Man sits in fifth. I Like To Move It is an early leader. Constitution Hill is sat in third as they go away from the stands to the usual roar, the crowd sounding a little tense. Constitution Hill is up alongside I Live To Move It at five out, and is being held by Nico de Boinville, waiting for the moment to press go. State Man giving chase but not having it all his own way. Over the hill, three to go and De Boinville moves his mount into the lead. There's one to go, State Man giving chase. Here's the last. And a big leap makes sure. The dead cert has won, and won easily. State Man is second, and Zanahiyr third, like last year. That was devastating, so simple.
Greg Wood had this to say on Constitution Hill at the weekend.
Ancient history perhaps but a reminder, too, that as Constitution Hill, the sport's latest apparent "cert", prepares to defend his unbeaten record in the Champion Hurdle at Cheltenham on Tuesday, "must" is a dangerous word in racing.

Not one opponent in Constitution Hill's five starts has caused him even the slightest concern. The Nicky Henderson-trained six-year-old is the hottest favourite at next week's Festival and the heavy hitters will be ready to wade in with five- and six-figure bets. Yet, however strong a big-race favourite might look on paper, it still needs to go out and do the business on grass.
All the pressure on Nicky Henderson and Nico de Boinville, as the parade begins. The word from ITV's Ken Pitterson, the paddock specialist, is that he is looking fitter than that Kempton ride. A good word from Ken for State Man, too.
Why is Constitution Hill so well-fancied? The simple answer is this win in last year's Supreme Novice Hurdle.
And this ride in the Kempton Christmas Hurdle.
Corach Rambler's trainer, Lucinda Russell, spoke to the BBC.
That was amazing. What a horse he is. He is absolutely brilliant. I was so nervous beforehand because the horse means so much but Derek is so cool. He has got a brilliant mind – the horse has got a quite interesting mind. I am so proud and pleased.
3.30 Grade 1 Unibet Champion Hurdle 2m odds
3.30 Unibet Champion Hurdle (2m 87yd) preview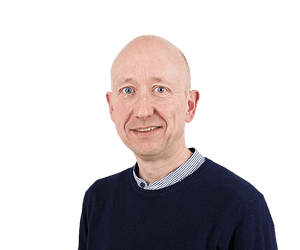 Greg Wood
The Champion Hurdle has been a fixture on the Festival calendar since 1927, but there has never been a shorter-priced favourite than Constitution Hill, who is a 4-11 shot pretty much across the board this morning and could conceivably get even shorter once the big bets start flying in on course. There is no such thing as a certainty in racing, and it is only necessary to look back to last year Supreme Novice Hurdle, when he might have been brought down by Dysart Dynamo's fall three out, to see what can go wrong when horses race over jumps with little margin for error. At the same time, though, he has been flawless in all five of his starts to date and is already jostling with the greatest hurdlers of the last 50 years on ratings, while looking as though there will be more to come if anything ever gets him into a race. State Man is the only runner in today's field that could conceivably get an on-song Constitution Hill into a fight to the line, but even his very best form is the best part of a stone short of what is likely to be required today.
SELECTION: Constitution Hill.
2.50 Ultima Handicap Chase result
1 Corach Rambler (Derek Fox) 6-1 Jt Fav

2 Fastorslow (J J Slevin) 7-1

3 Monbeg Genius (Jonjo O'Neill Jr.) 6-1 Jt Fav

4 The Goffer (Davy Russell) 7-1
Derek Fox, the winning jockey: "He's a tremendous horse and he rode even better than last season even. Peter Scudamore said to ride him with plenty of confience like last year. He's a marvellous horse, the yard favourite, the horse of a lifetime. It needed a lot of things to go right when you commit to dropping back early. It suits his run style. I am over the moon."
Scudamore himself, assistant to partner Lucinda Russell, the trainer: "this means, I can't explain it, because we are so close to it. Derek learned to read off text messages off his phone but he's a highly intelligent man."
Corach Rambler is now 6/1 for the Grand National.
Corach Rambler wins the 2.50 Ultima Handicap – for the second year running!
They get underway first time with Cloudy Glen and Top Ville Ben to the fore. Happygolucky in there too as they go past the stands, with Monbeg Genius up there, too. Fantastikas and Top Ville Ben are up there at the water jump. Happygolucky makes a mistake at the open ditch but all are up and running with 13 to go. Oscar Elite is dead last, with Harper's Brook leading them out as they reach halfway. They're all still up at 10 out. Harper's Brook leads going out into the field when going past the stand for the last time. Fantastikas is up there too. Harper's Brook jumping like a stag. Fantastikas and Top Ville Ben give chase. Harper's Brook is still leading with three fences to go. What a ride this has been. He will have to go wire to wire but Fantastikas is up there with him now. Oscar Elite is coming from all the way back. Monbeg Genius is up there, Fastorslow and Monbeg Genius is going for it but Corach Rambler, last year's winner, delivers another late ride to win from Monbeg Genius. Lucinda Russell lands it, with Derek Fox with such a cool, cool ride.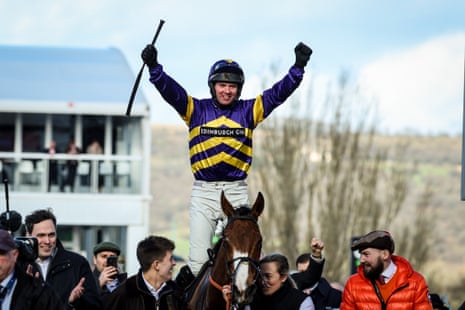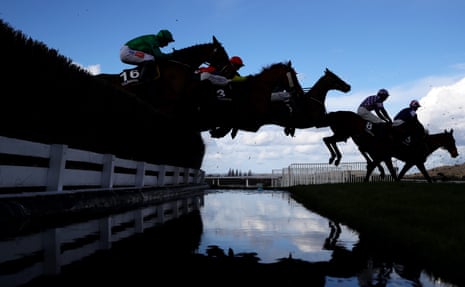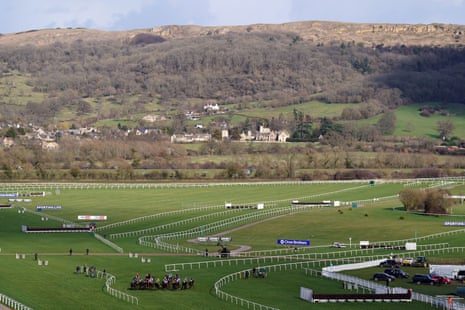 ITV are treating us to Rishi Persaud meeting three generations of the Pipe family, Martin, training genius, his son David, not a bad trainer himself and 13-year-old Jack, a very polite young man, and far more welcome on screen than Jack Whitehall in the Social Stable (is it called that this year?).
Via Betfair, one to watch tomorrow.
While appearing on 'Luck On Sunday' from the Dublin Racing Festival in February, owner and trainer, Barry Connell, suggested to viewers that they should do a double on both his horses, Marine Nationale to win the Supreme Novices' Hurdle and Good Land to win the Ballymore. The first leg duly obliged when powering clear to win the Festival opener and that has caused the odds on Good Land to crash from 9/2 to 5/2.
Betfair: "Marine Nationale was 6/1 at the time and Good Land was 10/1. We have a substantial ante-post liability running up onto Good Land now and it will be a gamble to remember should he oblige in the first race tomorrow'
Greg Wood, by the way, is 2/2 on tipping the opening two races. The handicap up next…
Aidan Coleman, beaten rider on Jonbon: "Ran really well, no excuses, probably a bit tacky for him. Wouldn't mind another go on him on better ground."
It looks busy. Pro-tip: avoid the first and last days if you like to drink. Or be a millionaire.
2.50 Ultima Handicap Chase 3m1f
2.50 Ultima Handicap Chase (3m 1f) preview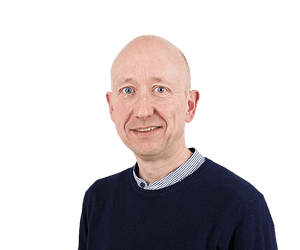 Greg Wood
The highlight of the opening day from a punting perspective, and everything that a handicap chase at the Festival should be as 23 runners set off for two full circuits of the Old course. It is also one of very few races at the meeting that has managed to stand firm against the Irish battalions in recent years, with Tony Martin's Dun Doire, in 2006, the last Irish-trained winner. Corach Rambler took the spoils for Lucinda Russell's stable last year, and he is back for another crack – from just a 6lb higher mark – on the way to the Grand National at Aintree next month, and he is vying for favouritism with Jonjo O'Neill's Monbeg Genius, a novice who looks to be on a very fair mark despite having won his last three starts in handicaps. Nassalam and Into Overdrive are more seasoned over fences but also seem sure to be in the mix, while the handicap debutant Fastorslow, whose only two runs over fences so far were both in Grade One events, is another to catch the eye and could prove to be a handicap blot. The bookies have noticed him too, however, and 9-1 is not much of a price in the circumstances, so I'll be throwing in my lot with Kim Bailey's Happygolucky, who was a well-backed favourite for this race two years ago. He was beaten just under six lengths into second behind the old warrior Vintage Clouds, made up for that with a victory at the Grand National meeting off just a 3lb lower mark than today's, and has had very little racing since. His schedule appears to have been planned entirely around a return to this race, and a little stat-bomb to top it off, if that's your thing, is that Kim Bailey, his trainer, has a 19.5pc strike rate and a 15.5pc ROI over the last five years when his horses race in cheekpieces for the first time.
SELECTION: Happygolucky
Good news: Dysart Dynamo is up and OK. It was a tired rather than serious fall. Phew.
Result: 2:10 – Sporting Life Arkle Challenge Trophy Novices' Chase, 2m
1 El Fabiolo (Paul Townend) 11-10 Fav

2 Jonbon (Aidan Coleman) 2-1

3 Saint Roi (Mark Walsh) 11-1

9 ran
Paul Townend, winner of the second, second in the first, says his El Fabiolo: "came alive at the right time. The engine's always been there. As he matures and gets stronger he can go out in trip but if he keeps winning two-milers that's OK."
Dysart Dynamo took a very heavy fall at the last, having ridden such a brave race, and the green screens are around him. We hope for good news.
El Fabiolo wins the 2.10 Arkle Challenge!
Tense moments ahead of this one, with Jonbon looking most tense of all. All eyes on Dysart Dynamo, expected to make the running. They get off quick smart with Dysart Dynamo leading Jonbon and El Fabiolo over the third and fourth. It's quite a lick he goes off at, too. Hollow Games sits out the back as Dysart sets off with what is becoming a big lead. Jonbon's jump on the back straight is a bit tight. El Fabiolo seems to chasing the front two and Dysart trying to run out the finish. He's jumping far better, now will the hill catch him. Jonbon gives chase with three to jump. Dysart still in the lead with two out, and Jonbon attempt to make his move. El Fabiolo takes his chance, Dysart goes down at the last and El Fabiolo wins the Arkle, Jonbon in second, Saint Roi third. And that's a win for Townend and Mullins. It didn't take long for them to get on the board.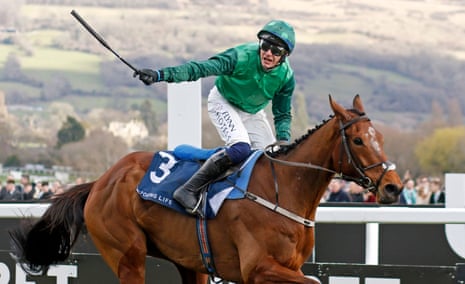 Jonbon versus El Fabiolo in the next, with Jonbon attempting to emulate his full brother, Douvan, "the destroyer" himself. The younger brother of the former Mullins/Rich Ricci horse was a £570,000 purchase. Jonbon trained by Nicky Henderson who looks tense at trackside as the JP McManus-owned horse goes round the parade ring. "It'll be tough," says Henderson in a flash interview with Rishi Persaud on ITV.
2.10 Grade 1 Sporting Life Arkle Challenge Trophy Novices' Chase 1m7f
2.10 Arkle Challenge Trophy preview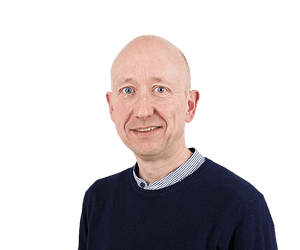 Greg Wood
A no-margin-for-error two-mile dash around the chase course and an interesting shape to the market, with four runners priced up at single-figure odds and five out at 40-1+. Jonbon, the runner-up to Constitution Hill in the Supreme last year, was the ante-post favourite for the much of the winter, and remains a solid second-pick at around 7-4, but he was supplanted at the head of the betting by El Fabiolo (11-8) when Willie Mullins's gelding landed a Grade One at this trip at last month's Dublin Racing Festival. Dysart Dynamo, meanwhile, was joint-favourite for last year's Supreme with Constitution Hill, but departed three out after helping to set a strong pace with Jonbon. Another Mullins-trained runner, he was only fourth behind El Fabiolo last time, albeit having typically gone off at a right old lick before fading from the top of the straight. That was just his second start over fences and he could be a player if he settles a little better, but he will still need to get up the hill. The third-string for Mullins, meanwhile, is the eight-year-old Saint Roi, the 2020 County Hurdle winner, who was a late recruit to chasing but has shown some promise. He unseated his jockey just after the fifth behind El Fabiolo last time, however, and will need to take a fair step forward on his form to date to trouble the favourite.
SELECTION: El Fabiolo
Paul Townend's verdict on Facile Vega is simply: "ran well." His face told another story. Greg Wood, by the way, tipped Marine Nationale for that race.
Result: 1.30 – Sky Bet Supreme Novices' Hurdle, 2m 1/2f
1 Marine Nationale (Michael O'Sullivan) 9-2

2 Facile Vega (Paul Townend) 9-4 Fav

3 Diverge (Mr P W Mullins) 25-1

14 ran
Facile Vega had the race in his gift but Marine Nationale might have got him even if it wasn't for the mistake after jumping the last.
A shock result, with Barry Connell training and Michael O'Sullivan the jockey, who is tearful: "the horse is just incredible and I wasn't sure what I was holding on to. He's won easy. This is what I was dreaming of when i was riding ponies. Barry put his chest out and he was right."
Marine Nationale wins the 1.30 Supreme Novices' Hurdle!
A slow raise of the flag and then the roar goes up, not once but twice as they go over the first. Facile Vega in midfield at the start. Rare Edition and High Definition are among the first to show as they go past the stands. Strong Leader is in there, too. Tahmuras, the Nicholls horse, is up there too. Long run to five out with the leadership remaining much the same. Fennor Cross is off the back. L Etait Temps drops back as they climb to the top and begin their descent. Facile Vega steps up. Chasing Fire and High Definition to the fore but plenty of chances. Facile Vega leads up the hill, and Marine Nationale follows him at the last as Facile Vega looks to stumble, and wins. Diverge is third and In The Pocket is fourth. It's all Irish horses for the first eight.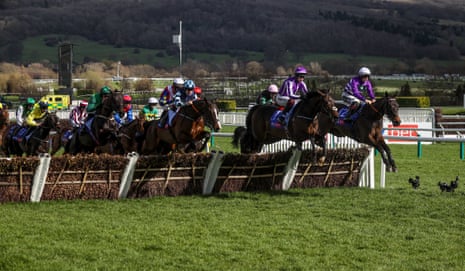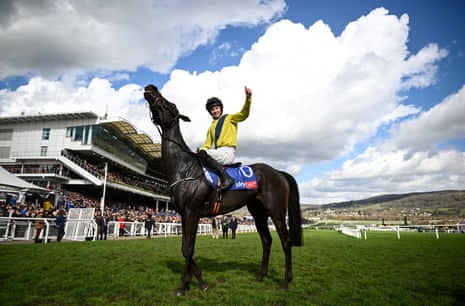 When Facile Vega won last year's Champion Bumper, there was practically nobody trackside as it was so wet on Champion Chase Wednesday. I was, my colleagues having made for the train home or the Centaur bar. Through the rain it was obvious he was a cut above but Leopardstown has opened up the betting even if he is being backed in. Willie Mullins is four-handed in this race with Dark Raven, Il Etait Temps and Diverge. The ground is heavy, the turf green as the runners make their way to the start.
This season has been about the whip, and the new rules for the whip. Could this be a factor at this year's Cheltenham?
The British Horseracing Authority, however, apparently thinks differently. It could have introduced its new rules on the use of the whip from the start of summer jumping in May or even the start of the Flat campaign on turf at the end of this month and run this year's Festival as the last under the old regime.

Instead, it took a deliberate decision to ensure the new rules would be in place for this year's meeting, and the wisdom, or otherwise, of that choice will become apparent over the next four days, though it certainly feels as though scarcely a day has passed since the turn of the year without a trainer or jockey criticising the move.

Paul Nicholls, the 13-times champion trainer, said recently he has been "livid all along" about the timing of the new rules' introduction, adding that the BHA needed to "show some backbone" and stand up for the sport, rather than "appease people who don't understand the game". Richard Patrick, who starts an eight-day ban on Friday, suggested "everyone [in the weighing room] is petrified about using the stick".
The first of seven races is fewer than 20 minutes away but here's the schedule for today, including four grade-ones.
1.30 – Sky Bet Supreme Novices' Hurdle, 2m 1/2f

2.10 – Sporting Life Arkle Challenge Trophy Novices' Chase, 2m

2.50 – Ultima Handicap Chase, 3m 1f

3:30 – Unibet Champion Hurdle Challenge Trophy, 2m 1/2f

4.10 – Close Brothers Mares' Hurdle, 2m 4f

4.50 – Boodles Juvenile Handicap Hurdle, 2m 4 1/2f

5.30 – National Hunt Chase (Novices' Chase, amateur jockeys), 3m 6f
Facile Vega, the favourite for the Supreme, is being backed in, and despite being beaten last month at Leopardstown, finishing last of five behind stablemate Il Etait Temps. Here's what Willie Mullins had to say to Sporting Life.
Facile Vega comes here in tremendous form, doing everything right at home. It's a little disappointing we got the tactics wrong at Leopardstown, but we can't change that now. While once again High Definition will probably be ridden prominently in this race, Paul [Townend] doesn't have to take him on so early and I'd imagine we will change our tactics and hopefully get a better result. He jumps very well and is a course winner so I'm hopeful.
1.30: Grade 1 Sky Bet Supreme Novices' Hurdle – 2m
Look at the last ten winners of the Supreme and appreciate the quality of this race.
2013: Champagne Fever

2014: Vautour

2015: Douvan

2016: Altior

2017: Laibak

2018: Summerville Boy

2019: Klassical Dream

2020: Shishkin

2021: Appreciate It

2022 Constitution Hill
With 2016 the deepest of the lot:
1. Altior

2. Min

3.Buveur D'air

4.Tombstone

5. Charbel

6. Mister Miyagi

7. Supasundae

8. Petit Mouchoir
1.30 Supreme Novice Hurdle preview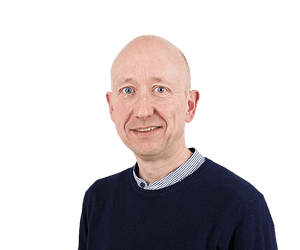 Greg Wood
A double-figure field for the Festival's traditional opening race for the first time since 2020, and an open feel to the market which should ensure that most punters find it impossible to resist. Last year's Supreme, in which Constitution Hill, the hot favourite for the Champion Hurdle later on the card, set off as the 9-4 favourite, was the third-biggest race of the year by turnover, several places in front of the Derby in June, and Facile Vega, the Champion Bumper winner here last year, is likely to split backers fairly evently into pro- and anti- camps. His supporters will see a horse with excellent track form, Willie Mullins's No.1 jockey in the saddle and a comfy defeat of Il Etait Temps, the third-favourite, on his record. Detractors will point to a very tame defeat behind the same horse at the Dublin Racing Festival last time out, when Paul Townend went off quite hard on Facile Vega but not, perhaps, quite hard enough to explain it away entirely. I'm tending towards the view that a price of around 15-8 for Facile Vega is much too short in the circumstances, but the problem then is which of several interesting alternatives to back against him. Tahmuras (12-1) is probably the pick of the British-trained contenders though the concern is that he is just the best of a sub-standard bunch, but High Definition – who was Group-class on the Flat and favourite for the Derby in the early stages of his three-year-old career – is a fascinating option at around 20-1, and closely matched on ratings with both Inthepocket (8-1) Diverge (22-1). Sometimes, though, the obvious pick is the sensible one too and Marine Nationale, unraced since winning the Royal Bond at Fairyhouse in December, has much to recommend him at around 11-2. Barry Connell's runner showed a useful turn of foot to grab the spoils last time out and won with more in hand than the margin of a head might suggest.
SELECTION: Marine Nationale.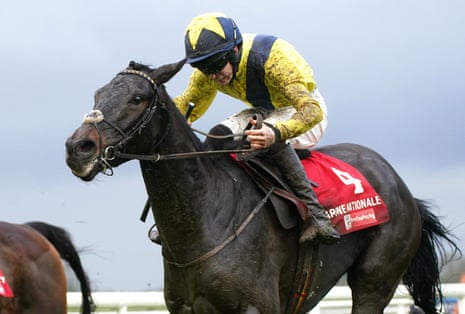 Good detail from Greg Wood here. Time was when I had an annual berth in Cheltenham. These days, it's a dash to Swindon and train it in and back. This idea looked good until, well, the price.
A local entrepreneur planned to use shipping containers, parked within walking distance of the course, as somewhere for racegoers to rest their heads after a hard day at the track (and, for a fair proportion at least, a harder night on the town). But only 16 of the 300 beds had been booked by the middle of last week. For now at least, the scheme has been scrapped.

Dig a little deeper, however, and the lack of demand is not quite as alarming as it might seem. Racegoers were being asked to sleep four-to-a-crate, which sounds cosy enough even for the closest of friends, and also to book for a minimum of five nights, for £950. A raging case of festival fever is one thing; the level of delirium required to pay £190 a night to bed down in a metal box is clearly quite another.
Even as someone who still reflexively switches to Channel 4 on a Saturday afternoon, it's fair to say ITV have done a decent enough job since taking on racing. There have been worries it would drift off terrestrial schedules. But for three more years at least, it's here to stay.
For Constitution Hill, the expectation of victory is so great that it is predicted he can emulate Istabraq's Timeform rating of 176. Trained by Aidan O'Brien before the master of Coolmore concentrated on being a flat trainer, JP McManus's horse won three Champion Hurdles, and four times at the Cheltenham Festival.
Oddschecker are providing our betting information this week. Here's their most backed horses of the day.
And their market movers for the day one.
Honeysuckle (Mares' Hurdle) 7/2 into 5/2

Tenzing (National Hunt Chase) 16/1 into 9/1

The Wolf (Ultima Handicap Chase) 40/1 into 22/1

Facile Vega (Supreme Novices' Hurdle) 5/2 into 15/8

Monbeg Genius (Ultima Handicap Chase) 11/1 into 7/1
The weather looks fresh enough on course, bright sunshine the rain passing for the day, perhaps to return this evening, and later tomorrow for Champion Chase day. But perhaps not the mudlark of 12 months ago that the second day was. It will be chilly trackside, too.
Here's Greg's tips for the ITV races shown in the UK.
Cheltenham 3.30 The moment National Hunt has been waiting for since last year's Supreme Novice Hurdle, as Constitution Hill bids to take his place among the sport's all-time greats on the Champion Hurdle roll of honour. One record is already within reach as even the mighty three-time winner, Sir Ken, never started at shorter odds than 2-5 and Nicky Henderson's gelding is no bigger than 4-11 to beat six rivals. State Man would be a worthy favourite in any other year, but Constitution Hill can cope with any pace or even make the running if necessary so even a highly tactical race is unlikely to cause him any problem.
Preamble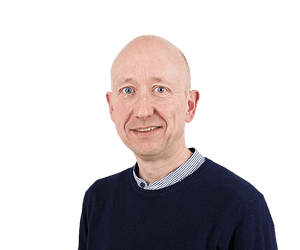 Greg Wood
The ancient sport of organised horse racing now takes place on all but two or three days of the year, but a handful of mornings are special moments for followers of the turf and the Tuesday of Cheltenham week is very much in the top two or three. And so here we go again, gathering beneath Cleeve Hill to watch horses race over jumps, just as folk have been doing for a century or more.
A special moment, and this year, a very special horse to match. Constitution Hill, the favourite for the Champion Hurdle, is already a monster of the sport, an outrageous talent to rank alongside Golden Cygnet as one of the most brilliant novices ever to jump a hurdle. Unlike Golden Cygnet, who suffered a fatal injury in a fall in the Scottish Champion Hurdle a month after winning the Supreme Novice Hurdle, he will get a chance to show off his talent in the Champion Hurdle itself.
Make no mistake, Constitution Hill is already one of the best horses over a hurdle in the last 50 years. His 22-length success in last year's Supreme was mind-bogglingly impressive, and backed up by a finishing time that put him at least 20 lengths in front of Honeysuckle, the Champion Hurdle winner. But he hasn't – yet – got a Champion Hurdle of his own on his record, and filling in that gap should be the main business of the first afternoon at Cheltenham.
But of course, there's more. Much more. We kick off with a very open renewal of the Supreme, sashay straight into a Britain vs Ireland head-to-head in the Arkle Trophy as El Fabiolo takes on Jonbon, and then try to pan some gold from an insanely competitive Ultima Handicap Chase. Post-Champion, the wonderful Honeysuckle will attempt to close out her career with a 17th win from 19 starts, and the afternoon concludes with a hopelessly impossible handicap hurdle and the rigours of the National Hunt Chase.
Honeysuckle took the Mares' Hurdle in 2020 and has replaced Marie's Rock, last year's winner, as the favourite for that race this morning, while Jon Pullin, the track's clerk of the course, has reported that the going remains soft after 7mm of rain in the last 24 hours. The traditional roar that greets the start of the opening race will be ringing in the jockey's ears at around 1.30pm, picks for the ITV races are here (with the usual caveats etc), and you can follow all the news, views and race-by-race previews here on the live blog throughout the day.