Coronavirus news live: Javid 'leaning towards' compulsory vaccines for NHS staff; Poland sees 90% week-on-week case rise | World news

02:30
A financial industry group warned today that Hong Kong's zero-Covid policy and strict quarantine requirements for international travellers threatens to undermine the city's status as a financial hub.
Reuters report that the Asia Securities Industry and Financial Markets Association (ASIFMA) said a survey of members, including some of the world's largest banks and asset managers, showed 48% were contemplating moving staff or functions away from Hong Kong due to operational challenges, which included uncertainty regarding when and how travel and quarantine restrictions will be lifted.
Hong Kong has some of the most stringent travel restrictions in the world and is virtually Covid-19 free, however unlike regional rival Singapore, which is slowly re-opening its borders despite currently seeing caseloads higher than at any other time of the pandemic, the Chinese-ruled city has no public plan for opening up to international travellers.

02:20
UK health secretary: 'leaning towards' making vaccinations compulsory for NHS staff
The UK health secretary Sajid Javid this morning has said that he is "leaning towards" making Covid vaccinations compulsory for NHS staff, as the government has already done for social care staff, a change that comes into effect on 11 November. Asked about NHS staff who are not currently vaccinated he said:



We've been very clear about this, there was a consultation on this. We're yet to make a final decision, but I'm leaning towards doing it. We want to do it properly. We want to work with our friends in the NHS and get this right. But it's worth just stepping back a bit and saying why is this important. It is because they're the people that are naturally more vulnerable to being exposed to diseases and viruses and of course that includes Covid, but also the people that they're looking after are naturally vulnerable, that's why they're in hospital, and it's about giving them the protection they deserve.
Pressed on whether the NHS, which currently has staff shortages, could afford to lose more staff over their vaccine status, Javid told Sky News:



I think that if you keep in mind more than a million people that work in the NHS, so far it's over I think 94% or 93% thereabouts that are vaccinated, so there is around 100,000 that are not at this point. But what we saw with the care sector, is that when we announced the policy, we saw many more people come forward and do the right thing and get vaccinated, and that's what I hope that if we do the same thing with the NHS we will see.
Javid refused to put a timeframe on the move.

02:11
A quick update on the situation in Poland from Reuters here. Poland's daily Covid-19 cases are growing at a rate of around 90% compared to the previous week, a deputy health minister said this morning, as the fourth wave of the pandemic gathers pace.
"The results we got on Monday do not reflect what stage of the pandemic we are currently at, they are always lower … but what is more important is this strong uptrend, and at a high level, which is holding, at the moment it is around over 90% compared to last week," Waldemar Kraska told public broadcaster Polskie Radio 1.
Yesterday the country recorded 4,727 new cases. The rolling seven day average for daily cases is 4,762.

02:07
Hi, it is Martin Belam here in London taking over from my colleague Samantha Lock. Currently in the UK the health secretary Sajid Javid is on Sky News as he is doing the media round for the government today. I'll have the key Covid and healthcare lines from that in due course.

01:56
Chinese province closes tourist sites amid new Covid outbreak
A northwestern Chinese province heavily dependent on tourism has closed all tourist sites today after finding new Covid-19 cases, the Associated Press reports.
Gansu province lies along the ancient Silk Road and is famed for the Dunhuang grottoes filled with Buddhist images and other religious sites.
The National Health Commission said 35 new cases of local transmission had been detected over the past 24 hours, four of them in Gansu.
Another 19 cases were found in the Inner Mongolia region, with others spread across several provinces and cities. Residents in parts of Inner Mongolia have been ordered to stay indoors.
Despite having largely stamped out cases of local infection, China maintains a zero-tolerance policy toward the pandemic, characterised by lockdowns, quarantines and compulsory testing for the virus.
The spread of the delta variant by travellers and tour groups is of particular concern ahead of the Winter Olympics in Beijing in February. Overseas spectators are already banned, and participants will have to stay in a bubble separating them from people outside.
Updated


01:43
Scientists attempt to replicate Covid vaccine to end inequity in Africa
Scientists based in Africa are attempting to reverse engineer a coronavirus vaccine by replicating Moderna's Covid-19 shot in a bid to narrow vaccine disparities between the world's wealthiest and poorest nations.
The work is being backed by the World Health Organization, which is coordinating a vaccine research, training and production hub in South Africa along with a related supply chain for critical raw materials, the Associated Press reports.
"We are doing this for Africa at this moment, and that drives us," said Emile Hendricks, a 22-year-old biotechnologist for Afrigen Biologics and Vaccines, the company trying to reproduce the Moderna shot. "We can no longer rely on these big superpowers to come in and save us."
Some experts see reverse engineering – recreating vaccines from fragments of publicly available information – as one of the few remaining ways to redress the power imbalances of the pandemic. Only 0.7% of vaccines have gone to low-income countries so far, while nearly half have gone to wealthy countries, according to an analysis by the People's Vaccine Alliance.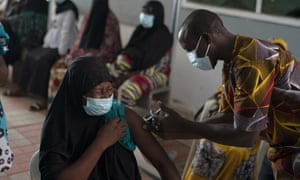 01:33
Hi there from sunny Sydney, Australia.
I'm Samantha Lock and I'll be bringing you all the latest coronavirus coverage for the next hour or so.
If you're just joining us here's a quick run down of all the key stories.
In a move towards preparing the nation for winter and a potential surge in Covid cases, ministers in the UK say they want to ramp up the booster jab rollout.
More than 5 million people had had a third jab since the vaccination programme began administering them last month, NHS England said on Sunday.
About 7.5 million people have already been invited by text, email and letter, encouraging them to book through the national booking service. Two million more will receive invitations this week.
British singer Ed Sheeran announced testing positive for Covid-19. In an Instagram post he said: "It means that I'm now unable to plough ahead with any in-person commitments for now, so I'll be doing as many of my planned interviews/performances I can from my house." Sheeran will be self isolating and cancelling in-person commitments.
NHS maternity services feared to be near breaking point, the UK's most senior gynaecologist has warned. The health service could soon be unable to deliver "the care it needs to" for women giving birth if the surge in Covid cases continues, the president of the Royal College of Obstetricians and Gynaecologists has said. As Covid cases rise the NHS battles a huge backlog of 5.7 million patients caused by the first and second waves of the virus.
UK Chancellor Rishi Sunak to announce almost £6bn to tackle England's record NHS waiting list. In an effort to get a grip on the crisis, the chancellor will unveil plans for investment in NHS capital funding this week to help deliver about 30% more elective activity by 2024-25 compared to pre-pandemic levels. This is equivalent to millions more checks, scans and procedures for non-emergency patients.
US chief medical adviser Dr Anthony Fauci predicts Covid shots for kids five to 11 will be available by early November. A review panel of the US food and drug administration (FDA) found last week that the benefits of Pfizer-BioNTech shots for the younger age group outweighed the risks.
The UK is lagging behind other G7 countries in sharing surplus Covid vaccines with poorer countries, according to newly published figures. The advocacy organisation One, which is campaigning to end extreme poverty and preventable disease by 2030, described it as shaming for the UK government. The figures show that the UK is behind every member of the G7 – of which Britain is currently the chair – except for Japan.
STI rates "at their highest numbers" in the US as Covid dominates health funding. Health officials are concerned about how to divert key resources to combatting a rise in sexually-transmitted infections (STI) that is now continuing despite the social restrictions of the coronavirus pandemic and is now in its sixth consecutive year of increase.
Russia reports 1,000 daily Covid deaths.
UK records nearly 40,000 positive Covid results.
Updated

Source link