Key events
Bails scattering like hundreds and thousands as Rory Burns misses a peach from Will Williams. Surrey 37-2.
An early Surrey wicket – Ryan Patel – and Tom Bailey's fiftieth wicket of the season. Guided into the safe hands of Keaton Jennings.
Rory Burns very eager to prance out of his crease, 16 not out. All Lancashire's slip cordon, in fact all Lancashire's fielders, have their hands in their pockets – handwarmers, surely. Those red-rose fleecy jumpers don't look as warm as the Surrey cable-knit.
Darren Stevens has a seriously good skin-care regime. Where are the wrinkles?
The match at Headingley cracking on: Ben Coad on the money again, Gloucestershire already one down. But the result there is looking irrelevant as it is still raining at Edgbaston. Tears for the 2021 Champions.
Raining at Old Trafford – I'm just going to have to excuse myself briefly to write something else – will pop back as soon as I can.
Just as Essex did for Ryan ten Doeschate, so Kent do for Darren Stevens:
Yorkshire keeping it tasty to the end – bowled out for 183 – seven runs short of Glouestershire's first innings. Zafar Gohar 5-40, Yorkshire's top-scorer Tom Kohler-Cadmore, 46. Harry Brook the gaping chasm in the batting line-up.
Time for some lunch, back soon.
DIVISION ONE
Canterbury: Kent 149-0 v Somerset 202
Old Trafford: Lancashire 512 v Surrey 1-0
Wantage Road: Northants v Essex 220-8 no play before lunch
Edgbaston: Warwicks 157-2 v Hampshire
Headingley: Yorkshire 183 v Gloucestershire 190
DIVISION TWO
Derby: Derbyshire 146 v Leicestershire 249
Trent Bridge: Notts 402-3 v Durham
Hove: Sussex v Glamorgan 346-6
New Road: Worcs 225 v Middlesex 59-1
And off they come – and lunch round the grounds.
The players are out on the Old Trafford pitch, but so is the roller. One over from Tom Bailey in autumn sunshine.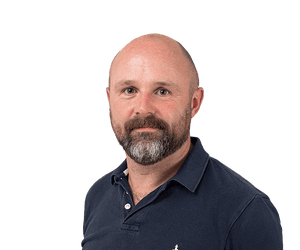 Ali Martin
Keith Barker has his red socks on today, suggesting he means business, but 45 mins into play at Edgbaston and they've gone off for rain with no wickets having fallen since the delayed restart. In that time Warwickshire have progress to 157 for two from 52 overs, with the ball zipping about but Rob Yates looking as good as he did yesterday to move to 90 not out. Sam Hain is on seven at the other end, the only Bears batter past 1,000 runs this season. And as I write this, bright sunshine has broken out. Groundstaff are looking over yonder, however, and may wait a bit longer. There's some more coming I fancy.
Surrey will face one over before lunch.
Ahhh, Balderson caught heading skywards in desperation, with just Parkinson left at the other end. Just three short of what would have been a maiden century. Lancashire 512 all out. Five for Moriarty in his first Championship run-out of the year.He actually has a touch of the Andrew Scott's around the face.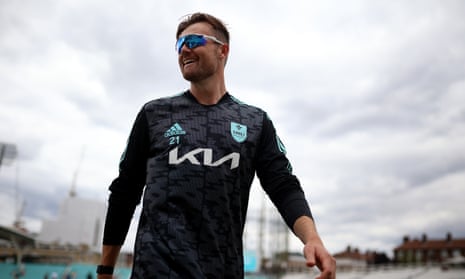 Glammy going for the batting points – collection in the hands of Andrew Salter and Chris Cooke. 314 for five.
150 for Matthew Mongomery!
Runs, run, runs against a Durham bowling attack that looks tired. Notts 369-3 and laying down the guy ropes to bat all day.
Nine, presumably glorious, fours. Is this going to bring a last-minute NatWest Final-esque nudge to the selectors? Kent 105-0
Oooh, could Yorkshire yet make this interesting at the bottom of Division One? Eight down for just 166, 24 short. But it is still raining at Edgbaston – WArwickshire unable to pull out their joker. Zafar Gohar 4-40.
Jonathan Liew at his brilliant best:
A bit slow off the mark here – thanks for the nudge BTL – but this is a touch of class by Kent, who are celebrating Darren Stevens in all his glory today at Canterbury.
Stevens, who wasn't available for selection after picking up a groin injury in the Royal London Cup victory at Trent Bridge, is at the ground today with family and friends and will be given a special presentation at lunchtime. There is also a special celebratory book in the Kent Cricket shop for Stevo fans to inscribe with their favourite memories of a 17-year career at the club.
Tickets are reduced to £10 for adults, with kids and members free. If you find yourself with a spare hour or two on your hands at Canterbury – do pop down.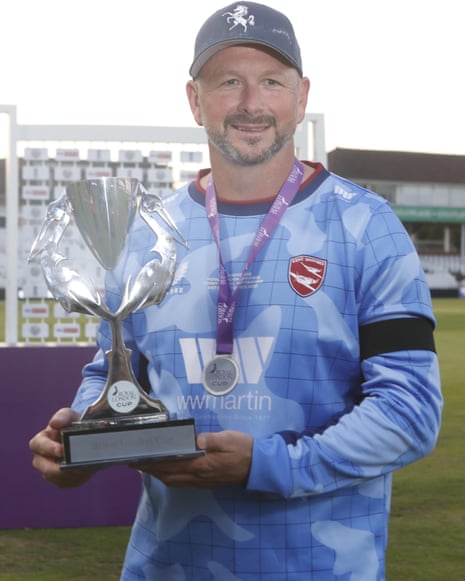 Ali is on his way to Edgbaston, where the weather has relented and Rob Yates is on the search for run redemption – currently 77 not out. Events around the grounds not looking brilliant for Warwickshire – with Yorkshire only 49 runs away from parity at Headingley – though Zafar Gohar has grabbed both Kohler-Cadmore -for yet more pretty but insubstantial runs – and Duke for four. Yorks 141-5. Kent 46-0 chasing Somerset's 202.
A beauty from Moriarty – gets Hartley behind his legs. Lancs 467-7. Three for Moriarty and a career-best for Balderson, 81 not out.
Raising a glass to the BBC cricket team:
At Canterbury, Somerset are all out. Kent are batting – a test for the nerves. Zac Crawley, whose highest score for Kent this year is 84 and averages 24 – is being outscored by Tawanda Muyeye – who averages 20. Godspeed – a century each would do wonders to iron out a rotten season with the bat.
A century for Shubman Gill!
This lad can play:
It turns out my earlier stat was wrong – Jennings is the third Lancashire batter to be out for 199 after Wharton and Atherton. Damn you Jamie Overton and your lbw bullets.
No000000000!
So Frank Watson is the only other player in Championship history to have scored two doubles and a triple in one season. But did he have such lovely brown eyes as Jennings?
Play delayed at Wantage Road till 10.45; and at Edgbaston till 11.15.
With Keaton Jennings in the 191s, some stats, courtesy of Ken . No Lancastrian has ever been out in the 190s so I am totally safe to post this stat:
If Jennings reaches 200 he will become only the second Lancastrian to score three double centuries in one season: 238 v Yorkshire at Headingley and 318 v Somerset at Southport.
He is also the leading run scorer in the 2022 Championship with 1,224 runs in ten matches.
The only Lancashire batter to have scored three double 'tons' in the same season is Frank Watson 94 years ago and that season Watson played in 32 matches/44 innings.
Watson's double centuries that year were:-223 v Northamptonshire (OT)
May 1928; 300* v Surrey (OT) June 1928 and 236 Lancashire v Sussex (Hove)
Aug 1928.
I am shamelessly stealing this from the BBC blog – who have done the maths so I don't have to. Thank you BBC.
This is the state of play in the promotion/relegation battle:
Division One: If Kent and Yorkshire draw, that will ensure they stay up after they grabbed three bonus points yesterday. 2021 Champions Warwicks need to hope that doesn't happen, and thrash Hampshire.
Division Two: Leaders Notts need only seven points to ensure promotion, Middlesex have the upper hand over Glamorgan, with a nine-point lead going into this round.
DIVISION ONE
Canterbury: Kent v Somerset 195-9
Old Trafford: Lancashire 414-5 v Surrey
Wantage Road: Northants v Essex 220-8
Edgbaston: Warwicks 138-2 v Hampshire
Headingley: Yorkshire 80-3 v Gloucestershire 190
DIVISION TWO
Derby: Derbyshire 57-0 v Leicestershire 249
Trent Bridge: Notts 276-2 v Durham
Hove: Sussex v Glamorgan 221-3
New Road: Worcs 167-8 v Middlesex
Autumn shook out her shawl over the first day of the final round of County Championship fixtures, rain and bad light chasing the players. Warwickshire have to win and hope the other results fall in their favour to avoid becoming the first champions since Middlesex in 2016‑17 to go straight down the next year. Dom Sibley and Rob Yates both made half‑centuries against a Hampshire attack shorn of Kyle Abbott as Warwickshire ended the first day on 138-2.
Nathan Gilchrist boosted Kent's chances of survival with five wickets against Somerset, and will be on a hat-trick this morning after pricking the visitors' revival. Lewis Goldsworthy, 93 not out, watched in dismay from the other end as Somerset fell to 195-9. Yorkshire, the other relegation candidates, were pepped up against Gloucestershire by the return of Matt Fisher, who grabbed four for 45 in his first game since April.
Lancashire's Keaton Jennings reeled off yet another century, this time against the county champions Surrey, at a deceptively sun-dappled Old Trafford. It was his fifth hundred of a happy summer. There were two wickets for Surrey's Dan Moriarty, in his first game of the season. Tom Westley's 55 propped up a faltering Essex against Northamptonshire, while Derbyshire's Sam Conners grabbed five wickets against Leicestershire.
Nottinghamshire, Division Two leaders and seeming certainties for promotion until they slipped up last week, had a good day against Durham. There were centuries for Haseeb Hameed, the fourth of his season, and Matthew Montgomery.
Middlesex, chasing Notts' coat-tails, reduced Worcestershire to 167 for eight, while third-placed Glamorgan, in with a sniff of promotion, made the most of a rain-shortened day against Sussex, racing along at more than five an over. India's Shubman Gill finished unbeaten on 91.
Hello!! A beautiful autumn morning in Manchester – hold on tight, these days will soon slip away. Only three days left of the 2022 Championship season as well – with things still very much up in the air. Weather elbowed into day one – but most games are well on their way. Lancashire compiling a ridiculous 414 thanks to Keaton Jennings; all the Division Two challengers on top – Middlesex, Glamorgan and Notts – while Kent and Warwicks also bang their drums. Only Yorkshire, of the relegation candidates, look in any bother – though they should be able to see off Gloucestershire's attack at Headingley. Play starts at 10.30am.