Key events
Matthew Potts finished up with six for 52 to ruin Leicestershire. Feet up now, while Jones and Dickson go about their work. Durham 24 for 0.
Here he is in England gear, as the system is over-riding my attempts to use a picture from today's game.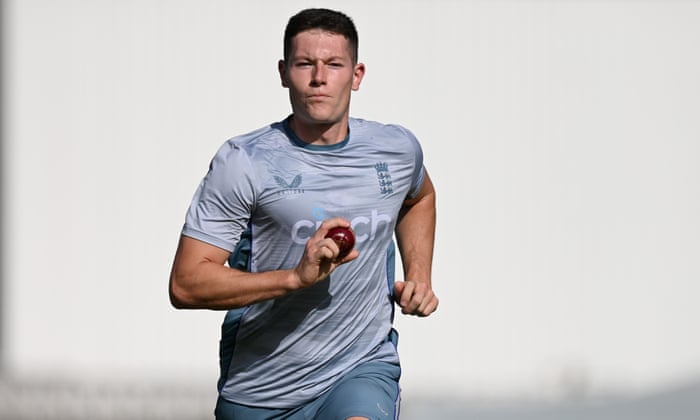 Ben Geddes tries to make his point with a flourish but reaches only Vasconcelos behind the stumps: Surrey 46-3.
Interesting, Ryan Patel gone too at Northampton. Both openers back in the box – Surrey 44-2. Hashim Amla hasn't had a bumper season this year – hundred time?
Essex pushing Yorkshire for the lowest first-innings of the round – last round's centurion Feroze Khushi goes for one to Ben Coad. Essex 97 for five.
Great interview by Joe Root."There's been a lot of talk about the Hundred as a great opportunity to get people into the game," Root said. "Well, there's no reason why Test cricket can't do that." But was it a cryptic crossword?
Anyone?
Hummus sandwich here we come – back shortly.
DIVISION ONE
The County Ground: Northants 339 v Surrey 26-1
Edgbaston: Warwickshire 25-3 v Somerset 219
Headingley: Yorkshire 134 all out v Essex 79-3
DIVISION TWO
Grace Road: Leicestershire 187-9 v Durham
Lord's: Middlesex 184-4 v Glamorgan 214 rain delay
Hove: Sussex 220 v Worcestershire 187-0
Sadly the archive doesn't have a picture of Alan Ward – who has had more mentions in CClive in the last two weeks than ever before. Unlucky for Ben Coad – but the record belongs to Sam Cook.
Cook played for the Lions against SA – so must be in dispatches, depending on the recovering injury list, of whom, Mark Wood is "wangin them down," Woakes is close, Saqib Mahmood and Jofra Archer less so.
Two boundaries, but no more. Rory Burns off and away for ten, and Northants have the breakthrough before lunch.
And news from a CCLive watcher at Lord's, "Now widdling down with the hover cover firmly in place for an early lunch. Not such a pretty picture."
Hope the cloud shifts during the lunch break.
North a bit, Kemar Roach has taken five for 95, to bowl Northants out for 339. Rory Burns has hit two boundaries in Surrey's reply.
An email lands from Glenn Springett:
"Just doing my daily perusal of scores around the world, and I noticed there's an England Legends v Sri Lanka legends game on later today.
Looking at the playing 11, so many big names of yesteryear are in and around the same age as Jimmy Anderson – it really does put his longevity in context as being pretty amazing stuff!
Dimi Mascarenas, one of my favourite bits and bobs players of days gone by, is only 4 years older than Jimmy!
Still, when I went to a new barber recently I thought I'd ask for a Jimmy-style cut while I still have some Barnet left – we had to google a picture for the barber's benefit.
Perhaps Jimmy is only an icon for those of us of a certain vintage? Or maybe it says a lot about the lack of first class and test cricket on free to air telly and the game's exposure to the average person, but that's another matter…
Thanks for keeping us Cricket anoraks updated on the CC, as many people's minds turn to the footie.!!"
That is a pleasure!
Raining at Lord's where they've taken an early lunch and Mark Stoneman is eating up the deficit with 98 not out. Northants are all out for 339; Warwicks 18-2, Essex 53 for 3 on what must be a capricious Headingley pitch. Worcestershire are cruising against the Sussex babes in the wood – 158 for 0. Rotten luck for them that Finn was hit by injury.
Er, Edgbaston? Somerset all out 219; Warwicks 17 for two. Davies and Yates back in the pavilion with a combined total of nine to their names.
Things are occurring at Grace Road: Leicestershire's merry 97 for two is now a murky, mud-clutching wellies score of 130 for eight. Leics so far have lost eight for 56. The much-missed Matthew Potts four for 32.
Only eight men in Northamptonshire CC history have scored more first-class centuries than Rob Keogh. He slots into place next to Ben Duckett.
Does it the hard way with a four off Kemar Roach – a third Championship century of the season, and Northants' second century of the match.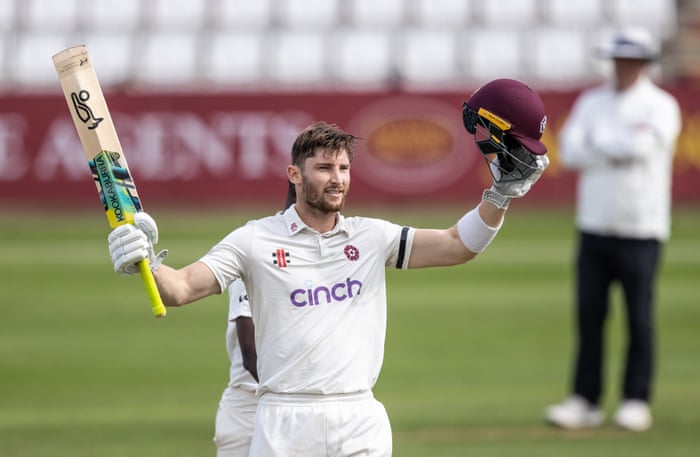 Lancashire hit back over points deduction
Lancs have called their six-point deduction "gut wrenching" as it removes all hope of an (extremely unlikely if mathematically possible) Championship win. The gap between them and leaders Hampshire now increases from 29 to 35.
The penalty was imposed by the Cricket Discipline Commission, activating part of a suspended 12-point sanction first issued in November 2021, and relating to a series of incidents dating back as far as September 2020. The two further breaches of the code this summer were by Dane Vilas and Luke Wells, both found guilty of "minimum level 1 offences". At the hearing, Lancashire had argued that they had introduced a new code of conduct since the initial penalty – and that the 2022 transgressions were minor.
"Following all our hard work throughout the winter and in the County Championship this season, to be deducted points for what are, in our opinion, minor discretions is gut wrenching." said director of cricket Mark Chilton. "In our opinion, both fixed penalties we received were unduly harsh punishments, which could have gone either way, and it is this inconsistency in the decision making that makes this difficult to take.
"We recognise umpiring is a challenging job and mistakes will happen, but at present there isn't enough accountability surrounding their decisions and too much subjectivity still exists. The sooner we can provide additional support by way of technology and improved processes, the better. Both of our incidents could have been avoided with an ability to review the decisions, and the sooner this is in place, the better."
Cameron Steel does the business – two bowling bonus points in the bag for Surrey as Saif Zaib must trudge off lbw.
Right – round the grounds: Vasconcelos made an early exit at Northants, a second wicket for Atkinson.Northants 284 for five against the Championship favourites. Somerset are nine down, though they've added a quick twenty odd: Siraj picking up a fifth. Warwickshire shopped wisely there. And Essex lost Nick Browne to his second ball, but Cook and Westley are scurrying along: Essex 28 for one, only 106 behind the Yorkies.
Just putting this here, in case anyone has an attic full of old stuff:
Play all round the houses.
DIVISION ONE
The County Ground: Northants249-4 v Surrey
Edgbaston: Warwickshire v Somerset 182-8
Headingley: Yorkshire 134 all out v Essex
DIVISION TWO
Grace Road: Leicestershire 97-2 v Durham
Lord's: Middlesex 132-4 v Glamorgan 214
Hove: Sussex 220 v Worcestershire 87-0
A dazzling century by Emilio Gay worried Surrey at Wantage Road after Northants lost the toss and were told to get the pads on. It was Gay's first century on his home ground, and he twinkled throughout, finally out for 145, hooking merrily to deep square leg just before drizzle brought the players off for the day. Rob Keogh finished 75 not out. Tom Curran started his first red-ball game since before Covid as Surrey tried to eat up their seven point deficit on Hampshire, and leapfrog back to the top of the Championship table. The day had started, as it did around all the grounds, with a minute's silence and a rendition of God Save the King.
Sam Cook became the first English seamer since Derbyshire's Alan Ward in 1971 to take 200 first-class wickets at less than 20. Fresh from ten wickets against Kent, he snared three for 31, and Shane Snater's three for 39, as Essex ran through Yorkshire at a damp Headingley which slumped under floodlights all day.
Rain ruined all but 22 overs at Grace Road, where Leicestershire debutant, Sol Budinger, helped his team to 97 for two against Nottinghamshire. Budinger had never played a first-class game before despite being on the books at Trent Bridge, and he warmed to his task with a clamouring six in his 63 not out. All this despite losing a chunk out of his bat to the first ball of the day from Ben Raine. Matty Potts picked up a wicket just before the clouds opened.
It was a damp relegation battle at Edgbaston, where India's Mohammed Siraj made short work of Somerset's top order – including Pakistan's Iman ul Haq – for Warwickshire. However, from 46 for five Somerset fought back – thanks to an unbeaten 60 from Lewis Gregory.
Another recovery at Hove where Sussex wrestled themselves out of the slime-filled pit of 23 for five. Half centuries from Fynn Hudson-Prentice, James Coles and Jack Carson drove the drive for respectability, with Carson playing his first Championship game for nearly a year after recuperating from knee surgery. Worcestershire's Joe Leach finished with four for 37 and Ed Pollock and Jack Libby picked up easy runs in the afternoon.
James Harris made a happy return to Lord's in the promotion shoot-out. A spell of three for 0 in nine balls kept Glamorgan in the hunt after they had been dismissed for 214, with Middlesex's Toby Roland Jones and Tim Murtagh dismissing the top order and Ryan Higgins dismantling the tail.
Good morning from a crisp and sunny Manchester – though the mood will not be so warm at Old Trafford, with the news that Lancashire have been given a six point sanction for two Level one offences – one against Warwickshire in June, and one against Warwickshire in July.
Round the grounds, play will start at 10.30am, with Surrey struggling a little against Northants, neck and neck at Lord's and Somerset recovering after a terrible start at Edgbaston. Let's hope the rain stays away today.