Key events
50 min: The ever-busy Juranovic wins a corner down the right. Modric floats it in. It drops to Perisic on the left-hand corner of the six-yard box. Alisson blocks, then the flag goes up for offside. It's been a fast start to the second half by both sides!
49 min: … but there's a VAR check for a possible penalty. The ball hit Juranovic on the arm as it dropped over his shoulder, earlier in the move that led to Neymar's chance. But he knew nothing about it, and the officials aren't interested in pursuing the matter any further.
48 min: Brazil come again through Vinicius Jr down the left. His pass finds Neymar, who scuffs a shot from the penalty spot. Gvardiol blocks brilliantly. Lovren hacks a dismal clearance that nearly drops to Richarlison, but the flag goes up for offside.
47 min: Raphinha scampers with purpose down the right. He reaches the byline and crosses low. With yellow shirts around, Gvardiol deflects the ball towards his own net. Livakovic sticks out a leg to block.
46 min: Neymar embarks on a power run down the right; Vinicius Jr scampers after a long pass down the left. Goal kick, but it's clear Brazil have been ordered to up the tempo a little.
Brazil get the second half underway. No changes. "I'm dating myself with my taste in Cold War literature here," begins Eric Peterson, "but that first half was like slogging my way through the first half of a Frederick Forsyth novel. Tons of backstory and technical hoo-hah that's a real chore, but boy does it pay off with the roller coaster that's in store for you through the duration of it. Dearly hoping this game plays out like that." Can't say I'm au fait with Forsyth's oeuvre, but I did once play the Fourth Protocol game. Probably not worth sitting through the whole walkthrough, it wasn't very good. When push came to shove, I preferred Amidar. Anyway, we've veered some way off piste here. Back to Qatar!
Before you reach for the half-time oranges, please consider supporting Guardian journalism like this, for three reasons:
We are independent – no one tells us what we can and can't publish (and that includes Fifa)
We rely on readers funding us to keep us independent
We give you the full picture – the excitement on the pitch and the shame, corruption and injustice off it
Support the Guardian from as little as £1 – it only takes a minute. Thank you.
HALF TIME: Croatia 0-0 Brazil
The 2018 finalists will be much happier than the five-time champions. This is in the balance all right!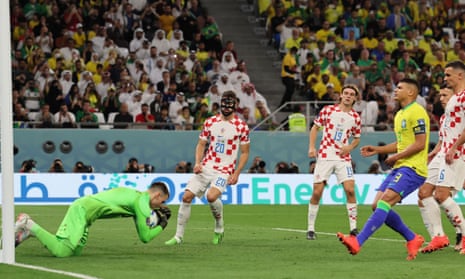 45 min: There will be just one added minute.
44 min: Sosa finds a little space down the left wing and tries to release Perisic into the Brazil box. Nearly, but Thiago Silva reads the play well and gets to the pass first, ushering both ball and Perisic away from the danger zone.
42 min: Neymar aims the free kick towards the top left. It takes a deflection off the wall but doesn't wrong-foot Livakovic, who stoops to gather by the bottom left. There wasn't much conviction in that free kick at all.
41 min: Vinicius Jr skitters down the left wing and is clipped by Brozovic, who is already on a yellow and needs to watch himself here. Just a free kick, beside the left-hand corner of the Croatia box. A very dangerous position.
40 min: Neymar drops deep to quarterback in the Modric style. He flicks a lovely pass down the right channel for Raphinha, who controls carelessly, allowing Kovacic to mop up.
38 min: Brozovic drives dangerously down the inside-left channel, but then finds he doesn't have any options in the middle, and eventually runs the ball out for a goal kick. If only Mario Mandžukić was ten years younger.
36 min: It's 45 percent possession apiece right now, with the ludicrous In Contest on ten percent. What can it mean? Let's not overthink. It doesn't matter.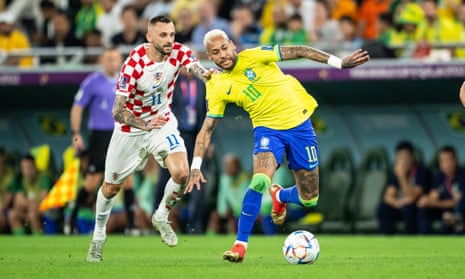 35 min: Croatia hog the ball in midfield, Modric dictating terms. The majority in the crowd don't like it, jeering as they keep possession. The Croatian fans however are loving it, their songs louder than the efforts of their Brazilian counterparts right now.
33 min: Juranovic crosses yet again from the right. Perisic prepares to meet it at the far post, but Alisson comes a long way off his line to flick the ball away from him. Croatia look the more likely at the minute.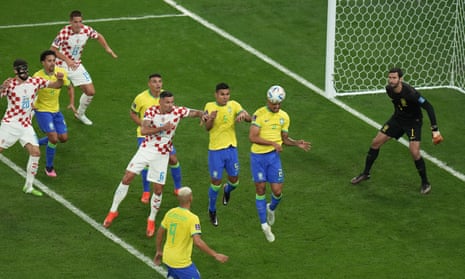 31 min: Brozovic clips Neymar and goes into the book. Brazil try to take the free kick quickly, but it only leads to Lovren and Richarlison bickering. Perhaps Joe Pearson (2 min) was onto something. Brazil then waste the free kick. They're a bit ragged.
30 min: Perisic, scorer of one of Croatia's goals in the 2018 final, zips in from the left wing and looks for the top-right corner of the goal. He finds the top-right corner of the stand behind.
29 min: Neymar floats the free kick towards Paqueta, to the right of the Croatian goal, but his team-mate can do nothing with it. Croatia clear.
28 min: Brozovic clips Vinicius Jr and it's a free kick for Brazil the best part of 30 yards out. Neymar stands over it, eyes lighting up.
26 min: Modric sticks the free kick into the mixer but Brazil clear and the whistle goes. It could be a long evening for Danilo now, on a booking and up against the sprightly Juranovic, who has caused him plenty of bother already.
25 min: Juranovic strides down the right only to be high-kicked in the face by Danilo! That could easily be a red card, but it's just a yellow, presumably because Danilo got a slice of the ball. Still, it's a free kick just to the side of the Brazil box, and Modric prepares to wave his wand.
24 min: The corner is no good. This game hasn't quite tipped over from Intriguing to Fun yet, but it might not be long.
23 min: Lovren's poor clearing header finds Raphinha, who tees up Paqueta for a long-distance shot. It's deflected out for a corner on the right. Raphinha to take.
21 min: Vinicius Junior wriggles in from the left wing. He exchanges a wall pass with Richarlison and opens his body, aiming a curler towards the bottom left. Lovren blocks. Neymar then sends a pea-roller straight at Livakovic. Brazil quickly come again, Neymar unable to release Vinicius Jr down the inside-left channel. Easy for Livakovic. Better from Brazil.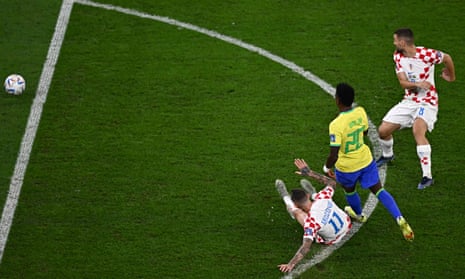 19 min: Kovacic cuts in from the left and has a dig from distance. Blocked. Croatia are the better side right now, while Brazil are struggling to make passes in the opposition half stick.
17 min: Brazil pass it around the back, though they're getting severely hassled by the Croatian press. And there's Croatia supposedly old and knackered. Meanwhile here's Kári Tulinius, who has a long MBM memory stretching back to the very last entry of this one: "Though your astute prediction at the end of the 2010 World Cup that Brazil would implode in 2014 proved spectacularly true, I think that this year's team is far less consumed by its own sense of destiny. If they lose today, which they might, it won't be because they're so high on their own supply that they stagger around their own box like people thrown out of a nightclub for passing out in the toilet."
15 min: … but Brazil don't clear their heads. Alisson tries to send his team on the counter, but his roll-out to Casemiro puts his mate in bother. Modric nips in, then crosses from the right. Militao heads clear. Brazil aren't exactly rattled, but they haven't started well.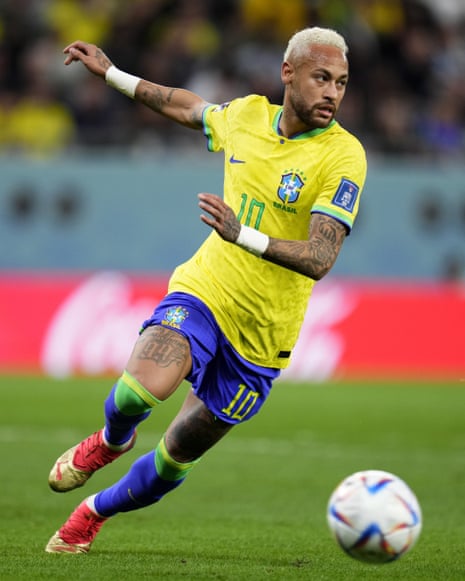 14 min: Croatia are on top, and now win a corner down the left. Richarlison heads it clear powerfully to allow Brazil to gather themselves.
12 min: Juranovic steams down the inside-right channel before slipping Pasalic into space on the overlap. Pasalic whistles a low cross through the six-yard box. Juranovic, who had continues his run, flashes at fresh air, then so does Perisic. A big chance for both Croatians there.
10 min: Raphinha drops a shoulder to skip past Sosa on the right. He reaches the byline and cuts the ball back … but he's run it out of play. Goal kick. Both teams are in a lively mood, and why not, it is the quarter-finals of the World Cup after all.
9 min: Perisic crosses from the left. There's nobody in the centre to take advantage. But Croatia are having some joy down the wings during these early exchanges.
7 min: Juranovic crosses from a deep position on the right. Perisic competes for a header at the far post, but Militao wins a hard-fought contest, and it's a free kick for Brazil. Speaking of putting it about, here's Justin Kavanagh: "Serbia, Switzerland, Cameroon, and South Korea are all solid enough teams in the second tier of world football. But Brazil start to step out against the elite today and we should discover if they belong up there with the greats of 58, 70, and 82. As Roy Keane might say, time to steel-tip those dancing shoes, boys."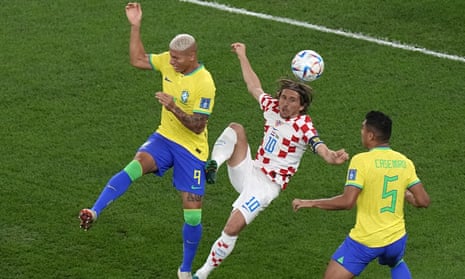 5 min: The first shot in anger, and it's a decent one. Vinicius Junior cuts in from the left and attempts to find a team-mate. His pass rebounds back to him. He opts to shoot instead, curling for the top right. It's on target, but not hit firmly and an easy claim for Livakovic. Lovren then passes out carelessly from the back, allowing Raphinha to intercept and nearly find Vinicius Junior on the edge of the box. Goal kick.
3 min: Kovacic dribbles down the left and draws a free kick from Casemiro. A chance for Croatia to put one into the box, but Brozovic can't manage it. Still, there's an early sign that the 2018 finalists haven't come here to simply defend.
2 min: Brazil have lost five successive knockout matches at the World Cup against European opposition. Some sort of dramatic early statement wouldn't go amiss. They don't make one, though. Speaking of which, here's Joe Pearson: "So it's an ex-Merseyside derby, is it? I guess that means Brazil should prepare to play with ten, after Richarlison gets sent off for leaving a two-footer in on Lovren."
Croatia get the ball rolling. A reminder that if these guys can't sort themselves out in 90 minutes, we'll be going to extra time and possibly penalty kicks. A semi-final against either the Netherlands or Argentina awaits!
The teams are out! Brazil are in their iconic yellow shirts, while Croatia wear their equally distinctive red-and-white checkerboard tops. We'll be off once anthems have been performed, coins tossed and hands clasped.
A reminder of how these two teams got here … via the mediums of match report, music and movement.
The result of the match is already in. Ritinha, a shark incarcerated in some aquarium or other in Rio, has reportedly plumped for the contents of a food bottle with a Brazilian flag on it, cocking a snook at the one emblazoned with signifiers of Croatia. Congratulations to Brazil for making the semi-final!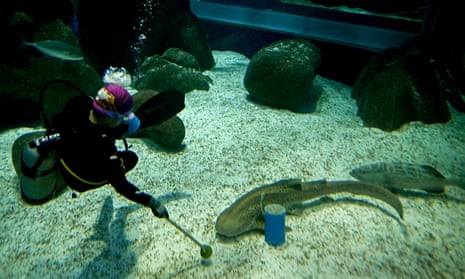 Admittedly this directly contradicts the prediction made by Kent, a gibbon at Zagreb Zoo, who got tucked into the open Croatian food box wafted under his hungry face. What could it all mean? Not sure if any other species were consulted: for the record, Paul the Octopus died in 2010, while Triumph the Insult Comic Dog was unavailable.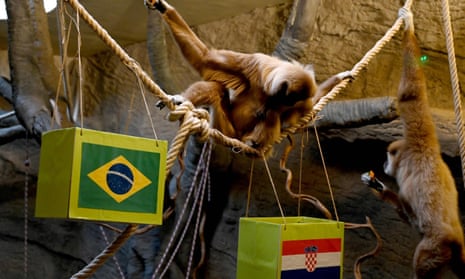 Croatia make two changes to the starting XI named for the win over Japan. Borna Sosa returns from illness, replacing Borna Barisic, while forward Bruno Petkovic is sacrificed for additional midfield strength in Mario Pasalic.
Brazil name an unchanged line-up. First-choice left back Alex Sandro still hasn't fully recovered from a hip injury and remains on the bench. Danilo will once again move across from right back to stand in, with Eder Militao covering in turn.
Croatia: Livakovic, Juranovic, Lovren, Gvardiol, Sosa, Modric, Brozovic, Kovacic, Pasalic, Kramaric, Perisic.
Subs: Stanisic, Barisic, Erlic, Majer, Grbic, Vlasic, Livaja, Petkovic, Budimir, Orsic, Vida, Ivusic, Sutalo, Sucic, Jakic.
Brazil: Alisson, Eder Militao, Marquinhos, Thiago Silva, Danilo, Lucas Paqueta, Casemiro, Raphinha, Neymar, Vinicius Junior, Richarlison.
Subs: Alex Sandro, Fred, Weverton, Dani Alves, Fabinho, Bruno Guimaraes, Antony, Rodrygo, Everton Ribeiro, Ederson, Bremer, Pedro, Martinelli.
Referee: Michael Oliver (England).
Brazil have only met Croatia twice at the World Cup, and it's not entirely clear what history teaches us. The bottom line is that the Seleção have won both matches, 1-0 in 2006, 3-1 in the opening match of 2014. But on both occasions the Croatians made the five-time champions work. Kaka's curler decided the former match, but Dado Prso, Ivan Klasnic, Marko Babic and Igor Tudor all went close; eight years later, hosts Brazil required a controversial second-half penalty for some non-contact Dejan Lovren-near-Fred action to turn a game that looked set for a draw. No definitive answers there … though Brazil lost their first-ever World Cup game 2-1 to Yugoslavia in 1930, drew 1-1 with them in 1954 and 0-0 in 1974, and beat them 2-0 in a crunch match in 1950, Yugoslav captain Rajko Mitic missing the start after cracking his head open on an exposed girder in the still-half-finished Maracana. Do any of those distant memories of a former way of life help any? Almost certainly not.
Perhaps more up-to-date analysis will help us? In the round of 16, Croatia were more resilient than impressive in keeping up with a superior Japan, then holding their nerve better in a penalty shoot-out. Brazil by contrast were juggling the ball around against South Korea like it was the Pelé-Garrincha era all over again. However look at it another way: Croatia might be a superannuated bunch out for one last hurrah, but they were finalists last time round and know how to grind their way through a tournament. And while Brazil play like Brazil, they also have to be Brazil, with all the concomitant expectation, pressure, weight of history, etc. Hmm. Still nothing definitive.
So both teams will, in very different ways, and for very different reasons, fancy their chances this afternoon. Brazil are strong favourites to progress to a semi-final against the Netherlands or Argentina … but while their attack is flying, Alisson had to make three big saves on Monday night and Croatia may not let them get away with that sort of defensive profligacy again. It's going to be a whole load of fun watching this unfold, and it could go to extra-time and penalty kicks. Kick off is at 3pm GMT, 6pm at the Education City Stadium in Al Rayyan. انه يحدث! It's on!