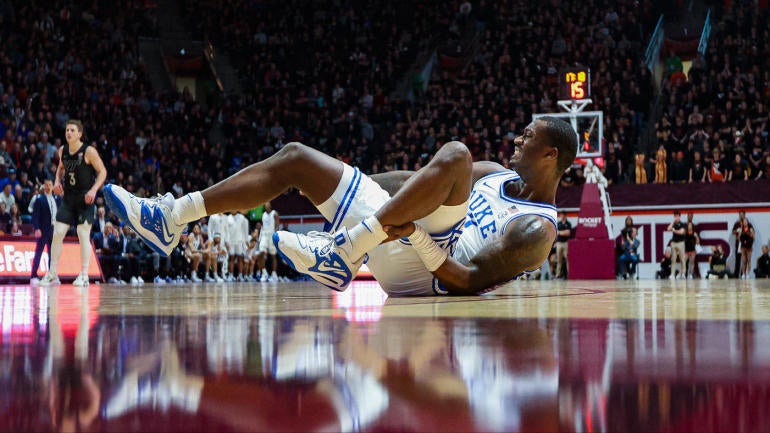 USATSI
Duke freshman and former five-star prospect Dariq Whitehead suffered a lower-leg injury during Monday's 78-75 loss at Virginia Tech. Whitehead left the game early in the second half after landing awkwardly on his left leg. He was helped off the court, unable to put any pressure on his injury, and did not return to the game.
The injury came with 17:20 left in the second half as Duke trailed 47-45. Whitehead attempted to defend an entry pass by jumping at the ball in front of his man but came down awkwardly and immediately crumpled to the floor. He hopped to his feet to finish out the offensive play from Virginia Tech but checked right out of the game when the possession changed.
Whitehead signed to Duke with high expectations as a five-star McDonald's All-American and ranked as the No. 2 overall player in the 2022 class. He has been a projected lottery pick in the upcoming 2023 NBA Draft and ranked No. 11 in the CBS Sports Top 50 NBA Draft rankings prior to the injury. However, he has yet to fully live up to expectations after suffering a fracture in his right foot in the preseason that required surgery. He missed the first two weeks of the season and has slowly been worked back into Duke's rotation as the season has gone along. 
The severity of this second injury remains unclear, but based upon his initial reaction and the video replay, it could certainly lead to him missing another chunk of time just as Duke enters the heart of conference play. That adds to the curious case of one of the 2023 draft's mystery box prospects, whose intrigue long centered around his explosive leaping ability and inside-out scoring from the wing spot. Two possible significant lower-body injuries in the span of a few months may open up some reasonable skepticism over his long-term projections at the NBA level.
In 15 games this season with the Blue Devils, Whitehead, who left Monday's game with 10 points and one rebound, was averaging 8.3 points and 2.5 rebounds per game in just over 20 minutes of action per night. 
Duke with the loss falls to 14-6 overall and 5-4 in ACC play.