Taking place in an unusual environment full of mysterious creatures and vegetation, the upcoming Disney animated film Strange World is an adventure set for release on November 23. The movie is directed by Don Hall and co-written by Qui Nguyen (co-writer of Raya and the Last Dragon). Among the many visuals presented in the trailer, it's been confirmed Disney will feature a gay romance in the story. This is the first time a gay teen has been portrayed in a Disney cartoon, showing Disney's commitment to the representation of LGBTQ people.
Jaboukie Young-White, who plays the gay character Ethan Clade, told Yahoo Entertainment he was happy with the outcome:
"I thought that was pretty cool. It was a beautiful thing to be a part of, and something I wish I could have seen when I was that age."
Related:Disney's Strange World: Plot, Cast and Everything Else We Know
Strange World describes the adventure of the Clade family as they embark on an epic adventure similar to those presented in pulp magazines. The film revolves around Ethan Clade, the youngest in a family of explorers. His family members include his mom Meridian (voiced by Gabrielle Union), his dad Searcher (Jake Gyllenhaal), and his grandfather Jaeger (Dennis Quaid).
In the movie, the Clade family tries to navigate a completely unfamiliar land with a mischievous blob, a three-legged dog, as well as other creatures they have never encountered before. Meanwhile, Ethan is in the process of uncovering a potential connection with a classmate named Diazo and hopes the relationship will develop into a romance. In summary, Strange World is an original-animated tale about three generations of the Clade family overcoming their differences in a hostile environment.
Disney has shared a new clip from the film in which we are introduced to some of the characters and their interactions with each other. The clip begins with members of the Clade family and a blue blob creature called Splat trapped in some kind of closet and in need of assistance. Although the clip is only one minute long, it provides a glimpse of the humor and disagreements viewers will witness when watching Strange World in theaters:
Related:
Disney's Strange World is Adventurous, Strange, Bizarre, Strange, and Of Course, Mind-Blowing and Strange
The Message in Strange World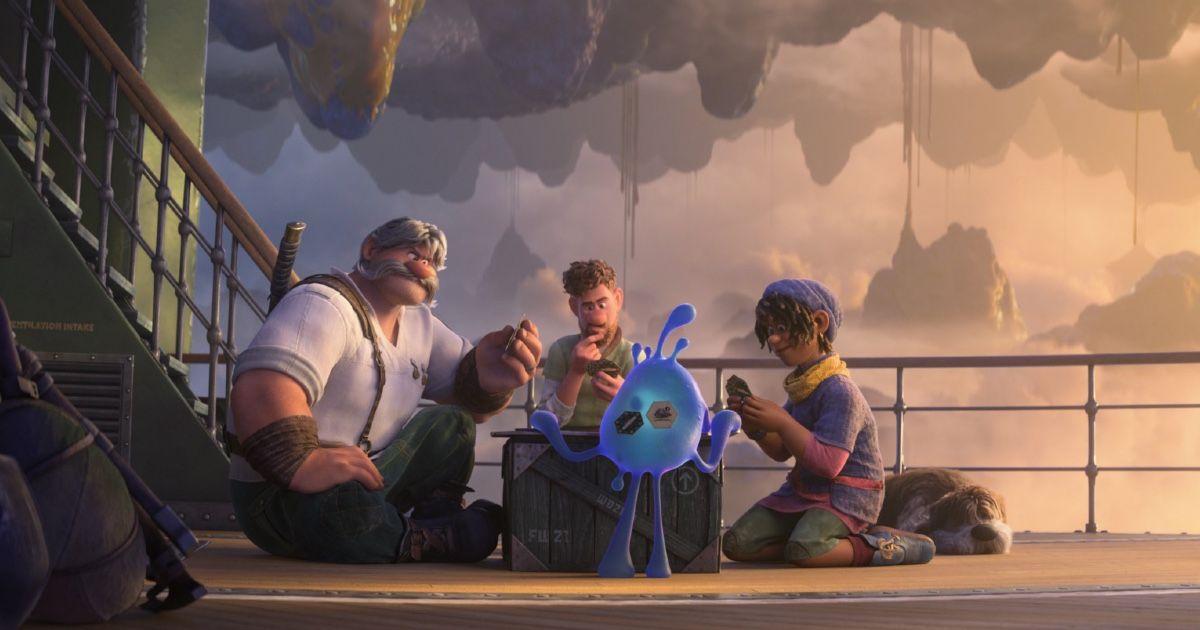 It is refreshing to see that all three of Ethan's elders accept and encourage his choice of partner. In addition to the script's inclusion of the LGBTQ community, Young-White says he appreciates the message of support shown by the Clade family in the movie.
Through this upcoming release, Disney is once again making a point to be more LGBTQ-inclusive in its films and TV shows, and that approach has had real-world impacts. Other examples are Disney's 2020 animated film, Onward, which introduced its first lesbian character, and 2022's Lightyear, which featured the studio's first same-sex kiss. It is interesting to see Disney's approach to introducing a diverse cast and to normalizing gay relationships in their storylines.
Strange World is set to premiere in theaters on Nov 23.
Next:
Disney Releases Trailer for New Animated Movie Strange World with Jake Gyllenhaal