FULL TIME: England 0-0 USA
Pulisic takes the point, rolling the free kick down the flank towards the corner flag, Reyna waiting for the whistle. And then that whistle blows. England still haven't beaten the USA at a World Cup!
Key events
David Hytner was at Al Bayt Stadium, and his report is in. Jacob Steinberg was there too, and his ratings follow. Thanks for reading this MBM. Nighty night!
We have people with cameras. They've been out and about, and have found some perky Americans in a fan zone. Here they are …
… and the team themselves are pretty bullish too, Christian Pulisic telling Fox Sports: "It's all about winning the game, so we've got to come out very aggressive … to get to the next round. I'm very confident we can do it."
Gareth Southgate speaks to the station formerly known as Tyne Tees. "It was exactly the sort of game I thought it would be. A good opponent who were very athletic. I knew it would be difficult after such a high to replicate that type of performance, so I'm really pleased how the players applied themselves. Some of the quality in the final third could have been a little bit better, but we've shown great resilience to defend against opponents who kept asking questions. We controlled the game well from the back, but were just not able to open up with that clear-cut chance. We didn't quite have the same zip, but that's going to happen. This is tournament football, we're not going to roll through a tournament, and sweep through everybody without having nights like that, when you've got to show different qualities to get the result. It will be a totally different game against Wales. Silver medal today was a point. It puts us in a really strong position in terms of qualification. If we can win our last game, we win the group."
Harry Maguire also talks to the station formerly known as LWT. "We wasn't at our best, but it's a point and it puts us in a strong position in our group. We know they are a good team, they play at a big tempo and we had to work hard. They had a couple of chances, but if we were more clinical with ours we'd have probably won the game. We'll take the positive parts but work on the parts we need to improve on. World Cup games are tough. They're all top teams at this World Cup. We wasn't ruthless enough in the final third, but we have good forwards and I'm sure the next game we'll be all right. We dug in and got the clean sheet. We stay in control of the group. Of course we wanted to win tonight and see the job through, but we're looking forward to the game against Wales now."
Harry Kane speaks to ITV. "It wasn't our best performance for sure. We had some good spells, created some good positions, but we didn't quite have the final product today. A great clean sheet that puts us in a great position in the group. We weren't clinical. The complete contrast against Iran, we took our chances really well. Today we had two or three good opportunities but didn't put them away. But overall we were playing a tough team, and we move on. At times we dealt with their press well. They're a good side, and you have to respect them. A draw ain't the end of the world, and we look forward to the next one. We know we can play better. It's a draw at a World Cup. No game is easy. People thought after our first performance we would landslide every team, but that's not the case. It leaves us in a really good position."
Quite a few boos greeted that full-time whistle. Quite a few England fans still not happy with Gareth Southgate. Tonight's performance was as limp as Monday's showing against Iran was effervescent. The USMNT were the better side, creating more chances, creating better chances, and hitting the bar. A fair bit of the feelgood factor surrounding England will have dissipated tonight. But some good news for Southgate and his side: this result means England are as good as through to the knockouts. They'll only miss out if Wales whack them by four goals next Tuesday. All four teams in Group B can still qualify.
FULL TIME: England 0-0 USA
Pulisic takes the point, rolling the free kick down the flank towards the corner flag, Reyna waiting for the whistle. And then that whistle blows. England still haven't beaten the USA at a World Cup!
90 min +4: Maybe one last chance for the US to snatch it! Maguire skittles Reyna to the ground, and Pulisic will swing one in from the right flank.
90 min +3: Shaw curls a stunning free kick into the mixer. Kane wins a header six yards out, only to send it off the top of his noggin and wide left. Huge chance to snatch what would have been, quite frankly, an undeserved win.
90 min +2: Another Grealish run, another free kick, drawn this time from Musah. A free kick in a dangerous position out on the left. Shaw to loop into a crowded box.
90 min +1: Maguire meets the corner, heading down. The ball softly bounces up into Turner's arms.
90 min: Henderson wins a free kick out on the right. It's taken quickly, Henderson's cross forcing Robinson to head out for a corner. It'll be taken during the first of four added minutes.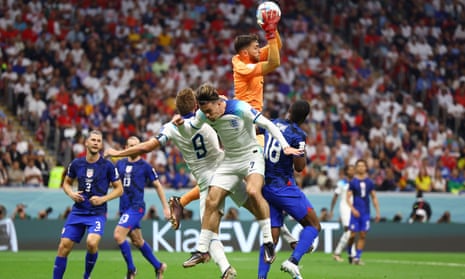 88 min: Pulisic, on the edge of the England box, finds Moore in the area to the right. A first-time ball through the six-yard box would have England in all sorts of trouble, but Moore hesitates, then cuts back to nobody in particular. England breathe again.
87 min: A little bit of space for Rashford, just to the left of the US D. He looks to curl one into the top right. No whip, no pace, and it's an easy claim for Turner.
86 min: England faff about in their own half for a while. The US let them get on with it. The clock ticks on.
85 min: The ball falls in the general environs of Maguire … but Ream reads the danger and gets in the way to blooter clear.
84 min: Grealish does what Grealish does, drawing a foul from the opposition out on the left wing. Everyone lines up on the edge of the American box. Shaw to take.
83 min: Gregg Berhalter, having listened to Tracy Moir, sends on Reyna. He replaces Weah, and is one of two changes, Wright making way for Sargent.
81 min: Henderson flings a garryowen into the US box. A bit early for this sort of desperation, but there it is. Turner claims under pressure from Kane. "USA fans are wondering why Reyna isn't on yet to bring some pace," writes Tracy Mohr. "Our coach is not admired for his substitution nous."
79 min 49 sec: After coming on against Iran last Monday, Rashford had scored by now.
79 min: Rashford comes on for Saka.
78 min: Moore and Aaronson come on for McKennnie and a not particularly chuffed Dest. "Here is Australia SBS TV have the World Cup and Martin Tyler as the commentator," begins Craig Fillingham. "He is on his own, so no one can help fill this game's void. In the first half, he actually spelt the Antonee of Antonee Robinson as he explained it was such a different way of spelling Anthony. Not criticising Tyler, but it is a reflection on the entertainment of the game."
76 min: England have certainly stemmed the flow of all those US attacks. They're not achieving much up the other end, but baby steps and all that. Meanwhile Jeremy Gostick writes: "On the basis of the Pickford/Bradford comment, I think you mean 'Notts County's Jack Grealish'." My mistake. I humbly apologise.
74 min: Grealish is making his presence felt out on the left. A couple of dribbles down the flank. One nearly ends with him finding Kane in the box with a cutback, but the England captain is swarmed by blue shirts and the ball's cleared.
73 min: Dest is fine to continue. The game restarts.
72 min: Dest requires a spot of treatment after clattering into Shaw. "It's lucky that England have got the Iran game out of the way, because if you went by their respective performances today you'd expect the latter to batter the former," notes Kári Tulinius. "Football's a funny old sport."
70 min: Grealish dances in from the left, inviting a tackle that doesn't come. He eventually runs out of road just inside the box, but that got the English blood pumping for the first time in a while.
69 min: Kane and Saka try to unlock the US down the inside-right channel, but Musah slams the door shut and clears.
68 min: England make a double change. Sterling and Bellingham off, Grealish and Henderson on.
66 min: England are doing very little by way of response to this US pressure. "A game of this magnitude, you'd think England would have played Kane and Sterling." Paul Pooley, ladies and gentlemen, he's here all week. Try the machbūs.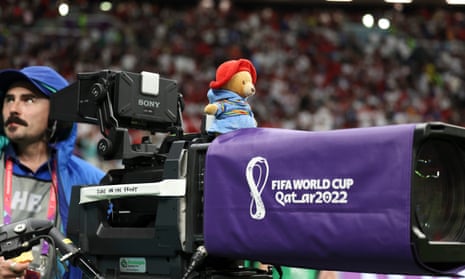 64 min: Wright wins yet another US corner down the left, off Stones. Pulisic takes, and curls long. For a second, it looks as though the ball's going to fly over his head and into the top right, but Pickford of Bradford fingertips out for a corner on the right this time. Zimmerman was tearing in, too, so that's a doubly crucial intervention. Nothing comes of the next corner.
63 min: The USA continue to dominate. Their fans are giving it plenty. On the touchline, Gareth Southgate has the good grace to look concerned.
61 min: Robinson strides down the left and wins another US corner. That one leads to another, and from that one, Pulisic is found in a bit of space just inside the England box on the left. He should take a shot, but over-elaborates, dropping a shoulder to beat Shaw, who refuses to give way. England finally clear their lines.
59 min: Pulisic cuts in from the left and is allowed to pass four men too easily. His shot is deflected wide left. Bradford City's Jordan Pickford gives his defenders the what-for. The resulting corner is headed clear by Maguire, under pressure from Zimmerman.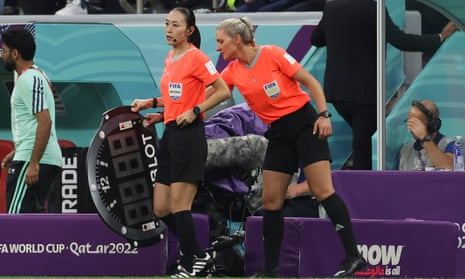 57 min: Weah cuts back from an advanced position on the right, nearly finding the in-rushing Musah. Bellingham reads the danger and intercepts just before the US midfielder can shoot. "Please note Guardian house style," begins Matt Tempest, formerly of this parish and therefore well schooled in finger-wagging. "At all times, England's keeper must be referred to as 'Bradford City's Jordan Pickford', on account of him playing a season at Valley Parade, on loan from Sunderland, in 2014-15. One game of which I saw. It's not often you see a future England star at Valley Parade."
55 min: Play restarts. Weah all good. Meanwhile here's some more pessimism from over the briny, courtesy of Peter Donley: "I feel like the US team is being toyed with by the dominant English side. I've seen more compassion with my family cat playing with a caught mouse."
54 min: Play stops for a moment as Weah gets some treatment, his foot having been accidentally stepped on by Shaw.
53 min: A chance for Mount to scamper into space down the middle. He miscontrols and allows the ball to sail through to Turner, who drops a shoulder to see off Sterling before passing clear.
51 min: Pulisic tears at pace down the left and has a chance of sending Musah free down the touchline, but his pass is no good. The USA have picked up where they left off. More of the same. England need to wake up quicksmart.
49 min: Space for Pulisic down the left. He lays off to Wright, whose shot is blocked by Stones. The ball breaks to McKennie, who blazes wildly over the bar. More composure and Pickford would have had some work to get on with.
48 min: A slow start to the second half. No obvious upsurge in England energy.
46 min: Meanwhile back home down Wembley Way, the FA have made their own One Love gesture.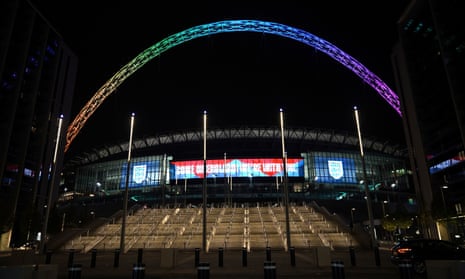 The USMNT get the second half underway. No changes made by either side during the break.
Half-time Postbag O'Pessimism. US supporter Liisa Sletzinger writes: "Proclamations that USMNT are dominating right now feel grossly overstated. We seem to be trying our hardest (and still can't shoot for crap) and England are yet to unleash."
England fan John Davis adds: "The best thing about that half of football was finding out my local is doing two-pinters of Ghost Ship for £4.40. This carries on and Wales can knock us out in Tuesday."
Before you reach for the half-time oranges, please consider supporting Guardian journalism like this, for three reasons:
We are independent – no one tells us what we can and can't publish (and that includes Fifa)
We rely on readers funding us to keep us independent
We give you the full picture – the excitement on the pitch and the shame, corruption and injustice off it
Support the Guardian from as little as £1 – it only takes a minute. Thank you.
HALF TIME: England 0-0 USA
The whistle goes after an extremely old-school period of added time: just one minute. The USA have been the better side. England head in to receive some tactical advice / a good classical rollocking.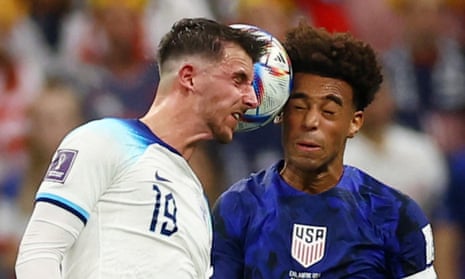 45 min +1: Shaw rolls a pass in from the left for Sterling, who immediately flicks it down the channel for Mount. A first-time shot is fizzed towards the bottom left. Turner turns it around the post, then claims the resulting corner.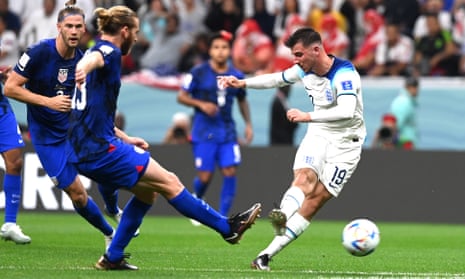 45 min: A bit of space down the right for Bellingham to sashay into. His long cross is hacked clear. Shaw picks up possession and comes down the left. He reaches the byline and cuts back for Saka, who improvises a flick that sails over the bar. Half a chance, that.
44 min: Shaw looks for Kane with a long diagonal from the left flank. Turner – confidence restored, those first-minute wobbles an awfully long time ago – comes out to claim without fuss.
43 min: Dest whips in from the right. Pulisic heads harmlessly wide left. Pickford shepherds the ball out for a goal kick. England could do with hearing the half-time whistle.
42 min: Dest tears clear on the overlap down the right. He drops a shoulder to cut into the box and looks for the top left. His shot deflects out off Maguire, who stuck to his task well. Maguire hoicks Pulisic's corner clear.
40 min: Space for Wright down the right. His cross is too long and high for Pulisic, who was in a bit of space in the middle. For what it's worth – and what it's worth is 0p (0¢) – the USA are winning this on points.
39 min: McKennie throws long into the England box from the right. Wright spins and attempts to take on Maguire near the byline. He can't get past but Maguire is forced to poke out for a corner. Nothing comes of the set piece, but the USA have the upper hand now.
38 min: The US look determined to catch England cold on the turn. McKennie takes a super-quick throw down the right wing and nearly releases Weah. A simple gambit, but it nearly works. England are being asked a few questions here.
36 min: Shaw crosses in low from the left. Bellingham tries to flick cutely goalwards but can't connect. Turner eventually takes control and hoofs long towards Pulisic down the left, who is only just beaten to the ball by Stones, racing across from the middle. A crucial intervention by Stones. Without it, Pulisic was free and England were in all sorts of bother.
34 min: Maguire on the left wing again. This time he can't control, the ball clanking off his shin. Inner Garrincha all gone away!
33 min: McKennie makes good down the right. Musah shuttles the ball left to Pulisic, who drops a shoulder to make time and space before sending a rising shot towards the top-left corner. It beats Pickford but crashes off the bar and out for a goal kick. The USA are gaining in confidence all right!