Key events
More reaction and analysis:
David Hytner was at Al Bayt Stadium. Here's his report. Congratulations to France for making it through to a semi-final with Morocco; commiserations to England, who gave an excellent account of themselves tonight, as well as throughout the tournament; and thanks to you for reading this MBM. Nighty night.
Gareth Southgate speaks to ITV. "Our performance deserved better. Goals are decisive, but I've just said to the players, I don't think they could have given any more. I think they played really well against a top team. There are fine margins, things at both ends that have ended up deciding the game, but the way the players have progressed as a group through this tournament has been fantastic. In most of the big moments we were in the right place. We had more shots on goal. But it's a game of fine margins."
What about the referee? "It's pointless me going into that. I'd rather talk about our players. Congratulations to France, they know they've been in a hell of a game. We've given a top team a game. I really don't think we could have done any more."
As for Kane's miss? "For me, we win and lose as a team. We've let a couple of goals in, and missed a few chances. So he's been incredible for us, so reliable in those sort of situations. We wouldn't be here but for the number of goals he's scored for us."
A missed opportunity? "We were here to try to win the tournament. We had the belief that we could, and we showed in our performance tonight against the reigning champions, that we have a team that could have done that.
… and finally, is he staying until Euro 2024, as per his contract? "After every tournament we've reviewed and reflected. We need a little bit of time to make sure that everyone makes the right decisions."
This is the semi-final line-up, then. England and their fans will understandably demur right now, but that's an exciting prospect. In 2018, all four semi-finalists were European; this time round, South America and, for the first time, Africa are represented. The World Cup, right here!
Tue 13: Argentina v Croatia (7pm GMT, Lusail Iconic Stadium)

Wed 14: France v Morocco (7pm GMT, Al Bayt Stadium)
Jordan Henderson talks to ITV. "It's hard to sum it up now, straight after the game. It's difficult to find the right words. I thought we'd given everything. We were disappointed to go 1-0 down but our character and mentality to keep going and find the equaliser … unfortunately it wasn't our night."
On the missed penalty: "We know how many penalties Harry Kane has scored for us. He scored the first one. How many goals he's contributed for us to even get here. He'll be stronger for it in the long run, I'm sure. He's a world-class striker and our captain. We wouldn't be here without him."
Was this a big chance missed? "Probably, yeah. Unfortunately it wasn't our night. You have to give credit to France, who are a good team, but I still felt it was there for us to win tonight."
Poor Kane. He's battling hard against the tears, which surely will come at some point tonight. Sooner rather than later. Bellingham looks distraught and is consoled by Aaron Ramsdale, then Gareth Southgate, who also spends a few minutes hugging his captain. Southgate knows a thing or two about missing crucial penalties, Euro 96 and all that, so he'll be a rock for Kane, who is a study in utter desolation right now. He trudges off down the tunnel. Meanwhile France cavort in delight, as well they might! They're still on course to be the first country to retain the World Cup since Brazil in 1962. It won't feel much of a consolation right now, but England have lost to a brilliant side.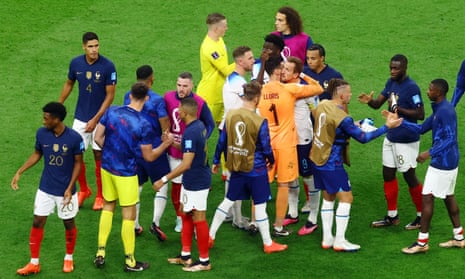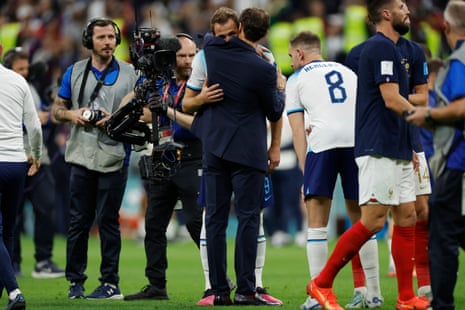 FULL TIME: England 1-2 France
The reigning champions are through to the semi-finals! They'll face Morocco on Wednesday evening. England meanwhile will be going home. Harry Kane drops to his haunches and buries his head away.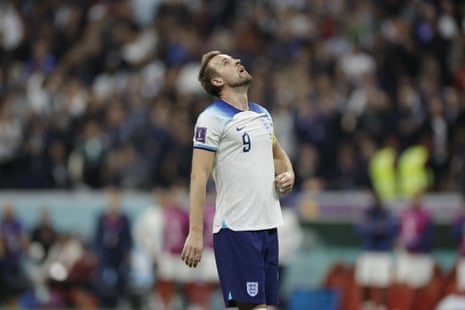 90 min +11: Rashford whips a wonderful free kick over the wall and back down towards the top-right corner … but not back down quite enough. The ball clears the bar and settles on the top of the netting, and that's surely that.
90 min +10: As you'd expect, it takes France a while to sort out their wall. Rashford is made to wait to take.
90 min +9: There's going to be one last chance for England! A hail Mary is hoofed into the box. France don't make a challenge … until Maguire, of all people, dribbles across the face of the penalty box and, on the edge of the D, is upended by Coman. Free kick in a very promising position!
90 min +8: Mbappe dribbles down the left and looks to have been clipped by Sterling. He wants the free kick, but the Random Decision Generator says no.
90 min +7: Stones looked in big trouble for a while there, so it's good to see him back up and trotting to the sidelines. But he won't continue, because he's sacrificed for Grealish. One last roll of the dice.
90 min +6: Stones challenges for a high ball with Giroud. He lands awkwardly and goes down in pain. On comes the trainer.
90 min +5: Shaw loops a ball in from the left. Way too high, and that's easy pickings for Lloris. Down he goes again, and time continues to do its relentless thing.
90 min +4: Sterling busies himself down the right but Hernandez stays strong and refuses to let him pass, before blasting the ball back into England's half.
90 min +3: Sterling swings a cross in from the right. An easy claim for Lloris, who then does the Pickfordian thing of flopping down on the ground with the ball to eat up some precious seconds.
90 min +2: Shaw crosses from the left. Lloris flaps and concedes a corner. Shaw goes across to take the corner from the right. Upamecano blooters a header clear. The tension is palpable. A place in the World Cup semi-finals up for grabs right here!
90 min +1: Griezmann swings a free kick into the England mixer from the left. Rashford clears. Mbappe comes back at England down the left. Walker and Sterling do enough to stop his gallop. Here's Peter Oh: "I think the time has come for Gareth Southgate to ask, 'Will the English Wout Weghorst please stand up?'."
90 min: This isn't over yet … by a long chalk, because there will be eight added minutes.
89 min: An irate Maguire is booked for elbowing Griezmann in the back of the neck. The referee's performance tonight has been idiosyncratic, to say the very least, but that was a no-brainer.
89 min: Mount buys a ticket for the lottery from the best part of 30 yards. The ball sails serenely into the stand.
88 min: Nope. The delivery is no good. France clear their lines, and the clock ticks on. "Someone asked why more players don't just put their laces through the ball and smash it. That's why." Adam Becker there, because somebody had to say it.
87 min: Mount draws another foul, this time out on the right touchline. He'll take this one himself. England load the box. All set up for Kane's redemption?
85 min: I'm not sure anybody in the entire stadium believes what they've just seen. Kane – who would have become England's record goalscorer had he slotted – looks utterly stunned. So does everyone else. Usually so reliable! Wow. Rashford comes on for Foden.
84 min: Oh my! Kane puts his foot through the ball again … only to blaze wildly over the bar! It's not quite Waddle-esque … but it's not that far off. Oh Harry.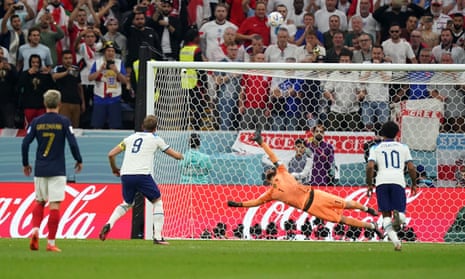 83 min: It's Kane versus Lloris part two. An interminable, nerve-wracked wait. Here we go!
82 min: The referee goes over to have a look at the monitor … then comes back and points to the spot! Hernandez is only booked, as Mount wasn't in control of the ball and therefore no scoring opportunity was denied. England are furious France aren't down to ten … but at least they've got a chance to save themselves!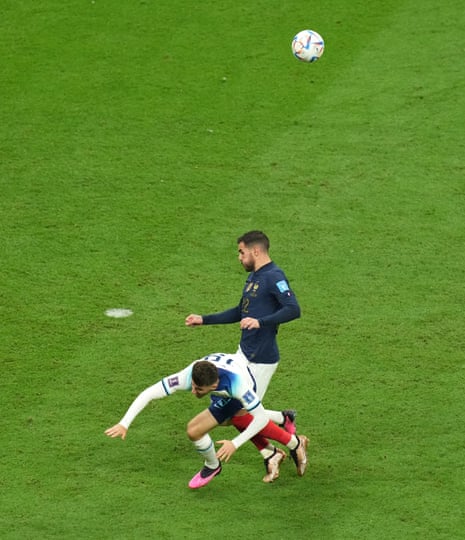 80 min: Mount is immediately into the thick of it, chasing a long pass down the inside-left channel. Hernandez comes across and barges him from the side … but also from the behind. Just inside the box. VAR could be interested in this, you know!
79 min: England respond by making a double change: Henderson and Saka off, Mount and Sterling on.
GOAL! England 1-2 France (Giroud 78)
England half clear the corner. The ball's worked left to Griezmann, who powerfully curls towards the near post at mid-height. Giroud gets in ahead of Maguire and though he doesn't make perfect contact, smashes a header into the bottom left. Pickford, the hero seconds ago, had no chance!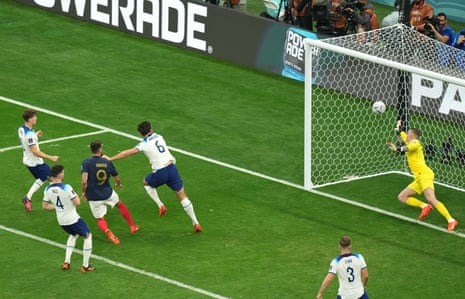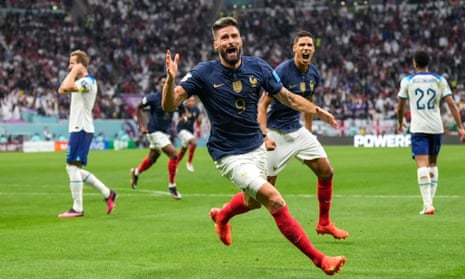 77 min: Pickford makes an outstanding point-blank save! A cross into the England box from the left. It's cushioned back into the centre from the right. Giroud flashes a volley towards the bottom left, but the keeper gets a strong hand to palm out for a corner. However …
75 min: France haven't showed much in attack lately, but now Hernandez crosses from the left. Giroud flashes a header wide right from ten yards. Chance. A few seconds earlier, Shaw had run into the back of Giroud, causing him to fall to the ground in the box. He made a half-arsed claim for a penalty, but nobody was listening.
74 min: England remain on top. A throw in from the right. Bellingham tries to spin Upamecano and falls into the box. He wants a penalty, and there was a little bit of contact, but the referee remains unmoved. That was much more ambiguous than the earlier challenge on Kane, to be fair.
72 min: Shaw works his way down the left and curls low. Saka races in from the right and prepares to blast home … only for Hernandez to get in the road and somehow deflect the ball wide left. In fact, the ball may have pinged back off Saka, because England don't get the corner. They're looking the more likely right now!
70 min: Henderson curls the free kick into the box. Maguire rises highest, ten yards out. His header isn't the most powerful, but it drops towards the bottom-left corner … only to shave the outside of the post. Goal kick. Lloris probably had that covered, though you wouldn't bet your last bronze centime on it. So close!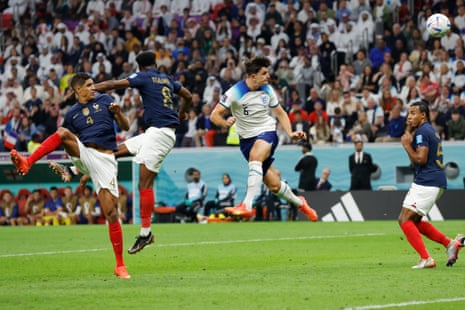 69 min: Saka is wrestled to the floor by Hernandez out on the England right. He gets the free kick this time. England line up on the edge of the French box. Henderson prepares to take.
68 min: Mbappe floats a diagonal pass towards Dembele, just inside the England box on the right. Everyone expects a creamed volley, but Dembele instead attempts a cushioned pass infield to … nobody in particular.
66 min: Saka is kicked on the heel by Rabiot but the referee waves play on. Saka and Bellingham are fuming. France meanwhile counter, and Tchouameni shovels a pass down the inside-left channel for Giroud, who extends a leg but can't keep the ball from going out for a goal kick. He takes a while to get back up, having landed awkwardly. But back up he eventually gets.
64 min: Neither coach is yet to blink. No sign of much movement on the benches. This game really is poised rather entertainingly.
62 min: Griezmann barges Foden over illegally. He's already on a yellow, and could now be in the last-chance saloon. Take care, Antoine.
61 min: England recover their poise, Saka then Kane testing Lloris from just inside the area. Both shots are weak, and the France captain passes the test easily. This game is very much in the balance.
59 min: "There have been some truly awful penalties in this World Cup," notes Matt Dony. "There's a lot to be said for simply leathering the ball. Kane hits penalties so hard. Why don't all players do that?" Yes, there was no hint of a Mulligan and O'Hare-style tippy-toes run-up for that one. Kane knows what he's doing from 12 yards all right.
58 min: England calm things down a little bit, taking their sweet time over a goal kick. Wise move, having lost the run of themselves for a couple of minutes after the equaliser. "I'm thinking we should all just pay Andrew Benton to stay at the Co-op for the entire match," writes Kaarin Michaelsen. "Who's with me?"