Key events
Full-time: England 42-18 France

TRY! England 42-18 France (Romano, 76)

TRY! England 42-12 France (Young, 66)

TRY! England 36-12 France (Young, 56)

TRY! England 30-12 France (Radley, 50)

TRY! England 24-12 France (Whitehead, 45)

Second half

Half-time: England 18-12 France

TRY! England 18-12 France (Pelissier, 33)

TRY! England 18-6 France (Mourgue, 29)

TRY! England 18-0 France (Thompson, 24)

TRY! England 12-0 France (Hall, 12)

TRY! England 6-0 France (Hall, 8)

Kick-off

The starting teams

Preamble

Here's the squads
Man of the match George Williams: "We were really pleased with our first 20 minutes, but they came back strong. We got a roasting at half time.
"We were far from perfect but we won and carry on our journey. We are trying to get better week by week."
Lindsay Hoyle is shown in the stands. What a lovely distraction from the day job.
Full-time: England 42-18 France
England showed their best in the second half and it is another thumping victory for them. They will be upset with some defensive lapses that they will need to address.
79 mins: Langi chases a little kick through and claims to have grounded it but the video referee sees the obvious separation.
78 mins: There is some argy bargy for some reason or other.
TRY! England 42-18 France (Romano, 76)
Young, inexplicably, tries to offload on the second tackle, gifting France a set of six. Gigot makes the most of it with a beautiful dummy and shimmy before gifting Romano the chance to cross the whitewash. Mourgue sends the conversion over.
74 mins: Hill earns some metres by bulldozing through defenders. The set is curtailed when Williams is penalised for offside after a kick ricochets back to him off a teammate.
72 mins: Welsby, on the first, kicks through from 10 yards out, Williams chases it but a France shirt gets to the ball first.
70 mins: England are playing at speed and France are struggling to keep them out.
68 mins: England's rhythm is pretty impressive and the confidence is flowing.
TRY! England 42-12 France (Young, 66)
France are gifted a second set of six while in the England half. They get inside the 10 but Young intercepts the pass out wide on the final tackle and runs the length on the pitch to score. Pure class. Sneyd does the rest with the boot.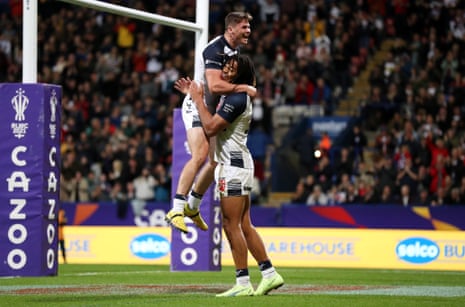 64 mins: Hall looks like he is in once more after a quick Tomkins pass but it is forward and the French make sure the referee knows it.
62 mins: Young collects the ball on his own 20-metre line and carries it a long way up field. It looks like the set will end with a Hall try but he is dragged down and his offload is intercepted.
60 mins: France kick early on the third and I have no idea why. Maybe their heart is no longer in this match.
58 mins: Watkins will not be back on tonight but is talking and medical staff do not believe he needs a hospital trip.
TRY! England 36-12 France (Young, 56)
Welsby sprints clear into space, eventually lobbing the ball to Young on the wing to finish things off. Sneyd keeps up his 100% record.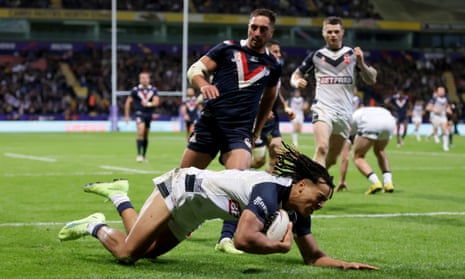 54 mins: Dezaria is held up just short. The final tackle results in a kick from Gigot which bobbles around the in-goal area until Young taps it over the line.
England are looking a touch sloppy in defence once again, gifting France a few sets of sixes on the trot.
52 mins: Watkins is brought to his feet. He does not look too steady and is being helped from the pitch by medical staff.
52 mins: Watkins takes a hit to the head from Da Costa. It is an accidental collision but it leaves Watkins out on the deck. The medical staff rush on to deal with Watkins who seems out cold.
TRY! England 30-12 France (Radley, 50)
England run back the dropout and make good ground. They get close to the line on the fourth and for the fifth Akers kicks through for Radley to chase and touch down. It goes to the video referee but he sees no issue with offside. Sneyd does the business once more.
48 mins: The try will settle a few England nerves after a poor final 15 minutes in the first half. Now they will be desperate to kill this off as a contest. Welsby, who came on at half-time, looks to have pushed England forward. Sneyd dinks through a kick on the final tackle but France kill the ball.
TRY! England 24-12 France (Whitehead, 45)
England have started the second half like they did the first. Bateman goes across the line and cuts inside to break it. He offloads it (it looks a little forward) to Whitehead and he goes over the whitewash. Sneyd completes with a conversion.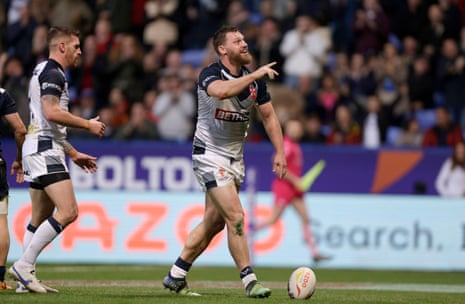 44 mins: Sneyd sends a kick up on the final tackle, Farnworth plucks it out of the air and offloads it but France manage to get their hands on the ball to end the danger.
42 mins: Both sides complete an identical set of six, making little to no ground and sending a long kick downfield that is collected by the full-back.
Here we go again!
Fiji ran in 10 tries in a 60-4 hammering of Italy to take a big step towards the Rugby League World Cup quarter-finals.
The Pacific Islanders were in complete control of the contest at Kingston Park, Newcastle, with Maika Sivo, Penioni Tagituimua and Viliame Kikau all scoring two tries apiece.
Brandon Wakeham was also on target seven times with the boot, with Italy's only try coming from Jake Maizen when Fiji were already 48 points ahead.
Kikau opened the scoring for Fiji with a try in the ninth minute, and they opened up a 30-0 lead at half-time. Kevin Naiqama, Apisai Koroisau, Ben Nakubuwai and Taniela Sadrugu all crossed once.
Fiji were well beaten by Australia in their opening game in Group B but are now in pole position to clinch the second quarter-final spot.
If Fiji win their final match against Scotland next Saturday, Italy would need to defeat Australia to have a chance of overhauling them.
Half-time: England 18-12 France
England started so well and it looked like they would absolutely thrash France but they have dropped off. Tomkins admits the England defence dropped off after going three tries ahead.
40 mins: Farnworth collects a pass on the bounce and looks to cut through the France defence around 10 metres out but when he passes it is cut out.
39 mins: Jullien knocks on 20 metres from his own try line, which is not what France need. There is a little bit of squabbling between the two teams, delaying the scrum.
37 mins: England move on the halfway line on the first tackle. By the fifth they are in a good position and Sneyd sends up another dangerous kick but Romano comes to claim.