Key events
15 min: Good early signs for England. Japan have come to play, and are highly unlikely to roll over, but on this evidence it's going to be a far more coherent performance by Jones's men compared to last week.
11 min: Try! England 10-0 Japan (Steward)
Excellent try by England after they buy some field position with that scrum penalty. The Japan defence rushes up and a smart pass from Smith finds the full-back, Steward, on a lovely arcing run outside the defensive cover. Jonny May is there on the wing, too, but Steward doesn't need him and he has space to jog over. Cokanasiga ran a good line there too. Farrell nails an excellent conversion.
10 min: England win a penalty at the first scrum of the match. They celebrate after Gu is penalised, going up against Ellis Genge in the front row.
7 min: Both teams are looking to run the ball and play some good stuff – the conditions are perfect, dry and an unseasonably warm 17C in south west London. Japan work through some muscular phases and then win a penalty of their own which, like England, they kick for the corner, and they work into the hosts' 22 for the first time. But England do well to turn it over and Smith clears downfield. Japan hack the ball back and Itoje knocks it on. Scrum to Japan near halfway.
5 min: Penalty! England 3-0 Japan
Farrell gets England on the board.
4 min: From the lineout, Dylan Riley does exceptionally well to charge down an attempted kick over the top to the corner by Marcus Smith. But Matsushima had drifted offside and it's pulled back.
3 min: England work through some phases in Japan's half and win an arguably generous penalty for Japan going off their feet. They kick for the corner, passing up a regulation shot at goal.
2 min: Japan begin the match with a nice passing move, probing down their right wing. Steward, then Farrell put boot to ball for England early on. Yamasawa, the Japan No 10, makes a good catch from Farrell's up and under …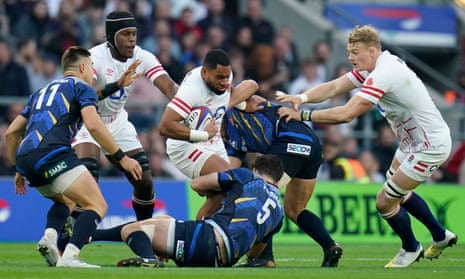 Owen Farrell gets us going.
The teams are heading out on the pitch. Kick-off is six minutes away. Now for a rendition of The Last Post and a moment of silence for Remembrance Day.
Ben Donaldson missed a late conversion for Australia which meant a one-point win for Italy. Some result.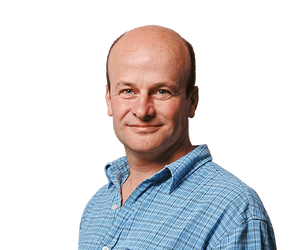 Robert Kitson
England's Simon Middleton says he will forever be proud of his team following their agonising last-gasp defeat by New Zealand in a magnificent Rugby World Cup final. The Red Roses played more than 60 minutes with just 14 players and blew a crucial late attacking lineout opportunity but Middleton said his side had given everything and helped to elevate the women's game to another level.
Eddie Jones speaks to Amazon Prime on this week's preparations: "I think we've just been clearer in how we want to play. Last week maybe the message wasn't quite right … today I'm sure we are going to be on the ball.
"It's not about anger, it's about playing to our potential … and playing as well as we can.
"We've got a squad here and it's [selection] about who's appropriate to start and who's appropriate to finish.
"Jack Nowell's got a slight fast bowler's strain. He must have been playing too hard in the cricket in the hallway of the hotel." [He is joking.]
"I don't really know what pressure is. You choose the coach, and you choose to accept there's a win and loss, and you've got to accept whatever happens after that."
Italy have just beaten Australia, 28-27!
For England, Jack Van Poortvliet starts at No 9 after his brilliant opportunistic try soon after replacing Ben Youngs last week. Leicester's Guy Porter is at No 13 in the absence of the rested Manu Tuilagi while Jonny May comes back in on the wing a few weeks after suffering a dislocated elbow playing for his club. Sam Simmonds slots in at No 8 with Billy Vunipola on the bench and David Ribbans wins his first cap in the second row.
Japan have the lightning-quick Kotaro Matsushima on the wing, the industrious Kazuki Himeno at No 7, and the equally hard-working and talented captain, Michael Leitch, at No 6.
England: Steward; Cokanasiga, Porter, Farrell (capt.), May; Smith, Van Poortvliet; Genge, Cowan-Dickie, Sinckler, Ribbans, Hill, Itoje, Curry, Simmonds. Replacements: George, M Vunipola, Heyes, Coles, B Vunipola, Youngs, Slade, Tuilagi.
Japan: Yamanaka; Matsushima, Riley, Nakamura, Van den Heever; Yamasawa, Nagare; Inagaki, Sakate (capt.), Gu, Dearns, Cornelsen, Leith, Himeno, Tatafu. Replacements: Norikoshi, Millar, Kizu, Van der Walt, Labuschagne, Saito, Lee, Fifita.
Jamie Joseph, the Japan coach, has a chat with Sonja McLaughlan on Amazon Prime: "It's a big Test match, coming to Twickenham … we sort of lost our momentum a little bit after [the World Cup in] 2019 [because of the pandemic] … but this is our 10th game this year, so it's starting to come right, we are starting to get our groove on.
"The team's started to get a bit of momentum, we've got some big games ahead of us, one today and the French next week, as well."
The full lineups are coming up shortly, but the breaking news from Twickenham is that the Exeter wing Jack Nowell has been ruled out by an abdominal injury. Joe Cokanasiga comes into England's starting team on the right wing as a result.
Can Japan mix it with England for 80 minutes, the pundit Matt Giteau is asked on Amazon Prime: "Physically they can do it, they always pride themselves on being one of the fittest teams in world rugby. Tactically there's a question mark."
Can England free themselves up today, and achieve a convincing win against Japan, in contrast to last week's disappointment? Gerard Meagher takes a look:
Sarah Rendell's player ratings from this morning's cup final: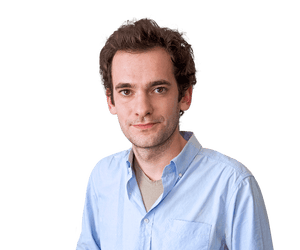 Andy Bull
There is a hill in Sapporo called Sankakuyama, or Triangle mountain, but over the road at Yamanote high school they call it Michael Leitch's playground. When Leitch was a student at Yamanote he used to run up it every day after training. It takes most kids 30 minutes – it's so steep they cover bits of it on their hands and feet. By the end of his time there, Leitch was covering it in 15 minutes. Eddie Jones, who first met Leitch when he was coaching him at Tokai University, was talking about it this week. England's head coach is still in awe of Leitch's work ethic. "He's a great player," Jones said, "and a great man".
Kick-off at Twickenham is in under an hour. Why not read Robert Kitson's report from a captivating Women's Rugby World Cup final, which ultimately resulted in heartbreak for England.
England need to win. The performance in last weekend's defeat by Argentina was unacceptable and Eddie Jone's tactics and selections are increasingly under the microscope. There is a sense that things are in a muddle, with little time to get things straight before next year's World Cup.
Jones is used to taking criticism and will naturally insist his plans will come together for France 2023. But if this autumn's campaign is a 'mini World Cup', as Jones said, then in that imaginary world a second defeat would mean 'elimination' and plenty more speculation about the future of the man in charge.
Japan's rugby team, of course, are the reason that Jones leads England now. His exceptional work with the Brave Blossoms, and their unforgettable win against South Africa in 2015, landed the Australian his current job. How England fans would love to see Jones's players unleash just a bit of that dynamism and attacking verve at Twickenham today.
Team news and previews coming up.
Kick-off: 3.15pm GMT