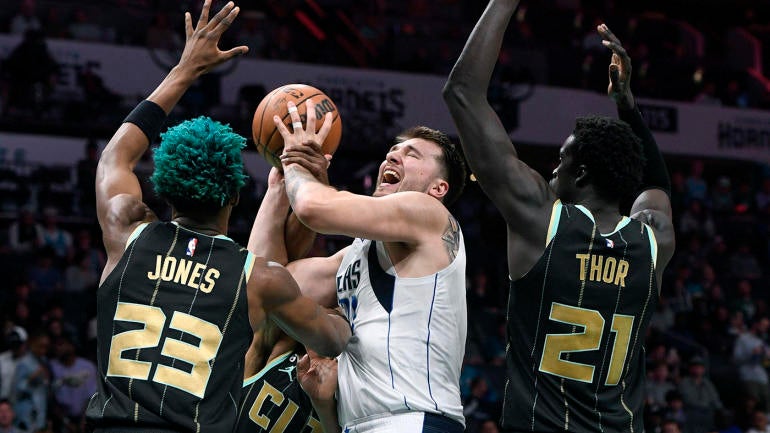 Sam Sharpe / USA TODAY Sports
Week 24 has come to a close and Week 25 will begin with Monday's eight-game slate. Luka Doncic's late-season surge won't be enough to take the top Fantasy spot from Nikola Jokic, but he could stay just above Jayson Tatum in the season-long rankings while he looks to chase a spot in the postseason. While he's getting a chance to play things out, other stars might get shut down for the year, giving more opportunities to young players. Several rookies could get a boost in exposure in the closing weeks of the regular season. We'll go over one of them while listing who's hot, who's not, and a DFS play for Monday here:
Who's hot 

Doncic has been on fire since returning from a five-game layoff and remained hot against the Charlotte Hornets on Sunday. The Dallas Mavericks star posted 40 points, 12 rebounds, and eight assists in the loss. The Mavericks are out of play-in contention thanks to their latest slide, but Doncic has averaged 34.7 points, 11.0 assists, and 9.7 rebounds over his previous three outings. He won't serve a one-game suspension after getting his 16th technical foul of the season rescinded on Monday.

The Portland Trail Blazers are essentially out of the playoff picture and it appears like they're ready to let their young players loose. Sharpe was one of the 2022 NBA's draft's most coveted rookies, and he's had a chance to flash his potential thanks to injuries lately. The Kentucky product has averaged 25.7 points and 6.0 rebounds while shooting 51.9 percent from the field and 47.8 percent from deep. If Damian Lillard gets shut down for the year Sharpe could be in for a strong finish to his first pro season. 

Bridges is nearing the end of the most productive month of his career. The Brooklyn Nets wing scored 44 points and grabbed six rebounds against the Orlando Magic on Sunday. He's averaging 28.0 points on 48.5 percent shooting through 14 games in March. He scored at least 30 points in half of those contests while shooting 39.4 percent from deep on 7.1 attempts per game. 
Who's not

Bogdanovic started the year off slow because of an injury and wasn't so hot in the back half of last week. The Atlanta Hawks guard had a solid showing when Dejounte Murray missed a game, but has since averaged 10.0 points and 3.0 rebounds over his last three outings. He's shot a respectable 46.4 percent from the field during that stretch, but made just four of his 15 shots from long-range. Bogdanovic agreed to a four-year, $68 million extension recently but is not trending in the right direction from a Fantasy perspective.    
DFS play

Portis has lacked consistency since returning from his MCL sprain but has an opportunity to bounce back in a major way Monday. Jrue Holiday has been ruled out for personal reasons and Portis has thrived without the point guard in the lineup this season. Portis has averaged 17.3 points and 10.5 rebounds over his previous four games without Holiday. He logged at least 30 minutes in three of those contests. 
Still deciding who to lock in for your DFS roster? We've identified a player worth locking in and one to avoid ahead of tip-off below, but you can get my full selection of stud and value plays at each position by heading over to SportsLine.