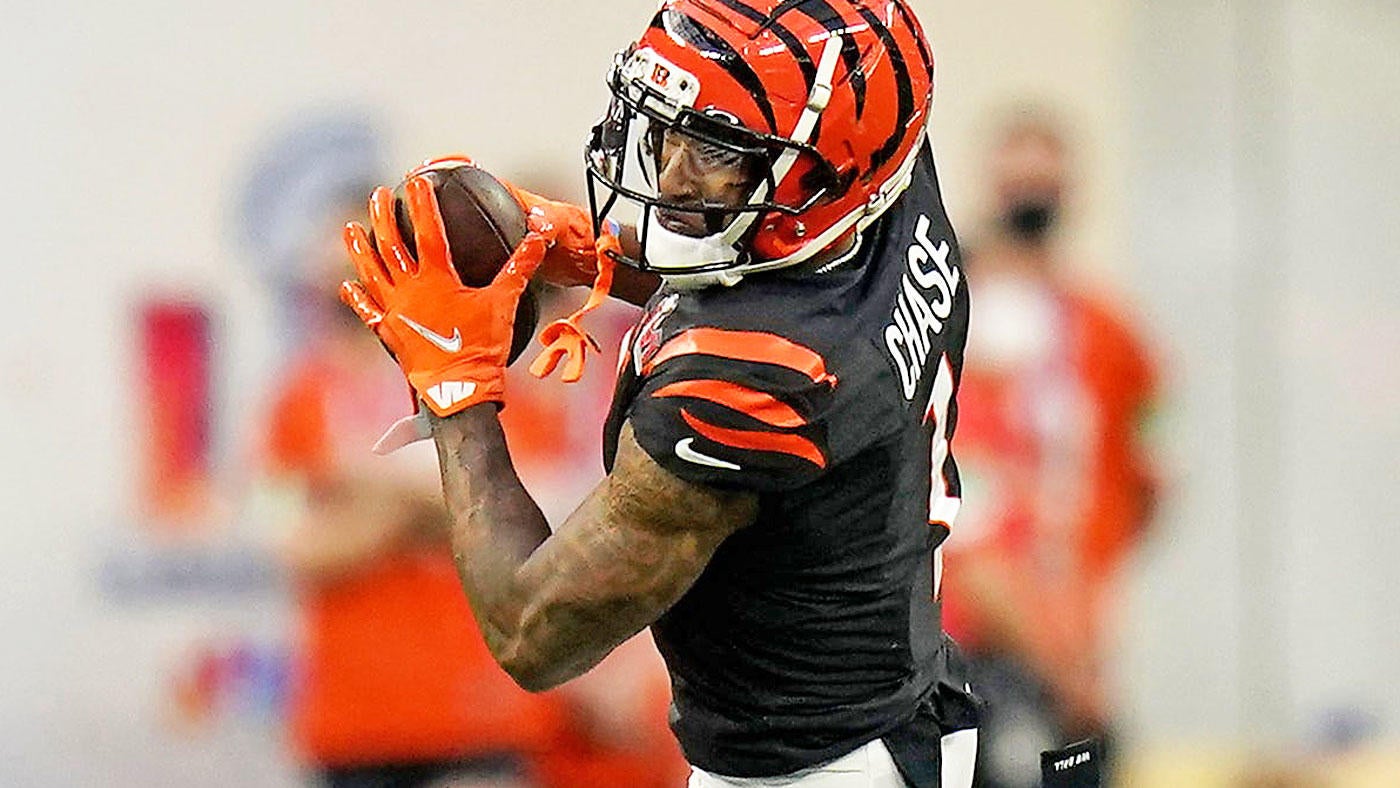 Hey, Fantasy Football Today fans. It's been a couple of weeks since you've heard from me, but we're about to get very well acquainted with one another over the next, let's say six months or so. 
Because, we're back and we're going to be sending this newsletter to you multiple times every week beginning next week, and we're going to be rolling them out five times a week starting in August. The FFT team is already doing a ton of drafts — I've got my Scott Fish Bowl live draft on Saturday! — and, with training camps starting in a little over two weeks, we're about to get inundated with news.
And the goal of this newsletter, for those of you who are new, is to make sure you're up to date on everything from around the NFL and from the FFT team to make sure you are ready to draft the best team possible. If I'm doing my job right, reading this newsletter will be all you need to prepare for your draft. 
Of course, this newsletter isn't all you should be listening to. We have the Fantasy Football Today podcast, which I'm sure most of you are subscribed to already, but if not … what are you waiting for? But that's not all. I host the Fantasy Football Today in 5 podcast, a mini version of the pod with the whole FFT team reacting to the latest news and giving you our takes in five minutes, five times a week. 
And we have a new addition to the family next week, with the launching of the Fantasy Football Today Dynasty podcast! Heath Cummings is hosting that one, and he'll be joined by a rotating series of guests from around the Fantasy Football industry every week, with a focus on long-term roster construction. Heath has already been helping you all win at Dynasty for a while now, and we're ramping up our coverage even more starting next week, so make sure you're subscribed!
As for this newsletter? Well, we're going to be shooting out emails your way a couple of times a week for the next few weeks, with the latest content you need to see from the FFT team, and today, we're taking a big-picture view of the league as a whole with Dave Richard's Strength of Schedule breakdowns for each  position. He's gone through each team's schedule, focusing on the strengths and weaknesses of each defense, breaking down what you can expect, including an eye on those all-important playoff weeks late in the season.
Next week, we'll have some breakdowns on the state of the WR and QB positions for you, plus we'll start previewing the season in earnest with my team previews. The following week, we'll take a look at the biggest questions for every team as they report for training camp. And we'll be breaking down mock drafts, and I'm going to send my latest rankings your way around the start of training camp, so you have a sense of where things stand.
And, as always, you can email me directly at Chris.Towers@Paramount.com to have your questions included in upcoming editions of the FFT Newsletter. I'll try to do a mailbag once a week if you send enough questions in, so send them my way. 
And now, let's get to the strength of schedule breakdowns: 
Five best schedules for QB
1. Packers
2. Saints
3. Falcons
4. Texans
5. Browns
That's … not great! Jordan Love could be good, but we haven't seen enough of him to have much confidence in that; Ditto, Desmond Ridder. Derek Carr has low-end QB1 upside, and a soft schedule will help him get there, but there isn't much of a ceiling there. And C.J. Stroud is certainly an intriguing talent, but I don't love his weapons, and he probably isn't going to be enough of a factor in the running game to be a great Fantasy option right away.
And then there's Deshaun Watson. He's a former top-five QB in Fantasy, so there's definitely a high ceiling here. How you feel about him mostly comes down to how much of his struggles last season were the result of rust after first sitting out a full season and then serving a suspension for the first 11 games of last season. I think it's reasonable to be optimistic, but there's also a chance that all that time away from the game irreparably lowered both his baseline and his ceiling. I think he's a fine dice roll at a cheap cost, but I don't want him to be the only QB on my roster. 
Five worst schedules for QB
28. Jets
29. Bills
30. Dolphins
31. Patriots
32. Giants
So, the AFC East might be pretty tough for quarterbacks, is what I'm getting. You don't worry about that at all for someone like Josh Allen, and if Tua Tagovailoa is as good as he looked last season, it's barely a concern there; it's also not a concern for Mac Jones, because you don't want Mac Jones on your team anyway. But it's an interesting point for Aaron Rodgers, who is one of the bigger questions in the league right now. If he rediscovers his MVP form, the schedule doesn't matter because he's going to tear through the toughest defenses like nothing. But if the step back he took last season wasn't just the result of the broken thumb and whatever ill-feelings he had toward the organization, then things could get ugly in New York. How ugly? Well … the Jets' new offensive coordinator was the Broncos head coach last season, so I'll let you do a little worse association on your own. 
Make sure you click over to Dave's piece for the rest of the rankings, including his Fantasy playoff rankings, as well as more of his thoughts on what the schedule foretells.
Please check the opt-in box to acknowledge that you would like to subscribe.
Thanks for signing up!

Keep an eye on your inbox.

Sorry!

There was an error processing your subscription.

Five best schedules for RB
1. Packers
2. Bears
3. Saints
4. Falcons
5. Texans
A lot of the same names here, though these are a bit more interesting. Aaron Jones has been a top-12 RB four straight years, but the loss of Rodgers has dropped his ADP to 16th. Obviously, the quality of the offense overall will play a big part in how any running back does, but you have to like seeing a fairly soft schedule lined up for him, including an opening five-game stretch with the Bears, Falcons, Saints, Lions, and Raiders that should see the Packers able to keep it competitive. As long as Love isn't, y'know, awful. 
The Bears and Saints are interesting to see up here, because there's a lot of ambiguity in those backfields right now. That's not necessarily a great thing for trying to project how the season is going to go, but it creates the potential for a ton of profit in Fantasy. The Bears have Khalil Herbert, D'Onta Foreman, and Roschon Johnson all going outside of the top 100 in ADP right now, and it could just be an ugly three-way split as the Bears try to keep all three healthy and fresh throughout what figure to be very run-heavy games. But if one of them emerges as the clear leader, that guy could end up a must-start RB for Fantasy. 
And on the Saints side of things, there's just a lot of uncertainty around Alvin Kamara's status. He recently pleaded no-contest to a misdemeanor charge stemming from a fight during last year's Pro Bowl weekend, but that doesn't necessarily mean he's not going to face consequences from the NFL. While there's no automatic suspension triggered by a misdemeanor, the NFL's personal conduct policy does give Roger Goodell latitude to hand out punishment for off-field incidents. I'd expect at least some kind of suspension for Kamara, and even when he does play, his age and limited usage in the passing game late last season are pretty big red flags. Jamaal Williams should be the lead rusher if Kamara misses time, but rookie Kendre Miller could end up being a pretty big factor, too — though I'd feel better about his chances if he had more than 16 catches last season in 14 games at TCU. But he's a high-upside, late-round flier for all formats right now.  
Five worst schedules for RB
28. Commanders
29. Cardinals
30. Bills
31. Dolphins
32. Giants
I don't love this for Brian Robinson, who I don't really love in Fantasy anyway. It's also not great for the Bills duo of James Cook and Damien Harris, though I don't really want either of them on my teams anyway — the Bills have been one of the worst offenses in the NFL for Fantasy running backs even as they've been one of the best offenses overall, and I don't necessarily expect that to change. It's going to be a timeshare between Cook and Harris, with Allen likely to still play a big role near the goal line. I'm passing on Cook as RB30. 
Saquon Barkley has bigger concerns than the schedule, right now, because he's talked about potentially sitting out the season if he doesn't get a long-term contract, and certainly isn't happy about playing on the franchise tag. It's unlikely he skips the entire season, but that uncertainty is still hanging out there, and after Le'Veon Bell, we can't dismiss the possibility entirely. 
Head on over to Dave's piece for the rest of the rankings, along with more winners and losers from the schedule analysis.
Five best schedules for WR
1. Packers
2. Saints
3. Texans
4. Falcons
5. Browns
Unsurprisingly, there's a lot of overlap here with the QB rankings, and there are also lots of questions about the QB play on these five teams, obviously. But, it certainly helps the breakout potential of Christian Watson and Chris Olave, and makes sleepers like Nico Collins and John Metchie look a little better.
The one I'm most wary of here is Drake London. I love the talent, but even with a relatively soft schedule, I still expect this to be one of the most run-heavy teams in the NFL — if anything, the Falcons are likely to run the ball the more they are winning. That doesn't mean London can't be good for Fantasy if it's a heavily concentrated passing game between him and Kyle Pitts, and he continues to earn a lot of downfield targets. But he also needs Desmond Ridder to be at least competent, and it's fair to question that. If you're going to bet on a blue chip prospect in the Falcons passing game, it makes a lot more sense to put your chips down on Pitts, because he's cheaper (ADP of 70.2 vs. 49.8 for London) and the bar for Fantasy relevance (and Fantasy stardom) is simply much lower for a TE than a WR. 
Five worst schedules for WR
28. Jets
29. Dolphins
30. Patriots
31. Bills
32. Giants
There's room in the Giants offense for one of their literally 14 wide receivers to step up, but unlike with running backs, ambiguity isn't necessarily a good thing for wide receivers. At RB, teams generally play one or two guys for most of the game, and almost always only one on the field at a time, which means that someone is going to get the ball in an ambiguous backfield. The Giants are going to have at least three wide receivers on the field more often than not; 66% of their snaps had at least three WRs on the field last season. 
And, their top target in the passing game will almost certainly be Darren Waller, while Barkley will likely be second or third on the hierarchy. That just doesn't sound like a situation where you want to invest in the wide receivers, especially since none of them really profile as target hogs. None of them are expensive — rookie Jalin Hyatt has the highest ADP at 167.9 — but if you're chasing upside, I don't really think there's much to be found here. 
For Dave's thoughts and the rest of the rankings for WR, head here.
Cards on the table: I don't really think strength of schedule matters for tight ends. That's not to say there aren't certain teams that are better or worse against tight ends, because there obviously are. It's just that there are so few tight ends who are truly a significant part of their team's offense that it makes any attempt to analyze the position really, really difficult. 
For example: Any team that faces Travis Kelce is going to look worse at covering tight ends than the teams that don't, for what I think are rather obvious reasons. You're also never going to sit Travis Kelce because he has a tough matchup, and that's also true of the likes of Mark Andrews, T.J. Hockenson, and the rest of the relatively rare, true must-start tight ends in Fantasy. There just aren't enough good ones that you can play the matchups with those guys.
And the rest of the tight ends don't really matter enough to target even against good matchups. There are some exceptions — I feel a little better about drafting Dalton Schultz as a low-end TE1 with a softer schedule, for instance — but for the most part, you're not chasing matchups. The one exception last year was the Cardinals, who gave up 104 catches, 1,164 yards, and 12 touchdowns to tight ends, which included, yes, Travis Kelce, but also 96 yards for Noah Fant, two touchdowns to Juwan Johnson, and 15.3 PPR points to Tyler Higbee, among other matchups. However, with an all-new coaching staff in place, I'm not sure we should expect that to carry over. 
You can check out Dave's thoughts here to see what might matter, at least.  
Five best schedules for TE
1. Texans
2. Saints
3. Browns 
4. Titans
5. Ravens
Five worst schedules for TE
28. Vikings
29. Cardinals
30. Jets
31. Dolphins
32. Giants