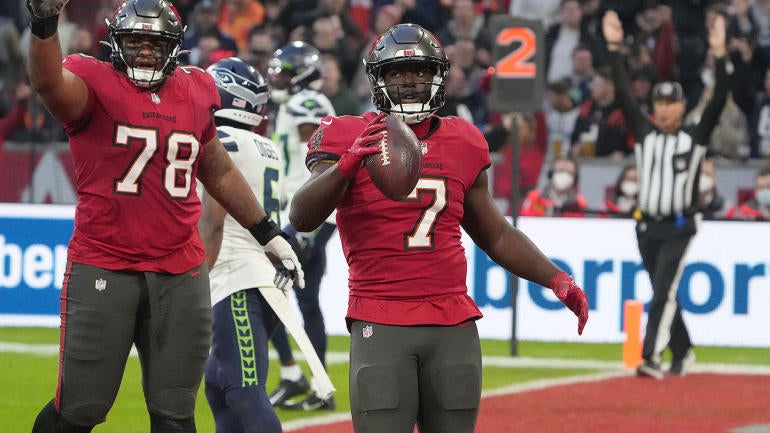 The Buccaneers split work more evenly in their backfield in Week 10 than we've gotten used to, with rookie Rachaad White getting the start ahead of Leonard Fournette against the Seahawks. But it's the hip pointer injury that forced Fournette to leave Sunday's game that could make Rachaad White one of the most valuable backs in Fantasy moving forward. 
Fournette left Sunday's game against the Seahawks in the third quarter with a hip pointer injury and was unable to return, with the Buccaneers not providing an update after he was deemed doubtful to return. Through the first three-quarters of the game, White had played 32 snaps to 21 for Fournette, though their usage otherwise had been pretty similar; both backs had 14 carries, with Fournette picking up 57 yards and a touchdown, while White had a slightly more efficient 65 yards. Fournette also had the only catch between them for the game – and he also had an interception on a trick play that saw him throwing Tom Brady's way for some reason.
White got the opportunity to close the game out, becoming the first Buccaneers back since Week 1 to reach 100 rushing yards, as he finished with 105 on 22 carries. He benefited from Fournette's absence, obviously, but the Buccaneers also made a point of getting both backs more involved, and White was serving as the lead even before the injury. That could hold even if Fournette is fine, and it would make White a viable Fantasy option moving forward.
However, if Fournette's injury lingers beyond the Buccaneers' Week 11 bye, that's where White could have significant upside. The Buccaneers offense hasn't been nearly as good as expected so far this season, but their backfield is still a pretty valuable one – Fournette and White have combined for 75 targets in 10 games along with 19.5 carries per game. If the bulk of that goes to White, he's got top-12 upside.
Of course, the bye week gives Fournette an opportunity to get healthy before he has to miss any time, and it makes White a less pressing priority on the Week 11 waiver wire if you need immediate help. If you're going for the upside, however, White is the clear top pick, and someone who is probably going to cost a pretty penny in FAB bidding this week.
He could be worth it. 
Here are the other injuries we're tracking coming out of Week 10: 
Jerry Jeudy (ankle) – Jeudy left Sunday's game after going down without contact on the first play from scrimmage and had to be carted back to the locker room. Any time you have to bring the cart out, you start to fear the worst. However, Broncos head coach Nathaniel Hackett told reporters after the game the team believes they "dodged a bullet" with Jeudy's injury. What that seems to mean, according to Mike Klis of 9News who covers the Broncos, is that he avoided an Achilles injury. However, Jeudy does have a history of high-ankle sprains, having missed six games with one last season, so we'll need to wait until he undergoes further testing to know for sure whether Jeudy is likely to miss multiple weeks. Kendall Hinton played a bigger role in Sunday's game with Jeudy and KJ Hamler out, but he'd be a long shot to make much of a consistent impact for Fantasy if Jeudy does miss further time. 
JuJu Smith-Schuster (concussion) – Smith-Schuster took a hard hit to the helmet and stayed down on the ground for a while before being helped to the sidelines and to the locker room. Smith-Schuster will have to be cleared through the concussion protocol to have a chance to play in Week 11, and Smith-Schuster does have a history of concussions, having suffered three prior in his NFL career, including one that caused him to miss a game back in 2019. This will be something to watch moving forward, with Kadarius Toney potentially in line to benefit if Smith-Schuster misses time. 
Zach Ertz (knee) – Ertz took a shot to his knee early in Sunday's game against the Rams and had to be carted to the locker room. The severity of the injury is not yet known, but he was in a lot of pain after a Rams defender fell on his leg. He'll have tests taken on the leg in the coming days, and if he has to miss time, rookie second-rounder Trey McBride could be forced into a larger role down the stretch of the season – Ertz was averaging 7.6 targets per game, so this could put McBridge into play as a potential Fantasy option. The Cardinals don't have a bye until Week 13. 
Khalil Herbert (hip) – Herbert left Sunday's game late with a hip injury and was ruled out almost immediately. That may not be indicative of the severity of the injury, however, as he suffered the injury on the first play of the team's final drive, with just 2:16 left on the clock – there wasn't enough time for Herbert to return even if he had been able to. Still, it's something to keep an eye on moving forward – the Bears don't have a bye until Week 14, so David Montgomery could be in line to dominate snaps and touches against a very vulnerable Falcons defense in Week 11. Tristen Ebner would likely see a larger role if Herbert was out, but I would expect Montgomery to get 70%-plus of the snaps next week.