---

Going out: Cinema
Asteroid City
Out now
The popularity online of videos in the style of Wes Anderson has threatened to overwhelm the films themselves, but as a timely corrective here comes the man himself with his latest. It's an arch metafictional telling of a 1950s-set story of a group of misfits marooned together by the government response to an alien sighting in the desert.
No Hard Feelings
Out now
These days, teen comedies with a raunchy premise are an endangered species. It is therefore imperative that cinemagoers support this throwback, in which Jennifer Lawrence's bombshell character is on a mission to relieve a socially awkward teenager of his virginity in exchange for a new car.
The Last Rider
Out now
Cyclist Greg LeMond nearly died after a hunting accident in 1987. Alex Holmes's documentary charts his long road to not only a comeback, but victory in the closest fought Tour de France in history, as he worked his way towards becoming arguably the greatest American cyclist of all time.
The Wicker Man: 50th Anniversary Release
Out now
In 1973, one of the most influential horror movies of all time was released. For the next 50 years its legacy would be felt in everything from The League of Gentlemen to Midsommar, but despite the addition of a sequel and iffy remake, there's only one Wicker Man. Time to keep your appointment and go see the 50th-anniversary rerelease. Catherine Bray
---
Going out: Gigs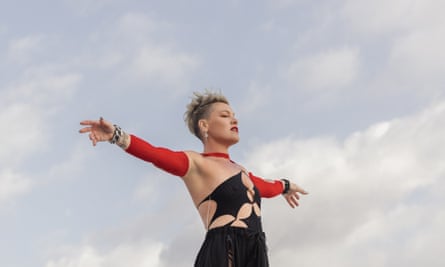 BST Hyde Park
Hyde Park, London, 24 June to 9 July
Central London's superstar-saturated festival returns with a typically stellar lineup ranging from highwire pop acrobat Pink (24 & 25 June), to leather-clad rockers Guns N' Roses (30 June) and K-pop girlband Blackpink (2 July). Lana Del Rey also makes a rare outing on to a UK stage on 9 July. Michael Cragg
The Chicks
27 June to 8 July; tour starts Cardiff
After an extensive US jaunt in support of 2020's Jack Antonoff-assisted Gaslighter album, the rechristened country-rock trio the Chicks arrive in the UK. Expect that album to get a workout alongside hits such as Wide Open Spaces, Goodbye Earl and political polemic Not Ready to Make Nice. MC
Love Supreme festival
Glynde, nr Lewes, 30 June to 2 July
British jazz's Glastonbury arrived when Sussex's now decade-old Love Supreme was launched, a smaller but comparable celebration of outdoor music-making. Drummer Tristan Banks and pianist Sultan Stevenson open Friday, with Grace Jones, Mulatu Astatke and Shai Maestro among others over the weekend. John Fordham
Out of Her Mouth
Platform, Glasgow, 24 June; Assembly Roxy, Edinburgh, 25 June; touring to 12 July
The Dunedin Consort and Mahogany Opera come together for the first British stagings of three biblical cantatas, Judith, Rachel and Susanne, by 17th-century French composer Élisabeth Jacquet de la Guerre, who worked at the court of Louis XIV. Mathilde Lopez directs, and the soloists are Carolyn Sampson, Anna Dennis and Alys Roberts. Andrew Clements
---
Going out: Art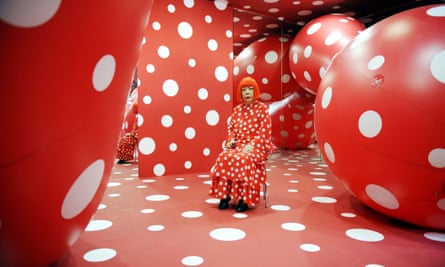 Yayoi Kusama
Factory International, Manchester, 30 June to 28 August
Manchester's giant new cultural venue takes its name from the city's famous Factory Records, and it opens with a show that's like the Haçienda on … well who knows what. Kusama presents an eye-popping celebration of giant polka-dotted inflatables that should be ecstatic enough to cheer up anyone's blue Monday.
Life Is More Important Than Art
Whitechapel Gallery, London, to 17 September
The second half of this exhibition and festival's title, quoting James Baldwin, adds: "That's why art is important." The artists proving this thesis, including Rana Begum, the late Susan Hiller, Jerome, Alia Syed and Mark Wallinger, address the place of art in our lives at this tricky economic and social moment.
Barbara Hepworth
Towner Eastbourne, to 3 September
The British abstract sculptor who hammered her way into 20th-century art history can be encountered in depth in this retrospective. Hepworth started from nature and reality but found the music of the spheres. Her most entrancing works, in their timeless beauty, make you sense the sea and wind eroding stone.
Brian Clarke
Newport Street Gallery, London, to 24 September
Stained glass is the medieval art form that refuses to die. Many centuries ago, the coloured windows of gothic cathedrals created an ever-changing chromatic spectacle of the divine. Clarke shows we still crave such gorgeous effects with his monumental contemporary creations that depict everything from flowers to atom bombs. Jonathan Jones
---
Going out: Stage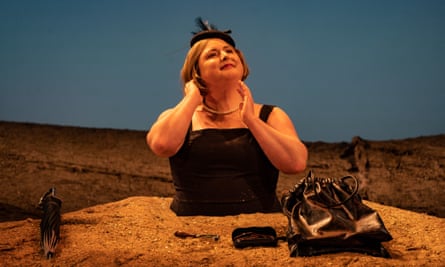 Happy Days
Birmingham Rep, 28 June to 1 July
The last leg of Landmark Productions' tour of Beckett's mesmerising masterpiece, about Winnie – buried up to her waist in mud and absolutely determined to make the best of it. Starring Derry Girls' Siobhán McSweeney. Miriam Gillinson
The Power (of) the Fragile
Battersea Arts Centre, London, 27 to 29 June
Mohamed Toukabri's mum always wanted to be a dancer and now, at 65, she's finally getting her chance. Tunisian choreographer Toukabri creates a duet for himself and his mum on themes of motherhood and migration; a tender portrait of their relationship. Part of the festival of contemporary Arab art, Shubbak. Lyndsey Winship
A Strange Loop
Barbican theatre, London, to 9 September
Michael R Jackson's Tony award and Pulitzer-winning musical lands in London. It's a wildly inventive show about a young, gay Black writer working as an usher. He's writing a musical about an usher writing a musical – and so the story spins in on itself in a dizzying whirl. MG
Adam Riches
The Bill Murray, London, 28 June
In 2011, Riches was the toast of the Edinburgh fringe, but his award-winning stint didn't translate into TV success. That means if you want to see the actor's hilarious and hair-raisingly interactive character comedy, you still have to come to him – something Londoners can do this week, as he warms up for August's Edinburgh festival. Rachel Aroesti
Ed Byrne
Soho theatre, London, 26 to 29 June
The Irish comic and Mock the Week mainstay warms up for Edinburgh, and an autumn tour of his darkest show yet. Last year, Byrne's younger brother Paul, a live comedy director, died aged 44. Tragedy Plus Time sees him attempt to wrench some levity from his loss. RA
---

Staying in: Streaming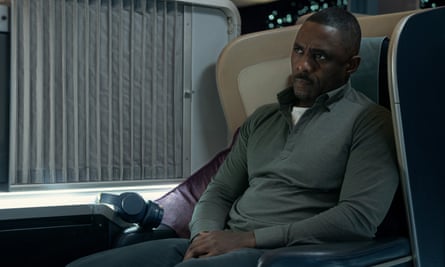 Hijack
28 June, Apple TV+
A decade after 24 ended, the wait for another real-time blockbuster is over. Taking place over a gunman-beset seven-hour flight from Dubai to London, Hijack sees suave passenger Sam Nelson (Idris Elba, above) attempt to transfer his negotiation skills from the boardroom to terrorism.
The Witcher
29 June, Netflix
It's Henry Cavill's final outing as magical monster hunter Geralt of Rivia – a role the gaming-obsessed actor once described as a "dream come true". The reasons behind his departure remain a mystery, but big-bucks franchises have no time for sentimentality: Liam Hemsworth is set to don the leather armour and flowing platinum locks for season four.
We Need to Talk About Kanye
28 June, 9pm, BBC Two & iPlayer
Following his investigation of Britney Spears's controversial conservatorship, journalist Mobeen Azhar grapples with another pop cultural conundrum: the disturbing trajectory of Kanye West, who in recent years has swapped musical superstardom for a doomed presidential bid and incessant antisemitism.
Before We Die
25 June, 9pm, Channel 4
Lesley Sharp is one of this country's most underrated actors, and while this returning crime drama about two grieving mothers on opposite sides of the law is unlikely to be the role that rectifies this oversight, it's still a good opportunity to bask in the Mancunian's golden touch. RA
---
Staying in: Games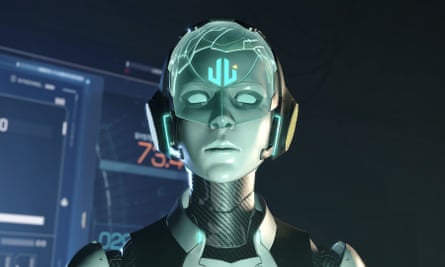 Ghost Trick: Phantom Detective
Out 30 June, Nintendo Switch, PS4, Xbox One, PC
You are an amnesiac ghost trying to figure out how you died in this cult-classic Japanese puzzle adventure game.
Everybody 1-2-Switch
Out 30 June, Nintendo Switch
A sequel to the party game that had us pretending to milk cows and quick-draw pistols with a Switch controller. This time it's a team-based gameshow-style affair hosted by a dude in a horse mask. Keza Macdonald
---
Staying in: Albums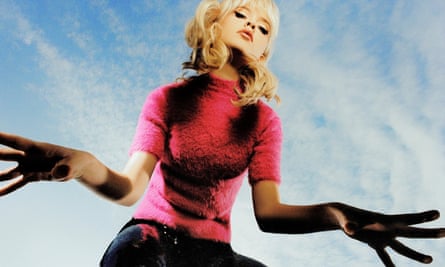 Maisie Peters – The Good Witch
Out now
On this second album, the follow-up to 2021's No 2 hit, You Signed Up for This, West Sussex singer-songwriter Peters channels her idol Taylor Swift as she navigates breakups and personal growth. Lost the Breakup is a bouncy, pepped up kiss-off, while the electronic Run acts as a warning to others re worthless men.
Kelly Clarkson – Chemistry
Out now
Fuelled by her acrimonious 2022 divorce, pop powerhouse Kelly Clarkson's 10th album tracks a relationship from start to finish. What sounds blissful on the Carly Rae Jepsen-assisted Favorite Kind of High soon sours via the punchy Red Flag Collector and the self-explanatory I Hate Love, which features Steve Martin on banjo.
Swans – The Beggar
Out now
Funded by sales of 2022's limited-edition demos album Is There Really a Mind?, this 16th album from the experimental rock pioneers expands on those sketches to create something beautifully heavy. That mix of enveloping guitars and drone-like vocals is showcased perfectly on the near 10-minute single Paradise Is Mine.
Kim Petras – Feed the Beast
Out now
After various EPs, mixtapes and a Grammy-winning collaboration with Sam Smith on Unholy, German pop iconoclast Kim Petras finally releases a debut album. Featuring the likes of Nicki Minaj and Banks, and production from Max Martin and Ilya, it's a smörgåsbord of hyper-pop, dance and electro. MC
---
Staying in: Brain food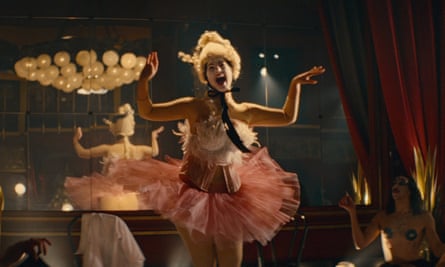 Eldorado: Everything the Nazis Hate
28 June, Netflix
Director Benjamin Cantu's German film weaves archive footage with expert testimony and dramatic recreations to build an immersive vision of the 1920s Berlin queer club that often featured both artists and Nazi party members on its dancefloor.
Don't Assume
Podcast
Online radio station NTS recently launched its first podcast, hosted by presenter Zakia. Rather than interview artists with a project to plug, the series excels in discussing the careers of underground stalwarts such as DJ Sprinkles and producer Bullwackie.
RHS Advice
Online
From caring for lawns to planting for the environment, maintaining window boxes and keeping your houseplants alive, the Royal Horticultural Society's advice podcast is packed with practical resources for gardeners of all expertise levels. Ammar Kalia