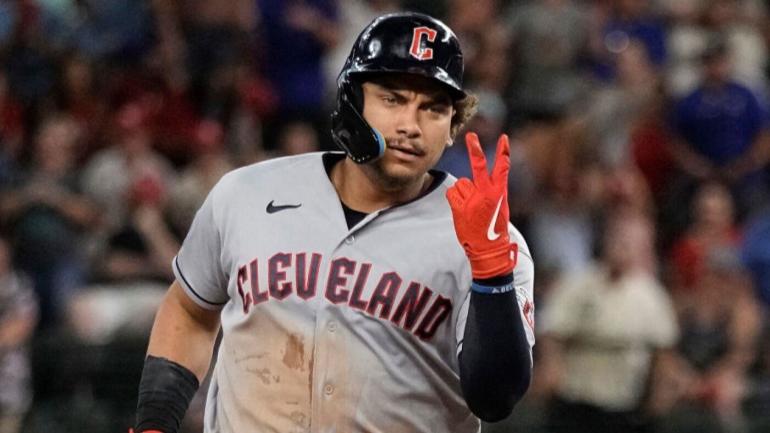 Getty Images
In the top of the third inning Friday night in Texas, the Guardians' set of brothers joined a short list. Catcher Bo Naylor got the scoring started with a two-run home run and later in the inning, Bo's brother Josh Naylor hit a two-run shot of his own: 
Josh has been up all season and now has 12 homers and 66 RBI. Bo, a rookie who appeared in five games last season, is playing in his 16th game this season. That was his second homer. 
Obviously, the big news here is the rarity that is a set of brothers homering in the same inning. We rarely see brothers together in the majors, much less on the same team and getting them both to go deep in the same frame is special. 
According to MLB stats guru Sarah Langs, here are the sets of brothers to homer in the same inning for the same team in the expansion era: 
Hank and Tommie Aaron, Braves, July 12, 1962
Billy and Cal Ripken, Orioles, Sept. 15, 1990
The Ripkens, Orioles, May 28, 1996
B.J. and Justin Upton, Braves, April 6, 2013
The Uptons, Braves, April 23, 2013
Bo and Josh Naylor, Guardians, July 14, 2023
If we wanted to get a little more specific in order to make this one sound more special, the Naylor brothers were the first ones ever to both hit multi-run homers. That is to say that the other five instances listed above all contained at least one solo home run. The Naylors each hit two-run shots.