Key events
Thank you Tom. Hello again, everyone.
And with that, I'll hand you back to a well-nourished Luke.
A bit more from Erik ten Hag's post-Barcelona presser, this time on the Manchester United takeover question, though it's standard-issue non-committal: "I've been following [the story] of course but we are focusing on football, on training, our way of playing, on games, and we are really enjoying it. Others have to take decisions, it's not up to us."
The manager says he hasn't spoke specifically to the chief executive, Richard Arnold, or the Glazers on the latest developments but added: "We spoke at the start but I focus on football they are focusing on other departments at the club."
Arteta wants Premier League to change fixture policy
Mikel Arteta has called for the Premier League to afford top-flight fixtures the same privilege as Champions League games and avoid scheduling Wednesday-to-Saturday-lunchtime turnarounds in future.
Some words from Julen Lopetegui, who's been talking up Bournemouth, his in-form Wolves side's opponents this weekend: "For me they're a very good team and I have seen their last matches – in the last match against Newcastle they had good chances to win, they are aware of their strengths, are a very tactically ordered team, compact and narrow, they have high-quality players with the ball. It will be a hard match.
Buttered up by questions about the team's turnaround, thje Wolves manager says: "I never had any particular expectations [about turning it around quickly]. We believe in the players but they have to show their qualities, and be ready for each match." Told that no team bottom of the Premier League at Christmas has ever finished in the top half, Lopetegui replies: "I'm not interested in history, in statistics this is not football, football is about the present."
We've not talked Everton yet have we? Well Sean Dyche has been discussing the need for his side to find the right balance after contrasting dispays against Arsenal (bold and dynamic) and Liverpool (limp and outplayed). Here's some PA Media quotes before their game against Leeds.
"Over the two games – of course the derby is a different importance," Dyche said. "I'm well aware of that – taking three points, I think most people would go, 'OK, that's a reasonable start'.
"Two performances, similar in one way, against two good sides. Not that much in it, not as much as people were suggesting. We didn't create as much against Liverpool – it's hard creating really good opportunities away from home. I thought we did create enough against Arsenal.
"So finding that balance of making the team tight but also having enough freedom to go and operate and play forwards and affect the opposition.
"That's what we've been talking about with the players moving into the next game – not just being solid and working hard, which is of course a real prerequisite of mine, but working smart and opening the game up.
"We're learning about the players, we're pushing them hard, we're pushing their boundaries. Something I've been obsessed with for many years is raising the minimum. How can we stop off-days? That's got to go into performances, and I'm aware we have to do it rapid style."
An almost in-the-bag slice of old transfer news now slotted firmly into the bottom corner – Chris Wood's permanent move to Nottingham Forest from Newcastle has been confirmed. Here's our very own Mr Transfers:
Thanks Luke. Afternoon everyone. A few nuggets from Southampton, where their latest caretaker-manager, Rubén Sellés, has been talking with some confidence about the job on his hands and what he can bring to it. "I feel comfoertable," said the Spaniard. "l'm an honest person, I have been through all levels in football – not her but in the rest of the world, and I have a lot of personal experience. We are working really hard with the team, doing our best. The club will make a decision but I will be more than happy to take the job … We trust that we will be ready for almost any scenario.
"I think the group of players is amazing. the way they work is good, we need to give them the best chance to win the game tomorrow and find an identity." Sellés added that Che Adams was their only major injury doubt for tomorrow's game against Chelsea.
On the subject of Southampton, this was an interesting piece yesterday – if a slightly depressing one – about the fear that Saints' failed Nathan Jones experiment may further deter Premier League clubs from taking a punt on successful EFL managers. Though I'd argue that Jones, and his curious career trajectory (two wildly successful spells at Luton, failure at Stoke and Southampton) are not typical. And of course Premier League clubs have sometimes had their fingers burned on employing big-name managers with little experience and no grounding at lower levels.
I'm off for a spot of lunch. Tom Davies will now be your guide.
That was an incredibly long, rambling answer from Guardiola about how the season is panning out but I think it largely made sense. There was also a mention of the NBA, and how teams arrive in the playoffs having lost some games. Before that I think he said at one point "The players are the artists." Although I'd lost the thread/entered a trance-like state at that point.
Guardiola continued: "[To have a strong leadership group] is the most important thing. I've been with huge characters at Barcelona, at Bayern Munich, and here. And in the tough moments, under pressure, they make a step forward, they go there without fear. Playing good, or playing bad, at the end of the day is not the most important thing. During the season you cannot be, especially a long time winning titles, you cannot maintain the quality I would say … it's impossible to maintain three times a week during 11 months, in six/seven years. Honestly, it's impossible.
"When you win a lot of titles, at the beginning of the season, it's like: OK, we have time. But there are teams behind … they believe we don't have time. To do it in August, September, you realise: "Oh, we are 20 points behind." Unfortunately it didn't happen here [while he's been at City]. When we didn't win, always we were close, except the year Liverpool won the league … Always we were quite close … Still 15 games left, a lot of games. We want to arrive in the last eight, 10 games close, or top.
"We are in a position that I would have dreamed in the beginning of the season … I could not expect to be a lot of points in front after winning back to back. It's almost impossible."
Guardiola is now asked about Kevin De Bruyne's form: "Really good … like Jack [Grealish], like everyone, I am so pleased for everyone, but I want more. I still have the feeling Kevin can do more. Jack can do more. They can do it better. That would be the best word. They can do it. Of course he [De Bruyne] made a fantastic goal [against Arsenal] … but for the rest of the season, we will have tough, aggressive opponents … we need the players to have the feeling we can do better.
Will John Stones play tomorrow? "No. But he is getting better."
Guardiola focused on City's Forest trip
Manchester City head coach Pep Guardiola is asked: How does he see the title race now. following the midweek win against Arsenal?
"Arsenal still have one game in hand, so … nothing changed much … it's forgotten [the match against Arsenal], and we are just thinking about Nottingham Forest.
How important is momentum in the Premier League title race? "Momentum is when you win 10 games in a row. It didn't happen this season. We lost three games ago in London, against Tottenham.
"Momentum is tomorrow at 3pm, be ready mentally … [against] a team that lost just one game in the last six … [Nottingham Forest] … with a manager I respect a lot, what he has done for English football … they have a young team. What they have done last season, he took over when they were in a really difficult position, and they got promoted."
Is Guardiola pleased with Jack Grealish's form? "He is playing really good. His ambition, his aggressivity, attacking the back line, and the quality … his commitment to be: "OK, I am going to take a risk" … but he has to continue."
Pep is up now.
James Milner, Naby Keita and Diogo Jota all came off the bench against Everton last Monday. "It was important to get the time, but you could see they need time. That was clear," Klopp says.
"We knew that … It's completely different, whatever you do on a training pitch. These first 10, 15 mins in an intense game, it's torture … so you have to go through this.
"They could train properly the next day … one session today and we will see how we line up."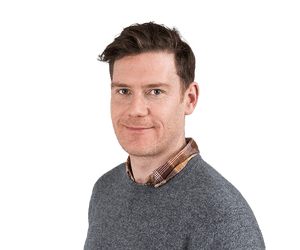 Paul MacInnes
English grassroots referees are to be allowed to wear video cameras during matches, in an attempt to reduce the levels of abuse they face.
The Football Association confirmed on Friday that a trial of bodycam technology – a first in world football – would be conducted across four regional adult leagues this season after being authorised by the law-making body the Ifab.
Klopp is asked a question in Spanish. He looks a bit nonplussed and asks for it in English. "Someone told you I speak Spanish?"
The question was about Bajcetic, I think … Klopp is full of praise. "He is an absolute joy to work with."
Will Virgil van Dijk be fit to start against Newcastle? "I think so," says Klopp. "Yesterday he looked absolutely ready … I think today he will look the same, and then we make a decision."
Is it hard to rest young players like Stefan Bajcetic when they are playing so well? "It's not that difficult … we can read numbers, stuff like this … it's very individual. Players are different, when they're young, we have to keep a close eye on that. How it is with three games a week, I don't know … we have other players as well.
"Stefan played exceptional [against Everton], not just because he is 18, he just played exceptional. And it was Fabinho's best game for a long time … we have senior players [back] who have not been involved for a long time, and long may it continue."
Klopp determined to build on Liverpool's derby win
For starters, the Liverpool manager is asked for an injury update: "Same squad [as for Everton] … nothing happened on the injury side."
On facing Newcastle tomorrow evening: "Massive game. If we want to reach something we have to chase ever … it's not easy, it will never be easy, but the only way you can do is to give it a try.
"Tough one. Newcastle, best defence in the league. Lost only once, I heard? Against us. And we needed a late, late goal. They are very consistent … it's a tough place to go. Hopefully we can build on the performance on Monday … this time it was different, it was us, it looked like us … people said after the game Everton didn't do this or that as much as they did against Arsenal – I think it was really because we did well in that game, but that's a prove to point tomorrow.
"Eddie's doing an exceptional job."
Klopp's here! And speaking.
It's a fair shout, Brendan: last weekend was a bad one for anyone who argues that VAR means fewer mistakes, or indeed that VAR (the VAR? The VARs?) is a system that moves us inexorably towards the truth.
It is still about humans, and the errors that we all inevitably make.
"As you ask, I am very fond of football, but the powers that be seem to be trying their darndest to put us all off," emails Brendan. "There are many things wrong with football and it's governance and the people running the show, but the worst for me is V-bloody-A-bloody-R! The fact that it is almost impossible to celebrate a goal anymore, for fear of it being disallowed, is the most ridiculous thing to have happened. But the fact that the mistakes are just as common as before means it is a total waste of time. Can we please please go back to refs on the pitch being in charge? They are very very good at their jobs in real time. Just let them do it!"
The Newcastle gaffer Eddie Howe said earlier today that he is getting tonnes of ticket requests from people for next weekend's Carabao Cup final against Manchester United, and in many cases he has no idea who these people are. Asked if he'd had any strange ticket requests, Howe said:
"The strangest request? Just people I don't know, I think that's quite strange … people who I've got no idea who they are. So it's like, a stranger asking, 'have you got tickets?' That's the strangest thing, rather than any special request."
People are strange. Has anyone got his number, by the way?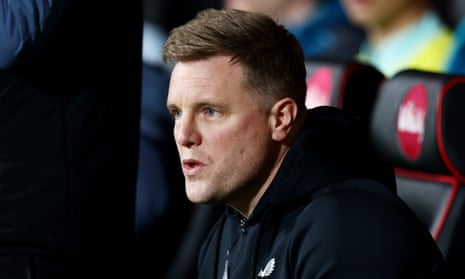 As per usual for a Friday, there will be a plethora of Premier League manager press conferences coming up around lunchtime. Stay tuned for Pep Guardiola and Jürgen Klopp, among others.
Fifa has allocated $1m (£830,000) to its Fifa Foundation to provide humanitarian aid to people affected by the devastating earthquakes in Turkey and Syria.
The combined death toll in Turkey and Syria has climbed over 43,000, and millions are in need of humanitarian aid after being left homeless and without basic amenities.
Fifa said it had consulted with the Turkish Football Federation (TFF) and the Syrian Football Association (SFA), as well as "international and local non-governmental organisations".
"The aid will be used to purchase and distribute essential humanitarian items, as well as to provide emergency and temporary shelter and protection," Fifa said in a statement.
"Fifa will continue to collaborate with the TFF and SFA, while monitoring the situation and deciding on further action." (Reuters)
Let's talk Manchester United. Let's talk Marcus Rashford.
Let's read Jonathan Liew's piece from Barcelona last night, on how Erik Ten Hag has succeeded in unlocking the forward's seemingly limitless potential:
Having been asked for thoughts on the football, lancaster43 comments: "I like it."
That's the kind of insight, and the kind of content, that gets me out of bed in the morning.
The England defender Tyrone Mings has signed a new contract at Aston Villa, it has emerged:
Man admits assaulting Arsenal's Aaron Ramsdale after Tottenham match
A 35-year-old man has admitted assaulting the Arsenal goalkeeper Aaron Ramsdale at the Tottenham Hotspur Stadium at the end of the north London derby.
"What mattress does he use?"
When it comes to Dominic Calvert-Lewin's sleeping arrangements, Sean Dyche intends to find out. Andy Hunter reports on Everton's attempt to get to the bottom of the forward's persistent fitness issues: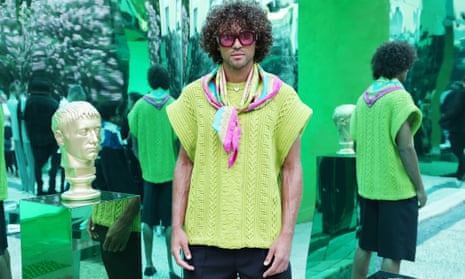 A bit of Merseyside derby news that emerged yesterday – ICYMI, and all that:
Liverpool and Everton have been charged by the Football Association following a "mass confrontation" between their players during Monday's Merseyside derby in the Premier League.
The incident took place in the 86th minute, which Liverpool won 2-0 at Anfield.
Everton goalkeeper Jordan Pickford and Liverpool defender Andy Robertson were both booked after a clash near the touchline before the incident escalated, with a number of players and substitutes from both teams becoming involved.
"It's alleged that both clubs failed to ensure their players and/or benches failed to conduct themselves in an orderly fashion, and/or refrained from provocative behaviour," the FA said in a statement.
The clubs have until 20 February to respond to the charges. (Reuters)
Leitzig, Nobbs, Blundell, Hanson, Kelly or England … who is your Women's Super League player of the month? You can register your vote here.
Another sub-plot in today's football – actually, in fairness, it's a full-blown plot: the takeover race for Manchester United.
The deadline for bids is 10pm tonight. Jamie Jackson assesses the task for the owner and some key 'dos and don'ts', whoever it turns out to be:
Just a couple of days ago, Neil Warnock was sipping a negroni or two at a New York jazz club … but now he's back in the UK, and manager of Huddersfield!
John Brewin reports:
Thoughts on the football? You can email me, get in touch on Twitter, or comment BTL.
A little more from Eddie Howe now, courtesy of Newcastle's social media operatives.
On the Magpies' home form:
"It's been pivotal. We've enjoyed playing at home. I think, lately, we've been a bit frustrated as we've want more goals and clear cut chances. Teams have defended well against us with a clear plan and it's up to us to find solutions."
On the late Sir Bobby Robson, who would have turned 90 tomorrow: "I consider myself unfortunate not to have met him but I've heard lots of stories about him from people connected to the club. He did incredible things for this football club."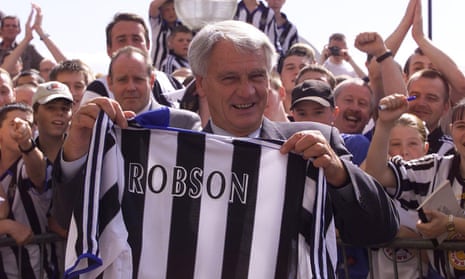 Sky Sports News just ran an interview with Odsonne Édouard, the Crystal Palace forward, whose return of five goals so far this season is not as many as he (or his manager Patrick Vieira) would like.
"We don't score enough. We need to improve in every aspect," Édouard says. "… We need to have more balance in the midfield … I need to score more goals, I need to give more assists. Sometimes it's like this, it's hard, but I need to keep working to help the team.
"This moment is hard, especially for a striker. You have to keep working, to never give up, and my time will come. It's all you can do. I just need to score one goal, and that's it. Yeah, just keep working."
Barcelona and Manchester United drew 2-2 in a Europa League playoff last night. It sounded like a cracker, but Erik Ten Hag believes his side should have had more, insisting that Jules Koundé should have been sent off for a foul on Marcus Rashford when the Red Devils led 2-1:
The Newcastle manager, Eddie Howe, hopes to have striker Callum Wilson and midfielder Joe Willock fit for next Sunday's Carabao Cup final. Wilson missed last weekend's 1-1 Premier League draw at Bournemouth with a hamstring problem, and Willock was forced off at the Vitality Stadium with a similar injury.
Speaking ahead of Saturday's league meeting with Liverpool, Howe said: "Callum has done really well. As we said at the time, it was a very minor complaint for him. He hasn't trained yet, we hope he trains today and then he's in contention.
"Joe, we haven't seen yet. I think he'll be doubtful for the game tomorrow. We don't think it's a big injury at all, it's a very minor complaint with his hamstring, so we hope to get him back very quickly."
Asked if Willock had a chance of facing Manchester United at Wembley, Howe, who confirmed Miguel Almirón and Allan Saint-Maximin had not suffered any significant damage at Bournemouth, said: "Yes, definitely there's a chance."
He added: "As I said after the game, we didn't think Miggy's was bad, he took a knock on his hand. It was enough for him to come off in the game, but it wasn't enough to give him any long-term damage. Maxi was pretty quickly back on his feet and was OK, so pretty early we knew that those injuries weren't serious. Joe was the big concern and, after a scan, we got some good news that it's not serious." (PA Media)
Let's crank things up another notch with 10 things to look out for in the Premier League this weekend:
On Aston Villa manager Unai Emery, Arteta's compatriot, the former Arsenal manager: "He will always put a very difficult test. He is a very good manager," Arteta says. "I have huge respect for him, and for what he has done at every club he has been and the success he has had. Big respect for him."
Of the loss against City, Arteta believes Arsenal were the architects of their own downfall: "You have to give credit to a team when they beat you, but when you analyse the game again, I think we lost it."
As for a fitness update from the Gunners, Arteta said that Thomas Partey continues to suffer from a back muscle problem and will be assessed before tomorrow's match at Aston Villa. So there is a chance he will be involved.
Gabriel Jesus is still out, although getting closer to fitness, but in better news, Emile Smith Rowe will be training today. "If he's fine [after training], he will be in the squad," Arteta says of Smith Rowe.
Arsenal 'highly motivated' for title challenge, says Arteta
The Arsenal head coach, Mikel Arteta, is naturally staying upbeat despite giving up top spot in the Premier League this week after the 3-1 defeat by Manchester City.
"I know the right things we have to do to continue to be there [at the top]," Arteta said. "We have seen where the level is and what we have to do to be at that level, we are in that journey. There are a lot of positive things to take from the season … I have seen it with my eyes … We know that the level of efficiency has to be good with every single ball to beat them [Manchester City] at the end. I repeat myself but the team are highly motivated to do that. If you want to win the league you are going to have to dig deep … you have to win in many different contexts."
Asked what his minimum expectation for the season is – EG Champions League qualification – Arteta refuses to look too far ahead: "The minimum is today that they need to train exceptionally well – that is the minimum."
Regarding Arsenal's recent slump, the Spaniard says: "We have to look at ourselves. We have to be more efficient – with amount of play and situations we generated we haven't had enough points. That is down to us, we have to improve on that because we want to win more games. So we are highly motivated for tomorrow's game because we want to perform well and win the game."
Football. There is more of it happening this weekend. As I type, football managers are speaking to football journalists around the country. So let's get straight to the football.
Eddie Howe's having a chat now, before Newcastle's meeting against Liverpool tomorrow, and Mikel Arteta has already spoken to media as he surveys the wreckage of Arsenal's title challenge prepares his Gunners team to bounce back at Aston Villa tomorrow lunchtime, following defeat by Manchester City in midweek.
Football!