The most immediately startling thing about Guns N' Roses' headlining set is how polite Axl Rose is. He's the famously unpredictable frontman of a band who, in their late 80s heyday, oozed druggy negativity: their debut album Appetite for Destruction painted such a relentlessly grim and grimy picture of life in Los Angeles that Justin Quirk's brilliant history of 80s metal Nothin' But a Good Time posits the theory that its release, rather than the arrival of Nirvana, spelled the end of the hair metal era and irreparably punctured its facade of sleazy glamour. Now, in his 60s, he's turned into a surprisingly well mannered character. "We'd like to thank you for inviting us," he offers. "Have you had a good day? Glad to hear it."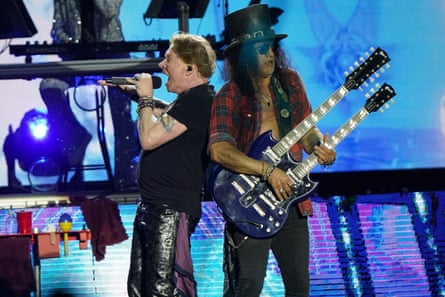 But the current iteration of Guns N' Roses sound remarkably vital: the twin guitars of Slash and Richard Fortus playing off against each other, drummer Frank Ferrer underpinning the songs with a surprising degree of funk and swing. If Axl Rose's falsetto sounds a little rougher around the edges than it did thirtysomething years ago, he still hits the high notes. Less weird-looking now than in the years when he sported braids and a goatee beard, he still pulls off the selection of onstage moves identified by the American writer John Jeremiah Sullivan in his superb 2006 essay The Final Comeback of Axl Rose: stalking, cartoonish pugnaciousness; snaky slide-foot dance; dammit just dropped a bowling ball on my foot spin-with-mic-stand dance; prance sideways with mic stand like an attacking staff-wielding ritual warrior between-verses dance.
It's a set that picks through Guns N' Roses' slender back catalogue – amid the tracks from Appetite for Destruction and both volumes of Use Your Illusion, their famously delayed sixth album Chinese Democracy gets a look-in by way of its title track, as does the extraordinarily spiteful 2021 single Absurd – and also makes room for Slither, from Slash's post-GNR band Velvet Revolver.
But is also pays homage to their influences. Bassist Duff McKagan wears a leather vest emblazoned with the logo of the Heartbreakers' 1977 album LAMF and takes over lead vocals on a cover of the Stooges' TV Eye; they work chunks of Jimi Hendrix's Voodoo Chile and Alice Cooper's Only Women Bleed into Civil War and You Could Be Mine respectively; they perform a cover of Down on the Farm, presumably the first time a song by second-wave British punk band UK Subs has ever been heard booming out from Glastonbury's Pyramid stage, on an actual farm.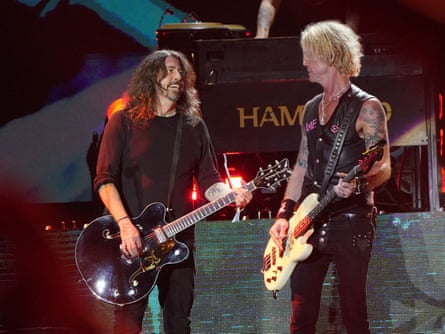 The set seldom lags for its two hours' plus duration, although judging by the crowd reaction, people are really here for the Appetite for Destruction-era big hitters: Welcome to the Jungle – its lyrics unsportingly amended to suggest that Glastonbury is the jungle and that everyone present is "going to die" – Sweet Child O' Mine, Night Train, Paradise City, the latter bringing the set to conclusion with a guest appearance from Dave Grohl, beaming in a way that suggests that Nirvana's fabled rivalry with Guns N' Roses was nothing to do with him. The audience go bananas. "What a lovely evening," offers Axl Rose, like a man exiting a dinner party: unexpectedly charming and polite to the last.