"The day I feel the backpack is getting too big or the donkey is getting too old and cannot carry it any more, the donkey will be stopping," Guenther Steiner says with typical amusement as he reflects on the stress bearing down on him as one of the most famous faces in Formula One and as the principal of the Haas F1 team. Steiner's ever-expanding celebrity is rooted in the way he has lit up Netflix's Drive to Survive series with his idiosyncratic wit, ceaseless swearing and dramatic pronouncements in the paddock since 2019.
Steiner is a more measured presence in our interview than he appears on Netflix when, amid the drama of racing, he can say to his team boss, Gene Haas: "We just fucked this one up …but, Gene, if we finish fourth or fifth here we fucking look like rock stars. Now we are a fucking bunch of wankers. A bunch of fucking clowns."
In another moment which went viral Steiner said: "Last year, for two points, I would have fucked the whole paddock." Steiner would, a tad mischievously, claim later that he had been misheard and had spoken instead of "hugging" the whole paddock for a couple of points. The evidence comes down on the side of the profane and, in season five of Drive to Survive, his wife, Gertie, compares him to a stressed donkey "carrying a backpack which is getting heavier".
Steiner chortles as he imagines himself as that donkey and he insists that stepping away from Formula One is not currently on his agenda. "The donkey will know when that time has come," he says before becoming more serious about the pressure he faces. "Yeah, you feel the weight of it but I still enjoy it. You have to take the stress if you want to do this job. And I'm going to do it as long as I want."
Earlier this year Steiner, a 58-year-old Italian who sounds as if he should be German, released a funny and revealing book, Surviving to Drive, which is a diary of last season. It topped the bestsellers' list and, with his favourite swear word appearing as "Fok!" on most pages, the book has increased the demand for yet more T-shirts with Steiner's face emblazoned across it. "Fok!" is the T-shirt's punchline.
Steiner shrugs. "I try not to look at them because I don't think I'm particularly good-looking. I wouldn't say my face is beautiful."
We talk in Monaco and I wonder if Steiner is hounded for selfies even here, amid the rich and famous. "Yes. I would say so. It's pretty difficult because the hospitality unit is a walk away and I only go there when I really need to. I'm not going up there just for fun, because it now takes me at least 20 minutes to get there."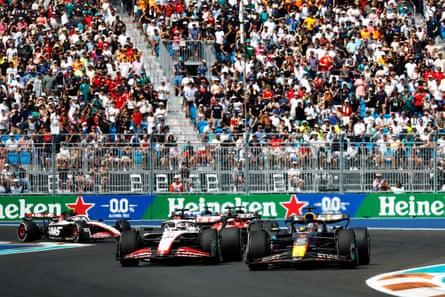 Is he tired of the attention because, in some quarters of F1 fandom, Steiner stands alongside Max Verstappen and Lewis Hamilton as one of the most recognised faces of the sport? "Yeah, a little bit because I'm not doing it for the attention. The attention came with [Netflix] and changing my attitude would be wrong. I think Formula One without the fans is nothing. A lot of people in F1 think we race for ourselves. No, we race for the fans because otherwise we are not racing. So if the fans like it and if they want a picture, why would I say no? But it takes time out of my day and I'm running a team and I cannot just run around taking pictures. My boss would not be happy with that one."
Steiner swears only once in this interview and he is thoughtful, and so I wonder if he also gets weary of his comic persona. Have people forgotten the nous and vast experience in motorsport which helped him set up Haas as a pioneering US team and how he has managed to keep them racing? "I wouldn't say forgotten," he says with an airy wave. "And there's no need to remind people all the time what I actually did. The most important thing is Mr Haas still thinks I do the right job. I think I do a decent job and I know my priority is to run the team."
In his book Steiner suggests: "The two things I am good at … are delivering bad news and persuading people to say yes. That's my entire skillset." So which of these three attributes has he had to call on most this year, with Haas having scored eight points and lying eighth out of 10 teams in the championship? "Actually, I didn't have to use a lot this season. It's going pretty steady. Fingers crossed because it could all change. But it's one of the calmest years up to now."
Is that a direct benefit of having two experienced F1 drivers in Kevin Magnusson and Nico Hülkenberg – after Steiner jettisoned Mick Schumacher, amid some acrimony, at the end of last season? "Yes," he replies. "I think we stabilised again. As you said, the most obvious thing to see is the drivers but we have got a lot of people doing good work.
"We have a bigger sponsor with Moneygram and we have got out of a tough place [after Covid] in 2020 pretty good. But, for sure, the drivers are part of it."
At last weekend's Canadian Grand Prix Hülkenberg qualified on the front row of the grid alongside Verstappen. It was a significant breakthrough and Haas's best-ever qualification, but Steiner's elation turned to disappointment when Hülkenberg was then hit with a three-place grid penalty.
He was found guilty of not slowing sufficiently during a red‑flag qualifying incident. "The penalty tonight shouldn't take anything away from the team and what we did," Steiner said. "We're second in our minds.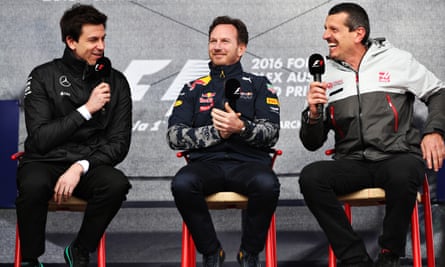 Hülkenberg replaced Schumacher but the older German driver, who is now 35, has had a fractious relationship with Magnusson. Does Steiner enjoy seeing some needle between his drivers? "At the moment they get on pretty good but I always say teammates shouldn't be friends because then the competition is going away. They need to compete to get the best out of the car for the team.
"They don't hang out together on an off weekend but they cleared the air a few years ago. I spoke with Kevin because I wanted to make sure that there was no animosity any more between them and he said: 'I'm very happy having Nico as a teammate because he's a very good driver.' So for me that was OK."
Romain Grosjean, who drove for Haas from 2016 to 2020, often felt the lash of Steiner's tongue. "Just tell him to focus on driving and not fucking whinge. Fucking hell," Steiner once said of Grosjean during a race. At a team dinner he was filmed saying: "Romain is not here. Maybe he is not here because he doesn't have any points. Or I didn't invite him because he doesn't deserve any food."
In his book, Steiner lambasts Schumacher for costing the team $2m by writing off three cars. Does he ever console a driver? "Yeah, it's a gift, emotional support," Steiner says. "If they have had a bad day, I say: 'Hey, tomorrow's another day to go again.' But if I need to pick up somebody from the bottom in Formula One it's too late. You need to come here prepared.
"I have down days and if somebody comes around, they ain't going to go: 'It was a shit day but tomorrow we go again, and then we are not useless.' I can do that for a driver but not if I need to pep‑talk them the whole weekend. In Formula One you need a little hair on your chest."
Have the German media forgiven him for casting Schumacher aside – especially as he is the son of a legendary world champion? "I don't need to be forgiven. I don't feel guilty. I gave somebody a good chance so why should I feel I did wrong?"
Steiner believes that all current F1 racing drivers should look to an elder statesman in the magnificent Fernando Alonso, who is third in the championship standings behind Red Bull's Verstappen and Sergio Pérez – and 15 points ahead of Hamilton in fourth place. "I'm a little surprised how physically he's still so good," Steiner says after praising the 41-year-old Alonso's application and dedication. "I know that racing-wise he's the master in the field. But it seems like he doesn't even feel his age. It is surprising he can take [the punishment of driving a F1 car] and beat others physically."
Alonso has sometimes been the only driver to test the Red Bull duo, who remain on course to win every race this season. Is Steiner concerned by Red Bull's domination? "I'm careful with the word dominance because it can go away quick. Even if Red Bull this year are running away we always had a team which was stronger than the others. Look at Mercedes. They won seven titles in a row but it was always a very interesting championship. Red Bull is very strong, but can they keep this strong? I don't think we need to manipulate the regulations. It will come around again to somebody else."
In the meantime the best entertainment to be found in F1 this season is from the middle to the back of the grid. "Absolutely!" Steiner exclaims. "The difference from fifth to 10th [in the constructors' championship] is three-tenths of a second and it changes from race to race. It's not the same at every racetrack. This is what the budget cut and steady regulation brings you."
He laughs at a reminder that he is now the fourth longest-serving team principal. "Apparently it is correct but it's quite amazing because I'm not doing it this long." Steiner has been in his job since 2014, with Haas racing in F1 from 2016. "I think a lot of people got sacked."
Is he ready for the next nine years? "As long as my health and my motivation is good, I can do three years without a problem, maybe five, and then we see how I feel about it. But you need to be lucky."
Who has been the best team principal during his time in F1? "I would say [Mercedes's] Toto Wolff because he also came in nine years ago. He looked at it very carefully for a long time and he has done a good job – not only the seven championships but also the good organisation and the way he behaves in business."
Wolff and Christian Horner, his counterpart at Red Bull, have also become Netflix stars while sniping at each other. Do Wolff and Horner ever thank Steiner for easing the burden of attention on them? "They will never thank you for anything," he says with a grin. "In here we don't say thank you to each other. No thanks is already a compliment. At least you don't get a complaint."
Steiner insists that he has still watched "nothing" of Drive to Survive. "I will not watch any of it until I retire."
And what does he plan to do when, eventually, he does step away from the F1 paddock? "As little as possible," he says. "I'm very happy now and I'm also thankful to have got a job that I like to do.
"But I'm not scared of losing it and that's maybe why I do things my way."
Surviving to Drive by Guenther Steiner is available at the Guardian Bookshop