People are pointing fingers at Kendall Jenner's latest Instagram post, saying her elongated hand shows the image is filtered or photoshopped.
Jenner's bestie, Hailey Bieber, tried to give the "Kardashians" star a hand in a new video on Wednesday.
"While you're sitting here analyzing, look how bizarre her hand looks normally," Bieber said alongside a clip of Jenner pointing her hand down like she does in the photo.
"This is live ― live footage of the hand!" Bieber quipped as Jenner smiled and laughed.
"been had long ass hands x fingers," Bieber wrote over the video, adding a spaceship and alien emojis.
Maybe that's why it's so difficult for the model to cut cucumbers?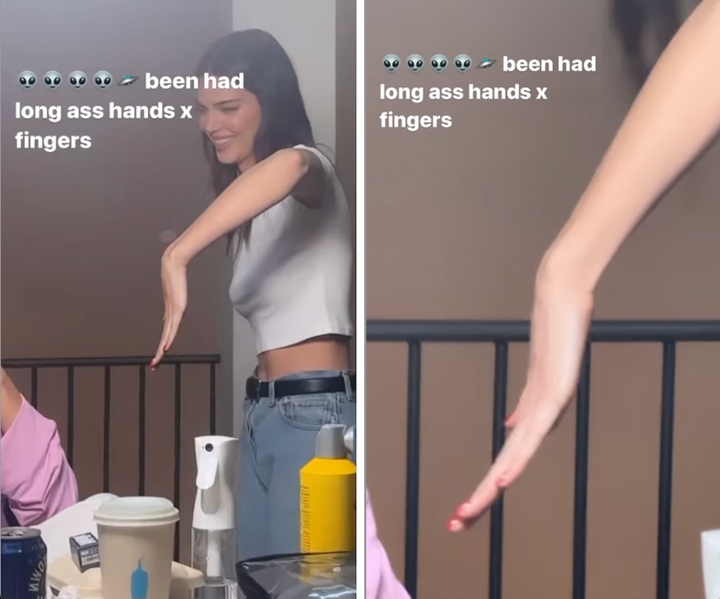 The Kardashian-Jenner crew are no strangers to Photoshop and filter accusations.
Jenner's older sister Khloe Kardashian similarly faced backlash for "freakishly long fingers" in photos she posted two years ago. She insisted she "didn't get a surgery to stretch my fingers" and that a camera lens was actually to blame.
"We shot on a camera lens that creates a stretching effect," the Good American founder said at the time. "The closer the object is to [the] camera they will get elongated. So in some of my photos my feet/fingers look incredibly long. Not to worry! I still have normal size hands/fingers."
"I can't believe I'm even tweeting this LOL," Kardashian added. "My old hands normal sized hands are still in tack."