Halle Bailey continues to happily embrace her role as Disney's newest princess.
The star of the hotly anticipated "Little Mermaid" live-action remake appeared on Sunday's episode of "American Idol" to perform the classic song "Part of Your World" in front of a live audience for the first time.
Bailey certainly looked the part in a floor-length blue gown designed by Michael Fausto. Fittingly, she sang the song while standing in front of Disneyland's Sleeping Beauty Castle, which featured animated projections of tropical fish and other sea creatures.
Watch Bailey perform "Part of Your World" below.
As stunning as Bailey's "Part of Your World" performance looks and sounds, however, the actual conditions in which filming took place were a bit less than magical.
"Singing vocals in freezing cold weather at 3am while park is closed is no joke," Bailey quipped on Twitter late Sunday, "but we did it! only 11 more days until you all can watch the film."
Due in theaters next week, the new "Little Mermaid" also stars Jonah Hauer-King as Prince Eric, Ariel's human love interest, and Javier Bardem as her stern father, King Triton. Much of the early buzz on the film, however, has centered on Melissa McCarthy's diva-licious turn as sea witch Ursula.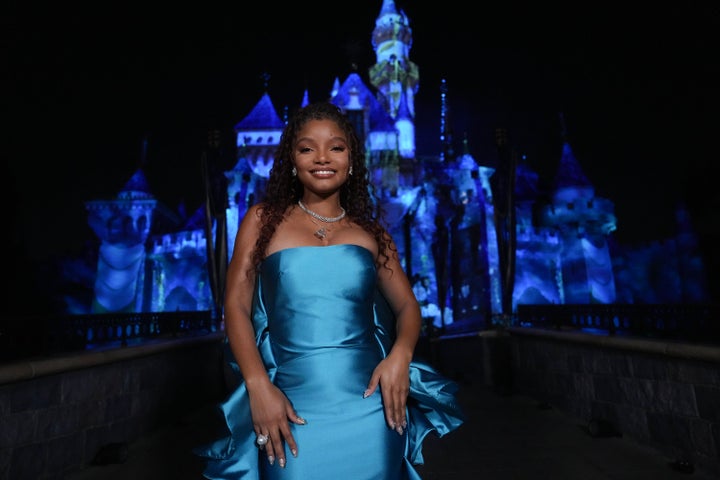 In an interview with Deadline last week, Bailey said she hoped the cultural impact of a Black actor portraying Ariel would outweigh any early backlash news of her casting received.
"It means the world to me, especially for the beautiful babies to be able to see a reflection of themselves," she said. "I am just honored to be a part of this and be one of the princesses now because for me it was Brandy as Cinderella and then Anika [Noni] Rose as Princess Tiana. So the fact that I am getting to continue this and live on this legacy is really exciting and I'm just grateful."