It was not so long ago that even the hardiest revellers shied away from attending Glastonbury. In the 90s, the festival was so wild it briefly lost its licence and was declared a "war zone" and a "very real threat to public order".
How times have changed. This year, the main breach of the peace may be towards whoever forgot the baby wipes and nappies.
Glastonbury organisers have prepared for more children than ever to attend this weekend's extravaganza – featuring headliners Elton John, Guns N' Roses and Arctic Monkeys – after a post-pandemic baby boom led to huge numbers of mini-ravers attending last year.
Unlike at many other festivals, children under 12 are allowed in free with an adult at Glastonbury. That means organisers do not know exactly how many campers in Pampers will attend, but anecdotally they say last year's numbers were one of the highest and are set to be similar this weekend.
Victoria Fisher, 39 and Adam Fisher, 37, have attended Glastonbury 11 times but this is the first with their 15-month-old daughter, Erin.
"We just really wanted to bring her and share it with her because we love it," said Victoria. "We did think we were a bit crazy when we got the tickets, but she's very sociable and outgoing so we thought she would love it."
Glastonbury is an assault on the senses even for veterans of the festival. In only one small corner of the site on Friday, there were naked jugglers, fire-breathing dancers and a woman playing three flutes at the same time – only one with her mouth.
The Fishers said Glastonbury was a brilliant opportunity to expose their daughter to new experiences she may not have elsewhere.
"It's quite a good opportunity to let her try lots of different foods because there's everything here," said Victoria. "She likes the music, and she's been taking her cup round and doing cheers with everyone with their beers.
"She is really enjoying it. The only thing is that it is quite crowded – she is very independent and she loves to run around and play, and there have been times when we haven't been able to let her because it's so busy."
The sight of buggies being pushed wearily through crowds was ever-present last June as many people bought their tickets in 2019, planning on attending the following year.
Then, of course, Covid-19 happened and Glastonbury took a two-year hiatus. When it returned last year, many of those who had bought tickets three years earlier had started families – and decided, bravely, to take their little ones along.
The baby boom has prompted organisers to update their advice to parents. They urge children to stay away from certain parts of the 364-hectare (900-acre) site like the notoriously wild south-east corner, also known as the naughty corner.
These areas are "simply not appropriate for younger audiences at certain times," the advice states. "We strongly advise families with younger children under the age of 13 to leave these areas before 10pm. And even for teenagers under the age of 18, these are areas which may not be suitable late at night."
Parents, meanwhile, are told to agree in advance to a "designated driver" system to decide which one of them will mind the children while the other parties.
Should families need to escape the mayhem for an hour or two, an on-site cinema was showing family favourites such as Matilda, Mario Bros, Puss in Boots, E.T. and Wallace & Gromit.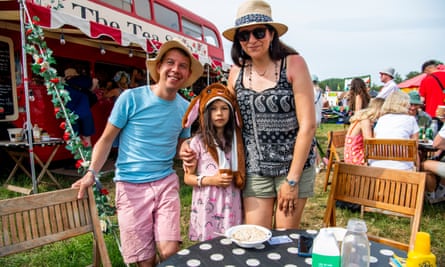 Cristina Martinez-Gonzales, 42, is attending the festival for the third time, with her partner, John Moss and their seven-year-old daughter Georgie.
There are benefits to bringing children along, said Martinez-Gonzales: "Some of the people in the crowds have allowed us to go past them to go to the front so she can have a view of them, and some of the bands have acknowledged Georgie, which has been nice".
The last time Georgie attended the festival was when she was nine months old, so attending now much older is a different experience.
"The festival feels quite safe, and it feels like there are a lot of activities for them," said Martinez-Gonzales. "It doesn't feel like just an adult festival."