To be crowned the best of the best at the Edinburgh fringe is no mean feat. After months, if not years, of preparation, hundreds come to Scotland hoping to bag standup's most illustrious prize. Winning an Edinburgh comedy award can turn a comedian into a household name. Previous victors include Hannah Gadsby, Frank Skinner, Bridget Christie, Rose Matafeo and Tim Key.
But this year, the awards hung in the balance after the sponsor Dave pulled its funding. At one point there was a very real chance that we wouldn't get a competition at all. But thanks to three new sponsors – Sky for the best show award, comedy producers DLT Entertainment for best newcomer, and the Victoria Wood Foundation for the panel prize (which goes to whoever or whatever best encapsulates the spirit of the fringe) – order was restored. And the winners this year are arguably among the most exciting ever. But of course, as one of the judges, I would say that.
For the first time, both show prizes went to people of South Asian heritage. Mumbai-based comic Urooj Ashfaq takes home the best newcomer award for Oh No!, while Londoner Ahir Shah – who has been nominated twice before – won best show for Ends. "I've been coming to the fringe since I was 17," says Shah, "so this is the defining thing of my adult life."
Sitting opposite me in a cafe the morning after the announcement, both winners still seem bulldozed by their success. "It is surreal, that's the only way to describe it," says Ashfaq, who "didn't know what I was getting myself into" on first arriving at the fringe. Her win was a surprising one: Ashfaq has never performed on the British comedy circuit before and came to Edinburgh unknown to many. "I feel like I arrived during season 10 of a TV show – playing a South Asian character," she jokes. "It is a huge twist but I'm really glad it's happening."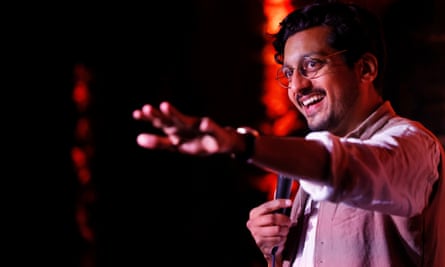 Ashfaq, who is 28 and started comedy back in 2016, seems startled by the beast that is Edinburgh. "It is fun but it's overwhelming," she says. Unlike Shah, her only previous experience was coming last year as a punter. "It was a good learning experience to take back home," says the comic. "The Indian comedy scene is different – it is really new. I came into comedy only five or six years after it had been established."
Although her material has a strong Gen-Z energy, Ashfaq is by no means a total beginner and has an endearing presence onstage. Her show, which has been backed by the Soho theatre in London, is a gentle introduction to her personality and life in India, taking us through her addiction to therapy and her parents' messy divorce – which is quite uncommon in South Asian homes.
Although her win has barely had time to sink in, she is already speaking with enthusiasm about coming up with new material. "In India," she says, "there's so much stuff we haven't said or done yet. Edinburgh has been like school. Watching other people has made me think about new ways to use the stage, or do different things with the set." Ashfaq also hopes her win will bolster the comedy scene in her home country. "In every show I perform in India," she says, "I ask how many people are watching standup for the first time. It is always like 50%. We want to bring more people in."
Shah, on the other hand, has been left in no doubt about the significance of his triumph. "I had a bunch of texts from people who previously won it saying, like, welcome," he reveals, before explaining the origins of his passion: "My dad told me to give comedy a go when I was 15. I was doing open mics in rooms above pubs. I'm 32 but I remember pubs before the smoking ban: I've been doing this for over half my lifetime. Generally speaking, I'm a very boring person. My only interest is the thing I've ended up being. It's a hobby that has got wildly out of hand."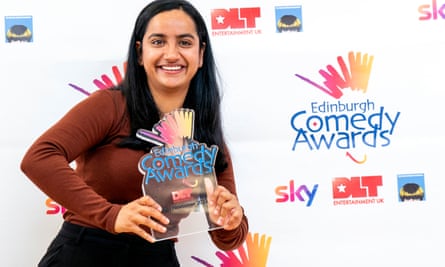 Murmurs about the brilliance and power of Shah's hour had swirled around Edinburgh for weeks. But initially he saw Ends as unfinished and listed it as a work-in-progress. "For a variety of reasons," he says, "the way I was going to approach this month changed quite drastically. But in the latter part of July, I started to think that there was something in it, like it might be all right."
He goes on: "It feels like a mythical, halcyon Edinburgh because my show wasn't initially heavily professionalised – I wasn't shitting myself on day one about spending three grand on PR." It's a surprising admission because Shah's show – about his grandfather's migration to the UK, his forthcoming marriage, and his experience of racism in Britain – feels exceptionally polished. "The story felt very particular to my family, but the lovely thing about performing it has been realising how common it is. These stories go down as legend in your family: they're all about what he or she did and what they had to give up – but so many people have that."
One of the reasons for the show's tricky development was the death of its director, Adam Brace, whom Shah spoke about with great affection at the ceremony. Although he says he and Brace would have "laughed a lot" at the news of his win, Shah was visibly emotional on the two occasions I caught Ends. "You want to give as much of yourself as you can," he says. "But there are bits you have to hold back. I know, having put myself through a certain type of wringer before, you have to not live it every day."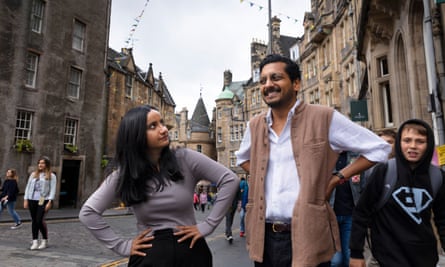 Given that these awards can change lives, what is next for these comedians? "Right now," says Ashfaq, "I'm just excited to go home and show off to my friends. I have a knee-jerk need to have a big party and be like, 'Look at this!'" She has clearly been energised by the whole fringe experience. "I want to come back every year," she says. "You perform every day for 30 days no matter what you're feeling. It is different every day. I've done an angry show, a happy show, and I've performed the show exactly how I wanted it to be."
While Shah is not sure about his future career and the bigger picture, he knows he wants more audiences to hear the stories he tells. "I've found a real comfort in the realisation of how universal the particular can be."
Despite not knowing each other before this fringe, the two standups seem somehow bonded, riffing off each other's replies, laughing along together, fascinated by one another's craft. And the exhilaration of winning is showing little sign of wearing off. So how did it feel when their names got announced? "I panicked and ran off," says Ashfaq, while Shah suddenly remembers something. "I need to ring my mother," he says.