Key events
Here's an interesting stat. Worth noting that only two of the supposed 'Fab Four' are on this list.
Just been informed that we have to play at least 81 overs before this can be called prematurely. We've played 64.
John Ellis captures the true meaning of this plodding affair:
"The point of this is batting practice against India fir the WTC in June!"
Quite right, John. It all makes sense now.
64th over: Australia 158-2 (Labuschagne 56, Smith 0) That is a wonderful ball to bring the session to a close. Past Labuschagne's bat to close out a maiden and a mini spell that has nabbed the breakthrough. I'm off to make a quick cuppa. Speak soon.
63rd over: Australia 158-2 (Labuschagne 56, Smith 0) Top shot, Marnus. A whipped drive off the back foot pierces the off side field and scampers away for a boundary. Too right. That was dross from Aswhin. Marnus then squeezes a single past point. One more over before tea.
Rob Moline is in touch re Tests ending on the final delivery:
"I've got an idea the original tied test Australia v. West Indies back in 19960 or whenever finished on the last scheduled ball of the five days. The 8th ball of the final over. Australian batsmen were running for the wining run, but one was run out so a tie. Not a win, but still a result on the last scheduled ball of the five days."
Quite right. Here's the scorecard, in case you're interested.
62nd over: Australia 153-2 (Labuschagne 51, Smith 0) DROPPED! That's a top nut from Axar that catches the outside edge of Steve Smith but it's dropped behind the stumps. One of those ones that either sticks in the 'keeper's gloves or it doesn't. This clatters into Bharat's pad instead. Another maiden. All of a sudden this feels like a Test again.
61st over: Australia 153-2 (Labuschagne 51, Smith 0) Aswhin hurls down a maiden. He's much flatter than Axar and Marnus is happy to play with soft hands and a flat bat.
60th over: Australia 153-2 (Labuschagne 51, Smith 0) A wicket maiden for Axar Patel who castles Head with a ripper of a delivery, though on second viewing it was a loose stroke from the set batter. Now we really must ask what the point of all of this is. There's no chance India are going to win this. Then again, Test cricket has served up some weird morsels lately.
That's Axar Patel's 50th Test wicket in 12 matches. He's the fastest slow left armer to reach the milestone for India.
WICKET! Head b Axar 90 (Australia 153-2)
Oh no! What a shame. Travis Head falls 10 runs short of what would have been a richly deserved ton. It's a classic left arm finger spinner dismissal to the left handed batter. He's dangled one outside the off stump and invited the booming drive only to turn it back through the gat and clip the top of off. Deliciously flighted and Head takes the bait. He'll be so disappointed but you can't blame him for trying to play against the turn. He'd been in complete control throughout.
59th over: Australia 153-1 (Head 90, Labuschagne 51) Right then, Head is within 10. Can he get there? He's got three more with a couple towards deep square and a single to fine leg. Moving nicely. He'll deserve his ton if he reaches it.
"Daniel, mate, don't mean to be rude but 'New Zealand have won the test by two wickets' doesn't really do justice to the drama."
Hi John Pagani. Thanks for dropping in. You're not being rude. You're spot on. What drama from earlier in the day!
"Two weeks after beating England by one run, they beat Sri Lanka by scoring the winning run *from the last ball of the test match.* I mean the winning run is always scored from the last ball, but this was the last ball scheduled from five days. Has this ever happened before? Let alone the two closest results not being ties ever, in two consecutive matches against two different opponents.
"It's amazing!"
It certainly is. Every time you think New Zealand are buried in a Test they pull off something remarkable. It's probably why they're everyone's second favourite team.
58th over: Australia 150-1 (Head 87, Labuschagne 51) Marnus has a milestone! It's come on the last day of the tour but Labuschagne has finally passed 50. It's taken 150 balls, he's worked hard, but after clipping a boundary past square leg and then taking a couple off his hips wide of fine leg, he's afforded the opportunity to raise his bat.
57th over: Australia 144-1 (Head 87, Labuschagne 45) Ashwin returns, because why not. He's a lovely operator so I'm happy to see him bowl. He's getting it to spit on occasion. Look, it's a flat deck, so when I say 'spit' I'm using that term rather loosely. Anyway, two singles and a leg bye off the final ball in that one.
56th over: Australia 140-1 (Head 86, Labuschagne 44) Shot Marnus! It's a half volley on his pads and he's never going to miss out on that. Just a gentle lean forward and a turn of his wrists sees it skim across the outfield like a water striding insect. A single apeiece earlier in the over keeps the score ticking along. For what it's worth, the Aussies lead by 49)
55th over: 134-1 (Head 85, Labuschagne 39) Ooo, that's a nice ball from Jadeja and it turns before catching the outside edge of Labuschagne's bat. But he's played that with the softest of hands so it just trickles behind square for a single. Head picks up a single and a two in that set as well. There's an appeal for leg before as Head lunges forward and seems to make contact with the ball with his pad before clonking it with his bat. Sharma thinks about the review but just gets on with it.
54th over: Australia 130-1 (Head 82, Labuschagne 38) A bowling change. Yadav on for Shami. Labuschagne works one down to deep third before Head slaps a four to the cover fence. That was flat batted with disdain. Perhaps the only reason we're continuing with this procession is to encourage Head to reach three figures. He's just a few lusty blows away.
53rd over: Australia 124-1 (Head 77, Labuschagne 37) A maiden from Jadeja. There's a bit of excitement as Marnus drops his bat at the non-strikers end. Yup, that's what we're counting as excitement in this one at the minute. An aerial shot of this gargantuan and cavernous stadium shows how empty it is on the plodding Monday morning.
52nd over: Australia 124-1 (Head 77, Labuschagne 37)Shami after drinks from around the wicket. Head is seeing it like a pumpkin and creams a drive down the ground. Bu Shami shoots out a size 11 and stops it. He switches to over the wicket and Head middles a lovely flick to the man down in the deep. It's good cricket but it all feels a little pedestrian.
This drinks break is taking an age. Possibly a sign that the players aren't too keen to get going. Who can blame them. This game is dragging to a pretty tame end.
Get a load of this. It's always worth a gander when a batter is bowled but the bails don't move. Even more so when the wickets light up!
51st over: Australia 123-1 (Head 76, Labuschagne 37) Jadeja continues and Head is looking to smear, not drive, smear anything full. One trickles to the man at coer but another is clubbed down the ground for a single. Marnus is on the defence until drinks are brought out to the field.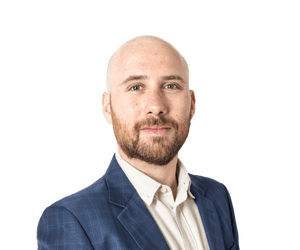 Daniel Gallan
Top work Angus. Thanks for a mighty shift across the series. Hi everyone. Here we go, one last time.
50th over: Australia 122-1 (Head 75, Labuschagne 37) With one leg-bye from the over, Australia safely 31 runs ahead and Travis Head anointed as the next Australian captain, I will retire from the OBO stage and allow my colleague Daniel Gallan to take strike. Thanks for joining me today and during the series. It's been beaut. Happy trails!
49th over: Australia 121-1 (Head 75, Labuschagne 37) Here's a head-scratcher for you. If Pat Cummins doesn't return as captain and Steve Smith retires or begs off as a permanent replacement, does the captaincy pass to Travis Head? At 29 he is the right age, having debuted for South Australia as an 18-year-old and earned his Test cap at 25. He's been in and out of the side since but is now in the greatest form of his career, leading from the front with bat and attitude. Sounds like a skipper to me. Just a single from this over.
48th over: Australia 120-1 (Head 75, Labuschagne 37) The hundred partnership is up for Head and Labuschagne. It's been a good one. Tough batting at first but it is definitely getting easier as the day has drawn on and the ball has softened. Head proves the point, flaying Mohammed Shami to the boundary for FOUR.
47th over: Australia 112-1 (Head 70, Labuschagne 36) Head moves to 70 by walking a single from Jadeja like he's strolling a Willunga beach with a can of West End Lager in hand. He's been out there for 127 balls now striking at 55 with eight fours and two sixes.
46th over: Australia 111-1 (Head 69, Labuschagne 36) In the air. In the gap! Head takes four more from Axar Patel's tenth over. He didn't get it cleanly but the force of the inside edge was enough to send it all the way. Head deserves a century here. He's batting with freedom and flair and determined to end this tour on a high note after the terrible lows of the first two Tests.
45th over: Australia 105-1 (Head 64, Labuschagne 35) Now that's a Head shot! Two steps down and an angled slice to send Ashwin over gully for FOUR. Australia take a couple of singles as India loosen their grip. And the shackles are off as Head steps forward and drives Ashwin down the ground and over the fence for SIX! Twelve runs from the over and that magnificent heave brings up the hundred for Australia. They now lead by 14.
44th over: Australia 93-1 (Head 53, Labuschagne 34) FOUR from the first! Patel put it on leg stump and Labuschagne helped it all the way to the boundary. With that shot the deficit is no more and Australia now lead by 2 runs.
43rd over: Australia 89-1 (Head 53, Labuschagne 30) Travis Head now has 13 half-centuries to his name from his 35 Tests. He had already proved himself one of the cleanest hitters and most exciting counter-attackers in the game but he's shown real mettle and character to come back from the selector's insult to drop him for the first Test in Nagpur. Ever since his rightful reinstatement to the XI he's made that axing and the theory that he can't play spin look like twaddle.
42nd over: Australia 88-1 (Head 53, Labuschagne 29) India's intensity has dropped significantly since they got news they were heading to the WTC final. The Hindi chatter has risen in volume and merriment too, as Head takes two from Patel and then follows it with a smart late cut for FOUR. That's his fifty and a good one it's been. Given Head's success at the top of the order and David Warner's steep decline it will be hard not to keep him as opener for the Ashes.
41st over: Australia 82-1 (Head 47, Labuschagne 29) Head shimmies one around the corner for a single leaving Labuschagne to survive a weird appeal. Marnus threw his arms in the air after that ball zipped past the bat but Bharat has taken the bails off and squawked for a stumping. Replays show both feet grounded and perhaps one in Bharat's mouth after that time-wasting effort. Labuschagne makes amends, stepping back to flatter ball from Ashwin and cutting sweetly through cover to register a FOUR, his third of the innings.
40th over: Australia 77-1 (Head 46, Labuschagne 25) Axar Patel bowls a rudimentary maiden to Labuschagne but Marnus looks like he wants to be there at the end so the weapons stay holstered, the bat is five foot wide and it's a maiden. Australia now trail by 14 runs.
39th over: Australia 77-1 (Head 46, Labuschagne 25) Sweep and a miss! Travis Head has been disciplined so far and the bogey shot has been firmly under his baggy green cap… until now. Ashwin drew him out but dropped it short and Head put a big hoof down the wicket and reached for it via the sweep. But he missed and it caught a bit of shirt before narrowly missing the stumps.
38th over: Australia 77-1 (Head 46, Labuschagne 25) News just in: New Zealand have won the first Test against Sri Lanka by two wickets, thus ensuring India's safe passage into the World Test Championship final at Lords against Australia. Meanwhile back in Ahmedabad, Marnus Labuschagne has driven Patel through extra cover. Nice shot but he only gets two for it.
37th over: Australia 75-1 (Head 46, Labuschagne 23) Welcome back, folks! An intriguing second session awaits. India bowled superbly in the first two hours and if they do so again, and get just reward for their labours, this Test may yet have some twists. Travis Head doesn't look fazed. He jabs a single from the first ball after lunch leaving Labuschagne to fend off a ball that grips and bounces. Kohli goes crazy with an appeal at slip but he was unsighted and Ashwin looks at him like stern schoolmaster and shakes his head. Just two from the over.
Chris Murdoch has been in touch…
"Hey Angus, If we can't organise lead up matches, could we at least play 5 Tests? For mine the series, as a competition between these two teams, has become more interesting as the series has gone on. I'll be sorry, regardless of the result of this one, to see it end."
You and me both, Chris. But we'll get a "fifth Test" between Australia and India in the form of the World Test Championship final in June PLUS we have three ODIs between these nations starting on Friday. That should prolong the summer vibes before the footy scarves come out of the shed (if they haven't already).
LUNCH Day 5: Australia 73-1 (Head 45*, Labuschagne 22*). Australia trail by 18 runs
As the players take the 96-step stairway to the dressing-rooms, both teams will be smiling, I'd venture. Australia have chiselled 70 runs for the loss of just one wicket and India have attacked with vim to give themselves every chance of wickets. A draw seems most likely but Australia ain't out of the woods just yet.
India will also enjoy the news that New Zealand have rallied in Christchurch and now have Sri Lanka on the ropes, needing just 38 runs to win the first Test with five wickets in hand. If the Black Caps ice that win, India are officially a lock for the World Test Championship on June 9 against Australia in London and this Test gets a sequel of sorts on the grandest stage of all.
Will the Aussies break the shackles after running down this lead? Or will India put the fear of Ganesha into them with a clatter of fast wickets? We'll find out after the break when this road of a pitch hosts the penultimate session of the series.
36th over: Australia 73-1 (Head 45, Labuschagne 22) Last over before Lunch and it's Yadav spearing it in at Head. He squirts an attempted yorker fine for a single off the first ball leaving Labuschagne to flat-bat the next five and reach the sanctuary of the lunchtime buffet intact. Enjoy your Gujarat thali, Marnus!
35th over: Australia 72-1 (Head 44, Labuschagne 22) Weird but effective! Labuschagne leapt out to Ashwin's first ball and tried to defend with both pads at once. Instead it squirted off the bottom edge and got him a single. Big appeal against Head on the fourth ball and Ashwin likes it so much India will review. It definitely hit Head's front pad and caught him in front, as his bat snagged slightly on the back of the pad as it came down. Onfield decision is NOT OUT but India will review. Replays show it not turning enough so the decision will stand.
34th over: Australia 70-1 (Head 43, Labuschagne 21) India feel the need for speed. Umesh Yadav is replacing Ravi Jadeja at the Adani end. This is his first over for the innings and he'll be hunting for a hint of the reverse swing that got him wickets in Indore. It's been a rollercoaster series for the 35-year-old wannabe policeman. Yadav's coalminer father passed away on the eve of the third Test in Indore and his daughter was born on the eve of this Ahmedabad Test. Despite such momentous events Yadav has played both games and bowled well, if a tad errantly. He gives away just two from his first over today.
33rd over: Australia 68-1 (Head 41, Labuschagne 21) India are bowling well but Australia are fighting hard. Head and Labuschagne take another three from this Patel over to make this partnership 55 runs from 135 balls, a good recovery after the early loss of nightwatchman Matt Kuhnemann.