Key events
45th over: Australia 162-4 (Khawaja 77, Handscomb 26) Just a single nudged off Ashwin. So, how is everyone? Feel free to fling me an Email or tweet @Jimbo_Cricket
44th over: Australia 161-4 (Khawaja 77, Handscomb 25) The cap sporting Handscomb rocks back and gets four through point, that's the fifty partnership. A single into the covers follows. Lovely batting.
43rd over: Australia 156-4 (Khawaja 77, Handscomb 20) Rohit had a long chinwag with his team during the drinks break and Ashwin is summoned for the first over back. He lands it on a spot about the size of a pocket handkerchief six balls in a row, Peter Handscomb manages to jam down on a fuller one and scamper a single. Fascinating duel this.
Chapeau to Robert Speed! "Watching a batsman play a shot with his normal cap on (no helmet) hits different. You can see how their eyes follow the ball much better than with a helmet on. Handscomb's cut shot boundary through point was so pleasing on the eye for the very reason he wasn't wearing a helmet."
42nd over: Australia 155-4 (Khawaja 77, Handscomb 19) The partnership builds as Khawaja tickles Axar away fine for a boundary, he's going at a decent lick in this knock and Handscomb is a usefull foil. A slash for two sees two more added to the score and the players will have a drink. I've just had a coffee delivered to my OBO perch, la-di-dah.
41st over: Australia 149-4 (Khawaja 71, Handscomb 9) Thanks Angus, top stint that. G'day OBO! Straight down to brass tacks as Jadeja is rattling through another over. Khawaja plays a neat reverse dab to pick up a single, Handscomb nudges one up to long leg to return the strike. Khawaja is watchful, playing late and deep in his crease, a prod into the off makes it three from the over.
40th over: Australia 146-4 (Khawaja 69, Handscomb 18) Axar is posing no problems so far. Handscomb easily picks off a single, again using his feet to skip to the pitch of the ball. Khawaja does the same from the fourth. Far better signs from the Australia batters in this innings but a long way to go yet. And better signs for you dear readers as James Wallace strides to the crease to take over!
39th over: Australia 144-4 (Khawaja 68, Handscomb 17) Khawaja reverse sweeps for four! Jadeja is slinging them in at 95kph and the pace is being exploited. From the next ball, Khawaja plays an orthodox sweep and bags another boundary. India captain Rohit Sharma has his hands on his hips and a frown on his dial. Wicketkeeper Bharat deepens those furrows by then letting through four byes. Twelve from the over.
38th over: Australia 132-4 (Khawaja 60, Handscomb 17) Australia climbing back into this contest. Khawaja and Handscomb are rotating the strike, carving the occasional boundary and putting pressure back on India. It's working. The field is starting to spread and that's opening up gaps to exploit. Another three runs from that Axar over.
37th over: Australia 130-4 (Khawaja 58, Handscomb 16) Khawaja sweeps for a single to give Handscomb a first taste of Jadeja. Batting in his baggy green, he leans back and cuts for four! Great shot. Given he's been in exile for the past three years, it's easy to forget Handscomb's Test career started so well, with 54 against South Africa on debut and then a maiden century in his next Test against Pakistan at the Gabba. He's a popular figure in and around the team too so there'll be plenty wishing him well in this innings.
36th over: Australia 124-4 (Khawaja 57, Handscomb 12) Here's Axar Patel, a fine bowler with 48 wickets from his nine Tests so far, but only one them in his 13 overs in the Nagpur Test. Scored a cracking 84 with the bat though to keep everyone happy. He leaks three singles from his first over today.
35th over: Australia 121-4 (Khawaja 55, Handscomb 11) Australia's run-rate is climbing again and their intent is positive and aggressive, a welcome sight to all. Khawaja takes another single as Axar Patel takes the ball.
34th over: Australia 119-4 (Khawaja 54, Handscomb 10) Shami's radar is right on now. He was wayward in the morning session but with 2-33 from his nine overs so far he's got new pep in his step. He's firing them in at Handscomb at 135kph. On the fourth ball the batter uses that pace against him, unfurling a lovely swipe to the long on boundary. Good shot by Handscomb. He looked good in the first innings in Nagpur for his 31 from 84 and might've had more if he'd played his shots late and not shown too much faith in the tail. Doesn't look like he'll hold back today. He cover drives the final ball for a glorious boundary.
33rd over: Australia 110-4 (Khawaja 53, Handscomb 2) Handscomb takes another single off Ashwin but Australia are deep into their middle-order now. They have the highly capable Alex Carey to come but without Mitchell Starc and Cameron Green, and with Pat Cummins in dire form with the bat, it's a long tail.
32nd over: Australia 109-4 (Khawaja 53, Handscomb 1) Just when Head threw down the gauntlet with a six in the last over, Shami put a faster ball in his ribs to cramp him. Of course Head couldn't resist trying to squeeze it through gully for runs but it rushed on, caught the edge and Rahul sank to his knees at second slip to take it a fine catch with arms upraised. Peter Handscomb, usually a good player of spin, takes a single to get off the mark
WICKET! Head c. Rahul b. Shami 12 (Australia 108-4)
Head has fallen for it! Shami hung it out wide knowing he'd chase it and he did. But instead of a glorious cut shot it's a thick edge to a high-flying Rahul at second slip. Good bowling by Shami. Not a great shot by Head. Live by the sword, die by the sword…
31st over: Australia 107-3 (Khawaja 52, Head 12) Head goes over the top for six! Ashwin befuddled him a little with the first two but Head used his feet well to get to the pitch of the ball and played with the spin to lift him over the fence. Ashwin doesn't mind. He's an aggressive bowler and he knows it's a risky shot.
30th over: Australia 101-3 (Khawaja 52, Head 6) With David Warner's scalp hanging from his belt, Mohammed Shami charges in for a fresh spell. He was a bit loose in the morning session – his six overs went for 30 runs – but 219 Test wickets at 28.2 suggest he's always dangerous. Khawaja believes it, playing out a maiden.
29th over: Australia 101-3 (Khawaja 52, Head 6) A trap has been set for Khawaja. Knowing his preference for the reverse sweep, captain Rohit Sharma has placed two men to stop the shot or snaffle any skied miscue. Khawaja pats a single into the offside to hang onto the strike. Looks like Shami is back in the attack.
28th over: Australia 100-3 (Khawaja 51, Head 6) Khawaja brings up Australia's hundred with a single off the hip to Siraj. Head is forward and driving to the fourth ball but good fielding in gully denies him a run. He pulls at the next but he's cramped and it doesn't connect. Siraj bounces another tracer bullet past the hairs on his chin but Head swerves easily out of its path. Intriguing battle here. Head has shown he won't abandon his stroke-making and that gives India big sniff of a wicket.
27th over: Australia 99-3 (Khawaja 50, Head 6) How will Head go against the spin of Ashwin? Ravi is hunting his 100th Test wicket against Australia and why not Travis's Head on a pike? Huge test for the man who, in 2015, at the tender age of 21 became South Australia's youngest ever captain. He survives the over.
26th over: Australia 99-3 (Khawaja 50, Head 6) Some chin music to start us off! Clearly Mohammed Siraj has done his homework on Travis Head's dislike for the short stuff and so whizzes one under his nose first ball after lunch. Ishant Sharma exposed this weakness a few summers back and in his absence Siraj is looking unnerve Head early. But the South Australian is equal to the challenge. He cuts hard and sends the ball to the third man boundary. Nice shot Trav! And a positive show of intent for a man who, common sense says, should never have been axed for the first Test in Nagpur. Head cuts again for a single from the last.
As we ready for the second session, it's a good time to recap on what led us to this point (and this team) via Geoff Lemon's preview of this second Test…
LUNCH: Australia 94-3 (Khawaja 50*, Head 1*)
What a session that was! Australia were cruising at almost four runs an over with Usman Khawaja and Marnus Labuschagne well set, smacking plenty of boundaries and had 91 runs on the board with the loss of only David Warner. Then all hell broke loose. Ravi Ashwin and Ravi Jadeja struck with two wickets in three balls to dismiss Labuschagne and then Steve Smith second ball to upend the innings. And it was almost three wickets in four balls when Jadeja's next ball struck Khawaja on the pads just outside the line. But he survived and so did Australia. On a pitch doing plenty for both seamers and spinners, Australia made great hay with 94 runs from that first session. But their collapse in the final ten minutes has cost them and put India's noses in front. Can Khawaja kick on to a 14th Test century? Will Travis Head make the selectors eat crow by vanquishing his spin demons at last? Or will India's spinners weave another web of deceit and decimation to skittle Australia cheaply on Day One? After a bit to drink and a bite to eat, we'll find out.
25th over: Australia 94-3 (Khawaja 50, Head 1) Khawaja gets his fifty! Aside from that scare in the final over and a few errant moments, it's been a fine innings. Lots of aggression and strong defence when the moment called for it. That's the 36-year-old's 20th half-century for Australia. It comes from 74 balls and keeps his 57-Test veteran's 50+ Test average nicely in check. Travis Head takes a single from Ashwin's tenth over to settle his nerves and get off the mark. And that'll be lunch on day one.
24th over: Australia 92-3 (Khawaja 49, Head 0) Huge appeal by Jadeja for LBW against Khawaja! Onfield decision is OUT. Is it three wickets in four balls for India? NOT OUT! Australia breath a huge sigh of relief. Labuschagne and Smith gone in a flash and then Khawaja would've turned this Test on its head. Poor Travis Head! He comes to the wicket with his mind scrambled by selectors and the ashes of his No 3 and No 4 still smoking. But he survives his first four balls.
WICKET! Smith c. Bharat b. Ashwin 0 (Australia 91-3)
Huge wicket as Smith goes second ball! He played inside it and Ashwin found a little extra from this Delhi pitch and Bharat took a sharp catch down low. Huge blow for Australia. In the space of three balls India are on top!
WICKET! Labuschagne LBW Ashwin 18 (Australia 91-2)
Marnus is filthy but he's gone! Great review by India. They saw the ball had beaten bat and hit pad inline and they took it upstairs and got it right. Steve Smith could see it was out too – he was on his feet and walking out before the third umpire called it as out!
23rd over: Australia 91-1 (Khawaja 48, Labuschagne 18) Big appeal by Ashwin against Labuschagne and this looks close! Onfield decision is NOT OUT but India are confident and will review. It's beaten the bat and hit pad first but is it inline…? No 4 Steve Smith thinks so. He's on his feet ready to walk out!
21st over: Australia 88-1 (Khawaja 47, Labuschagne 16) Single from the for Khawaja from Ashwin's eighth over but Labuschagne dabs the next five back. That brings up "The Devil's Number" for Australia. The origin of this superstition stretch back to December 1929, when a 10-year-old Keith Miller saw Don Bradman bowled for 87 by by Harry 'Bull' Alexander on 87. Miller forever after saw 87 as unlucky and spread the rumour of its curse throughout his long epic career. After the war, Miller acolytes Richie Benaud and Alan Davidson picked it up and ran with it. Only then did Miller, by now long-retired, check the scorebook from that game all those moons ago. uh-oh. Bradman was actually bowled for 89! The scoreboard attendant had been slow. But the legend stuck and Khawaja doesn't care. He runs a single to take the total to 88.
20th over: Australia 86-1 (Khawaja 45, Labuschagne 16) Ravi Jadeja into the attack and straightaway an appeal for LBW! Onfield decision is NOT OUT but India will review. Khawaja missed it and it bounced on him, banging into the front pad. But while replays show it as inline it's not convincing enough and India lose the review. Chastened but cool, Khawaja throws down the gauntlet to Jadeja on the next, standing tall to reverse sweep for four. Clearly Ussie has decided to play the aggressor, something the Australia batters lacked in Nagpur. Labuschagne follows suit, getting down low and sweeping Jadeja to the rope again. Great Shot! Fantastic intent from Australia here. Pressure back on India.
19th over: Australia 77-1 (Khawaja 40, Labuschagne 12) Bang goes Khawaja! That first ball from Ashwin angled in but Khawaja sank to one knee and swept him for four to fine leg. And now some frivolity! Marnus wandered down a few steps and Ashwin stopped his action and swung back to his mark. No eye contact, no words exchanged, just a silent threat to stay in your box or maybe I'll Mankad you. Khawaja runs a single, still smiling about it. Labuschagne is deadly serious though. He pulls for four from the last ball.
18th over: Australia 68-1 (Khawaja 35, Labuschagne 8) What will Marnus make of Mohammed Shami? Not much, it seems! He seizes the initiative straight away and swoops on a wider ball to on-drive for four to get off the mark. Then the Luck of Labuschagne kicks on and he edges the fifth Shami delivery for another four. Scoreboard is rattling along at almost four an over now… that's if you can see the scoreboard through this Delhi haze.
17th over: Australia 60-1 (Khawaja 35, Labuschagne 0) After a wicket-maiden and 220th Test wicket for Mohammed Shami, it's Marnus Labuschagne swaggering out. Even the world's No 1 batter will be tested on this dervish of a Delhi wicket. Luckily, he's got Khawaja looking calm and measured at the other end, a fact he reinforces when he takes two runs from Ashwin's second ball and reverse sweeps four two balls later. The fifth ball is another boundary but this time they're lucky runs. Ashwin spun it past the advancing batter and straight past the gloves of Bharat. Ten from the over!
WICKET! Warner c. Bharat b. Shami 15 (Australia 50-1)
Shami has got him this time! Warner didn't look convincing coming forward and so he went back late, got trapped on the crease and his hard veteran's hands sent a big edge to the 'keeper. Warner hangs his head walking off. Despite being out of form, he'd hung tough for 44 balls and got himself to 15. But all that hard work has been undone by a bit of away-swing for Shami and a sharp catch by Bharat.
16th over: Australia 50-0 (Warner 15, Khawaja 29) Shami's wonky radar has seen Sharma set a more defensive field this time. India can't afford 13 runs off an over. This time he goes around the wicket to Warner…
15th over: Australia 50-0 (Warner 15, Khawaja 29) Ashwin beats the edge! Khawaja is holding his line, backing his eye and playing for spin. It worked that time but how long can he hold Ashwin out on a deck that is starting to fizz? At least his feet are moving to the pitch of the ball, unlike many of Australia's batters in Nagpur. Ashwin rolls down another maiden.
14th over: Australia 50-0 (Warner 15, Khawaja 29) Fascinating first hour. Australia will be encouraged at getting to the first break with both wickets intact and a few runs on the board. India will take heart from the pitch doing plenty for both pacemen and spinners. Looks like we'll get a similarly interesting second hour. Shami's first ball of his fourth over draws an inside edge and rueful grimace from Khawaja as it narrowly misses the woodwork and runs away for a boundary. The Islamabad-born, Sydney-raised Queenslander takes a single from the next to give Warner some strike. He cashes in, jumping onto one leg to dig a hort ball out of hi rib cage and run it to the fine leg rope. Shami is upset and it shows. He bounces Warner next ball but he simply props his bat parallel and cuts it for another four. Thirteen runs from that Shami over and the 50 is up!
13th over: Australia 37-0 (Warner 7, Khawaja 24) Almost a catch! Warner is still nervy and he lunges to Ashwin' first ball and for a moment it takes a dangerous arc into the air. Falls safely but an inside edge to the next that narrowly misses off stump doesn't convince anyone that Warner is seeing them. He wants to be Dave Warner The Punisher of old but at 36 years old, and in nowhere near the form of his roaring years, he might be better off curbing his ego and playing smart and safe to get his eye in. Maybe a bit of neck oil will sooth the savage beast? Drinks.
12th over: Australia 37-0 (Warner 7, Khawaja 24) Will we see more bouncers from Siraj here? He's rattled the Australian batters already by banging it in short. Warner scampers a single from the push to long on. Faced with a scrambled seam on the next, Khawaja defends and gets an educated edge that runs away for another four. Sharma brings his gully in closer to almost a fourth slip. Plenty happening at the moment. Siraj's variation – outswingers, chin music, channel balls – has beaten the batters edges and frayed their nerves. He's also delivered some bruises and Khawaja ducks into another one on the last, wearing it on the right shoulder but smiling through the pain.
11th over: Australia 32-0 (Warner 6, Khawaja 20) Big appeal from Ashwin! Khawaja lunged to one knee and it went straight past bat, front pad and thudded into the back leg. Not out! Khawaja edges the next and it's dropped. The next narrowly misses the edge again. On the last, in either desperation or bravado, Khawaja steps down, meets it on the up and calmly puts it over the fence. Six!
10th over: Australia 26-0 (Warner 6, Khawaja 14) Siraj bowled three bouncers in the last over, more than we saw in the entire Nagpur Test. And he got spicy results from all of them, striking both Khawaja and Warner on the arm, and sowing seeds of doubt. But Siraj tries too hard on his second ball and Warner swats him into the deep, and on this fast outfield it runs away to the boundary very quickly. We've seen a bit of swing, a snifter of spin and some skid from this pitch so far. Big play 'n' miss from Warner to the fifth. Nothing shot and that's why Siraj threw back his head. He's been trying to tempt Warner to chase one and that time he did only to swish without any contact. Another bouncer on the last! Warner tries to hook but he flinched, blinked and missed. The ball ballooned for a moment but fell safe in front of all three slips. Warner has been struck again here, this time to it looks like a top-edge into the helmet. We'll be delayed for a moment for concussion protocols.
9th over: Australia 22-0 (Warner 2, Khawaja 14) Lovely over from Ashwin to Khawaja – a maiden.
8th over: Australia 22-0 (Warner 2, Khawaja 14) Bouncer from Siraj! And it whacks Khawaja right on the point of the elbow. He took his eye off that but he scampers a single and smiles when he gets there. That would've stung but he's survived. Fourth ball is another bouncer! This time Warner tries a hook shot but it comes off the bottom edge and ricochets into his forearm near the elbow. Warner immediately raises his arm and this time it's Australia's physio coming onto the ground. For all his strut and bravado, Warner is really wincing here, wiping away what appears to be sweat rather than tears. Finally, the strapping is on and the over is concluded with no further score.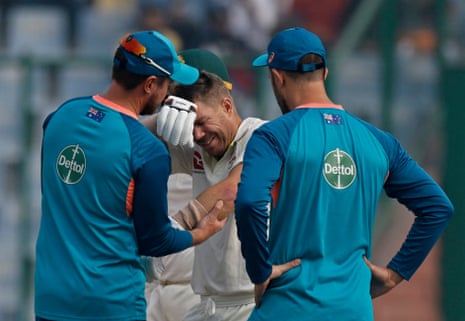 7th over: Australia 21-0 (Warner 2, Khawaja 13) First bowling change for India and it's Ravi Ashwin, the first Test destroyer with 3-42 and 5-37, coming on to replace Mohammed Shami. Warner sees off his first five balls and, after 20 scoreless balls, finally late cuts for two runs to get off the mark. Phew!
6th over: Australia 19-0 (Warner 0, Khawaja 13) As Siraj bowls out a maiden, we're seeing rousing footage of the pregame presentation to Cheteshwar Pujara, India's 100 Test tyro. The 35-year-old has over 7000 runs at 44 and 19 centuries and has long been a thorn in Australia's side.
5th over: Australia 19-0 (Warner 0, Khawaja 13) Shami hasn't got his radar right so far. He's spraying them wide of off and down leg but Khawaja isn't tempted to flay at the former and can't get a nudge on the latter. He's climbing through the famous Delhi smog to get to the popping crease although I believe this is a "clear" day by normal standards, certainly not enough to delay play and have players don masks as the Sri Lankan players did in 2017! Khawaja clips a single from the last to retain the strike and keep Warner sweating on his first run.
4th over: Australia 18-0 (Warner 0, Khawaja 12) Siraj fires his first ball in full and Warner is forward, straight driving it down the ground. Smart fielding from Siraj to stop what seemed a certain boundary off his bowling. Or was it? Seems he's split the webbing of his bowling hand. The Team India physio is running out for running repairs but after a short break Siraj resumes. After taking 38 balls to get past two runs in Nagpur, Warner hasn't scored from his first 14 balls here. He'll be sweating on a run to get off the mark. It shows as he plays and misses on the last. That's a maiden by Siraj but he had to bleed a little for it.
3rd over: Australia 18-0 (Warner 0, Khawaja 12) Shocker from Shami! The ball slipped out the side of his hand there and he has the ignominy of waiting for the umpires to call it as a no-ball or a wide. It's a wide and he follows it with one that gets past Srikar Bharat the 'keeper to notch a fifth bye in just the third over. Khawaja cashes in on Shami's troubles by rolling his wrists on the fifth and sending it to the fine leg rope. There's a catcher there but he had no chance. Interesting stat from the first Test: despite all the talk of spin and the deployment of silly points and leg slips, none of the close-in men took a catch as 22 of the 30 wickets were unassisted. Final ball is another four to Khawaja. He has 12 from 11 already. Nice start for Australia. At this point in Nagpur both openers were back in the pavilion!
2nd over: Australia 8-0 (Warner 0, Khawaja 4) Huge appeal from Mohammad Siraj's first ball to Khawaja! That was an inswinger and it moved a couple of inches in the air to skew off Khawaja's inside edge. Great signs for India's pace attack and danger signs for Australia's batters already. However, when Siraj strays to leg ion his fifth, Khawaja takes that swing and uses it against India, clipping neatly off his pads and sending it flying to the boundary. Trademark calm and class from the 36-year-old in his 57th Test.
1st over: Australia 4-0 (Warner 0, Khawaja 0) Warner and Khawaja will open for Australia so that stymies the rumour Travis Head might replace him at the top of the order. It's Mohammad Shami to open the attack from around the wicket and he sprays his first ball way down leg. Warner chases it but it's too wide for him and too wide for the wicketkeeper too. Four byes! Second ball is bang on through and Warner moves tentatively to it but it shaves the outside edge. Four dots and then a huge shout for LBW. On-field decision is OUT but Warner will review… NOT OUT is the call. Seemed the ball grazed the inside edge before it cannoned into Warner's back leg. Close call!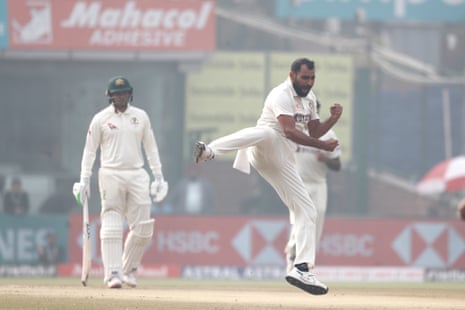 The last Test on Delhi's Arun Jaitley Stadium was in 2017, a high-scoring affair where Sri Lanka hung on for over 100 overs in the second dig to draw. Australia last played here in 2013. Shane Watson captained the side (controversially recalled after the Homeworkgate saga in the previous Test), fastbowler Peter Siddle smacked fifties in both innings and Glenn Maxwell opened the batting in the second dig! Three things should be very familiar though: both Ravi Ashwin and Ravi Jadeja each bagged five wickets and India won by six wickets. The glimmer of hope for Australia? Nathan Lyon got 7-94 and 2-71 in that Test.
So Matt Renshaw and Scott Boland have been dropped, replaced by Travis Head and Matthew Kuhnemann. No Cameron Green or Mitchell Starc named in the lineup. Pat Cummins will be the sole seamer in the Australia XI.
For India, just one change to the Nagpur XI with Shreyas Iyer replacing Suryakumar Yadav in the middle-order. Cheteshwar Pujara plays his 100th Test.
Australia XI: Khawaja, Warner, Labuschagne, Smith, Head, Handscomb, Carey (wk), Cummins (c), Lyon, Murphy, Kuhnemann.
India XI: Sharma (c), Rahul, Pujara, Kohli, Iyer, Bharat (wk), Jadeja, Ashwin, Patel, Siraj, Shami.
Australia skipper Pat Cummins wins the toss and opts to bat first.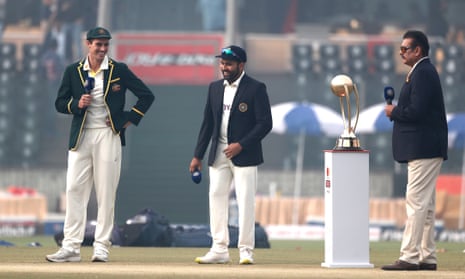 Exciting news: looks like we will have another spinning debutant for Australia: 26-year-old Brisbane left-armer Matthew Kuhnemann has been selected for his first Test and will form a spin trio alongside Nathan Lyon and Todd Murphy. Travis Head has also been named to return.
It's a big call on Kuhnemann who wasn't part of the original touring squad and was only flown in when Mitch Swepson went home for the birth of his first child. And it's a harsh call on Ashton Agar who played the fifth Test v South Africa in Sydney but has now been overlooked twice for uncapped players.
Kuhnemann has played ODIs for Australia for six wicket 31.8 and 13 first-class matches for 35 wickets at 34.8. Not exactly 'storming-down-the-door' stats but the selectors need something special so they've rolled the dice.
Hello cricket fans, and welcome to Delhi for day one of the second Test between India and Australia for the Border-Gavaskar Trophy. I'm Angus Fontaine and I'll be calling the action for you over what should be a fascinating day's play.
Since Rohit Sharma's home side crushed Pat Cummins' men inside three days to win the first Test at Nagpur by an innings and 132 runs there's been plenty of anger, confusion and theorising inside the Australian camp. There seems little doubt the visitors were out-bowled, out-batted and out-manoeuvred by India. Did they pick the wrong XI? Adopt the wrong tactics? Not prepare for subcontinental conditions sufficiently? Or did they simply have a shocker?
All of the above according to the critics. Allan Border reckons Australia were too "nice", citing Steve Smith's thumbs-up praise for India's spinners while batting. And former India captain and coach, Ravi Shastri decried the "timid, almost un-Australian" fashion in which the men in baggy greens surrendered in Nagpur. At least everyone agreed that axing star batter Travis Head for Matt Renshaw (0 and 2) was a catastrophe and promoting Todd Murphy (7-124) was a masterstroke.
The lead up to this Delhi Test has been riven by debate: will David Warner (1 and 10 in Nagpur) be sacked? Will Mitchell Starc and Cameron Green be fit to return? Does Queenslander left-arm spinner Matthew Kuhnemann debut? And if so, do you drop legend Nathan Lyon (who took 7-94 at this venue last time) or first Test hero Murphy? Or do you pick three spinners and drop a paceman?
We're about to find out. One thing we know for sure is if Australia lose this Test the Border-Gavaskar Trophy cannot be wrestled back from India for two years. It's sunny and hot in Delhi and the pitch will be low and slow. The stage is set.