Key events
At 10.37pm on 4 May the man who lives in Diego Maradona's head threw open the window of his flat in the Spanish Quarter district in Naples for the first time in months, erupting in a cathartic scream as the city celebrated another moment in its rebirth.
Ciro Maiello, a 50-year-old pork butcher, moved to the apartment block featuring a giant mural of the Argentinian in 1996 and lived there through a period he called the "dark days [when] dozens of people were killed in these streets." The mural was painted a few years earlier, in honour of the player who gave the city's football team the most successful period in its history, including its first Serie A title win, and whose veneration by Neapolitans is comparable only to the adoration of its patron saint, Gennaro.
The Everton manager Sean Dyche insists he has no problem with the relegation-threatened club potentially already looking for his replacement. The former Burnley manager arrived in January as Frank Lampard's replacement.
Things have not gone entirely to plan with the Toffees just two points above the relegation zone, although their fate remains in their own hands as they seek to extend their stay in the top flight into a 70th season by matching the results of Leeds and Leicester. Reports this week suggested Everton were already thinking about what comes next.
"It's fair to say 'interesting' reports, but I don't know where they come from," said Dyche. "At the end of the day, good businesses should be succession planning. I've got no problem with that, even if that were true."
Everton go into their relegation decider at home to Bournemouth without striker Dominic Calvert-Lewin or defenders Nathan Patterson and Ben Godfrey.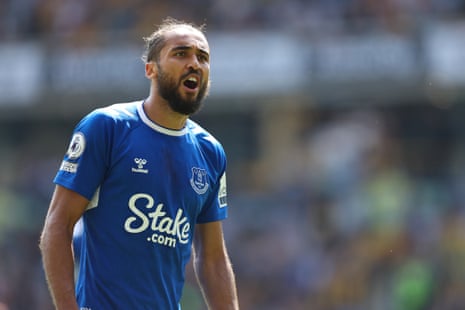 "They won't be fit. We haven't had Dom for two-thirds of my time here. We have still won games, still got points on the board and performed," he said. "Patto has come into the side more latterly and performed well. We lose him as well."
Dyche holds out some hope Vitalli Mykolenko – his only remaining full-back on either flank – could return after a two-match absence. "He's a bit better so we will see how he reacts tomorrow to training today," Dyche said.
Dyche was already without Seamus Coleman, Ruben Vinagre, Tom Davies and Andros Townsend so more injuries just increase the pressure in an already-tough atmosphere on Sunday.
"I think it is part of being a professional footballer. You have to use the feeling in the stadium to your advantage and I think we have a decent experience level for the ups and downs of football to understand that," added the manager. "We want players to focus on the game, which is not as easy as it sounds, but focus on the game and the idea and don't worry about the noise. That's the clear intention." (PA Media)
Courtesy of the good people at PA, more from the Wolves manager here, plus some team news:
"We have to talk, it's not about one or two days. We have to talk about the solution and the future to be able to have a squad ready to compete again.
"This year has been a wake-up call. We have to learn why it has happened and to overcome and make our homework this summer. It's not about one or two days. We need a clear picture. It's important to have the squad ready. Maybe not 100 per cent of players but maybe 90 per cent. For me it's very important, to have the squad ready to start working with us on July 1."
Wolves to go Arsenal for Sunday's Premier League finale and Joao Moutinho will not feature and is likely to have played his last game for the club as he is out of contract in the summer. Sasa Kalajdzic (knee) is out while Lopetegui himself is banned from the touchline for collecting four yellow cards.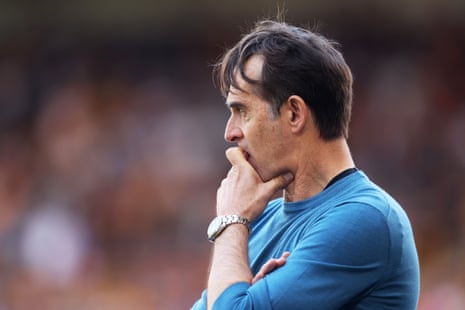 "About my future, I have a contract and we will see what is going to happen. This is football, we don't know."
It must be said: those words from Julen Lopetegui hardly scream that he sees himself in the role at Wolves next season.
Next up is Dean Smith. Actually it was a while ago, but it's hard to keep up with this relentless stream of manager-speak.
"We can only focus on what we can control," says the Leicester interim manager before the match against West Ham at the King Power. "Control your performance. Help your teammates … we've got to make sure we concentrate on what we do.
"I've no idea what David [Moyes] will be thinking about his team. I wouldn't expect too many changes. He'll be looking to finish the Premier League season on a high."
Does he wish he could have taken over earlier, thus making more impact? "Not really. It's hypothetical … we came in when we did. We need the result."
Will they throw caution to the wind on Sunday? "I think any game you're trying to win the game. You've got to get that balance right. Make sure you're not too open. We've got to go and score a goal. Without scoring a goal, we don't win.
"We're mindful of the threat that West Ham have. It's about going from the first minute to try and win. Can you create scoreboard pressure on other teams? I don't know. We've just got to get the win.
"I think the players want clarity, what their positions are … our job is to give them that clarity. It doesn't get any clearer for me. We have to win. That's what we know."
"Scoreboard pressure." You can tell he's a cricket fan.
Unai Emery, the Aston Villa head coach, has a chat before Sunday's tie against Brighton: "We are trying to prepare for this like the last matches we played … of course being motivated, enjoying the process … our time is coming on Sunday, in Villa Park, to enjoy this match.
"The team we are going to face is very difficult… playing amazing football. Their structure, tactically, is very strong. I enjoy watching some other teams in the Premier League and one of them is Brighton.
How influential is Brighton's Roberto De Zerbi, as a manager?
"Football is changing so quick. I am now 51, I started training at 32 … always I am very focused on how I can improve each day, to be today better than yesterday. It's not only about my work, about my analysis. [I look at the methods of other coaches and] one of them is De Zerbi."
West Ham's David Moyes is asked how his week has been, without a midweek match to take care of. "I've not been sure what to do … you're right … it's been relentless [in recent weeks]. To have a couple of days downtime has been fabulous."
What's the motivation, is it hard to get up for this game at Leicester? "I don't see it that way. I take every game one at a time. It's a chance to get another league place higher up. Being in a position where we go in without any real problems, and a cup final coming up, if you'd offered me that a few weeks ago, I'd have snapped your hand off.
'We have to go and do our job. We have to finish a bit higher up the league. We are preparing for a final. We have to get everybody in the right condition."
Moyes is asked about the club organising travel and accommodation for the Europa Conference League final in Prague, against Fiorentina, on 7 June. "If you get to a final you'd expect your club to do that … we are looking forward to having all the families there."
Declan Rice has added goals this season, was that a target? "It's something people have questioned … he can score goals … he plays a crucial part … we've got other midfield players who score goals. Declan does more defensive duties."
Injury wise, will Aguerd be back? "Nayef is available. He took part in training today. We expect him to be back.
"Emerson [Palmieri] had a knock to his knee … we'll need to check how he is. Gianluca Scamacca is still recovering from his knee operation. That's about all we've got at the moment."
The Wolves manager, Julen Lopetegui, was asked about his future a little earlier in his press conference. They go to Arsenal on Sunday.
"This is first and last answer [on this topic]," he says. "It's not important. About this I have talked. We have one new problem about the FFP … after we can hear, and after we can see … what is more important is what is going to be the solution.
"This is all. About my future, I have a contract. We will see what will happen. This is football, we don't know. Sunday is an important match. It's the last match of the season. In the Premier League they [Arsenal] have been very, very close to winning. They are going to want to make a good match. We have to go there ready. We have to be able to compete with them."
Any thoughts on all of this? You can email me or tweet.
Earlier today Sky Sports spoke to Ange Postecoglu, the Celtic manager, and asked him about the stories linking him with the manager's job at Tottenham:
"Anyone who knows me … what's important for me is the here and now," said Postecoglu. "I've never planned anything in my football career … my focus is tomorrow [against Aberdeen] and then winning a cup final. If anyone thinks I'm thinking anything else they don't know me. What the Celtic fans want is their manager to be focusing on them."
Harry Kane is 'still our player', says Tottenham's Ryan Mason
If the match at Leeds is Kane's last for the club, how would he sum up his contribution overall, Ryan Mason is asked. "I can't sum it up. He's still our player … when you sum up, it's a closed chapter … but for any player, or staff member, it's important to have a succession plan in place.
"Ultimately in two months, 10 years, 20 years, Tottenham will still be Tottenham. It's important there's an identity."
On the match against relegation-threatened Leeds: "We need to be clinical when our chances come … but also understand that opposition will have their moments. You need to get through it as a team. Make blocks, make saves.
"It wasn't a great second half [against Brentford] … they had moments when they were clinical.
Are the players hungry to atone for last week's loss? "Naturally as a professional when you lose games … that is something you hope and expect to feel … going to Elland Road, you know it's going to be intense. You have to enjoy that."
Before Sunday's trip to Leeds Ryan Mason, the Tottenham interim manager, is asked about the club's failure to qualify for Europe: "It's not where we want to be. We want to be competing in Europe … it's important for a club of this size. But in or out of Europe, there's a plan and a commitment going forward.
"The results before he [Conte] left weren't amazing. I don't think the results have dipped much. There was uncertainty. And it's never great to have uncertainty … we've been in that position for the last eight weeks. I've tried to create a togetherness, and create an identity, the way we want this team to look like in the future."
Do top managers want to come to Tottenham? "Yes … It's history. It's Tottenham Hotspur. It's a big club. Anyone here should feel the privilege and honour to represent this badge. If they don't they shouldn't be here. It's really as simple as that."
Everton, who are 17th and two points above Leicester and Leeds, host Bournemouth on Sunday.
Sean Dyche speaks: "All games are important. It's a massive game. I don't need to emphasise that. I know it, the fans know it, the players know it. That's the challenge of being a footballer.
"When I came in here and realised things needed a lot of work, a lot of change … [The players] are aware of it. It comes down to getting a big performance on Sunday.
"The message to the players is about delivering a performance. They're in good shape, physically and mentally, they've trained well this week … to the fans, I'd never question them, they've been terrific. Their affection for the club is there … we've got to give something back."
Can the players channel the atmosphere?
"You have to use the feeling in the stadium to your advantage … we want the players to focus on the game. Don't worry about all the noise and rumours … that's the clear intention.
"There won't be too much focus on [scores] elsewhere … of course there'll be people who know what's going on.
"At the end of the day it's Everton football club. Every game is pressure … that should be every time you run on a football pitch."
Is Dyche pleased to have it in their hands? "Definitely, we've worked hard to get in this position. As long as we capitalise on it. It comes down to performing to win. It's not that easy. But that's our mentality."
Guardiola 'not optimistic' on Spain combatting racism
The Manchester City head coach Pep Guardiola is asked: Can Spain learn from the way the Premier League deals with racism? "They should. Here they are so strict," Guardiola replies. "But they [in Spain] know what they have to do. Racism is a problem everywhere … not in a specific place … our ancestors come from migrants, come from wars, dictatorships … you have to move on [from one country to another], and you build families … the problem of racism is everywhere, and not just gender or colour but for the attitude … "We believe our country our language is better".
"You realise we are the same, the same fears, the same good things. You have to accept the diversity as the strength of human beings. And right now we are far, far away from that. I hope it's one step to things getting better in Spain, but I'm not really optimistic."
Mikel Arteta, the Arsenal head coach, has a chat before the visit of Wolves:
"It's about finishing the season in style, providing a great performance and a victory in front of our people
"We'll receive a lot of the incredible energy they [the fans] have given us … and we will start to build for next season.
"It's been some journey, full of emotions … in the end we haven't managed to achieve [the title] but with a lot of perspective, there's a lot of things that have happened at the club, which mean a lot of people deserve credit."
Arteta is asked about summer transfer business: "We have to nail everything we do. We have to seek for excellence … the competition [to sign good players] is going to be even harder this season … in order to do that we have a promising plan … We have to reflect a little bit, make sure it's the right one, and go again with determination."
Pep Guardiola has a chat before the Premier League visit to Brentford, and is asked about his approach to the FA Cup and Champions League finals:
"The best way to play finals is to be disconnected as much as possible," Guardiola says. "You have to play as much as you can like it's regular Premier League game … then we'll be closer to our best level."
How will he advise his players to spend the two days off they will get post-Brentford?
"If the weather is shine, go to play golf, do whatever you want … You have to train few [little], but do exactly what you need to arrive in the best way possible [for the finals].
So he will forget about football for a couple of days?
"No, not forget. But when I'm not with the players I am less connected. Family time, good restaurants."
Does he play golf? "No. My back don't allow me."
Has he had players coming to tell him why they should play in the finals? "Yeah they will come, but not yet.
Has he got his teams for the two finals in mind? "I have an idea. United play different to Inter Milan. We'll have to defend and attack differently …
"It's Brentford [first], what they have to do, then we'll join together again and see where we are."
More from Allardyce before Leeds's crunch tie against Spurs on Sunday: "Control, calm, composure in possession is a necessity. We've got to get at Tottenham's defensive unit. That's a weakness based on what we saw against Brentford last week.
"We've scored first in the last two games and then failed miserably after that … 80% of the time you wouldn't lose the game after scoring first.
"It's about 55 mins of pure concentration, not 90 [factoring in when the ball is out of play]. Then it's just about getting in the right position, doing the right thing. I want to see their best. The best will get the fans behind them … That will help them do what they need to do to get a result, I think."
Can he enjoy or appreciate the drama? "No. I hate it, where I am now. I wanted to be in a position where if we win we stay in the league, no matter what anyone else does. We've had the opportunity to do that but failed to take it.
"If we are to win we need a clean sheet in my opinion. Because we're not a prolific goal scoring team."
Will Sam Allardyce of Leeds be keeping a close eye on scores elsewhere on Sunday?
"The only focus for the players is to win the game. I'll be adjusting to what's happening on the field,' he says.
"I don't want to hear something, and change some on basis of that. I want to decide on my substitutes on what we're doing, not what people are doing elsewhere.
"Our best performance by far was the first half against West Ham. Unfortunately our final-third play was not up to scratch to score more goals than one.
"Tomorrow [he means Sunday of course] is around the fact that tactis have to be put into place
"Tottenham's outstanding strength is their front lads … we have to make sure that's not successful. We saw some [defensive] weaknesses against Brentford that we've got to try and exploit."
Thanks Barry, hello everyone. Big Sam speaking now. Quotes to follow …
Fourth official raises board: My number has come up and after limbering up on the sideline, Luke McLaughlin is ready to come on to close out today's blog. Thanks for your time and have a great weekend.
Crystal Palace: No fewer than six Crystal Palace players are out of contract this season, with a combined total of almost 50 years service to the club between them. WIlf Zaha, Nathaniel Clyne, Luka Milivojevic, Joel Ward, James Tomkins and James MacArthur are all nearing the end of their deals. Zaha is reported to be mulling over a £200,000-per-week offer from the club and only McArthur and Milivojevic have confirmed they are leaving the club. Palace manager Roy Hodgson, whose future is also up in the air, has been singing the duo's praises.
"I have such respect and admiration for those two players," he said. "They are perfect professionals – not only very good footballers but very good individuals, very good personalities and leaders both on the field and off the field.
"I have no doubt that they will be missed. You come across players like McArthur and Milivojevic relatively rarely in a long career. When you find them, you dread the day when they move on or leave the club behind.
"Everyone here at Crystal Palace realises how good they are, and everyone here at Crystal Palace will join me in wishing them both luck. The next manager who has the joy of working with those players, I congratulate him, because he has a diamond coming his way."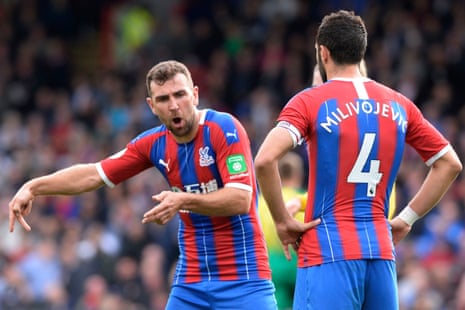 Manchester United: "Bruno Fernandes insists Manchester United can be competitive in the Champions League after qualification was sealed with Thursday's 4-1 defeat of Chelsea," writes Jamie Jackson. "United were knocked out by Sevilla in the quarter-finals of the Europa League this season but the midfielder has no concerns regarding their prospects."
Wigan Athletic: Relegated from the Championship this season, Wigan Athletic will be deducted a toal of eight points from the 2023-24 Sky Bet League One table after failing to pay its players' wages on time this month, the second time they have done so this year. The sanction comes on top of a previous deduction of four points after the club failed to pay its players' wages on time in March.
"Following the failure to ensure that an amount equal to 125% of the club's forecast monthly wage bill was deposited in a designated club account by Wednesday 24 May, as per the order of an Independent Disciplinary Commission, Wigan Athletic Football Club has been deducted a further four points and will now start the 2023/24 season on minus eight points (-8)," read an EFL statement.
"This follows a previous sanction of four points after failing to pay its players' wages on time in March 2023. The EFL has spent the past 48 hours in dialogue with the Club in an attempt to find a positive outcome to the issue but as of 9am Friday morning the required funds have not been deposited." Wigan finished bottom of the Championship with 39 points, 10 clear of safety.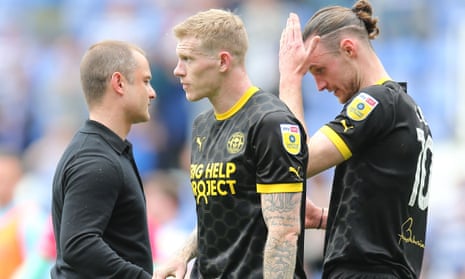 Newcastle United: Eddie Howe has addressed the subject of Newcastle's need to bring in new players during the summer and has said some of his targets could be classed as "marquee signings".
Speaking earlier this morning, the Newcastle manager said: "Yes, there would be players we'd love to bring in that would be classified in that bracket, I'm sure. For me, it's more about the role they can fulfil in the team – whether that's viewed positively or as a marquee signing, then great. I'm not in my mind thinking: 'We have to have one of those players that ticks that box for the supporters'. As much as I'd love to do that, it's about finding the right player in the right position who I think makes us better."
Despite the bottomless financial resources of Newcastle's Saudi owners, Howe has stressed throughout his reign that unbridled spending is not an option and that the club will have to continue to invest shrewdly. "Unfortunately players don't come cheap, especially good players," he said. "Yes, we are going to have to spend a certain amount of money. How much that is, I don't know. I still don't know what my budget is at this moment in time, but there will have to be some expenditure. It will have to be controlled. It will have to be under FFP restrictions, which we have worked under and will continue to work under. They are definitely impacting us and what we will be able to do."
West Ham midfielder Declan Rice and Leicester City's James Maddison have both been linked with summer moves to Newcastle but are likely to be in big demand. Newcastle finish their season with a trip to Chelsea and Howe will be without keeper Nick Pope at Stamford Bridge after he underwent surgery on a hand injury. He joins Jamaal Lascelles, Javier Manquillo, Matt Ritchie, Joelinton and Joe Willock on the sidelines.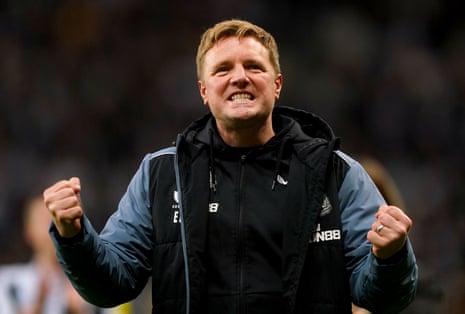 Ivan Toney responds to today's revelations …
Or more specifically, doesn't respond to them. The Brentford striker has posted somewhat cryptically on Twitter saying "I'll speak soon with no filter".
Championship playoff final: Luton chief executive Gary Sweet "could not be prouder" of manager Rob Edwards for leading the club into the Championship play-off final against Coventry in his first year in charge. Edwards only joined Luton in November 2022 but has taken them within touching distance of the Premier League after the his side beat Sunderland 3-2 on aggregate in last week's play-off semi-final.
Sweet lauded the 40-year-old former Watford manager's conduct since replacing the hugely successful Nathan Jones, with Luton vying for a return to the top flight just nine years after playing in non league. "I couldn't be prouder of Rob, we couldn't have had a better human being come in to carry on the great job Nathan did and the mantle he left," he said.
"But to do that in a way which couldn't be more befitting than how we want our club to be represented and so Rob's image and persona is impeccable on that front and reflects us. We'd love to think he's a lot better than we are [the board]. I don't think we can ever represent ourselves as well as he does so I am delighted he is doing that for us."
Sweet admitted he is not surprised by Luton's progress in recent years which would see a fourth promotion in 10 seasons if they beat Coventry at Wembley on Saturday. The chief executive hailed the contributions of players and staff whose joint efforts are the leading factor behind Luton's upwards trajectory.
"Am I surprised? No, not really," Sweet said. "We are very patient people and when you're patient things happen more quickly than you think. We have a determination almost from the point of view that it will happen and we will make it happen, we just need to make sure the way it happens is right. I am not surprised, forget the players for one minute even though they're my heroes and I love them because they have been fantastic throughout. But the staff here, the board, my fellow managers, everyone you see here in the building are the very pit about the fabric of the culture and in the last week it has shown it.
"We've had people work through nights to get job to job done and not one of them has said can I have more money, not one of them has said what's the benefit for me? They just get on and do their job for the love of the club, for the love of Luton, that's why we've accelerated like we have."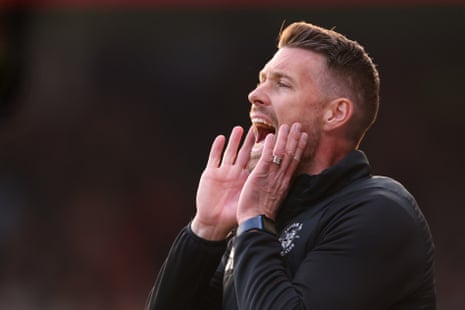 WSL: Hearty congratulations to the Guardian's brilliant Women's Football Correspondent, Suzy Wrack, who won the Vikki Orvice award for New Women's Sports Writing this week for her book A Woman's Game: The Rise, Fall and Rise Again of Women's Football.
When she's not cranking out award-winning tomes, Suzy can sometimes be found loitering in the Hertfordshire countryside, specifically on Arsenal's London Colney training ground. She recently went there to hurl interrogatory projectiles at the team's assistant coach Kelly Smith for a wide-ranging interview on the subject of this year's title race, among other things.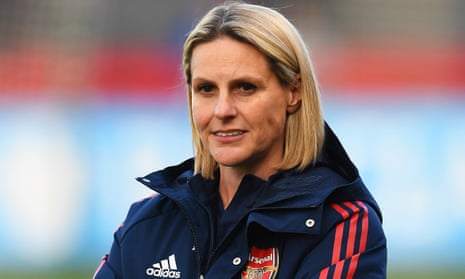 More on the Ivan Toney findings. "Ivan Toney repeatedly bet on matches involving his own team and would have received a ban of longer than eight months had he not been diagnosed with a gambling addiction, the written reasons of his case, published by the Football Association, have shown. Read on …
WSL: Marc Skinner wants his Manchester United players to focus on the task at hand while he keeps an ear on results elsewhere as the Women's Super League title race goes to the final day of the season tomorrow afternoon.
United travel to Liverpool trailing league leaders Chelsea by two points, with Emma Hayes's side taking on rock-bottom Reading, who need to win to avoid relegation from the top flight. Skinner's side are already guaranteed their highest-ever league finish five years after reforming but must win on Merseyside to give themselves any chance of denying Chelsea a fourth straight league title.
"All we can do is try to win the game," he said. "Should it need different connotations, we've got to be ready to adapt to that but we've got to try and win the game. We have to keep tabs on Reading-Chelsea. I don't think we're going to listen to it with that much intent but we'll have an understanding of the scoreline.
"It will be more comms in the ear, not watching the game. It will be a tough ask for Reading, Chelsea have been excellent this season, but we can all hope. We need two great swings to go for us." Should Chelsea draw with Reading, Manchester United could still win the title but would have to beat Liverpool by six goals.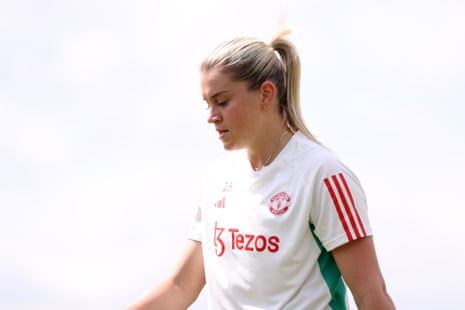 Newcastle United: Eddie Howe says his team "massively over-achieved" by securing Champions League football this season. Newcastle guaranteed themselves a top-four Premier League finish with Monday night's 0-0 draw with Leicester and will return to the biggest European stage after an absence of two decades.
Asked about dealing with the expectation they have created, Howe said: "Ask me in a few months. I don't know if it's something you look forward to, but the dynamic will have changed for us. I think we have massively over-achieved this year for where we were at the start of the season and to keep over-achieving – and that's what we're going to have to do to match the expectation – is going to be our biggest challenge."
Newcastle bring the curtain down on their season with a trip to Stamford Bridge to take on Chelsea, who have not massively over-achieved this season, to say the least.
Toney also bet on his own team to lose
It has also been revealed that back in 2017, Toney bet on the team he was with at the time to lose on a number of occasions but only in games in which he was not part of the squad and therefore could not negatively impact the games in question. If nothing else and with no pun intended, the striker clearly backs himself. Brentford have received and accepted the written reasons outlined by the Independent Regulatory Commision and we'll bring you more details as we get them.
Ivan Toney was betting on himself to score
The full findings of the investigation into the Brentford striker's gambling have been published and reveal that Toney bet on himself to score on 15 occasions before it was common knowledge that he would be playing in the games concerned.
Toney received an eight-month ban but apparently got lucky. The independent regulatory commision who conducted the investigation on behalf of the FA say he would have got a a 15-month ban but for the mitigating factors of his guilty plea, his youth at the time of his rule-breaking, his "genuine remorse" and the fact he has been diagnosed with a gambling addiction.
"The position appears to be that Mr Toney has ceased gambling on football although he still gambles on other sports and casino games," says the report. "He is determined to address his gambling problem with therapy at the conclusion of the season." Good luck to him as he takes his first steps on the road to recovery.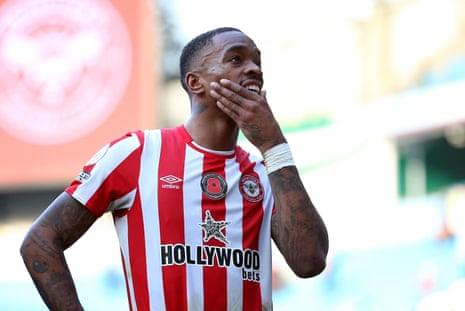 Liverpool: Following Manchester United's win over Chelsea last night, Mo Salah took to Twitter, as they say, to say how "devastated" he is by Liverpool's failure to qualify for the Champions League, adding there is absolutely "no excuse" for the team's failure to finish in the top four. "We had everything we needed to make it to next year's Champions League and we failed," he wrote. "We are Liverpool and qualifying to the competition is the bare minimum. I am sorry but it's too soon for an uplifting or optimistic post. We let you and ourselves down."
Asked for his reaction to Salah's tweet, Jurgen Klopp said he had read it but was "a bit worried about the headlines" journalists create from things he says. "Do me a favour and do your best," he said. "When it's a fact that you can't qualify for the Champions League anymore … look, even I knew after the last game that [Newcastle and Manchester United] need one point, for me it was clear they would get that point.
"In the world of social media so many bad things happen constantly and I don't think that was one of them. It was just a normal description of his situation, of his feelings. In that moment after the game it's not a time to send optimistic messages, maybe an hour later or a day later. I saw Mo in the canteen just now and he was smiling. I don't know for what reason, I didn't ask him but he was not in a bad mood."
Liverpool: Jurgen Klopp is currently talking to the ladies and gentlemen of the Fourth Estate and has just said Liverpool's final game of the season against Southampton on the south coast is strange because there is nothing at stake for either team. Following Manchester United's win over Chelsaea last night, Liverpool cannot now qualify for the Champions League and Southampton are already relegated.
"I'm not used to games on the last matchday where everything is sorted before. I can't remember when that last time was the case. We only play this game to win the game and we have to make sure that I find a lineup with good legs, a lot of desire and we have to see … we will not take any risks with players. That makes no sense. We have a big group, training was really good and the boys were really into it. I have not made any decisions yet because I didn't see the doc yet but I will have a conversation with him and we will see who is contention."
Brighton: With qualification for the Europa League secured, Brighton boss Roberto De Zerbi has said he will need to add bodies to his squad, especially if in-demand pair Moises Caicedo and Alexis Mac Allister are sold during the summer. He has, however, said he won't be bringing in too many new players.
"Monday starts the toughest period in my season because without football it is difficult," he said ahead of his side's trip to Aston Villa. "I am looking forward to starting the next pre-season. I think we have to work in this holiday because we have to build a new squad to prepare for the new season. I think we don't need so many players. We have to understand if Caicedo, Mac Allister [are sold] – I don't know which players can leave – then we have to bring very good players because next season will be tougher than this one.
On the subject of what kind of money he'll be given to spend by club owner Tony Bloom, De Zerbi displayed a poker-face that would have been the envy of his poker-playing boss. "I can speak only about the characteristics, the quality of players," he said. "Money is not my job. For sure I can tell you we have to have a stronger squad, a bigger squad because we will play in four competitions. And we have to be ready to compete in our way in these four competitions because we arrived with 14, 15 players in the crucial part of the season.
"The next year will be tougher because in the history of the Premier League it can happen that clubs achieve Europa League and the next year you have to fight to avoid relegation."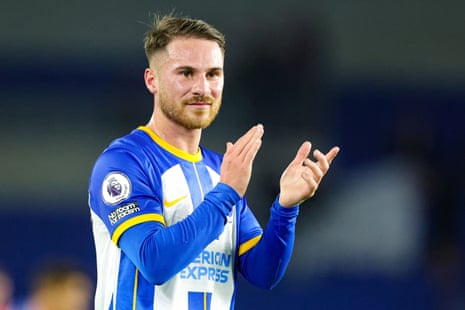 The weekend starts here …
Or it started last night, for the purposes of this rolling conveyor belt of piping hot football news. Playing out the game in hand they had over the Premier League's 18 other teams, Manchester United heaped more misery on Chelsea as they subjected them to a fairly comprehensive hiding at Old Trafford, securing their place in next season's Champions League in the process. United hosted Fulham in the Premier League's final round of fixtures on Sunday, while Chelsea's last chance to salvage some small sliver of dignity from a disastrous campaign presents itself in a game against high-flying Newcastle at Stamford Bridge.
There's plenty of more important taking place over the weekend, with the top flight relegation battle to be fought to its conclusion and the denouement of the Women's Super League taking place, while three EFL playoff finals will also be decided.
One of Luton Town or Coventry City will earn promotion to the Premier League tomorrow evening, an outcome not even the most prescient of sooth-sayers could have foreseen at the start of the season. Elsewhere, the final round of fixtures will be played out in the Scottish Premiership and a win at home to Mainz will see Jude Bellingham's Borussia Dortmund beat Bayern Munich to the Bundesliga title. There'll be no shortage of pre-weekend news and chat to stay across so we'll keep you up to date with all the news as it comes rolling in.