José Luis Mendilibar can't be bothered with the bullshit. Enjoyably potty-mouthed, as direct in the press room as on the pitch, he is, he says, the anti-modern football manager. He tells it the way it is, challenges fools and takes on authority, doesn't like VAR – a circus, he calls it – and definitely doesn't like the theatre, insisting: "we're a bunch of cheats in La Liga; touch us and it's like someone killed us." He doesn't have an iPad, doesn't think much of the stats and doesn't mind saying so. He reckons too many training grounds look like airports – cones and arrows and God-knows-what all over the place – and too many coaches hang around there all day to make a point, not a difference.
As for him, he never wanted to be a manager at all but once he started with tiny CD Arratia in 1994, he couldn't stop, not one season going by without him working. This was all set to be the first in almost 30 years, the last 14 of those in the top division, until a call came from the dressing room at the Coliseum, around the time the clásico was kicking off a fortnight ago. Sevilla had just been beaten in Getafe, their third defeat in four games in which 12 goals were conceded. Only two points above relegation, their coach had lost control and, desperate now, the sporting director Monchi needed someone to save them.
Someone like him.
It was a little later than 8.30pm and there was no hesitation. A meeting was set for lunchtime the next day, just enough time for Mendilibar to drive down to Madrid from the Basque Country. We'll fix this, he told them when he got there. Terrified, the risk of relegation a reality, that was exactly what they wanted to hear. No doubts, no demands, no conditions or clauses attached to the contract, just certainty. Signed for three months, he came on a simple mission: save Sevilla.
Simple is the word, if sometimes overplayed. The coach whose last five jobs were Valladolid, Osasuna, Levante, Eibar and Alavés, in normal circumstances Sevilla might not have turned to Mendilibar, but these are not normal circumstances. Four-times winners of the Europa League over the last nine seasons, a top-half team for each of the 21 seasons since returning to primera, and even occasional contenders to win the league, they were in danger of returning to the second tier. The club were in crisis this time, sacking Julen Lopetegui and bringing back Sampaoli just made it worse. Even when they appeared to have pulled out of trouble, they were drawn back in again, the abyss opening below. This wasn't a place they were prepared for; Sevilla wanted a man who knew what it was to be there.
Instead, on the touchline, Sampaoli was all over the place. On those days when he was on the touchline, that is; not suspended again, imprisoned up in a private box, hammering on the glass like some buffed-up Benjamin Braddock. At times, the Argentinian looked and sounded like he had lost his head and the will to go on, but he insisted on playing out of trouble – which mostly served to play Sevilla into it.
In the Getafe game, the first gift had come within two minutes. Afterwards, the goalkeeper Yassine Bono, who had 66 touches, said: "when things are tough and you're in an emotional state, you can't just do what you did before." Yet if there was a symbol of the confusion it was Sampaoli passing a piece of paper onto the pitch, not so much little notes as instructions for an Ikea wardrobe. More to the point, it was Marcos Acuña running over, tearing it out of Óliver Torres's hands, screwing it up and throwing it away.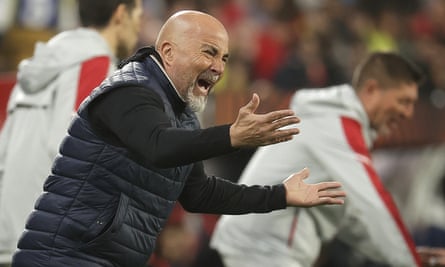 Mendilibar is the managerial equivalent of that Acuña moment. That's the plan, at least. Stop pissing about, stop overcomplicating it all. "The idea is to simplify things," he said when he arrived in the south, seeking the swiftest route to safety.
Mendilibar hasn't always succeeded – Valladolid went down after he was sacked 20 games into 2009-10, was relegated with Eibar in 2021 andcould not rescue Alavés in 2022, something which stings him – but his career is defined by overachieving, getting the best out of players. The surprise was not so much that Eibar went down but that it took them so long: a team who should have been too small for the top flight, he had taken them to the edge of Europe until they finally fell at the end of his fifth season. He knew this football. Meanwhile, everyone knew his football, or so it goes. If anyone could drag them out of this, give Sevilla clarity and character, it was him.
Sometimes that image feels facile, even unfair – as much perception as anything, the whole no-nonsense package exaggerating his approach, almost making a meme of it. But then it is Mendilibar himself that most contributes to the cliché. A midfielder who never played in the first division, he was technical but, in his words, a bit wet: he didn't want his players to fall short for the same reasons he had, so he made it as simple as it was demanding. Tough but warm with it, determined to make them enjoy training, at Eibar he claimed: "We're the easiest team to analyse. We don't do anything extraordinary. We insist upon what we do well: win the second ball, get it to the wing, put the ball in, get a shot in. Any team or any media analyst knows what we do."
It was Mendi's way. No one in Spain played a higher line, won the ball back more or were quicker to get it into the box. He liked wingers wide and on their natural foot, wanted the game in the other half, saw no point in possession for its own sake and had no problem wellying it once in a while. "If you can play out, fine; if not, go long," he said. It wasn't that basic: he's no dinosaur, and not only did it work, it was good to watch. It was certainly not defensive, quite the opposite. Besides, a popular man with no pretentiousness, in the situation Sevilla found themselves in, had become an attractive proposition – and one that is not out of keeping with their identity. They had also sounded out the three players he had worked with before – Marko Dimitrovic, Bryan Gil and Joan Jordán – who could not have spoken more highly of him. Given what they had gone through, the rest were receptive too.
As for Mendilibar, the chance to work with players this good – footballers he felt did not need much to find a higher level – was perfect. He had turned down offers in the Spanish second division and at Olympiakos, but now there was no hesitation in leaving the north and heading to Seville. It was time to simplify things, strip it down. "The idea I'm trying to get through to them is that we have to avoid making dreadful errors in certain parts of the pitch," he said.
The potential significance of the appointment might just have come from his first opponent. "He's a great manager," said Sergio Gonzalez, the Cádiz coach who would face Mendilibar on his debut, a hint of disappointment in his voice, aware now that one of the teams they would have to see off to secure survival might be a different prospect now. "They will come here with blood in their eye, ready to rebel."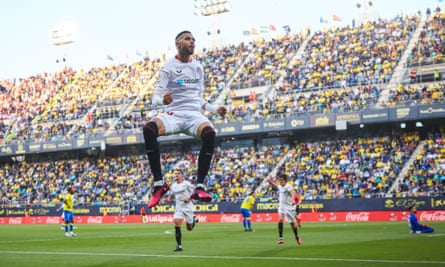 And so it was. On Saturday night, Mendilibar's debut, with a team based on what he saw in training during international week that included all of his former players, Sevilla won 2-0 in Cádiz. Lucas Ocampos scored the first and Youssef En Nesyri got the second, Gil beautifully cushioning a long free kick on the volley and guiding it into the path of the Moroccan to score. Three touches were all it took, from the initial thump to the finish, Diario de Sevilla calling it "pure poetry" in the face of "all this tippy-tappy nonsense", immediately converting their coach into an anti-hero, the rebel they hoped he would be.
"Two touches are fine, so are 40," Mendilibar said afterwards. "We took to the manager's ideas quickly. This is a more recognisable style for Sevilla: we attacked a lot," Ocampos said. "There were no errors and that's very important," Jesús Navas added. If Mendilibar might be Sevilla's very own Winston Wolfe, all straight-talking, no-nonsense, getting it done, that advice from Harvey Keitel's character would not go amiss here.
Cádiz had a big shout for a penalty turned down for a handball from Pape Gueye, and a not-so-big one for a challenge on Pacha Espino. Ocampos's shot somehow squeezed past four players, while Fali hit the Sevilla post. Navas had to make a superb tackle to deny Sergi Guardiola. Cadiz had more shots. But ultimately, ran the headline in AS, "Mendilibar made Sevilla smile" and this was huge: the first time Cádiz had lost at home in 10. Sevilla's first win away in almost six months, it carried them to thirteenth place, four teams and four points above the relegation zone.
It is different and it's certainly a start, but they shouldn't be stupid enough to think it's done. "Every win costs," Mendilibar said, and he knows; he's been here before.