Key events
84 min: They take it quickly but get it in the box, Beattie looks as though she has conceded a corner but Juventus are ruked offside. The hosts make changes as Bonansea and Caruso are off for Cantore and Bonfantini.arsenal win a free kick with McCabe challenged by Beerensteyn and it earns the Juventus player a yellow.
82 min: Beerensteyn gets the ball in but Beattie heads away. Arsenal get it upfield and Blackstenius does really well to get away from Grosso but her pass to Maanum isn;t gathered. Girelli wins a free kick on halfway thanks to a foul from Foord.
80 min: Wienroither is coming off but she was able to walk off by herself which is a good sign. Maritz is on in her place.
79 min: On the replay it looks as though she has been elbowed in the head. Wienroither is getting a lot of attention, hopefully she is okay here.
77 min: McCabe gives away a cheap free kick with a horrible challenge on Grosso. They take it short and run it to halfway but it is thundered into the box. Wienroither has been hit in the face in the defence and we have another break in play.
75 min: Bonansea can't believe a free kick has gone Arsenal's way as the visitors go on the attack. Miedema gets a shot away and she is inches from an absolute screamer!
73 min: There's a great battle happening between Grosso and McCabe with the Juventus player the latest winner in the exchanges. Juventus are building here, they are searching for a winner but Miedema wins it back.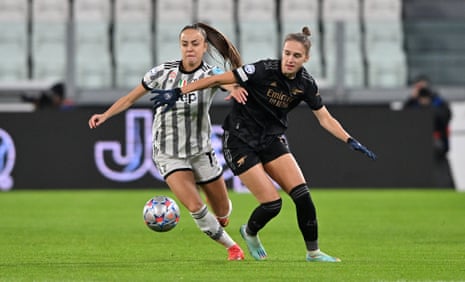 71 min: It looks as though it is her ankle they are looking at here, she is okay to continue though. Miedema is right back in the action but her pass has too much on it to find McCabe.
69 min: It comes in but headed away, Grosso loses out in the fight for the loose ball with Foord. Miedema is down which will be a worry for Arsenal.
67 min: Salvai is okay to continue here, surprising with that smack to the head. Juventus do have a free kick from that foul, they take it short and it's slightly wasted as they are forced back to halfway. They do eventually win a corner though and Caruso will be the taker.
65 min: Blackstenius receives a yellow card for a high challenge on Salvai. The Juventus player needs some attention here so there is a break in play. Blackstenius apologised as soon as it happened. On the replay Blackstenius has kicked her in the head, aiming for the ball though. Arsenal take the break to make their first change as Nobbs is off for Beattie.
63 min: What a response! Their first proper chance since conceding and of course it is Miedema who equalises. It is her first goal in seven matches which is unheard of for the striker, she will be happy to be back on the scoresheet. But here we are, Juventus are replying! Grosso gets a shot but it just sails over the bar, what a match!
GOAL! Juventus 1-1 Arsenal (Miedema, 61′)
Maanum is the taker this time and Miedema heads home!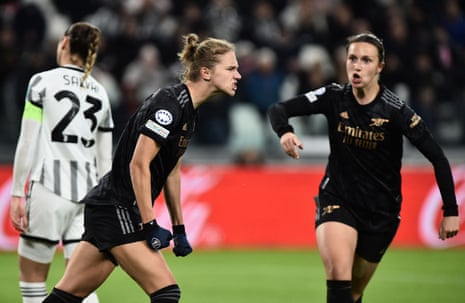 61 min: Girelli takes a punt from almost halfway but it's wide. Arsenal peel away through Nobbs and Blackstenius has it in the box but Rosucci concedes a corner.
59 min: While Beerensteyn receives treatment, Eidevall has called all of his players over for a pep talk. The goal scorer is back up and is staying on here.
58 min: Bonansea has a lovely connection and footwork, she gets a cross into Beerensteyn but it has too much on it. Boattin takes a shot but it's blocked. The goal has been a momentum swing and Arsenal will have to strike soon to quell it. There's a slight break in play as Beerensteyn is down.
56 min: Arsenal lost their first match of the season last weekend to Manchester United and they are heading to another loss here. If they do lose this one they will be knocked off the top of the group with Juventus leapfrogging them. They are oozing with confidence now with Caruso taking a shot but it goes wide.
54 min: Beerensteyn has been the attacking threat for the hosts and my, oh my she took her chance with both hands there! And could she double their lead here? No, she is ruled offside. But that goal will have given Juventus a lot of confidence.
52 min: Juventus counter and Beerensteyn is unlocked, she finds herself in a one-on-one with Zinberger and she slots it in the bottom left corner. For all the Arsenal chances they are behind!
GOAL! Juventus 1-0 Arsenal (Beerensteyn, 51′)
Oh wow!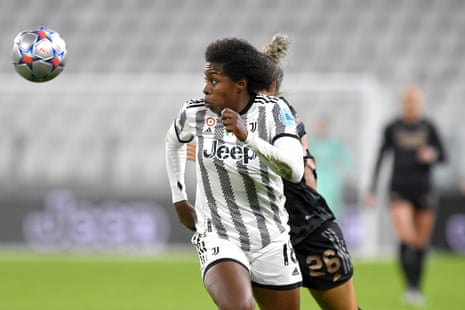 51 min: Nobbs puts in a great cross, Foord chests it to the floor but she is denied at the near post! An Arsenal corner to come, Catley puts it in but Peyraud-Magnin punches away for another corner. Catley the taker once again and Wubben-Moy heads towards goal but it is cleared off the line! So close!
49 min: Juventus are sloppy from a throw but Blackstenius gives it away. Girelli tries to find Beerensteyn but the pass has too much on it and Zinsberger is able to collect. A yellow card come to Pedersen for a challenge on Walti who is down here. She looks a bit weak on her foot but she is able to continue.
47 min: It's a bright start from Juventus as Beerensteyn gets it in the box but McCabe does enough to thwart the attack.
Back underway! Juventus 0-0 Arsenal
The second 45 is underway! Will we see some goals or will it stay in a deadlock? We'll soon find out …
I'm anticipating some Arsenal goals this half, what do you think? Let me know via Twitter and email.
The WSL match has ended 3-3! The point for each team means their table position has not changed with Liverpool still 10th and Reading in 11th. It has taken Reading to four points ahead of bottom Leicester City though, which could be important later in the season.
There is also a Women's Super League match taking place this evening, a postponed fixture between Liverpool and Reading. It has been a thriller! The game is in its closing stages and it is currently 3-3. Both will be keen to get the result as they are towards the bottom of the table.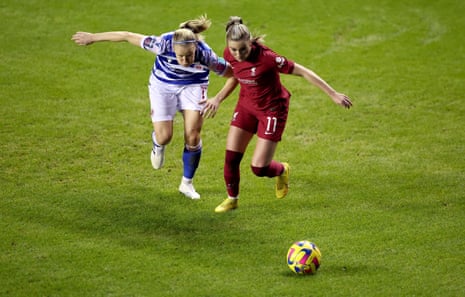 In the other match happening right now in the tournament Benfica are 1-0 up over Rosengard. Lacasse was the scorer in that one.
Half-time: Juventus 0-0 Arsenal
Caruso had a great chance just before the break but it goes wide. It has been the Arsenal show with Blackstenius missing three great chances but Juventus have displayed promise on the counter-attack. The hosts have also soaked up a lot of pressure and they will be happy to keep them out.
45 min: There will be one added minute.
45 min: McCabe and Salvai get a talking to ahead of the corner take for some shoving in the box. The kick comes in but Blackstenius heads away and then Pedersen fouls.
44 min: Juventus are building here, the first time they've been on the ball for a while. Girelli gets a header in the box but it's Zinsberger who collects. Beerensteyn is found in a great position with McCabe unable to close down the chance. Walti sends it out for a corner, great play from Juventus there.
42 min: I've been watching a lot of Taskmaster lately and I'm finding myself narrating the match in the style of the show in my head. For example: the most goals win, you have 90 minutes, your time started 42 minutes ago. I will stick to the usual commentary … Back to the game and Blackstenius has missed another huge chance! Foord gets a great ball across and Blackstenius is inches from tapping it in.
40 min: McCabe does well to block Grosso and Arsenal counter, Blackstenius is in a great position and finds herself in a one-on-one position with Peyraud-Magnin but it's a huge save from the keeper to deny her!
38 min: Foord wins a free kick for a soft foul, this match is high pace but the good defence by both sides are just stalling the attacks so far.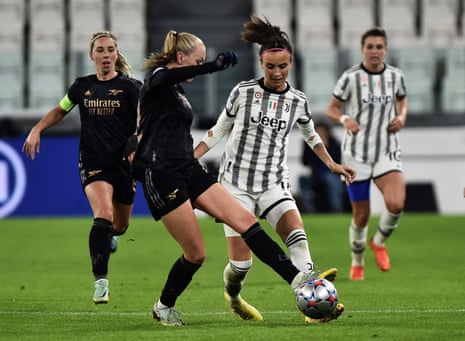 36 min: Blackstenius and Foord don't quite click in the box to rue another chance. Here they come again though and Blackstenius gets another shot but it's blocked by Rosucci.