For Keely Hodgkinson, this was Groundhog Day with a twist. Once again Britain's most precocious female athlete arrived at a major world final believing a gold was there for the taking. And once again she had to settle for a solid silver.
On a night when the National Athletics Centre felt like a giant Turkish bath, with temperatures in the 30s and the humidity instantly sweat-inducing, the 21-year-old from Wigan finally beat her nemesis – the American Athing Mu, who had beaten her into second at the Tokyo Olympics and the 2022 world championships in Eugene. However she had no answer to the Kenyan Mary Moraa, who struck for home coming into the final straight to win in 1min 56.03sec.
"I was really looking forward to today," Hodgkinson said. "I was really up for it. I believed I was going to win. You've got to believe, that's half the battle. It's a different order this year. Who knows what it will be next year. One of these days I will get the top spot. Today it's just not meant to be."
At one point, when Moraa and Mu moved into the second and third lanes as they slugged it out, it looked like Hodgkinson might sneak to glory in lane one, as if by stealth. But while she clawed her way past Mu, the line came too soon.
It meant that Hodgkinson had to take silver in 1:56.34, while Mu was third in 1:56.61. "To be consistently up at the top with the best in the world is all I want from my career," Hodgkinson said. "Another podium, another medal, that's definitely a positive. I did think I was going to come through on the inside.
"The line just came quicker than I thought it would. But I gave it my all. I don't really think I put a foot wrong. But in an Olympic year everyone brings even more of their A game, there's no stone left unturned. I'll aim for gold again and we'll see what happens."
Britain's other representative in the race, Jemma Reekie, was third with 200m to go but fell away to finish fifth. "I'm proud of the way that I ran out there," she said.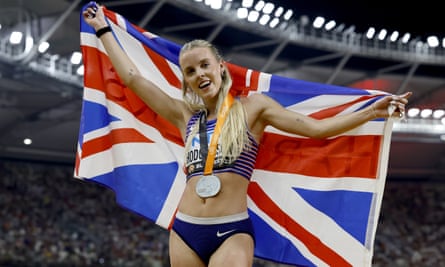 "I was brave. I thought it was a bit hot on that first lap. But I am proud of the way I ran all season. I went to my new coach, Jon Bigg, in an absolute mess. Our goal was to run under two minutes consistently this year and to be in this final. It's exciting for next year."
Elsewhere the Norwegian Jakob Ingebrigtsen made amends for his 1500m defeat to Britain's Josh Kerr by retaining his 5,000m title. However he was made to work by Spain's Mohamed Katir, who burst clear with 200m to go and held the lead until a few metres before the line.
Ingebrigtsen has been struggling with a fever during these championships, and he looked tired afterwards after crossing the line in 13min 11.30sec. But he said he was delighted to leave Budapest with a gold medal.
"To win another world title is great of course," he said. "But I was very tired. I tried to save my energy to win at the end because that was the only way tonight. I knew that if my tactics were better than my competitors I would have a chance to win. And that's what happened.
"It worked out absolutely perfectly. It was a very hard run, especially in the last 40-50 metres. It was great racing. This title means a lot to me after losing again in the 1500m. I haven't been at my best but I had the motivation and I had great support."
Meanwhile the UK Athletics president, Jack Buckner, says the success at these championships of the British team, which had won eight medals and counting before Sunday night's 4x400m relays, showed that the controversial decision to pick a smaller squad had worked.
Buckner also praised the UK Athletics technical director, Stephen Maguire, saying: "We fully back the performance strategy that Stephen has put in place. Right now the belief is growing. Sometimes it's quite disheartening to see the numbers of athletes that go out in the first couple of days and we've had a lot less of that."
Buckner also said he was continuing to pitch a "down and dirty" docuseries about British athletes to the BBC and Discovery in a bid to stoke up interest in the sport. "Interestingly Jake Wightman said to me: 'Can we do that a different way?' If it's got to be a bit more, sort of, down and dirty, as opposed to high production values, he'd like to do it, so the athletes want to do it.
"I think we've probably got another month or so of pitching it at that level. The picture I'm trying to present here is a determined sport that's going to fight its way back."