Tom Kohler-Cadmore leapt to his left, landing with white leather in hand, and suddenly the maroon corner of Edgbaston roared, Lewis Gregory danced deliriously, and Matt Henry had his 31st wicket of the tournament. Somerset: T20 Blast champions 2023.
They have waited. Oh my, they have waited. They have suffered. Oh my, they have suffered, tears and sweat so often combining to form a losing gloop. Eighteen years; a trio of semi-final defeats; a quartet of agonising stumbles at the last hurdle – all forgotten now. So often they have watched fireworks puncture the night skies celebrating the feats of others. Now it was their turn.
"A bloody good day," said Gregory, having led his side in a rendition of The Blackbird – Somerset's victory song. It is usually reserved for the dressing room but this time they stood in front of their fans and belted it out. "We did it the hard way, but it makes it all the sweeter. Everyone sees Somerset as the nearly men, and it becomes harder to get back. It was a special, special feeling to get over the line tonight."
Sometimes the best team do actually win a tournament. And few can argue that Somerset were not that. They won a record-breaking dozen group matches and added victories over Nottinghamshire and Surrey – both snatched from readily losable positions – to put themselves within touching distance of the trophy.
The beauty in their side is its depth. There is stardust aplenty but also match winners throughout. Take their hard-hitting top-order: Will Smeed, Tom Banton and Kohler-Cadmore arrived at finals day with a combined 1,374 runs at a strike rate of 166 – but could manage only starts all day. It mattered not.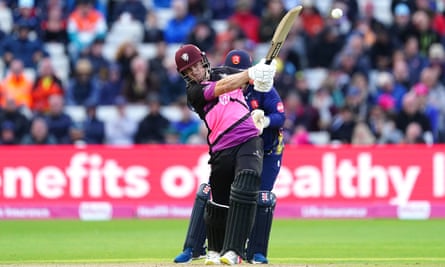 Instead, it was Sean Dickson, initially not guaranteed a starting spot, who led their day's run-scoring. By the time Adam Rossington acrobatically took the catch that dismissed him in the final, Dickson had made a precious 53 from 35 balls.
Essex's had been brave chasing 146. Having beaten Hampshire earlier, they sat and watched Surrey wilt when faced with Somerset's very gettable total. They deemed a fast start necessary and Rossington gave it to them. But having taken a trio of boundaries from Henry, the next ball was slashed hard at Kasey Aldridge at point. Henry then removed Michael Pepper and Dan Lawrence in his following over.
Suddenly, the Somerset contingent found their voice. Soon they toasted Craig Overton's dismissal of Robin Das, and with the powerplay done Essex were 46 for four. From there Paul Walter and Daniel Sams threw Essex punches; Gregory and Ish Sodhi countered. Ultimately, Somerset delivered the knockout blow.
It was typically Somerset. Seriously uncomfortable, a thrill ride that made the yellow bungee swing behind the Raglan Stand, which only the bravest spectators dared try, seem like tea with his majesty. But it was victorious – finally.
In the end, "run rate required" matters little when you take regular wickets. Having mustered just 287 runs in the day, Somerset needed all 20. They took all 20.
Edgbaston for finals day never fails to deliver. Unrelenting Friday rain had those due to be present desperately scrambling for weekend hotel beds. But the ground staff began their mopping up 3.30am on Saturday and, miraculously, just 10 overs were lost.
As dark descended, the decibel levels in the Hollies Stand rose, a giraffe led conga simply classified as "normal". This is, despite the best efforts of English cricket's powers that be and premier broadcasters, still the jewel in domestic cricket's crown. Metaphorical headwear that was, by 10pm, West Country bound.