Liverpool v Man City: Premier League – live! | Football

13:03
74 min Pep's noggin has completely gone! This is great stuff. He's giving the fourth official Mike Dean all sorts, his eyes ablaze with injusice.

13:02
73 min Pep Guardiola is absolutely steaming. With good reason: it was a clear yellow-card offence.

13:02
73 min Milner, on a yellow card, fouls Bernardo Silva and is very lucky not to get sent off. Pep Guardiola is fuming.

12:59
Jeez, he took that well. Jesus cut infield from the right, escaped a couple of woolly challenges 25 yards from goal and curled a pass towards Foden on the left side of the area. His first touch took the ball into the space but also made the angle pretty narrow. No matter: Foden drilled a shot back across Alisson and into the far corner. He's been City's best attacker and really deserves that goal.
Updated


12:58
GOAL! Liverpool 1-1 Man City (Foden 69)
The Anfield specialist Phil Foden equalises with a ruthless finish!

12:57
68 min A Liverpool substitution: Roberto Firmino replaces Diogo Jota, who had a fairly quiet game but did energise Liverpool at the start of the second half.

12:56
67 min De Bruyne sprays a beautiful crossfield pass to Jesus onthe left edge of the area. He hits a fairly unconvincing shot that is blocked by Milner and dribbles through to Alisson.

12:55
66 min "Right," says Matt Dony. "1-0. Cool heads, fellas. Take it to the corner. Wind down the last 25 minutes. Has anyone mentioned that City could use a striker?"
Updated


12:54
66 min A change for City: Raheem Sterling replaces Jack Grealish, who had a disappointing game.
Updated


12:54
65 min Liverpool's tempo has been much better since half-time. And the game has been a lot more emotional, which certainly favours them.

12:52
63 min Salah's free-kick takes a deflection and goes a few yards wide of the near post.

12:50
61 min Mane almost gets in again, this time after a long ball from the back. Ederson comes out of his area to clear.

12:50
60 min "I am a fan of one of these teams and thought we got away with one when Milner tripped Foden," says Niall Nullen. "But it's not a red card, and, as for being outrageous, I guess such is the hyperbolic parlance of our times."
That's the worst email I've ever read mate.

12:49
City missed their chances, Liverpool have taken theirs. Salah ignored a half-arsed challenge from Cancelo on the halfway line and then charged away from Bernardo Silva. Mane made a great run from left to centre, across Dias, and Salah put him through with an immaculately weighted pass. Mane's first-time finish was clinical, sidefooted across Ederson and into the far corner. That's a terrific goal.
Updated


12:47
GOAL! Liverpool 1-0 Man City (Mane 59)
Sadio Mane gives Liverpool the lead!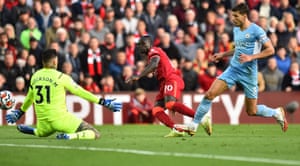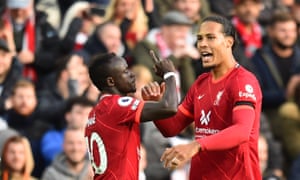 Updated


12:46
58 min "After watching the loss against PSG, I am surprised to see Grealish starting," says Nas Iqbal. "Pep clearly thinks he brings something to that forward line but he seems to just take the sting out of the City attacks and lacks any intensity. Am I missing something?"
I know what you mean, and it'll probably take him a few months to adjust to Peplife. But the more he plays the better he'll get, and he is still a glorious footballer.

12:44
54 min Jota surges into space and plays a long square pass to Salah. He runs at Cancelo and goes down right on the edge of the area. Paul Tierney isn't interested, nor does Salah appeal. The latter is a bit of a surprise because Cancelo did make contact, though probably not enough for a penalty in October 2021.
Updated


12:42
53 min Jota moves out to the left and is fouled by Walker. These are promising signs for Liverpool after such a difficult first half.

12:40
50 min: Good save from Ederson! Matip fires a pass into Jota on the edge of the area. His first touch is delightful, a Cruyff turn away from Dias, and his second is a rasping left-footed shot that Ederson dives to his left to beat away. It wasn't right in the corner, which made it an ultimately comfortable save for Ederson.
Updated


12:38
49 min Rodri loses the ball to Henderson in a dangerous area. Jota picks it up, moves to the edge of the area and twists away from a couple of sliding City defenders, but Dias stays on his feet and pokes the ball away.

12:36
47 min Salah plays a good pass to the underlapping Milner, whose fast cross is well held by Ederson.

12:34
46 min Peep peep! City begin the second half. No changes on either side, so James Milner is still out there.

12:33
"I am a fan of neither of these teams but I think that non-call when Milner deliberately gave a little shove and also used a leg to knock the sprinting Foden's right leg into his left leg was outrageous," says J.R. in Illinois. "Whether or not the foul(s) were in the penalty area, that's a red card for me. No attempt to play the ball and he was the last man (Matip was nearby but behind and was never going to be able to intervene). And to bring the VAR angle into it, I think it was obviously a missed/wrong call. VAR is supposed to do something about obvious errors, innit?"
That's interesting. I was so preoccupied with whether it was a penalty that I didn't even consider a red card. Another replay please, Sky Sports!

12:31
"The level of City dominance is scary," says Yash Gupta. "Surprised by Klopp's tactics, to leave Milner alone against Foden. Someone on Twitter said this the other day – the art of dinking the ball over the keeper has gone, and it is quite sad. Haven't watched 90s Serie A but some say that was the golden era."
It was a golden era of just about everything.

12:19
Half time: Liverpool 0-0 Man City
Peep peep! City have played with intimidating authority and should be a couple of goals ahead. Alisson made two vital saves from Phil Foden, who is destroying the replacement right-back James Milner, and Kevin De Bruyne missed an excellent headed chance.
Updated


12:17
44 min: Vital tackle from Alisson! Ederson wafts an outrageous 70-yard pass to put Foden through on goal in the inside-left channel. He tries to go round Alisson, who is off balance but sticks out his right leg to make a goalsaving tackle. Foden is giving Liverpool all sorts of problems.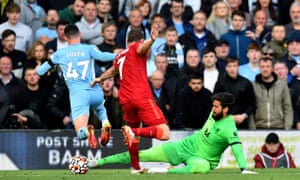 Updated


12:13
42 min Jesus slides a terrific pass towards the underlapping Walker in the area. He tries to cut it back to Grealish, and Matip steps across to make an important interception.

12:12
41 min "This is looking like one of those classic performances where City are brilliant but forget to score, then get mugged," says Paul Ruffley. "Again."

12:11
40 min De Bruyne has another shot blocked, this time by van Dijk, after being found in a bit of space by Jesus.

12:09
38 min After another dangerous break from Foden, De Bruyne has a shot on the turn blocked by a Liverpool defender. City are battering Liverpool 0-0.

12:09
37 min Liverpool just can't get going. They've also played quite a few long balls, more than usual, which means Fabinho and Curtis Jones haven't got on the ball as much as they would like.

12:07
34 min: Great chance for De Bruyne! City are well on top now. Bernardo Silva stabs a simple pass down the left to Foden, who swings a deep cross towards De Bruyne at the far post. He runs off Mane, into all sorts of space, but sends a stooping header over the bar. He should have scored.
Updated


12:05
33 min The more I see that penalty appeal, the more I think City have a case. Milner caught Foden just outside the box, but I'm pretty sure he caught him again just inside the area. I suppose the counter argument is that it wasn't a clear and obvious error, which is fair enough.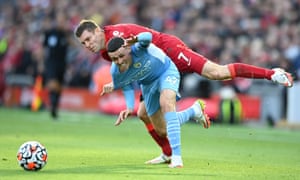 Updated


12:05
32 min It looks like the contact was just outside the area. It was a foul, though. I assumed there was a VAR check but that hasn't been confirmed, so who knows. Just after the penalty appeal, Grealish wafted high and wide from a very tight angle, but he was offside.

12:04
31 min: VAR check! Foden goes down in the area after a challenge from Milner. No penalty, says Paul Tierney, but it will be checked. My gut feeling is that it was a penalty last season, maybe not this.

12:02
30 min Henderson gives the assistant referee a mouthful, a reflection of Liverpool's increasing frustrating. They haven't been able to get any momentum in the game – or, apart from the 30 seconds either side of that Robertson tackle, any emotion.

12:00
29 min Foden hurdles Henderson classily and threads a ball into the space, only to realise that De Bruyne had stopped running.

11:59
27 min Robertson gets the crowd going with a ferocious (and fair) tackle on Gabriel Jesus.

11:57
26 min "Liverpool look a bit leggy in midfield," says Gary Neville on Sky Sports.

11:57
26 min "Is there a better player this season in the PL than Bernardo Silva?" asks Richard Harris. "I can't think of one."
Yoane Wissa, next.