Key events
Which means we're done here for now. The draw for the last 16 is on Monday at 11am GMT, 12pm CET. Peace out.
Anyhow, here's Simon Mail's report from Stamford Bridge.
Rio Ferdinand makes the point that Chelsea's best centre-back is Thiago Silva who, at his age, needs to play in a three. But I'm not sure he's so good, or so much better than the alternatives, that you sacrifice a man in midfield, or an attacker, to get him in.
Group winners
Napoli
Porto
Bayern
Spurs
Chelsea
Real Madrid
Man City
Benfica
Group runners-up
Liverpool
Club Brugge
Inter
Eintracht
Milan
Leipzig
Dortmund
PSG
There's only one Spanish club in the last 16. It must be a while since that's happened – I wonder if it's even happened at all in the days of four entrants.
Zakaria is upbeat in interview and says he's not badly hurt. He hopes to get chances to play under Potter, and his happiness is infectious.
Here's Jamie Jackson's report from the Etihad.
I'm not sure I've ever seen a group decided on away goals scored before, but Paris and Benfica drew 1-1 twice, scored the same and conceded the same. But those five second-half goals, the last of them in injury-time, sorted things out.
Benfica, though. I really hope the filching of players doesn't happen until at least the summer.
Denis Zakaria also went off injured, but from I can glean, he didn't seem too badly hurt. If he can find his best form, he'll help Chelsea a lot, because without Kante – as they frequently are – they're extremely short of midfield dynamism, and even with him, they could use more.
Group E
Chelsea 2-1 Dinamo Zagreb
Milan 4-0 Salzburg
Chelsea win the group, Milan also into the last 16, and Salzburg go into the Europa playoff
**
Group F (matches finished)
Real Madrid 5-1 Celtic
Shakhtar Donetsk 0-4 Leipzig
Real Madrid win the group, Leipzig also into the last 16, and Shakhtar go into the Europa playoff
**
Group G
Copenhagen 1-1 Borussia Dortmund
Man City 3-1 Sevilla
Man City win the group, Dortmund also into the last 16, and Sevilla go into the Europa playoff
**
Group H
Juventus 1-2 PSG
Maccabi Haifa 1-6 Benfica
Benfica win the group, PSG also into the last 16, and Juventus go into the Europa playoff.
Benfica had six different scorers tonight, that is brilliant.
Ach, at Stamford Bridge, Ben Chilwell, who's not long since back from a cruciate injury, has jiggered his hammy. He'll do very well to make the World Cup from here.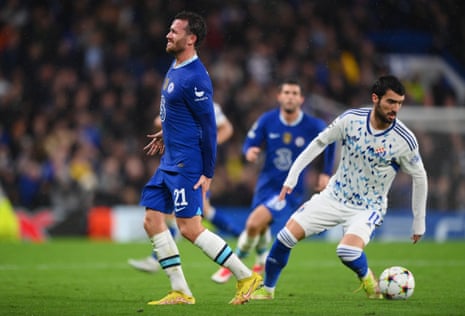 It's full-time in Haifa and Turin and Benfica have won Group H!
That is incredible!
GOAAAAAALLLLL! Maccabi Haifa 1-6 Benfica (Joao Mario 90+2)
This is a delicious strike, Joao Mario drilling one from 20 yards that whistles into the far corner! If Paris can't score in the next 30 seconds, Benfica top the group on goals scored away from home!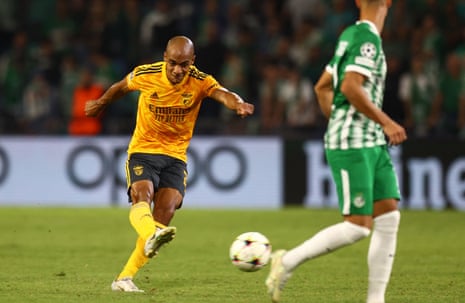 GOAL! Milan 4-0 Salzburg (Messias 90+1)
Messias drives forward down the right and curls inside the far post. Milan have been great tonight.
By the way, Juve were denied what looked like a clear penalty a few minutes ago, Chiesa flicking the ball into the box and pursuing it, only to be bodychecked by Ramos. I'm not sure what wasn't wrong with that.
GOAL! Maccabi Haifa 1-5 Benfica (Araujo 88)
Maccabi can't get out, sustaining an attack through phases, and a ball prodded into the box is swept home. If Benfica score again, by my reckoning they win the group.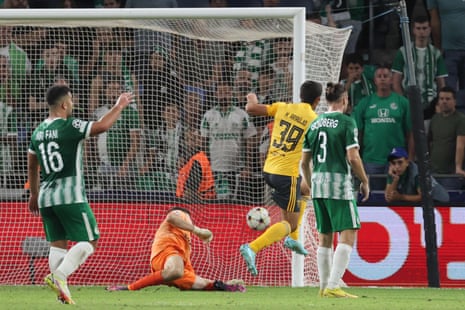 GOAL! Man City 3-1 Sevilla (Mahrez 83)
Alvarez does really well scavenging for the ball and taking it off the defender before finding Mahrez, who takes a touch, has a look, and whips a finish high into the net over the keeper's dive.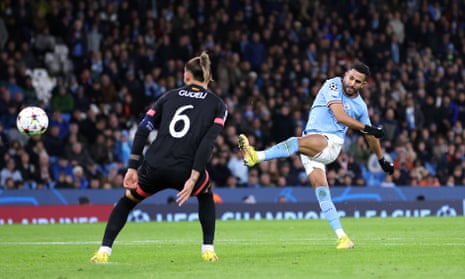 Benfica look very smart indeed. I'd heard they were good, but hadn't seen much of them until tonight, and of all the second-placed sides, if they do wind up finishing there, they're the one to avoid. That said, this time last season, I thought Sporting v Man City would be an interesting tie, then City went to Lisbon and won the first leg 5-0.
"Hi from Norway," begins Brendan Large. "A small point from the Chelsea game: this ref is refereeing like it's last season. He hasn't let anything go. I'm all for the new direction…but when it's not consistent throughout the season, that is where the frustrations lie."
I don't think we can expect total consistency, because the laws allow the officials room to interpret and people see things differently. That said, I do think they're poorly drafted, and where there are specific directions, I guess we shouldn't see much deviation.
Locatelli celebrates by getting the ball into the net when Donnarumma, who's not having a good night, parries into his path, but he was offside when the initial shot was taken.
Great news at Juve: Federico Chiesa has just come on for his first appearance of the season, having nobbled his cruciate in January. Welcome back, old mate – we've missed you, but not as much as Juve have.
GOAL! Man City 2-1 Sevilla (Alvarez 73)
Just off the bench, De Bruyne, on the right, curls a gorgeous ball in behind to beat the last defender, Alvarez rounds the keeper, goes wide, and finishes superbly, slotting high into the net with his left peg.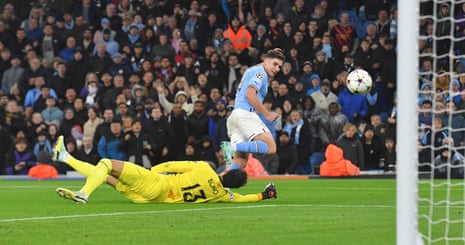 GOAL! Maccabi Haifa 1-4 Benfica (Rafa Silva 73)
Benfica win it high up and Neres slips a nice ball to meet Rafa's run, and he clips home nicely. Benfica need two more to draw level with Paris.
GOAL! Maccabi Haifa 1-3 Benfica (Grimaldo 69)
That man knows how to take a free-kick! He bends one around the near side of the wall that dips in front of the keeper and in! Maccabi need a miracle to make the Europa playoff now, while Benfica need three more goals to win the group – assuming Paris don't score or concede again.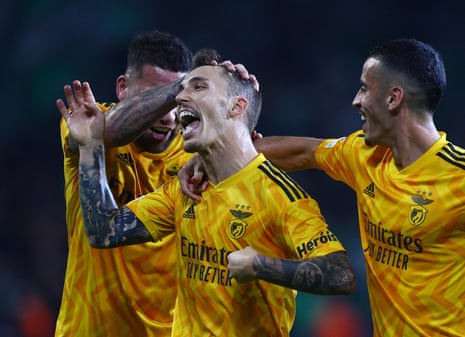 GOAL! Juventus 1-2 PSG (Nuno Mendes 69)
He's only just come on! Paris move the ball nicely through midfield, then Mbappe slides a decent pass to meet Nuno Mendes' run down the left. He blazes by Cuadrado and slots a fine low finish across Szczesny! Paris top the group once more!
Lovely from Milan, Bennacer down the line for Hernandez, a great low cross to meet Leao's slide … but he hits the bar! How did he get it so high from such close range?
I'm switched Milan-Salzburg off to check out Paris-Juve. As it goes, I'd not mind the former taking second, because it gives us a better chance of a blockbuster last-16 tie.
"I know he scored the first goal," says Rob Coughlin, "but Raheem Sterling doesn't appear to be playing with much confidence."
He's not had great service, I don't think, and has been moved from winger, to striker to wing-back. Part of me thinks he did very well to play for Guardiola and in that City side, which isn't to say I don't rate him, I do, just that I doubt we'll see comparable output from him now he's moved. I'm sure he'll improve as Potter settles, but.
Musa, i should say, came on as sub for Ramos, who scored Benfica's first goal. The big Portuguese clubs are so good at finding young talent.
GOAL! Maccabi Haifa 1-2 Benfica (Musa 59)
This is a tremendous goal, a left-wing cross met with a flying near-post header! If Paris can't beat Juve, Benfica will top the group.
Applauding at San Siro is Zlatan, who should be risen for the knockouts.
GOAL! Milan 3-0 Salzburg (Giroud 57)
Milan are going into the knockouts! Leao takes the ball from the left, running all the way around the Salzburg defence so that he eventually crosses from the right, and when it's improperly cleared, Giroud is on-hand to tidy up, lashing into the ground and in. That's two goals and and an assist for him tonight!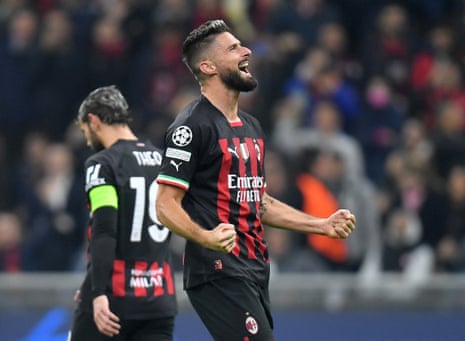 Dortmund, drawing 1-1 in Copenhagen, ought to have gone in front, Adeyemi going down the right and crossing, only for Malen to take it away from Modeste, shooting wide.
Incidentally, Jack Grealish is playing in the middle tonight. I doubt Guardiola will try him there in a match that matters, but I guess it's a good option to have if ever they're chasing a game.
GOAL! Man City 1-1 Sevilla (Lewis 52)
What a finish Rico Lewis! 17-years-old and making his first start! Alvarez plays a clever reverse-pass inside the centre-back and Lewis, on the right, marches onto it. He might square it – he's got men inside – but no, he punishes a fine, rising finish high inside the near post! Why isn't he sitting in alleyways drinking and smoking?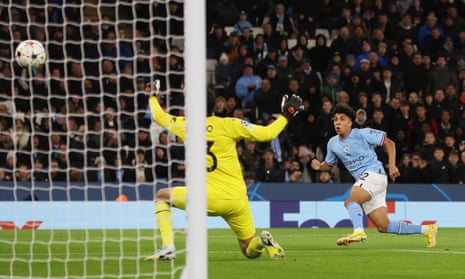 Back at the Bridge, Aubameyang has just stepped inside and power-bent one against the bar.
Email! "I like numbers, begins Matt Dony. "That tweet with the possibilities of each potential next-round match up is the most German thing in the history of German things. Calculated to two decimal places! Marvellous. As someone who makes a living analysing data, I'm just disappointed I hadn't already done it."
Tangentially, my 14-year-old niece gave me a simultaneous equation to do the other day. Earlier that day, she'd beaten me at go karting, and she and the rest of the family chortled and chuckled as I miserably failed to get anywhere near solving it.
GOAL! Milan 2-0 Salzburg (Krunic 46)
Krunic was a horse picked for a course, and when Milan go down the right, Giroud shows terrific awareness to nod across to Krunic, who punches his header home. That should see Milan through!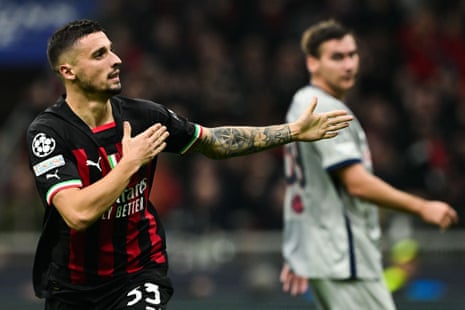 Off we go again!
I'm going to take a break as my mouse is threatening to expire. See you in 10.
Group E
Chelsea 2-1 Dinamo Zagred
Milan 1-0 Salzburg
**
Group F (matches finished)
Real Madrid 5-1 Celtic
Shakhtar Donetsk 0-4 Leipzig
**
Group G
Copenhagen 1-1 Borussia Dortmund
Man City o-1 Sevilla
**
Group H
Juventus 1-1 PSG
Maccabi Haifa 1-1 Benfica
Chelsea look like they'll put Dinamo away soon, and will start thinking about Arsenal at the weekend. I wonder if they'll play four at the back in that – my guess is yes, though I'm sure Potter will be trepidatious given his players aren't experienced at playing it together.
GOAL! Copenhagen 1-1 Borussia Dortmund (Haraldsson 41)
Claesson goes down the left, cuts back into Haraldsson's path, and he punches a sidefooter into the far corner. That's their first goal in this season's competition.
GOAL! PSG 1-1 Juventus (Bonucci 39)
A dink over the top, Cuadrado dives to head across, and Donnarumma dives low to get a weak hand as Bonucci ploughs in on the slide to finish. That's a huge goal!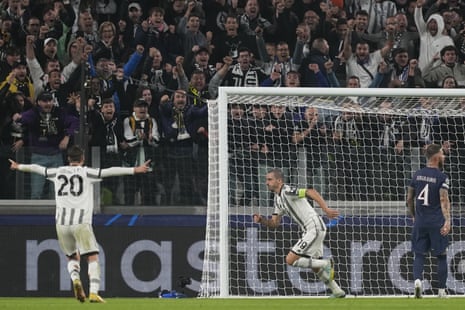 Juventus are huffing in Paris. What a mess they are, and as things stand, they'll finish bottom of their group, behind Maccabi Haifa!
Aw man. Godpseed, old mate.
GOAL! Man City 0-1 Sevilla (Rafa Mir 31)
Pulling away at the far post as a corner comes in, Rafa Mir leaps off both feet to guide a fine header back across goal and into the side-netting. He's played really well so far, apparently.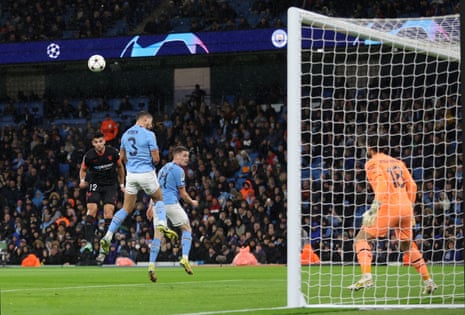 GOAL! Chelsea 2-1 Dinamo Zagreb (Zakaria 30)
A debut goal! Not long after Sterling banged one over the bar, he sends Mount down the right, his cut-back misses Havertz, and Zakaria sidefoots home, just about – it went under the keeper's dive, and ought to have saved it.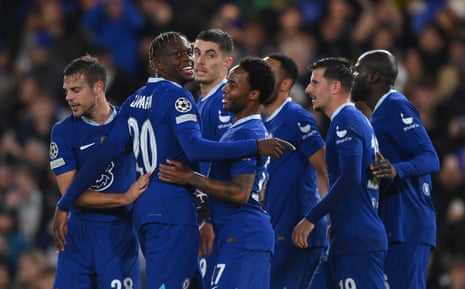 At City, Gudogan has just played a one-two with Foden only to bury his finish in the side-netting.
NO GOAL! Milan 1-0 Salzburg
Giroud was offside.
GOAL! Milan 2-0 Salzburg (Giroud)
Hernandez again drives at inside-left, drills a shot the keeper spills, and Giroud tucks in the rebound.
GOAL! Maccabi Haifa 1-1 Benfica (Cherry pen 26)
Cheery takes two steps and sweeps right, into the side-netting halfway up. If Juve lose to Paris and Haifa hang on, they make the Europa playoff.