Key events
83 min: Bernardo Silva crosses from the left. Akanji leaps and sends a weak header towards the bottom left. Easy for Blaswich, who may have made one or two crucial mistakes with his distribution, but has also kept the score down. This is bad for Leipzig all right, but it could have been a whole lot worse.
81 min: To paraphrase the late, great Sid Waddell: when Alexander of Macedonia was 33, he cried salt tears because there were no more worlds to conquer … Erling Haaland's only 22.
79 min: Ederson plays carelessly out and nearly tees up Laimer on the edge of the box. Laimer can't get a shot away. Leipzig come again, though, and Andre Silva attempts a curler towards the bottom left. Always heading wide, and Ederson had it covered.
78 min: Phillips ships possession, then Akanji is booked for a late slide on Olmo. City have earned the right to get a little sloppy, to be fair. On which subject, here's Rob Moore: "At risk of sounding churlish, this is all very impressive, but doesn't really tell us anything new. We've known for six years that City are capable of amazing, near-unstoppable football, but their failures in Europe have come down to a mix of not performing, Pep tinkering, and Real bloody Madrid. If this City performance comes around every game they'll win it, but we all know they've got a dodgy one in there somewhere."
76 min: Thirty-eight goals in 36 matches, though! There's still over a quarter of the season to go!
74 min: In the dugout, Haaland sits sprawled in his chair with a coat draped over his shoulders, a huge contented smile playing across his face. All that's missing is some brandy being rolled around a tumbler and a fat cigar on the go.
72 min: Leipzig replace Szoboszlai with Olmo.
71 min: City ping the ball around in the swaggering manner. Leipzig can't get a touch. Like that's breaking news.
69 min: A reminder that should the tie finish all square at the end of normal time, there will be extra time and possibly penalties.
67 min: De Bruyne is dragged back by Henrichs, but doesn't get the free kick. He tells it as he sees it, and the referee pops him into the book.
66 min: The City fans are in full party mode now. Blue Moon. The Poznan. Dreams of finally breaking their Champions League duck. Real Madrid watch out!
64 min: City swap out three players too. Phillips, Alvarez and Gomes come on for Stones, Rodri and … the five-goal hero Erling Haaland. What an ovation he gets! It's fair to say he's earned it.
63 min: Leipzig make a triple substitution. Haidara, Forsberg and Werner make way for Simakan, Poulsen and Silva.
61 min: Leipzig are an excellent side, too. They've only lost two of their last 24 games in all competitions! City are throwing down some gauntlet to the rest of Europe here.
59 min: Before that goal, Haaland – then with a mere four goals to his name tonight – chased down Blaswich with absurd vigour. That press, press, press attitude has clearly rattled Leipzig from the get-to. He's an astonishing force of nature!
GOAL! Manchester City 6-0 Leipzig (Haaland 57); agg 7-1
He's got the record for himself now! A corner. Mahrez crosses from the right. Akanji tries to flick goalwards. The ball's blocked. But it drops to Haaland, who belts a low shot into the bottom left. It was unstoppable, of course!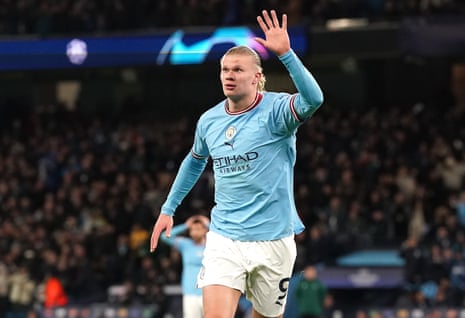 56 min: That was Haaland's fourth of the evening, and 38th of the season. He therefore ties Tommy Johnson's season-best record for City, a mark set in 1929.
55 min: Any respite for Leipzig? Nope! On come Foden and Mahrez, as Gundogan and Grealish make way.
GOAL! Manchester City 5-0 Leipzig (Haaland 53); agg 6-1
One corner leads to another. It's swung long from the right by De Bruyne. Silva heads back across goal from the left-hand corner of the six-yard box. Haaland rises high and powers a header down towards goal. Blaswich bravely parries on the line, but the ball breaks back to Haaland, via Akanji, and the big man slams home!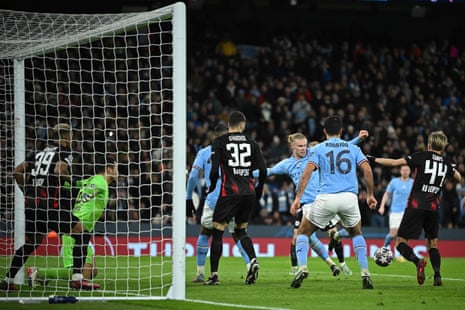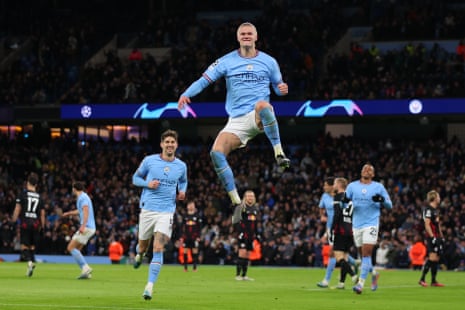 52 min: Silva rolls down the right for De Bruyne, who fires a low cross in from a tight spot. Orban hangs out a leg and nearly deflects into his own net, the ball looping over the bar. He had to intervene, Haaland (who else?) was waiting to slam home in the middle.
51 min: That was some team move. None more Pep.
GOAL! Manchester City 4-0 Leipzig (Gundogan 49); agg 5-1
City are in imperious form. A sensational team goal. De Bruyne slips Grealish into space down the left. Grealish doesn't have an option so turns tail. The ball ends up all the way back with Ederson, who switches play to the right. De Bruyne then slips infield for Haaland, who shuttles further left to Grealish again. This time Grealish lays off to Gundogan, who from the edge of the box, takes a touch before passing a low diagonal shot into the bottom right. Astonishing!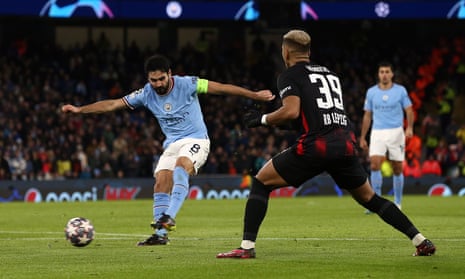 47 min: A fairly subdued atmosphere now at the Etihad. Everyone knows this is over. Like any of the home fans are complaining.
Leipzig get the second half underway. No changes.
Half-time postbag. "Chances are they'd have lost anyway, but that VAR decision has likely cost Leipzig the tie. If that's a penalty, I'm Erling Haaland. And Jim Goodwin is Pep Guardiola" – Simon McMahon
"Clear foul and clear yellow for Ederson. Outrageously poor call. And I say this as an Arsenal fan hoping City goes all the way to the final in the CL, foregoing the league in the process!" – Ben Bernards
"Why did Henrichs get booked for the handball? Yes. It was a handball/penalty. But his back was turned to Rodri and the ball. Rodri saw the arm out and headed the ball onto it. Since Henrichs had no knowledge of where the ball was and Rodri was looking for a penalty instead of trying to pick a pass, it seems insanely harsh for him to get carded" – Eagle Brosi
"Can there be a new rule that VAR can't give a penalty if no one is appealing for one?" – Crispin Leyser
HALF TIME: Manchester City 3-0 RB Leipzig (agg 3-1)
Haaland generously points to Dias, to suggest where the plaudits should be going. But it's his goal. Yet another hat-trick! What a player. Unless something monumentally odd occurs in the next hour, Manchester City are in the quarter-finals of the Champions League!
GOAL! Manchester City 3-0 RB Leipzig (Haaland 45+2); agg 3-1
De Bruyne wins a corner down the left. Grealish takes and hits it long. Dias rises at the far post and plants a header onto the post. The ball bobbles along the line. Haidara tries to hook clear but only manages to knock the ball onto Haaland's shin, and it whistles in from a couple of yards!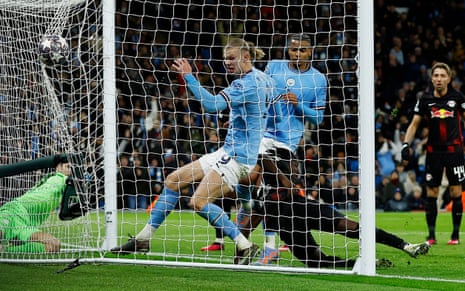 45 min: There will be two added first-half minutes.
44 min: Szoboszlai slips Werner into space down the left. The flag goes up for offside. The Hungarian international has probably been Leipzig's best player during this first half.
42 min: Silva comes dancing in from the right, past three challenges. He's unable to ride a fourth. Another goal now would surely finish off Leipzig before the break.
40 min: A period of relative calm.
38 min: De Bruyne rolls a free kick down the right to release Gundogan into the box. Easy as that! Gundogan's slapshot is parried, and somehow evades Haaland in the middle. He's after that hat-trick! Getting ever closer.
37 min: That was a big let off for City. A very strange, jittery display by both teams here.
35 min: Rodri, facing his own goal, underhits a backpass and lets Laimer in down the right. Laimer rolls instantly across for Werner, who fresh-airs a swipe in trying to poke home from eight yards. City so close to gifting a goal and a lifeline to Leipzig!