Key events
Pierre-Emile Hojbjerg's last-gasp strike means Spurs go through as group winners … and it knocks Marseille out of Europe altogether! That was a game of two halves all right. Marseille were embarrassingly dominant in the first half, but Spurs restricted them to a single goal, and were a different team in the second period. They upped their game considerably – Rodrigo Bentancur and Højbjerg were superb – and came back hard at Marseille, thoroughly deserving their victory by the end. Even so, the line between success and failure can be tissue-paper thin, and former Arsenal man Sead Kolašinac will be kept awake by the chance he spurned to secure the win for Marseille with a couple of minutes to go. Great entertainment, Spurs ultimately paying Marseille back with some fireworks of their own.
FULL TIME: Marseille 1-2 Tottenham Hotspur
… and they're through as winners of Group D!
GOAL! Marseille 1-2 Tottenham Hotspur (Hojbjerg 90+5)
… Spurs counter, Kane sending Hojbjerg into space down the inside-right channel. The midfielder reaches the edge of the box and clatters a shot across Pau Lopez, off the left-hand upright, and into the net! Spurs are through!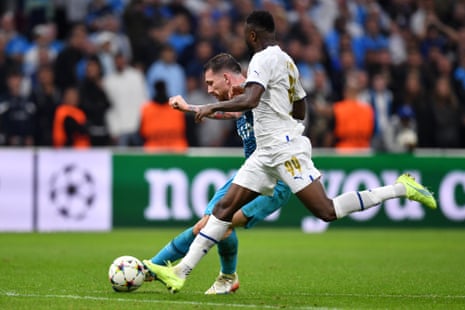 90 min +4: Marseille pile forward, but …
90 min +3: Moura makes way for Bryan Gil. Spurs are a minute away from completing a fine second-half performance and qualifying for the knockouts!
90 min +2: Tavares is clumsily caught offside, the whistle music to Tottenham's ears. Meanwhile Eintracht Frankfurt have beaten Sporting 2-1 in Lisbon, and have qualified for the last 16! As things stand, the 1960 finalists will win Group D.
90 min +1: Hojbjerg is booked for a cynical tug on Harit. He'll miss the first leg of the Round of 16 should Spurs make it. Marseille break upfield. Tavares blazes over.
90 min: There will be four extra minutes. Spurs so close to the last 16!
89 min: That absurd miss might have taken the last puff of wind from the Marseille sail. Spurs do the professional thing and stroke it around the back awhile, causing much frustration. Then Kane dribbles down the left and wins a foul. Time ticks on!
87 min: Under cuts in from the right wing and sends a stunning cross towards Kolašinac, free on the left-hand corner of the Spurs six-yard box. Kolašinac has to score! But the former Arsenal man heads downwards and wide left. How on earth did he miss that?! Spurs fans will have been dreading a former Arsenal star dealing their hopes a fatal blow … but that could be the alternative narrative of their dreams! What a miss!
85 min: The denouement of this match – this group – is being played out at 101 miles per hour. Great end-to-end fun, and good luck predicting the outcome. "So I know TV pundits hate it when fans leave games early," writes Matthew Carpenter-Arevalo, "but is there a possibility Spurs fans might start justifiably showing up late?"
83 min: From the corner, Harit's drive is blocked by Kane. The ball deflects out for a goal kick. Both teams make a change: Skipp on for Bentancur, Luis Suarez (not that one) on for Rongier.
82 min: That's got the home fans going again, and Sanchez spins on the penalty spot, left to right, and sends an effort towards the bottom left. Lloris is beaten, but Perisic gets in the road to block! Corner!
81 min: Bentancur is good to continue all right! He dances into the Marseille box from the left and cuts back for Moura, who tees up Hojbjerg for a shot. He crashes a rising pearler past Pau Lopez … and flush off the crossbar! Marseille half clear. Moura then forces the ball back down the middle for Kane, who opens his body to shoot from the penalty spot … only to be denied by a sensational last-ditch tackle from behind by Mbemba! Two huge chances to wrap things up!
80 min: Bentancur goes down holding his hamstring … but gets back up after a fashion, and a big glug of water. Looks like he's good to continue.
78 min: Sanchez, Guendouzi and Rongier over-elaborate on the edge of the Spurs box, when there were a couple of opportunities to shoot. The ball rolls through to Lloris.
77 min: Balerdi is booked for aggressively shoulder-barging Emerson to the ground. Emerson falls clutching his face, which is a bit saucy of him, and possibly influences the level of punishment meted out by the ref.
75 min: Under is involved immediately, hitting a cross-cum-shot from the right that nearly sneaks into the bottom left. Lloris is behind it all the way.
74 min: Marseille make a triple change. Cengiz Ünder, Sead Kolašinac and Issa Kaboré come on for Veretout, Clauss and the substitute Gigot.
73 min: Kane goes down having been accidentally poked in the eye by Mbemba. He's back up again quickly enough.
72 min: Tavares is sent scampering down the left and wins a corner. Harit takes. Lloris claims. A lot of frustrated whistling from the home fans.
71 min: Randal Kolo Muani has given Eintracht Frankfurt the lead in Lisbon. Now the Europa League champions head the group!
69 min: The referee comes across to the Spurs box and flashes a yellow card. Not sure who that's directed at, or for what. You're welcome. Pulitzer, please!
68 min: Mbemba, who was sensational in the first half, bombing around all over the pitch with a swagger, shanks a backpass towards Pau Lopez in a very skittish fashion, under no pressure whatsoever. The keeper is forced to race out of his box to hack clear. The difference between Marseille's first-half performance and their second-half showing in microcosm.
66 min: Now Moura nearly dribbles clear on goal, but again the flag goes up for offside. All of a sudden, it's Spurs who look the most likely to score next, and the home fans are getting a little jittery.
65 min: Kane is sent clear down the middle by Moura's header. Kane strides into the box and slams a cold-blooded shot into the bottom left. Such a clinical finish, but it won't count, because Kane was clearly a couple of yards offside.
63 min: Bentancur robs Mbemba on the Spurs left and launches a three-on-two corner. He tries to send Moura free down the middle, but overhits the pass. Emerson retrieves possession on the right and fires in low. Pau Lopez gets down and fumbles, dropping the ball by Kane … but the Spurs striker can't sort his feet out and poke home from six yards! The ball's bundled out for a corner, from which nothing comes.
61 min: Marseille are slowly working up a head of steam again. Nothing like they achieved towards the end of the first half, in the period leading up to their goal, but it's a response to conceding the equaliser.
59 min: Harit creams a rising shot inches over the Spurs bar from 25 yards. Inches away from a spectacular corner-finder. Meanwhile in Lisbon, Daichi Kamada has equalised for Eintracht Frankfurt … and now Spurs, Europa League bound six minutes ago, are top of Group D as things stand!
58 min: Veretout swings the free kick harmlessly into the arms of Lloris. The Velodrome is a lot less noisy right now.
57 min: Lenglet goes into the book for a cynical tug on Tavares, who was flying down the left. Now it's Marseille with a free kick in a dangerous position.
56 min: That goal had been coming as well! Spurs have been excellent since the restart. As good as they were awful in the first half. And they're after a second: Moura makes his way down the right and looks for Kane in the middle, but the cross is too strong.
GOAL! Marseille 1-1 Tottenham Hotspur (Lenglet 54)
… it's perfectly weighted for Lenglet to win a header at the far post. He rises above Rongier and eyebrows the ball into the bottom right, Pau Lopez with no chance! What a fine set-play goal, and Spurs are in the last 16 as things stand!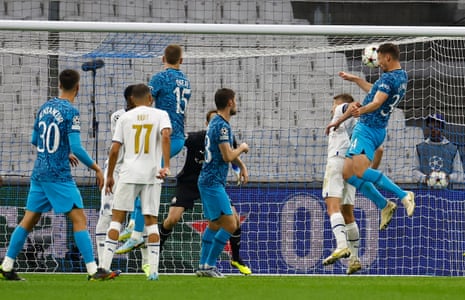 53 min: Kane, anonymous in the first half, is much more involved now. He battles his way down the left and wins a free kick from Guendouzi. Perisic to curl it in, and …
51 min: Spurs look much more up for it now. Cristian Stellini with a few half-time truths, I'll be bound.
49 min: Davies rolls a pass down the right for Bentancur, who suddenly strides along the wing at pace. He whips in low for the lunging Kane, preparing to tap home from six yards. But Paul Lopez spreads himself at the striker's feet, and tips the ball up and away from Kane's reach at the very last nanosecond. Marseille clear. So much better from Spurs.
47 min: Spurs string a few passes together at last. Bentancur swings one in from the left, hoping to find Kane, six yards out. Not quite, and Marseille clear, but that's so much better from the visitors. Not that the bar was set high.
Marseille get the second half underway. Spurs have made a change during the break, replacing Ryan Sessegnon with Emerson Royal.
Tottenham's first-half xG tells the story by itself: 0.04. Marseille, for the record, are on 0.65. But if that stat isn't enough, how about these: 134 final-third passes by Marseille to Tottenham's 14, and 16 Marseille touches in the opposition box to Tottenham's big fat zero. And yet Spurs are far from out of it. They only need a draw, and for all that lopsided misery, had Pierre-Emile Hojbjerg aimed straight with the very last kick of the half, they'd be level. Football is a funny old game, as the best striker to ever play for the club was fond of saying.
Half-time advertisement. Sign up now! Sign up now! Sign up now? Sign up now!
HALF TIME: Marseille 1-0 Tottenham Hotspur
This is no more than Marseille deserve. The hosts have been utterly dominant, and Spurs have paid the price for their lack of ambition. As things stand, the 1993 champions are heading for the last 16, and Spurs will be cashiered into the Europa League.
45 min +7: Kane creams a rising shot goalwards from 25 yards. Pau Lopez tips over, then punches the resulting corner clear. Hojbjerg shanks the dropping ball wide right, with the goal unguarded. Then the whistle goes for half-time. Pau Lorez is fuming, insisting he'd been obstructed while clearing his lines. But it doesn't matter now.
45 min +6: Spurs haven't reacted to the goal at all. They're really desperate to hear the half-time whistle now.
45 min +4: The Velodrome erupts. The roof is in danger of coptering off towards the Basque Country. In the stand, Antonio Conte looks thoroughly miserable. As things stand, his Champions League curse is set to continue, and Spurs are heading for the Europa League.
GOAL! Marseille 1-0 Tottenham Hotspur (Mbemba 45+2)
Harit bustles down the right. Sessegnon shepherds the ball out for what he thinks is a goal kick … but the referee awards a corner. Marseille take it short, Harit to Veretout. Then Vertout whips it to the far stick, where Mbemba rises and absolutely batters a downwards header past Lloris and into the bottom-left corner. Unstoppable! That, it is fair to say, had been coming.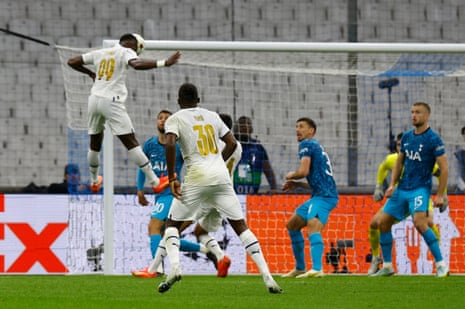 45 min: Spurs can't get out of their final third. They keep gifting the ball to Marseille, allowing the hosts to probe this way and that. The noise in the Velodrome is cranked up. Spurs are hanging on. There will be seven extra first-half minutes.
43 min: A corner for Marseille on the left. Gigot beats the flapping Lloris but heads over the bar. Marseille soon come straight back at Spurs, Tavares crossing from the left, Guendouzi can't connect in the middle and Sessegnon clears. Spurs could do with hearing the half-time whistle.
42 min: In the other Group D match, Sporting have taken the lead against Eintracht. Arthur Gomes on 39 minutes. As things stand, they're going through as group winners.
40 min: Spurs continue to sit deep. Guendouzi hovers and probes. Spurs hold their shape. "They can't keep playing like this," sighs a worried Glenn Hoddle on BT Sport.