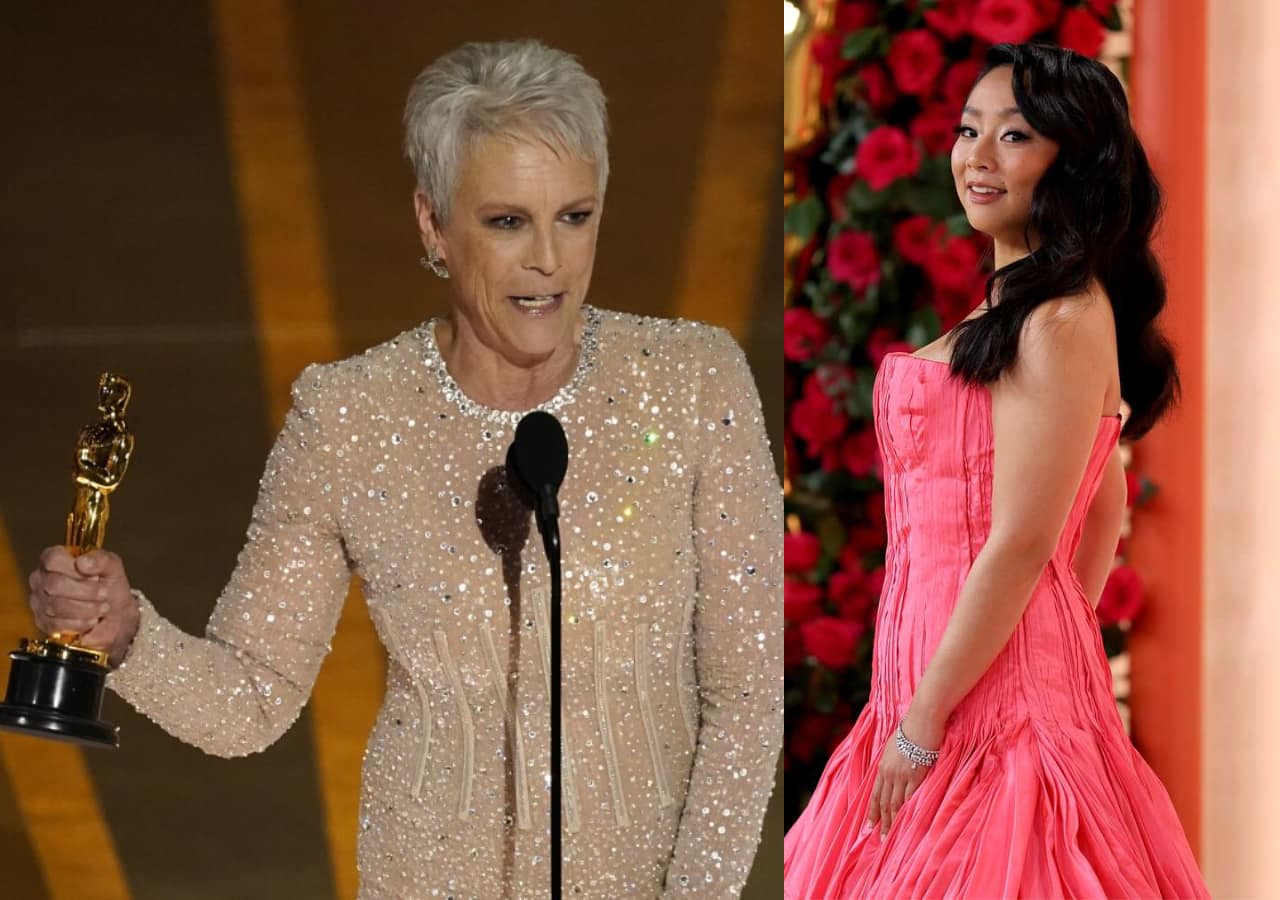 Oscars 2023 concluded a couple of hours ago and it has been history for South Asian talents. Indians scored big with Naatu Naatu and The Elephant Whisperers. They were the only nominations at this year's 95th Academy Awards. And another movie to make history was Everything Everywhere All at Once. It was nominated in about 10 categories and picked up 7 trophies making it the most awarded movie of the night. However, it has sparked a debate again, a nepotism debate as Jamie Lee Curtis picked up a trophy over Stephanie Hsu. Also Read – Oscars 2023: The Kashmir Files director Vivek Agnihotri reacts on RRR song Naatu Naatu win
Oscars 2023: Jamie Lee Curtis wins Best Supporting actress
Everything Everywhere All At Once has picked a lot of trophies. The Best Supporting Actress was picked up by Jamie Lee Curtis. She was nominated alongside Angela Bassett, Hong Chau, Kerry Condon and Stephanie Hsu. Jamie Lee Curtis who played Deirdre Beaubeirdre, the IRS inspector in Everything Everywhere All at Once, was honoured with the trophy. Also Read – Oscars 2023: Telugu cinema fans slam Jimmy Kimmel for calling RRR a Bollywood film
Netizens feel Stephanie Hsu was more deserving of the award than Jamie; sparking the nepotism debate
Jamie winning the Best Supporting Actress has not sat well with a lot of fans of the Oscars. Many are calling out the 95th Academy Awards and have accused them of robbing Stephanie Hsu of her much-deserved Oscar. Jamie is being called a nepotism baby and people are slamming her win calling Stephanie's character of Joy having a more integral part in Everything Everywhere All at Once than Jamie's. Check out the tweets here: Also Read – Oscars 2023: The Elephant Whisperers make historical win; Guneet Monga reacts on first Indian production to win Academy Awards
@jamieleecurtis was nothing more than an overpaid supporting actress. Stephanie Hsu is the true winner. https://t.co/wBqnvfXURQ

— Royal Amulet (@TheRoyalAmulet) March 13, 2023
how the FUCK did Stephanie Hsu not win, it makes absolutely no sense

— aro⁷?? (@jintonin) March 13, 2023
As much as love Jamie Lee Curtis, the entire movie's climax works on Stephanie Hsu's performance. She should have been getting at least the nod, before Jamie Lee Curtis. Not to take anything away, but she was barely in the movie compared to her colleague

— Yves-Langston (@Potbellypiglet) March 13, 2023
Not only did Jamie Lee beat out THE Angela Basset, but she also beat out Stephanie Hsu who quite literally had a major role making EEAAO what it is. And y'all wanna talk about how nepotism and racism don't play a role in award shows pic.twitter.com/HyCvHow01D

— Deziree McKee (@Dezmckee) March 13, 2023
I love Jamie Lee Curtis but Stephanie Hsu has a far more complex acting role than her as Deirdre. Wished Steph one instead. Glad EEAAO team won tons https://t.co/FkVwk3qmuI

— Heptapod's Logogram Enthusiast (@KlimtsGirl) March 13, 2023
I forgot Jamie Lee Curtis was in everything everywhere all at once so maybe we should reward her for her other works instead and give this one to Stephanie Hsu

— damee (@dam_dam2001) March 13, 2023
STEPHANIE HSU. THATS THE FUCKING TWEET.

— ababu! (@ababrang) March 13, 2023
Stephanie Hsu's character who was like you know the main characters daughter/main antagonist/secondary main character….

— ??NSF-Mads?? (@TheVoidLeaper) March 13, 2023
what the fuck do you mean by jamie lee curtis won the best supporting actress role instead of stephanie hsu

— elle (@uglycinema) March 13, 2023
They both did well, but only Stephanie Hsu gave an Oscar-worthy performance. https://t.co/t2KD4jWGaV

— Nᵢ??ᵢ Mₐᵣᵢ??#WomenWontWheesht (@KinkWriter) March 13, 2023
stephanie hsu not winning the oscar is proof that god hates theater kids

— grace (@grackishh) March 13, 2023
IT SHOULD HAVE BEEN STEPHANIE HSU

— ella ? (@nothisisella) March 13, 2023
why do i keep seeing that old white bitch win and stephanie hsu didnt

— thrawr x3 (@horwink) March 13, 2023
Genre Stéphanie Hsu ou Angela Bassett… https://t.co/ddbltQrLmD

— Marine (@Marine_Frid) March 13, 2023
retweeting for my girl stephanie Hsu. You are SEEN. INCREDIBLE MASTERFUL ACTING. ? https://t.co/xJJU0ms2V6

— Heptapod's Logogram Enthusiast (@KlimtsGirl) March 13, 2023
Stephanie Hsu you will always be famous i cant believe they robbed you blind just like that https://t.co/ENOVdsVUZW

— ????? ?? (@alissundotcom) March 13, 2023
It's not even that, it's just that she was by far the least deserving of the win. "I see this more like a legacy award" so give her a fucking legacy award, don't rob Kerry Condon or Stephanie Hsu who earned it way more

— ty (@Ty__Kira) March 13, 2023
Just finished watching #EEAAO and yeah they deserved every single one of them #OSCARS . *stephanie hsu deserved best supporting actress tho*

— ??‍♀️ ɐssılǝɯ? (@MeliBelli) March 13, 2023
stephanie hsu and angela bassett were robbed ??????

— courage the cowardly bitch (@haramcertified) March 13, 2023
kinda ridiculous if you think about it, to me, eeaao was primarily a mother-daughter movie. stephanie hsu's character was a main one alongside michelle's. and you're telling me jamie lee curtis went home with an oscar instead pic.twitter.com/ywh7Ev2lTe

— soviet gossip girl (@fleacunt) March 13, 2023
Stephanie Hsu was snubbed for real.

— daisy ? | AO3 ? | AOT and TLOU SPOILERS (@daisyxaizawa) March 13, 2023
I can't even begin to express my anger and dismay that Angela Bassett did not win the thing!!! And JLC?!? At least if not Angela Bassett, then Stephanie Hsu…

— #VeryAsian Dr. Sid Sudiacal (he/him/siya) ???? (@DrSid_S) March 13, 2023
HOW DID STEPHANIE HSU LOSE TO JLC???

— fina ? (@marzpods) March 13, 2023
jamie lee over stephanie hsu??? nah this can't be right

— ✧☆ kim ☆✧ (@formula_ace) March 13, 2023
stephanie hsu and angela bassett were ROBBED https://t.co/fiiJ4n1N0W

— kairi⁷? (@vmonstudio) March 13, 2023
Everything Everywhere All At Once won the Best Actress for Michelle Yeoh, Best Picture, Best Supporting Actor for Ke Huy Quan, Best Original Screenplay for Daniels, Best Film Editing for Paul Rogers and Best Director for Daniels again. Everything Everywhere All At Once also known by their initials EEAAO is trending everything in Hollywood News. Well, congratulations to the winners.
Stay tuned to BollywoodLife for the latest scoops and updates from Bollywood, Hollywood, South, TV and Web-Series.
Click to join us on Facebook, Twitter, Youtube and Instagram.
Also follow us on Facebook Messenger for latest updates.